The Top Results of the Year from Zemez
The results of the year for every company are considered specific annual achievements. Needless to say, they are quite important. This is also true for web design and development teams. It allows them not only to look back at their recent success but also to set new goals. As for the Zemez team, our annual results are the perfect opportunity to share our results with our clients and readers. Sadly, the work on our new solutions and updates was overshadowed by Russian aggression. Still, we achieved the set goals despite constant struggles and air raid alerts. In this article, we are going to look back at the recent publications and solutions we released this year and revisit some of the most significant ones.
From themes and services to guides and reviews, we publish a variety of materials regularly. No wonder the overview of our yearly results also includes the most prominent publications of our authors. For example, we'll take a look at online marketing guides for Instagram and YouTube in today's post. Besides, we'll discuss various collections that appeared on our blog this year. Last but not least, we'll learn more about reviews and publications about themes that were released or updated in 2022.
Zemez Pride and Prejudice: Roxxe Shopify Theme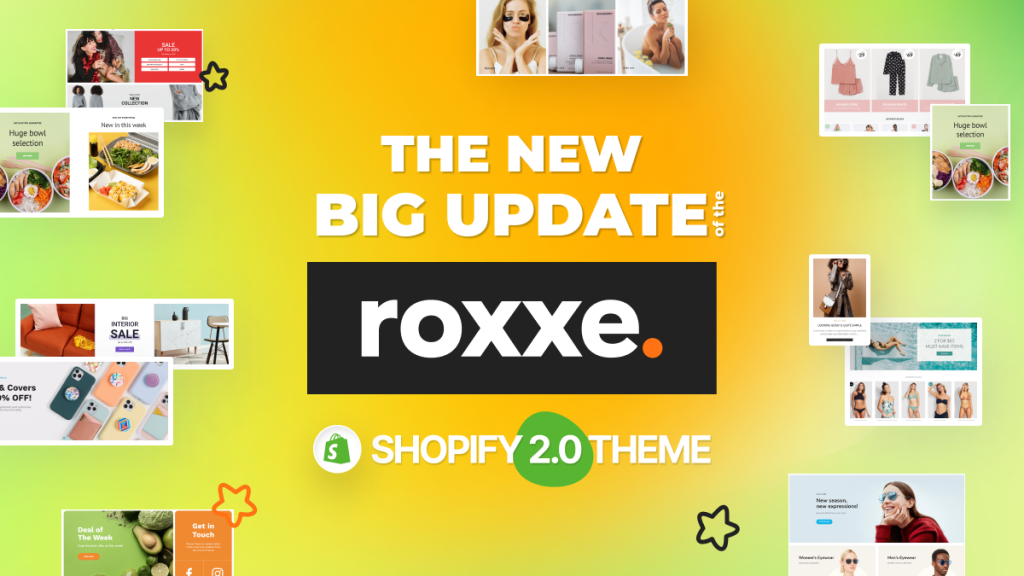 We'll start our results of the year overview with some of the best themes made by Zemez. This year our team released a major update for Roxxe, a multipurpose Shopify theme. With numerous skins and features added with every update, this one featured designs for fashion-oriented stores. However, in our August review of this theme, we've also described some of its previous updates and features, such as the Shopify 2.0 support.
Still, in this Roxxe review, we decided not to limit our impressions of this theme. That's why we've also added opinions from various web design experts and bloggers. Their look at diverse benefits and new additions to Roxxe provided a new perspective on our solution. The short yet meaningful reviews of the abovementioned Shopify theme are arguably the best way to decide whether Roxxe will fit your store or not. From Tuts+ to Growave and DesignWebKit, many content platforms and blogs shared their understanding of what our eCommerce theme can provide. Moreover, one of our developers provided insight into how such themes are created & developed.
Vendy, The Leading Fashion Shopify Theme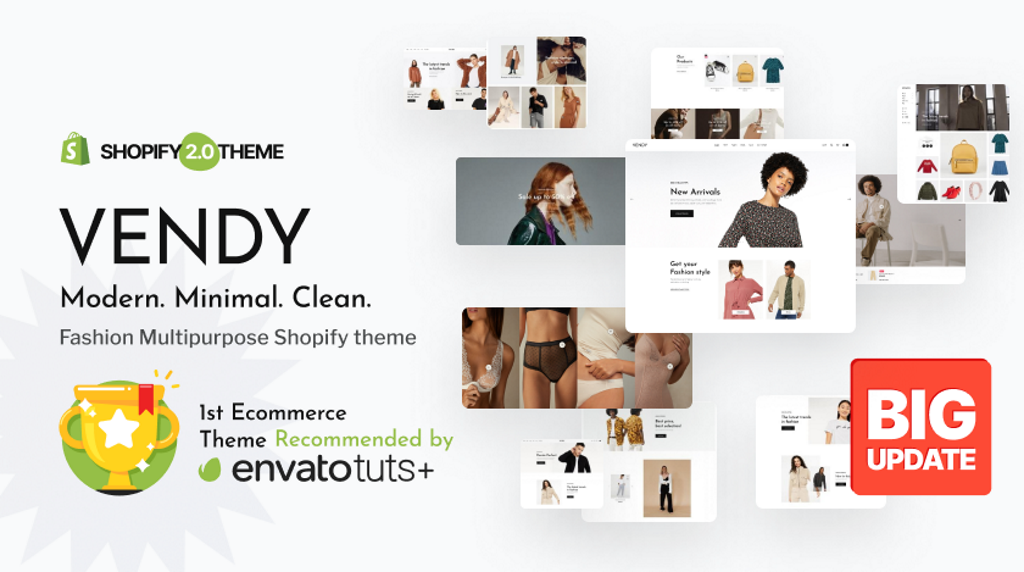 Still, Roxxe isn't the only eCommerce solution that we wrote about this year. Another big update released among the results of the year provided a wide range of awesome features and content for Vendy, our minimal and clean Shopify theme for fashion stores. A detailed review of this theme offered an in-depth look at performance, mobile-first design, and other notable features. Every update our team delivers is built around content and new advantages. For Vendy, our designers and developers introduced an extensive range of pages and layouts that include:
Diverse Blog page layouts;
Listing & Product pages;
About Us & Lookbook pages
A variety of headers and footers.
However, this article describes also describes other prominent features of the theme. First of all, we are talking about Shopify app integration and high-quality support. These are parts of every major Shopify release our team works on. Our developers paid a lot of attention making Vendy one of the best eCommerce experiences. The design team worked on this solution to make an all-in-one solution for fashion stores. Moreover, its compatibility and performance allow any user to apply the theme to their shop's catalog and get outstanding results.
Monstroid2 Phenomenon: a Cross-platform Bestseller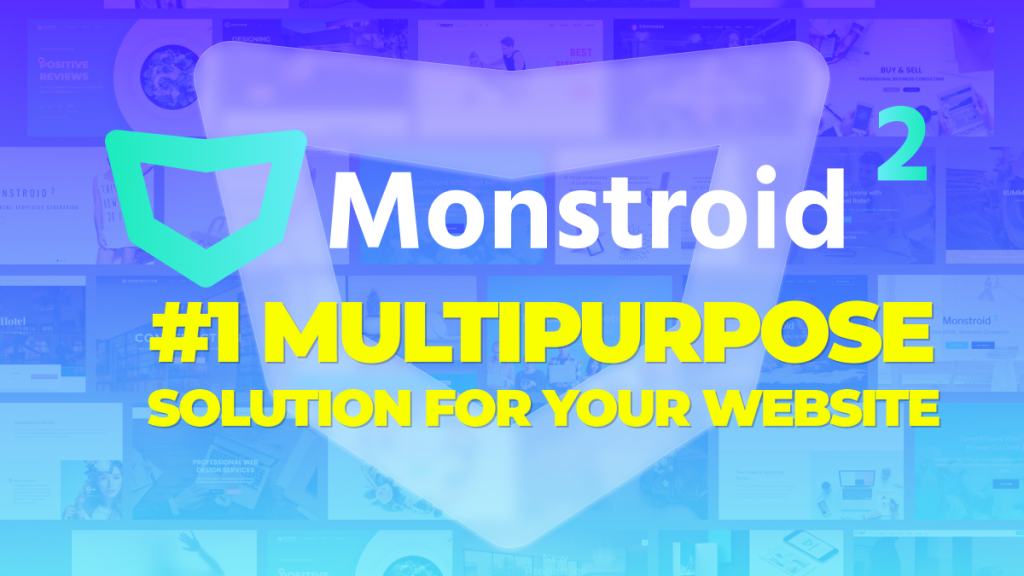 One of the most successful themes we have worked on is Monstroid2. Developed for WordPress, now it also covers HTML and WooCommerce. An extensive overview of this multipurpose solution is also alongside the results of the year published by our blogging team. It is an extensive guide for those who want to know more about this theme. The article is especially useful if you are deciding on what kind of Monstroid2 to choose.
One of the advantages that our solution provides is its modular structure. The guide to Monstroid2 explains more about this and many other features. For example, it gives more information on content for three different versions of this theme. Each of them delivers lots of pre-designed pages and layouts. Still, their functionality varies to give a user the best experience according to a certain platform. The guide also provides a decent explanation of website builders. Two different builders are used with each version – Elementor for WordPress, JetWoo Builder for WooCommerce, and Novi Builder for HTML5. These and other advantages are explained in every detail in this year's theme overview.
Zemez Collections: eCommerce Website Solutions
Aside from publishing reviews of our top-rated solutions, our authors also write about theme collections. They include designs for diverse platforms and CMS. These collections often feature solutions for eCommerce websites. They reflect our results of the year and include new and trending themes. In one of our publications, we concentrated on the themes for growing businesses of all sizes. This guide provided a wide range of web design solutions for businesses that work with:
Furniture;
Jewelry and other topics.
Also, many themes listed in the eCommerce collection post are multipurpose. They cover varied topics and offer multiple designs and layouts for your store's catalog. Moreover, many guides published by your team also feature solutions by our partners. We are always glad to feature new & trending templates from talented developers. With such a variety of solutions in our collections, we aim to ensure that our readers and clients get a variety of options to choose from. Even a small store website can benefit from using any of the themes we write about.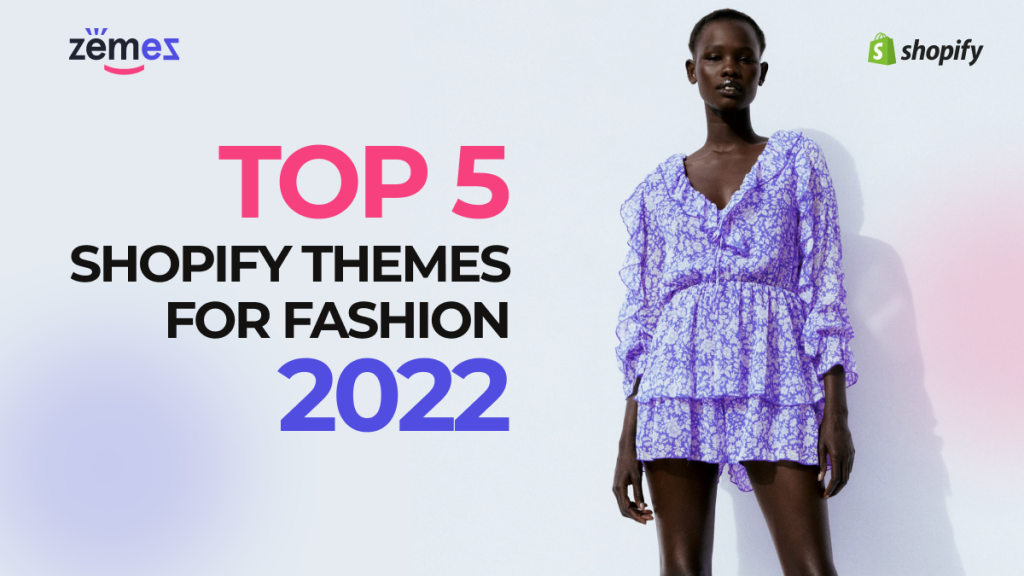 Choosing the Top 6 Shopify Themes for Your Fashion Store
One of the high-ranked topics in the world of eCommerce is fashion. For Shopify, as one of the world's most popular CMS for eCommerce, our team decided to pick the top 6 themes on this topic. Aside from multipurpose and modern themes, the authors also picked other interesting solutions. While they have different designs, any of them can be used for increasing your sales. Moreover, any store owner can gain more traffic when using these themes.
The mentioned guide also describes solutions with prominent results of the year. Our article provided a detailed look at these popular Shopify themes. They include Instagram-designed themes as well as minimalistic solutions. Choosing any of such premium-class solutions may help you create a quality user experience. This is especially useful if you are just starting with eCommerce. And with the right design, you can also attract several potential customers.
Outstanding WooCommerce Themes as Results of the Year
While we regularly provide and review Shopify themes, we also offer solutions for the WooCommerce platform. Being an easy-to-use WordPress plugin, it is also a great basis for versatile eCommerce websites. For that reason, we have prepared an article with the best WooCommerce themes. It features some of the best themes we have worked on this year. Providing some of the great results of the year, the themes presented in this guide offer topics and layouts for diverse websites.
Some themes from that article have already been covered today. For example, Roxxe is one of the best multipurpose choices suitable even for beginners. Still, the guide also provides themes for sports and religious topics. Besides, for new users of WooCommerce, our authors always explain the basics of each platform. In our eCommerce articles, you'll find a list of benefits for stores looking to go digital.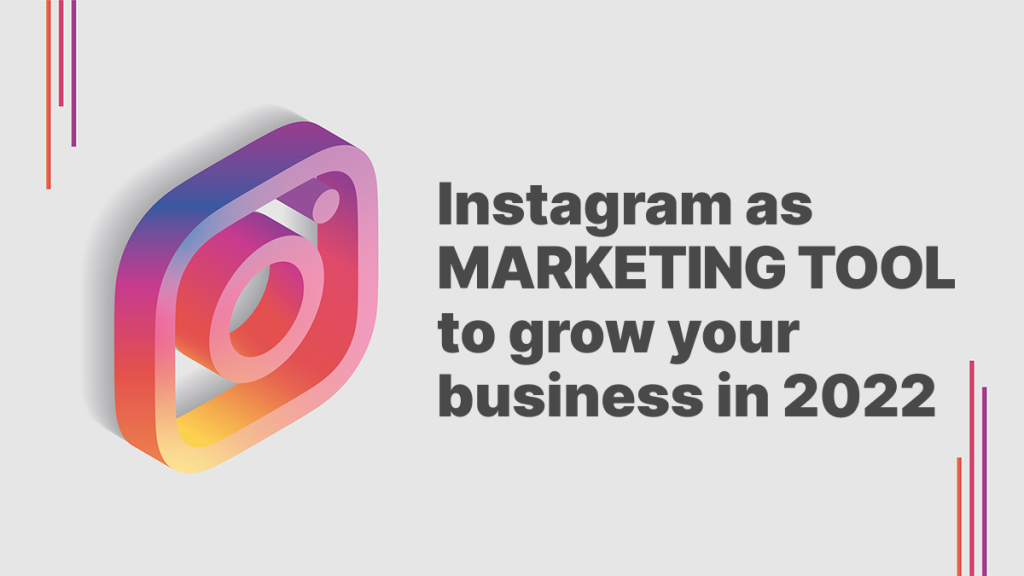 Marketing: Using Instagram as the Online Marketing Tool
Among the results of the year, there also are some marketing guides. Our team regularly works on new ways and tips to help you promote your services. One of them implies using Instagram as your #1 e-marketing platform. Our writers give consistent advice & worthy strategies to help you start growing your business online. Using Instagram is one of the best methods to do it. Our post also gives more information on the do's and don't of marketing on this network. They include:
Recommendations on images and photos;
Proper post description;
Avoiding bots;
Adding relevant website links & hashtags;
Advertising hot & special offers etc.
Besides, the guide posted by our team also describes how to gain more followers on Instagram without any risky activities. Our authors constantly look for efficient ways of promoting products and services online. We believe it is as important as having a well-designed website. Moreover, we are always ready to share 100% working tools for your store's social page. Applying the best possible social media marketing methods can boost your sales and get you more customers. Our team is always ready to help you with it.
Advertising with YouTube: Pros and Cons
Another powerful platform that helps you advertise your services is YouTube. This year, we have prepared an extensive publication about using its built-in tools. It is especially useful for the promotion of your store and its products. It explains all the pros and cons of this video hosting platform for eCommerce. Besides, our authors give useful advice for online businesses. Those looking to establish direct contact with their audience via YouTube will benefit from it. Presenting the results of the year, this post explains every type of YouTube advertising. They feature diverse types of ads, from video to text advertising.
Our marketing posts always include a detailed explanation of promoting your products. No wonder our YouTube guide is not an exception. For this guide, we analyzed all advantages and disadvantages of this platform. Moreover, we gave recommendations to those who want to attract potential clients with their channel. After that, our writers added some recommendations for businesses looking to get the most out of this platform's tools.
Results of the Year for Digital Marketing: A Beginner's Guide
The abovementioned methods of online marketing are often considered quite situational. Digital marketing functions as a multi-component tool. If you know how to use it, getting great results will be simple. We dedicated one of our articles to this type of marketing. Our writers analyzed it and provided valuable advice to companies for better efficiency. This post is also one of the considerable results of the year for our company. Oriented toward beginners in digital marketing, this post includes recommendations and strategies for the following spheres:
SEO;
Content marketing;
eCommerce;
Affiliate marketing;
SMM.
You may be looking for a fitting eCommerce solution or just some marketing tips. Whatever it is, the guide prepared by our team will be extremely helpful. With these numerous strategies, even a small company can easily benefit from them. The provided digital marketing tools can be quite powerful when applied properly. If you need a responsive site theme, this guide has something to offer, too.
Making a Mobile-Friendly Website in 2022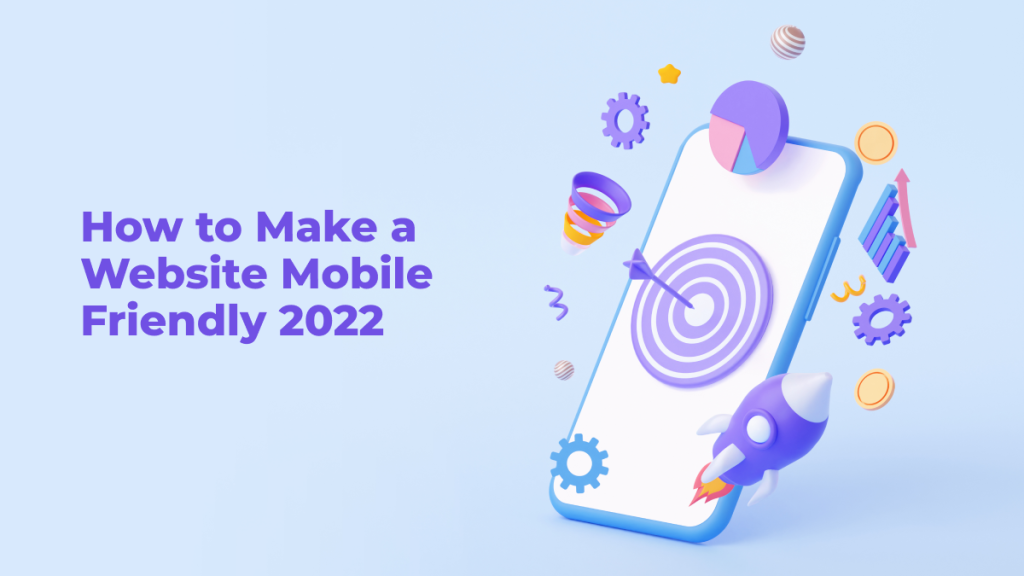 Having a responsive website plays a vital role for any business. Most companies sell their products and services online these days. And with mobile devices being the #1 source of information, knowing how to establish a mobile-friendly site is quite necessary. One of our August posts features not just a guide to developing such a website. We also prepared a wide selection of mobile-first templates. They are suitable for a varied list of topics and online experiences. Some of them were mentioned as the results of the year earlier.
From providing optimized performance to improving design & functionality, the offered theme selection has a lot to choose from. Whether you work in the medical or fashion spheres, our design & development team knows what to provide your website with. That's exactly what we always try to give our customers – a variety of smoothly working & fully customizable solutions for any purpose. And collections we work on guarantee the best performance of all themes we write about.
Results of the Year from the Zemez Team: Conclusion
We hope you liked this overview of articles published by our team in 2022. There is a variety of themes and publications available regularly. Still, it is often hard to choose the best results of the year. Our team tries not only to inform you about the latest web development trends. We also research the most effective ways of optimizing your eCommerce & marketing activities. And with the tools & themes developed by our team, you can always choose the most fitting ones for your business.
In the coming year, we are planning to release even more relevant content and solutions. Don't forget to visit our blog to always stay updated with the latest in the world of marketing & web design. For more great templates and layouts, remember to check out our website and the theme portfolio. There you'll find more updates on what we offer and how your company can benefit from it. And if you are used to getting news via socials, we advise you to follow us on Instagram and Facebook. With Zemez, you can always get new ways to build an attractive website.