YouTube is a unique entertainment and training platform, with many benefits. Moreover, video content is a powerful tool for big earnings. After all, YouTube has more than 2 billion users who watch different videos every day and get billions of views. This wide distribution has made YouTube an effective marketing tool. And various organizations have used the video platform for their marketing campaigns, leading to the term video marketing. So if you want to make a lot of money from advertising then this is where the article "YouTube advertising for the beginners" offers the best tips. You can also check out the pros and cons of using YouTube for advertising. Here you'll see for sure that YouTube is the best place to make money!

YouTube Advertising for Beginners. How it Works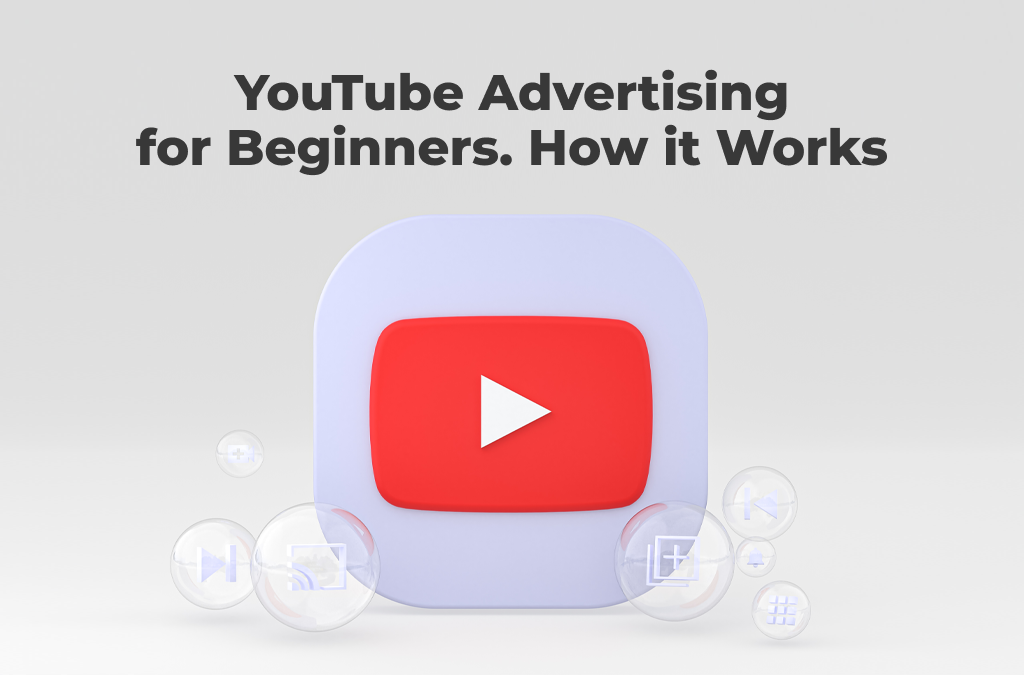 Ads on the YouTube platform are short videos of anything that appear on the channel's website and app. And also on its partner sites in Google's contextual network. Because the YouTube platform is linked to Google, advertisers benefit from user data. Targeting can use information gathered from viewers' search history on Google and videos on YouTube that have been viewed. It is targeting that makes advertising on YouTube very attractive and profitable. Moreover, it allows your company or product video ads to be shown alongside relevant videos on YouTube that millions of people watch for entertainment or education.
Why is YouTube Marketing Important for Your Business?
Video content can be a powerful weapon for your business. After all, it will attract new visitors to your website. When consumers interact with video, they are more likely to visit the website and become customers of your shop. After all, a striking short advertisement will draw attention to a product or brand. More and more businesses are turning to YouTube advertising services. So this guide to YouTube advertising for the beginners will be useful for you and your business.
Types of YouTube Ads
There are six popular types of YouTube advertising for the beginners:
Skippable in-stream ads;
Non-skippable in-stream ads;
In-feed video ads;
Bumper ads;
Outstream ads;
Masthead ads.
And before you create your first advertisement, I recommend learning in detail about each type of advertisement. Thus, you will be able to adapt your advertisement to the right format which will help you to make your business successful.

Skippable in-stream ads
In-Stream skip ads are the most common type of advertisement. It is also a long advertisement that users can turn off after watching the first five seconds. It can last anywhere from 12 seconds to 6 minutes. After all, this is required by the YouTube platform's terms and conditions. But for the most part, many of these ads are as short as a minute and are a great way to introduce new audiences to your business.
The features of this type are switchability and monetisation. Advertisers only pay for these ads if the user views the ad for at least 30 seconds. Or if the viewer performs an action, such as pressing a button.
When to use it?
This type of advertising can be used to attract sales, leads, and traffic to a website. Also to increase brand awareness or product views.
If you decide to use this type of advertising, it is important to know that you only have 5 seconds to engage your audience. That is how long it takes for the viewer to appreciate the content of the ad.
Non-skippable in-stream ads
Non-skippable in-stream ads are ads that last 15 to 20 seconds. This type of advertisement can be played at the beginning of the video, in the middle, or after the main video.
How does this work?
For example, non-skippable in-stream ads appear in the middle of a YouTube video lasting 10 minutes or more. Viewers will see a five-second countdown on the screen. And in the app, they'll see yellow markers where the ads are placed.
This type of advertising gives you the same freedom to choose your content as skippable in-stream ads. For these ads, you can use dialogue, audio, and other elements that best represent your brand.
Because non-skippable ads can't be skipped, these videos are best created with a call-to-action so you can optimize your attention from the viewer. In other words, encourage viewers to click on your ad and receive something in return. This type of YouTube advertising is best used for campaigns that want to increase brand awareness.
In-feed video ads
Another reliable type of advertising is in-feed video ads. These ads appear at the top of YouTube search results. It also appears next to relevant videos on the platform. These ads appear when viewers search for relevant keywords. In doing so, they allow new audiences who are already interested in a particular product or service to learn about your business.
This type of advertising has many advantages. For example:
builds brand awareness and popularity when viewers view a video on a topic;
delivers the right information to those looking for it;
increases the likelihood that a user will visit your page.
Such advertisements can be used for any marketing purpose. Furthermore, this type of advertising is especially good for generating interest in your brand or product. It can also be used to stimulate online sales.
Bumper ads
Bumper ads are the shortest type of YouTube advertising for the beginners. It appears on the splash screen of the video the viewer has selected. Moreover, it only lasts for 6 seconds. Most importantly, these ads also cannot be missed.
Such a short advertisement can't tell you enough information about your product in just 6 seconds. But it is a great addition to mainstream advertising. You need to have a good plan of action in which you showcase the best qualities of your brand or product in the shortest possible time.
Outstream ads
Out-Stream is a surefire way of YouTube advertising for the beginners. It is an advertising banner that appears at the bottom of a video. The advertisement appears on mobile devices and is placed on websites and apps that work with Google's video partners. It starts without sound. Viewers can click on the ad to turn on the sound of the video if they wish. This means you need to create an engaging ad where sound is not required. Or add captions, and visuals that grab viewers' attention even without sound.
This type of advertising is a great way of avoiding obtrusive advertising for your product. In addition, you're charged for outstream ads based on viewable cost-per-thousand-impressions . So you'll only be charged when someone plays your video for 2 seconds or more.
Use this ad type when working to expand your mobile reach. This is great for generating sales, leads, website traffic and brand.
Masthead ads
A masthead ad is an interesting type of YouTube advertising for the beginners. It appears at the top of the YouTube homepage. It also plays on any device.
Such ads are played silently for 30 seconds on a computer screen. And it plays entirely on your mobile device. Then it switches to a thumbnail by default.
The Masthead mobile video ad contains a video thumbnail, a customisable title, a description text, and a call to action. When the user clicks on the ad, they are taken to the YouTube viewing page for the recommended video.
Use this format if you want to raise awareness of a new product or service. Also to reach a large audience in a short period (e.g. during a sale).
This type of advertising is charged based on the price per thousand impressions. These advertisements are only available by pre-booking through a Google sales representative.
How to Create YouTube Ads Guide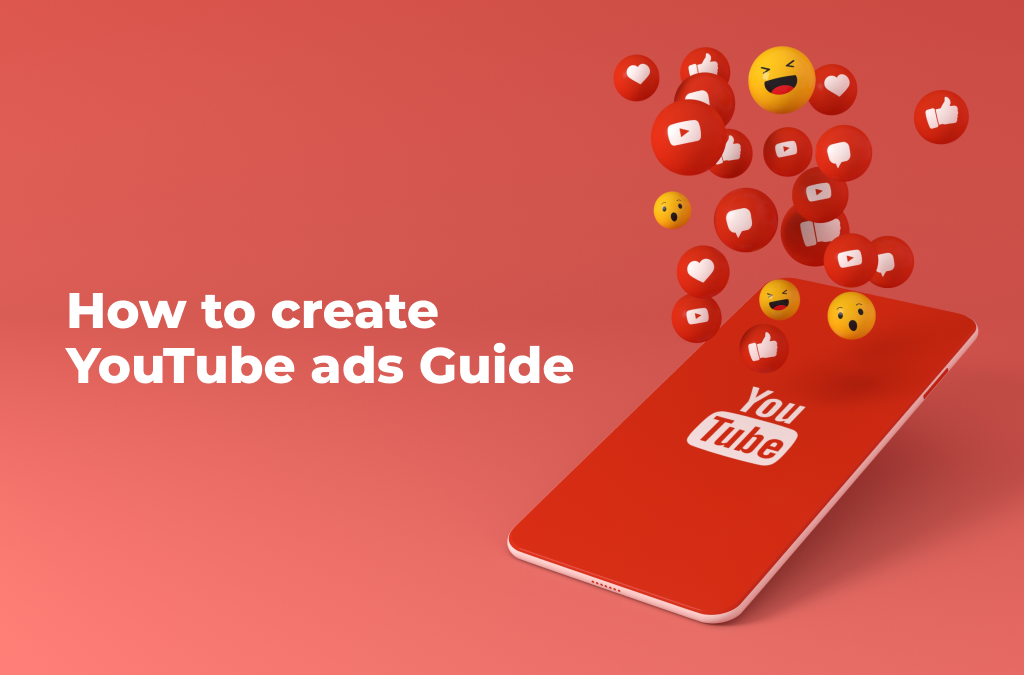 Now it's time for you to learn tips on YouTube advertising for the beginners. Here are 5 tips on how to create great advertising on the video platform that will boost your business.
A video ad should be at least 30 seconds long. YouTube also recommends that videos should be at least 15 seconds long. But it is better to use longer clips to capture the audience's attention.
Make sure your ad has an attractive banner cover. A beautiful cover will make people want to click on it and watch the whole video.
Use a clear call to action in the description line of the video, so viewers know what they should do after watching it (e.g. "Go to the website to order").
Include a link to the website and your social networks in the YouTube video description box.
Use Google analytics to track their effectiveness. This will allow you to adjust the performance of your advertising campaign.
YouTube Advertising for the Beginners: Conclusion
Advertising on the YouTube platform is necessary for 2023. As the number of users is increasing day by day. I hope this article on YouTube advertising for the beginners will help you understand the complexities of the platform. And also, you will be able to choose the best way and type of advertising to make your business and brand known to many people. After all, this is where the active users who will be interested in your offerings come together.
Create an advertisement on YouTube today and tomorrow you will be surprised how quickly your business will increase!