Many know that in the field of the fashion trade, online stores represent serious competition for offline stores. Due to the noticeably lower costs of doing business and the lack of geographical restrictions, such stores can use more tempting prices for customers. Other advantages include trade without restrictions. Offline stores operate on the territory of one city at most, more often – they simply cover the audience of one or two districts. Online stores are more flexible in terms of delivery and return of goods, they more often update the assortment. These and many other issues force us to make an ambiguous choice in favor of an online store. We offer Shopify themes for fashion with a user-friendly interface and match the latest trends in web development.
Of course, the Internet literally blew up the world of the market in the field of fashion. The popularity of online clothing, footwear, and accessories stores is very high and continues to increase. What will be further difficult to say, but so far the situation is quite logical. Now many offline clothing stores open their online representative offices, and someone completely goes online. Opening an online store, in fact, as well as managing it, is much easier than doing it offline. Therefore the funds for the start need ten times less.
Perhaps one of the best online trading platforms today in price/quality ratio is Shopify. The platform is fully open and created for e-commerce, that is, no one needs to pay for its use. And today we want to present to your attention a selection of fashion templates. All templates were created by real specialists and are suitable for most online stores.
Shopify themes for fashion – get more for your store
Shopify is one of the best platforms for creating your own site. Also, this is a great solution for successful eCommerce. You run the site quickly and at no extra cost – everything is convenient and understandable. To launch your store, you do not need technical knowledge. You can just focus on selling your items and not worry about anything else. Your store will also be not just convenient, but also safe for all customers. This swings confidential data and accepts online payments.
Great attention is paid here to customer support. You'll never be alone with your questions. Technical support can be reached in a convenient way for you: e-mail or online chat. In addition, there is a Shopify Help Center, as well as many thematic forums on working with the platform.
All Shopify themes for fashion are adapted for mobile devices. This means that your store will look great on all devices. Your customers will be able to shop wherever they are.
No doubt you will be pleasantly surprised by the functionality of each of the topics presented below. You can create various loyalty programs and favorite product lists. Integrate accounting software and all the marketing apps you need to increase your average check and increase conversions. Thus, here you will definitely find what your business needs.
Shopify offers the option of recovering an unpaid shopping cart. You can be sure that your sales conversion will definitely increase!
Another important feature of Shopify is its powerful search engine optimization (SEO) features. They will help your site rank higher in the search results.
Vendy – Multipurpose Shopify Theme for Fashion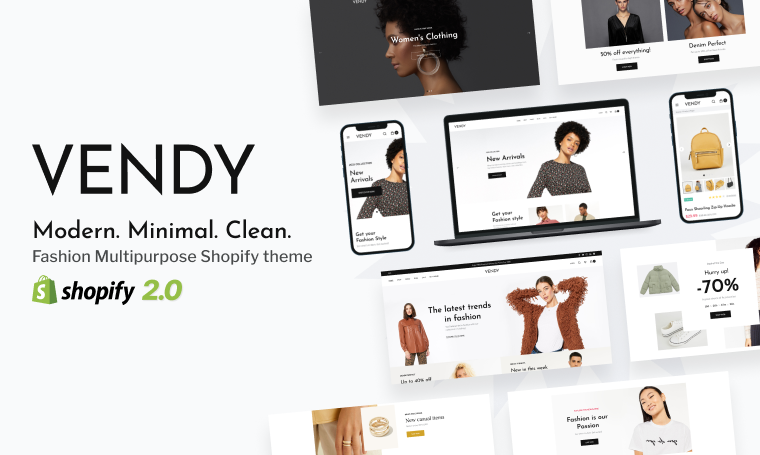 The Shopify themes for fashion are great for developing an online outerwear store or different shoes. A minimalistic design with the ability to connect advertising banners will not allow the customer to pass by. Also, this theme will help you create a website for selling fashionable clothes, shoes, accessories, flowers, and even home decor. An excellent option that can be adapted to any topic. A simple and understandable design, easy-to-customize layout, and rich functionality will turn the creation of your resource into a pleasant process.
Main features: support for all fonts from Google Fonts, support for multiple languages, optimized for fast loading, unlimited banners, and sliders. The template is compatible with all major browsers, well structured, and has clean code for easy customization. Users receive complete instructions to help them install and use the template. There is also a convenient shopping cart and wish sheet, and it is possible to make a quick purchase.
The Shopify themes for fashion is ideal for online stores, fashion sites, and other web resources that sell garments in different styles. It is equipped with many plugins and functions, that allow you to create a highly functional web resource.
Finally, Vendy is ready to go and includes a variety of widgets, customizable backgrounds and logos, and a top dashboard. This will display information about new products and promotions, a search bar, social media icons, and more.
Besides the template having simple and convenient navigation, it will not take long for you to understand how to work with it. You can also use the store to sell mono items. The rating feature shows the best-selling items and helps your customers decide on their choices. The home page also contains the latest blog posts, a newsletter subscription form, a built-in Google map, additional links, and company contacts.
Roxxe – Responsive Multipurpose Shopify Theme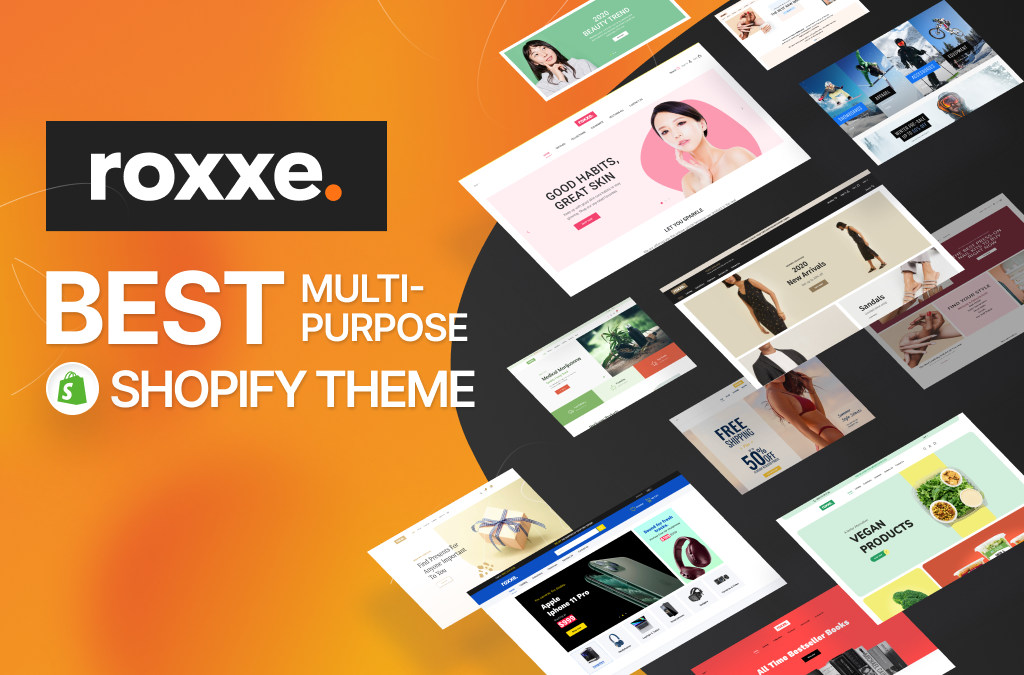 First, the Shopify themes for fashion give the impression of the quality, stylish product at first glance. Without a doubt, this is an effective solution for an online store. If you want to implement a drop-shipping business, you can also use Roxxe for this. Equally important, the Shopify theme for fashion is fully ready for use and easy to install. The template package contains all the required finished pages, such as Sale and Catalog. This means that you do not need to create anything yourself, and the "bricks" for creating an online store are already ready for use.
A very important feature is already built into the template. Thanks to it, you can easily sort products and quickly find the necessary product. The theme, of course, is completely adaptive with cross-browser compatibility.
The Shopify themes for fashion design are great for selling clothes, jewelry, wristwatches, and other products. Such a topic is successfully used to tell about yourself and sell online. The main features allow the user to change the design of the web resource in detail, customize the home page, add sliders, integrate videos, add a search engine, and much more.
Your store will definitely appeal to online customers. It includes convenient navigation, which allows you to see menu items, search, and a drop-down cart. The main store options are available through the menu. The user can use filters and collation of goods, which is very convenient. The built-in currency selector allows customers to easily select the desired currency. Turn shopping online into a real pleasure with an adaptive template.
Mysterio – Multipurpose Shopify Sections Theme Store for Fashion and Beauty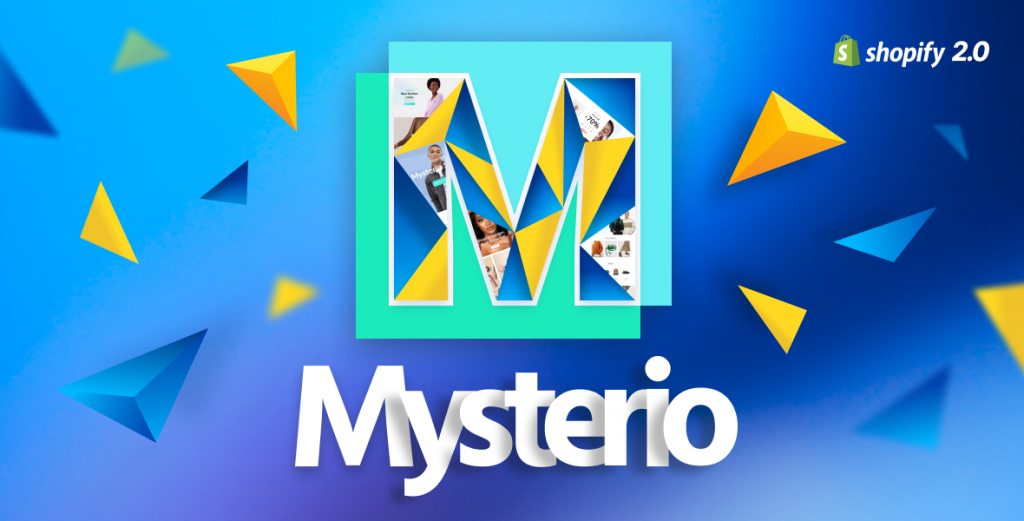 Perhaps you are looking for a creative theme that will bring additional features to your store? Meet Mysterio! Amazing Shopify themes for fashion, you will appreciate its visual execution. Here you will find all the modern trends. At the same time, the theme will win you over with its functionality. The high-quality content of the theme is complemented by non-standard design solutions. It is absolutely user-friendly and created according to the latest web development trends. What you will find here:
10 homepage templates.
Creative product page, collections, wish list.
Lookbook or blog page.
Convenient buttons with a call to action.
Full adaptability and SEO settings.
Use this theme to create your own blog or to promote your business project online. Equally important, the template is intuitive to use even for beginners. A huge selection of designs will allow you to find exactly what you are looking for. You will not have any problems with the installation, because you will receive all the necessary documentation and qualified support 24/7.
Sirius – Handmade Minimal Shopify Theme Store for Dropshipping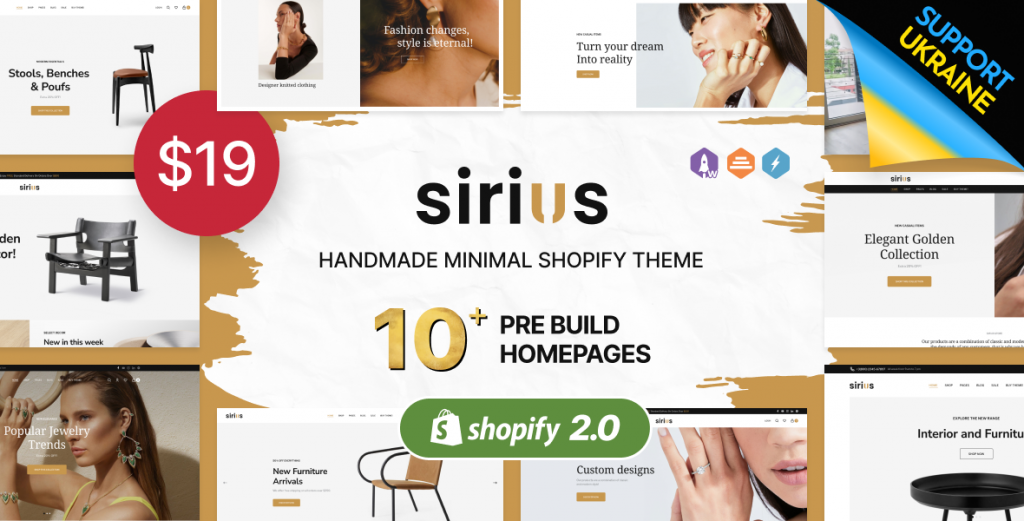 The great thing about Sirius is that it's not just that this is a perfect representative of the best Shopify themes for fashion. This is a completely ready-to-work online store. The template is stylish and comfortable. Made with all the latest trends in 2022.
It is noticeable that the developers have created a really high-quality product. So, in the template, there is not only a shopping cart but also a Favorites tab. You will find the Blog and News pages here. You can divide the catalog into different collections or by type of clothing – from dresses to swimwear. There is a search bar for products and even the ability to track orders.
Simply put, Sirius is a great option for creating an online store for any subject. Not only for clothes but also for any other goods. Just replace the photo and text content, as well as contact information with your own and you're done. Everything is designed in such a way that your store looks stylish and brings you a stable income.
What is inside?
New features of Shopify 2.0.
Fast page loading.
Home, product, blog, and other pages;
Working forms for site search, testimonials, buying, etc;
Shopping carts and wishlists;
Different gallery styles;
Product grids and listings;
Parallax animation effects;
Social integration.
Agree, these are excellent opportunities to tell about your business and sell goods profitably.
Apparelix – Clean Multipurpose Shopify Theme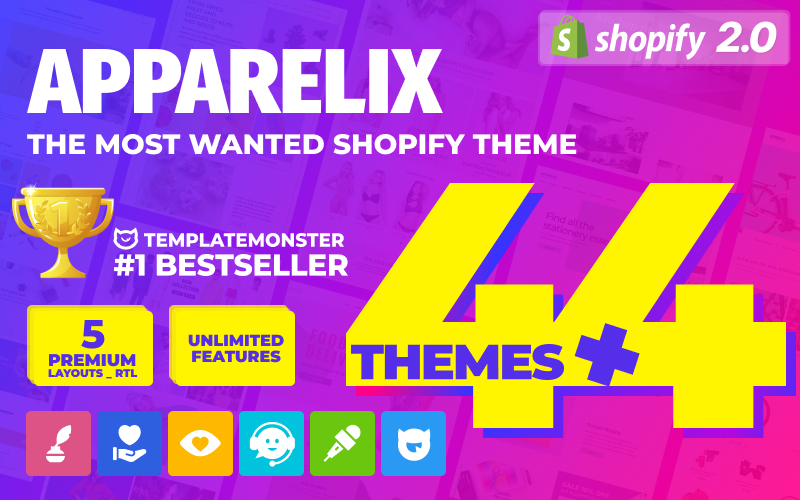 This is not just a topic for an online store on Shopify. This is a whole set of topics with which it is possible to create a store selling anything. Do you want to organize the sale of digital electronics over the Internet? Not a question, the Shopify themes for fashion is great for this.
Apparelix is a versatile Shopify theme for creating all types of eCommerce websites. Markedly, this Shopify themes for fashion has a lot of features. Among them: are additional home page layouts, header and footer layouts, collection and product page variations, various custom pages, and more than 10 skins. Additionally, we can mention unlimited color options and various fonts. Also, this theme is retina-ready, contains a Google map, and has a blog for additional traffic attraction to your site.
Use the theme to create your own blog or to promote your business project online. The user-friendly template is intuitive to use even for beginners, surely. A huge selection of platforms will allow you to find exactly what you are looking for. You will have no problems with the installation. You will receive all the necessary documentation and qualified support on 24/5.
In fact, this is a spectacular, trending, and stylish theme for a store or blog. It has perfect typography, a content-driven design, and a great feature set. They will allow you to customize the look and feel of your site based on your taste and desired color palette. In addition, you can appreciate a large set of widgets and plugins. The template is easy to use even for a non-programmer.
Delori – Shopify High Fashion Theme for Instagram Store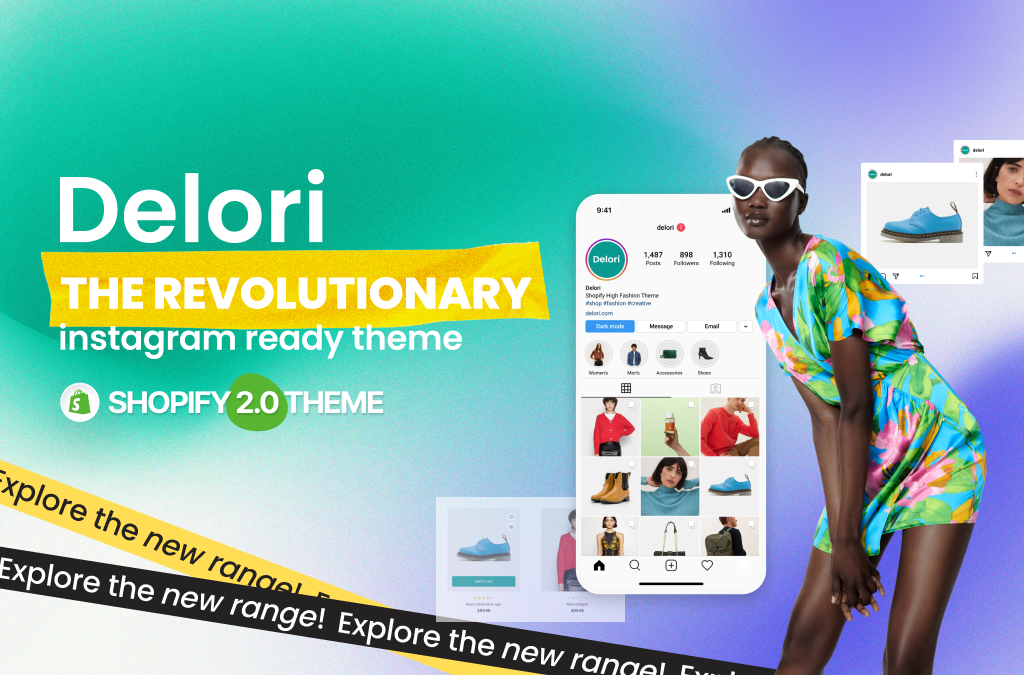 A delightful theme that is sure to boost your store's rankings. Do you want to create an Instagram store? You can easily do this with Delory. It can be set up and used in just a few minutes, which means you will quickly launch your store and start attracting customers.
Delori has a very clean and elegant design, as well as many powerful e-commerce features. In addition to being responsive, Delory lets you choose from multiple pre-built pages to get your store up and running as quickly as possible. Don't like the design proposed by the developers? Create your own style, even a beginner can handle this task.
Other theme features include unlimited header options, custom color schemes and fonts, product comparison, a wishlist, and a blog. Without a doubt, this is one of the best themes you can download for your store.
The Delori theme is a perfect choice if you can't decide what you want to sell. It's a multi-purpose theme, which means it can be used for a variety of areas. Delori offers a modern and flexible design. The theme includes 7 different home page layouts, three product page variations, an Instagram widget, a newsletter signup popup, and more. The theme also supports lazy loading of images which helps to improve page speed and the theme is optimized for SEO.
Conclusions
As you have seen for yourself, all the Shopify themes for fashion presented in this review are excellent in creative design and will be a great choice for any clothing store. Moreover, your visitors will be able to quickly view all product groups and reduce the time to find the right product. The grid-based content layout, retina images, and modern fonts will allow you to present your products in the best possible way. Fully adaptive, SEO-optimized, and cross-browser compatible, these topics will help you develop your business in the fashion industry.
You should notice that all Shopify themes for fashion are very attractive externally. This is a prerequisite for creating such a web product because beauty products require a beautiful submission and an appropriate message to the buyer. All of these templates will be a great frame for your merchandise. Concise but elegant design matches web design trends that will be relevant for a long time to come. If necessary, you can easily change the layout of the main page in a few clicks. Each topic has an AJAX search field that your users will accurately appreciate. A thoughtful user-friendly interface and stylish design will make a favorable impression on your users and add to your regular customers.
So, a wide selection of our Shopify themes for fashion will help you create the perfect online store and raise your business to a new level. All you need to do is download your content and make some changes to your liking. Our best developers have written clean code for you. Adaptive design is mandatory for any modern site, whether it is a news blog or a large online store. Also, this design automatically adjusts the content of the site according to any screen resolution.