Instagram as Marketing Tool for your Business in 2022
Surely you have wondered how to develop your business in 2022. There are many ways to promote your brand. Moreover, the very popular social network Instagram will help you in this. More precisely, you can use Instagram as marketing tool.

Instagram as marketing tool is an effective tool for business promotion. Today, this social network has more than 1 billion accounts. Moreover, the popularity of Instagram and its success is increasing every day. Therefore, many big or small companies use effective Instagram promotion guidelines.
Of course for Instagram as marketing tool to work to improve your business, you need to know some specifics. Given that I created this post, which will help you understand the subtleties of improving and promoting your business. Feel free to check the post: The best marketing WordPress themes.
How to Use Instagram as a Marketing Tool?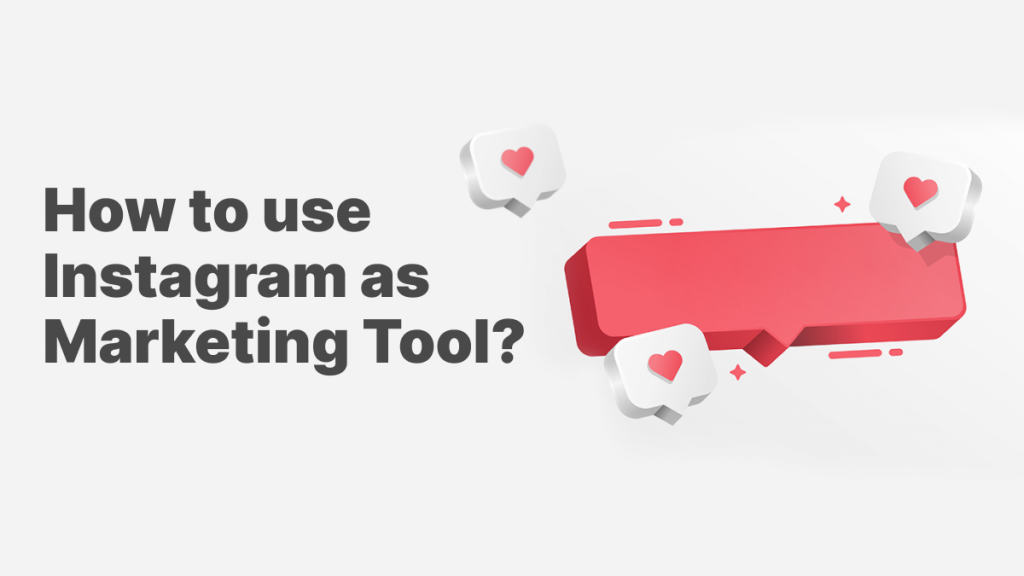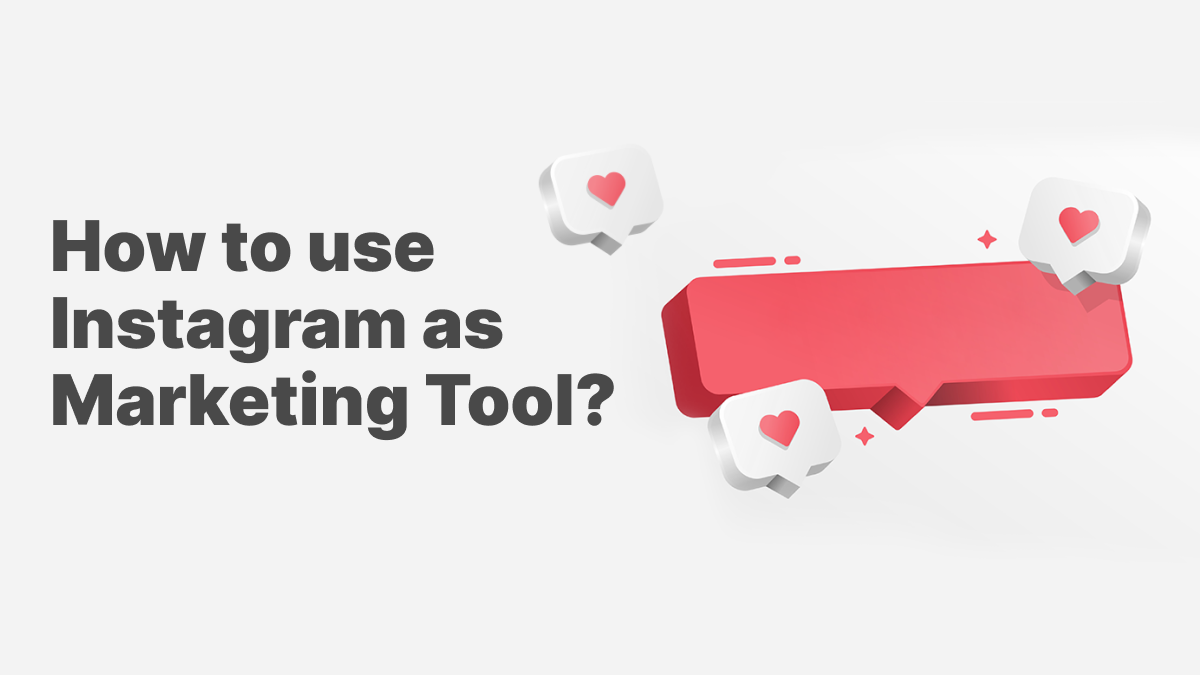 Instagram is a great marketing solution for online businesses. But let's understand what makes Instagram a great platform? First of all, Instagram itself is an inexpensive marketing tool. You may try to use a private Instagram viewer tool to see how other influencers are achieving success. Registration is free, the company (or owner) only pays for advertising. Secondly, the presence of advantageous features of the marketing strategy. After all, this platform provides access to a large audience. And this audience actively interacts with brands and is ready to buy goods. Third, Instagram as a marketing tool is an effective strategy used to spread your content around the world. Therefore, already many business people understand that it is an opportunity to take their business internationally. Check also the article about the content marketing trends in 2021.
However, this social network has other advantages:

brand promotion;
increasing the number of interactions;
increase in sales;
opportunities for audience growth.
As more and more people spend time on Instagram, marketing on this popular platform is worth the time and effort. However, as with all social media, a strategy is needed. There's one more important point to be made clear. Setting up Instagram as a marketing tool properly is not an easy task. You need to know all the intricacies of the platform in order to grow your business quickly and efficiently.
The most important thing to understand is that Instagram plays a very important role in the marketing system of a business. So if you use Instagram as Marketing correctly, you can gain access to a loyal audience, increase brand awareness and increase sales. After all, these are the aspects that a successful online business is based on!
Instagram – Effective Instrument to Grow your Business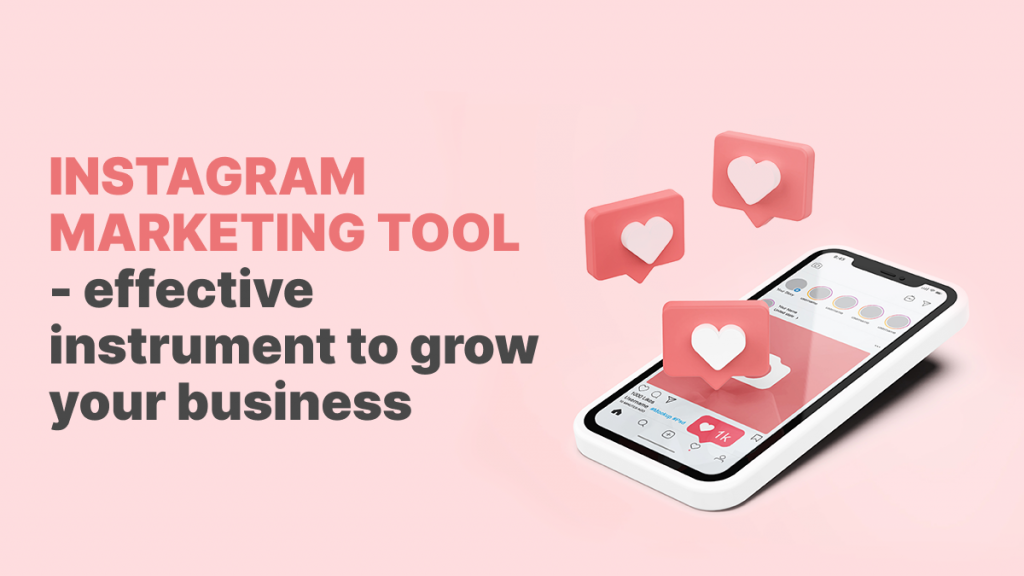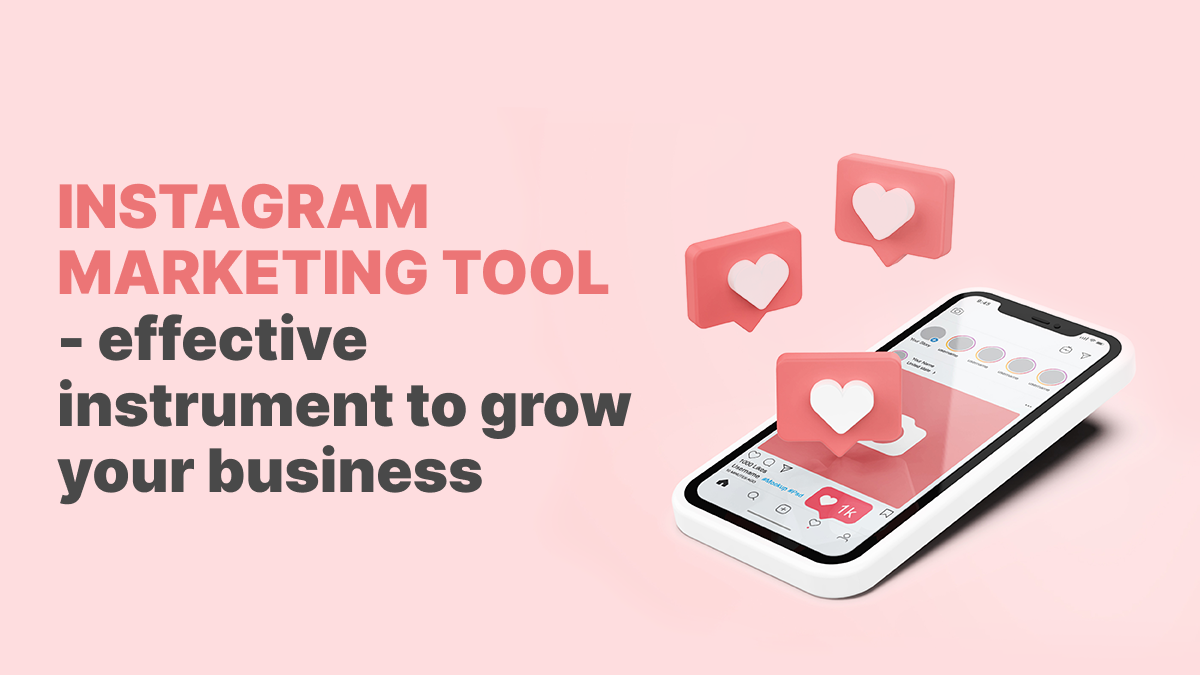 As we've already found out, Instagram is a popular platform for businesses. And Instagram as a marketing tool is an important system for improving business. Many new entrepreneurs build an entire business, from the ground up using the image-sharing social media platform.
Notably, from the time they break ground for their shop location to the construction, ribbon cutting, product launch, and promotional sales. They publish everything on Instagram since they want their audience to be updated with the developments of their brand. This way their audience will be more invested and engaged in being a part of the brand's success.
On the platform of the popular social network every day there are new features and opportunities for quality consumer information. This is the essence of Instagram as marketing tool.
Before, Instagram was mainly used to share photos. Now, the platform has Instagram stories wherein you can share videos and carousels, and even go live. There is also the popular IG TV, where content creators can create a channel to publish snippets of their life or whatever content they want to share with their followers.
In order for your online business on the Instagram platform to be successful, you need to adhere to strategies. These marketing strategies include:
drawing up a content plan for the business;
optimizing the profile (adjusting the profile to the format of the business page);
attracting subscribers = potential customers.
In today's reality, there is a struggle for every new follower. As a result, there is a decrease in the effective work of the business profile. Namely the issuance of posts and the level of engagement of potential clients. Therefore, in order not to lower these indicators, it is necessary to apply Instagram marketing tools.
Strategies for Instagram as a marketing tool include:
the structured design of the Instagram store page (Instagram storefront);
regular, unique, and interesting Instagram post about your store's goods;
original Stories;
contests or raffles;
advertising from "opinion leaders" (bloggers or celebrities);
constant feedback from customers.
These marketing strategies can contribute to the impressive results of the development of your online business. After all, thanks to these strategies there is a chance to increase brand awareness, and increase the number of new customers. And also to attract loyal customers and increase the number of sales.
Unworkable Instagram marketing tools
When working with Instagram as a marketing tool it is most important to remember to achieve success you need to set up these tools correctly. After all, if you misconfigure the work of any of the listed methods, your Instagram store will lose its popularity.
When creating an Instagram marketing strategy, it's important to be aware of marketing techniques that don't work. Such tools include:
bots, resorting to using bots and tools that will grow your brand artificially may look attractive in the beginning, but once you see that it's not contributing much to the brand value and has contrasting effects, you'll realize that you just wasted a lot of money. Additionally, you need to be very careful in using this since many brands got shadow-banned on Instagram and even got their accounts locked as a penalty for doing this;
mass following, liking, commenting.
This year, marketing experts are noticing a mass rejection of mass-following and masliking services. After all, they are producing fewer and fewer results. Such services are being shut down. Instagress was closed for general use. This is related to the policy of Instagram. In other words, it is perceived as a black promotion method.
Instagress is a service for promoting Instagram accounts by automating human activity in the social network.
Therefore, before you use Instagram as marketing tool, you need to learn the best and most valid marketing methods!
Achieve your Business Goals with Instagram. Essential tips and hints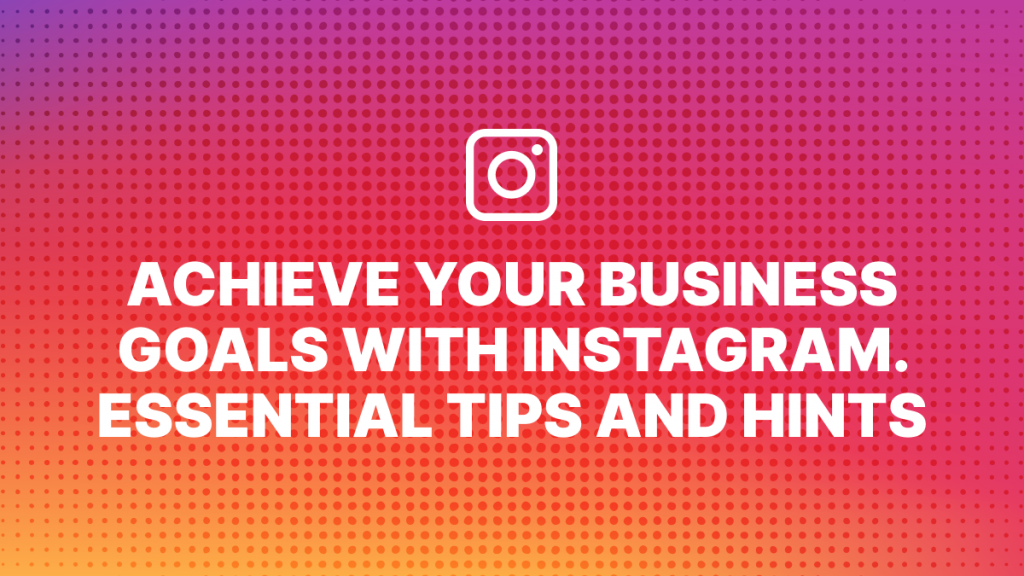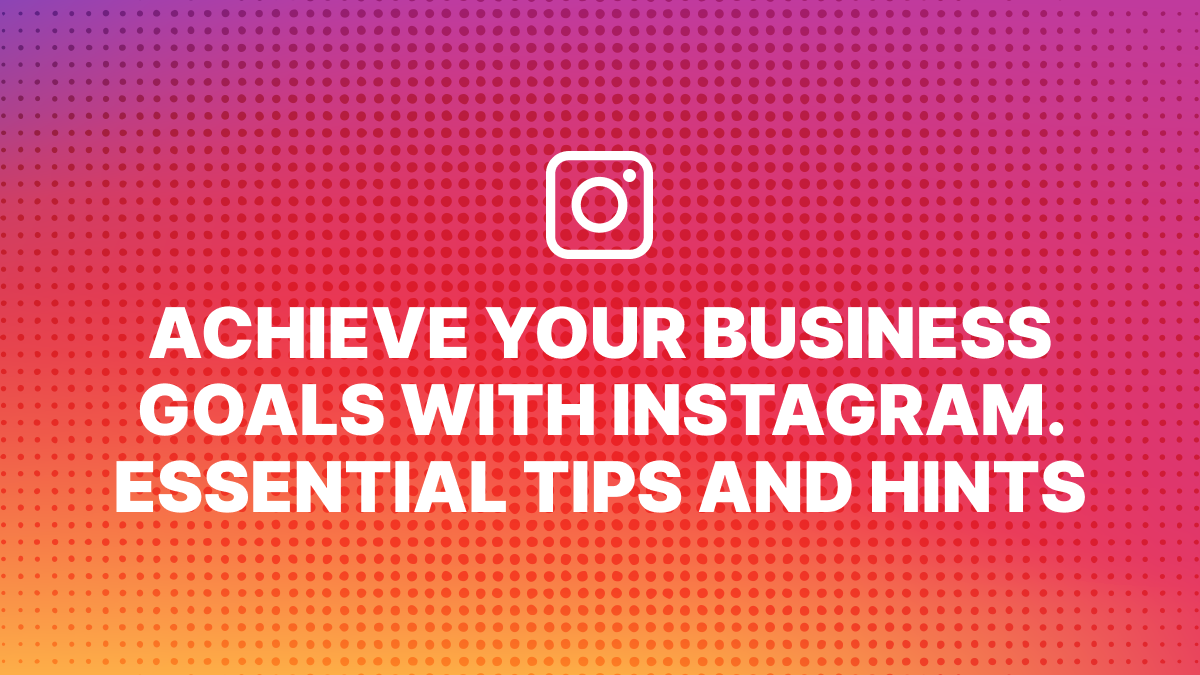 In this paragraph, you will learn more about Instagram as a marketing tool strategy.
And let's start with the most important thing-a content plan for your website. You got that right, even an online store needs a plan! After all, making a content plan is an important method in Instagram as a marketing tool.
Using a calendar to plan your posts is crucial since it's more effective to post when your target audience is active and not when they're sleeping. Of course, you don't need to do this manually, you can use apps to schedule your posts on specific days and hours in your preferred time zone.
Guidance! Firstly, analyze your account. For example, Minter.io, picalytics.com can help you with this. These programs show the periods and times when your content gets the most likes, the time your target audience visits Instagram. Secondly, clearly spell out the structure of how often and at what time you will add new products to your online store. Thirdly, think through the style of your web page.
Some of the basic Instagram as marketing tools that business accounts use include:
images, photos;
post description(which will include information about your store's product);
hashtags;
links to your website.
Consequently, you need:
monitor the quality of the photo (picture) of your product. To edit the photo, you can use the tools of Instagram or another graphic editor as this absolutely free background removal tool;
to think and structure the information for the description, to highlight the product in the best way, and to interest the customer;
identify popular hashtags that will work for your store. Special programs can help you with this. For examples hashtags.org or ritetag.com and many more.
An important aspect of Instagram as a marketing tool is Stories. Stories are created to:
tell about special offers (discounts, promo codes, sales);
demonstrate the workflow;
draw attention to a particular product.
Moreover, there is advertising information through Stories. And as we know, advertising for Instagram as marketing tool is the most important promotion method. Such methods are enticing and help to improve the traffic of your Instagram store.
Promotion on Instagram as a marketing tool
Promoting on Instagram as a marketing tool is a very important aspect. After all, this marketing method will make your online store profitable and popular.
Because Instagram as marketing tool is a promotion tool, for which you do not have to pay, it does not guarantee the popularity of your business. And in order to be satisfied with the result, you need to resort to paid services.
Free promotion allows you to increase the number of subscribers, but it is not aimed at finding potential buyers. Such promotion may not bring any income, and intensive boosting sometimes leads to profile blocking.
Popular and valid ways to promote on the Instagram platform are:
hashtags;
targeted advertising;
giveaways.
Experienced Instagram users say that the most effective way to promote the Instagram business profile account is recognized advertising on the pages of popular bloggers. With the help of such a move you will be able to:
attract the target audience, potential customers, which will lead to an increase in sales;
increase the popularity of the product;
get feedback from customers.
In fact, Instagram as a marketing tool has many huge opportunities for promotion. But to master the promotion technology and easily bring your business to a high level, you need to be constantly aware of updates. Therefore constantly study the information about Instagram, and follow the new technologies. In addition, use these tips and your Instagram business will be the best!