The New Big Update of the Roxxe Shopify Theme
The Roxxe Shopify theme is one of the most diverse multipurpose solutions for eCommerce that our team developed. When it comes to creating a successful online shop, this theme provides everything you'd expect. For a modern online store, it is always important to have a well-designed website. Many businesses often choose to build a website from scratch. However, we recommend using ready-made themes of high quality. With a variety of technologies and great features, modern solutions like Roxxe give way more opportunities than a custom-designed store. This is especially true if you look for a way to customize the website by yourself.

As you may have guessed, in today's post we are going to talk about the Roxxe theme. You'll learn what it provides, both content and functionality-wise. Moreover, we'll describe its recent update and the new functionality it has received. Finally, you'll learn what eCommerce professionals think about Roxxe. The renowned web development experts, as well as theme developers, have provided extensive reviews and opinions about this solution. But first of all, let's learn what this theme has to offer in the first place.
What Roxxe Shopify Theme Offers for Your Store
Being a multipurpose solution, the Roxxe Shopify theme can provide your online store with lots of advantages. First of all, it provides a wide selection of niche templates and topics for you to choose from. Regardless of what design you want for your eCommerce site, this solution has it. With over 80 ready-made homepages, you can freely select your next favorite design. Besides, this theme gives a variety of powerful features. From dynamic content to the integration of Shopify applications, you can freely choose what's necessary for your store.
You may be building an online version of a simple local store or something more complex. Whatever your needs are, Roxxe can provide what you feel is best for your site. The powerful search module will be great for quick navigation between multiple categories and products. Using the Product Comparison feature can help your clients to make the right decision. A diverse selection of page layouts and styles is great for presenting your products the proper way. And of course, the integrated Shopify builder will provide you with all desired customization tools.
New Skins and Features in the Latest Theme Update
While the Roxxe Shopify theme is a great solution on its own, we regularly add new features to it. The constant updates are available for free to all customers of Zemez who purchased this theme. While providing new functionality and designs is our primary goal, we also introduce various fixes and improvements with each release of Roxxe. Our team always ensures that clients receive top-notch functionality and outstanding design. The latest update that we have recently released is no exception. For example, it includes additional skins and demos for the following topics:

Casual fashion store;
Swimwear store;
Fashion bags store;
Watch store;
Beauty salon & spa;
Nails and hair stylist;
Organic cosmetics.
Roxxe receives monthly updates with new looks. This allows our clients to choose the right design for their next eCommerce website. Every update is built around a certain topic that unites diverse designs our team works on. However, aside from visual improvements, we also care a lot about the functional advantages. Whether they're visible or hidden from your store customers, additional features we provide are result-oriented. Besides, they can make a great difference for your store. A great example is Shopify 2.0 support which was introduced recently. As of now, our theme provides more flexibility and modularity than its previous versions.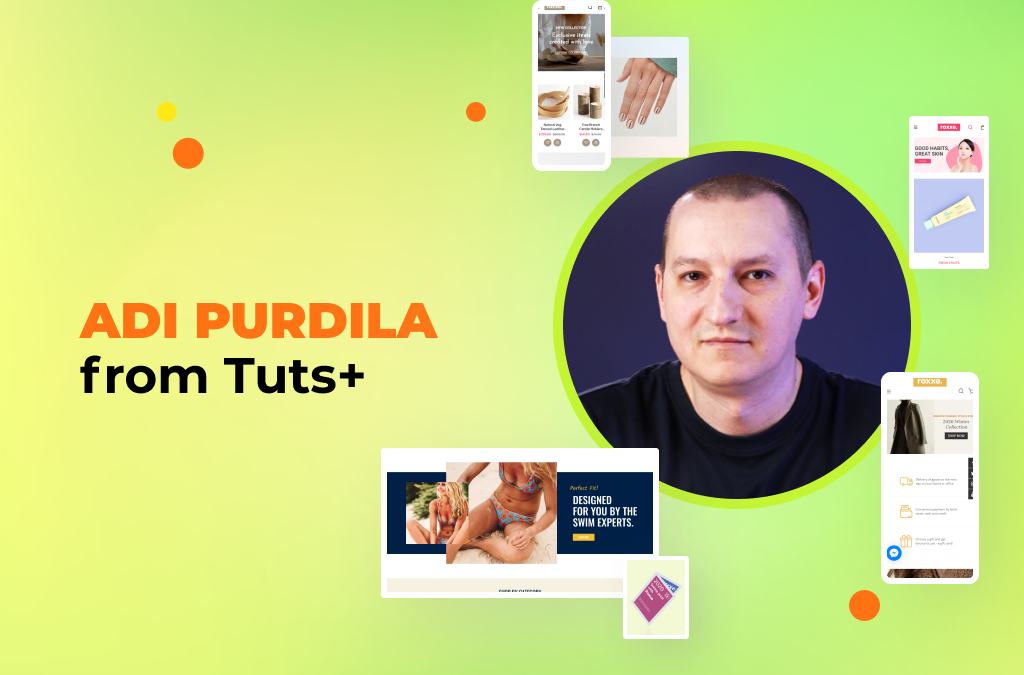 Roxxe Theme Reviews and Opinions: Adi Purdila from Tuts+
As one of our bestselling solutions, the Roxxe Shopify theme has received multiple positive reviews. Both developers and regular users are impressed by it. Many bloggers and content creators related to the world of web design were also pleased by it. For example, Adi Purdila, the author of many successful web development courses and tutorials on Envato Tuts+, has published his review of Roxxe. Taking a quick look at the theme shortly after its release in 2020, Adi points out the variety of available home pages and demos. He also mentions that the theme setup doesn't take a lot of time to install.
Roxxe is a solid and really flexible multipurpose Shopify theme.

Adi Purdila, Tuts+ course author
In his review, Adi Purdila chooses the furniture store to test what Roxxe offers. Also, the author took some tests regarding the theme's performance. Pointing out the quick view feature, he is also quite satisfied with the user experience. The review also touches on the customization topic. Besides, it mentions the well-organized settings and the process's simplicity. Finally, he writes about performance that shows great results on desktop (showing 91 in Chrome Lighthouse Audit). Adi also suggests certain improvements regarding performance on mobile. Since the publication of the review, our team has introduced several vital changes and updates. They positively impacted performance and page loading speed on both PC and mobile platforms.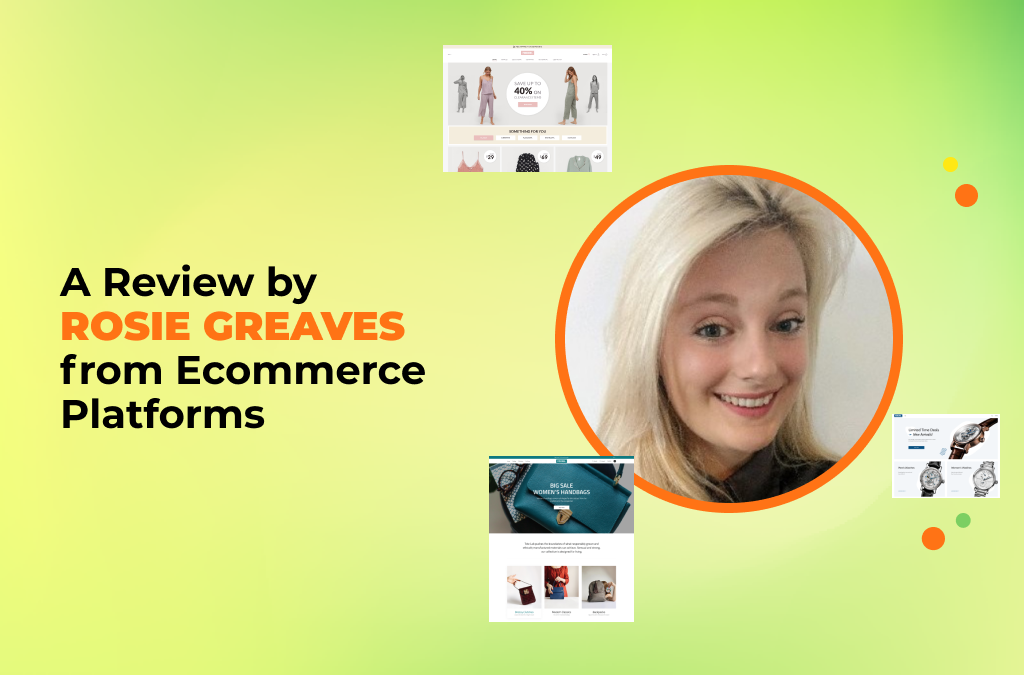 The Benefits of Using Roxxe Shopify Theme: A Review by Rosie Greaves from Ecommerce Platforms
Now, let's take a look at the review by Rosie Greaves from Ecommerce Platforms website. Her look at the Roxxe Shopify theme is quite detailed. Rosie is an experienced author of eCommerce-related content. She is impressed by the varied selection of topics for home pages. The author also talks about the quick demo import feature and the integrated search system. Both of these advantages are crucial for any modern online store.
Roxxe's design options are nothing short of robust. It is also fully responsive, so it looks great on any screen size.

Rosie Greaves, ecommerce-platforms.com
The review author also describes various integrations that Roxxe can offer. These include apps and plugins that extend the theme's functionality. For example, there are e-mail marketing apps and trust badge extensions. They make your store more informative. Rosie Greaves also mentions the affordable pricing of the theme and its ease of use. Indeed, this eCommerce solution can be installed and customized quickly. This is possible thanks to the abovementioned Shopify Bilder and clear instructions in the documentation.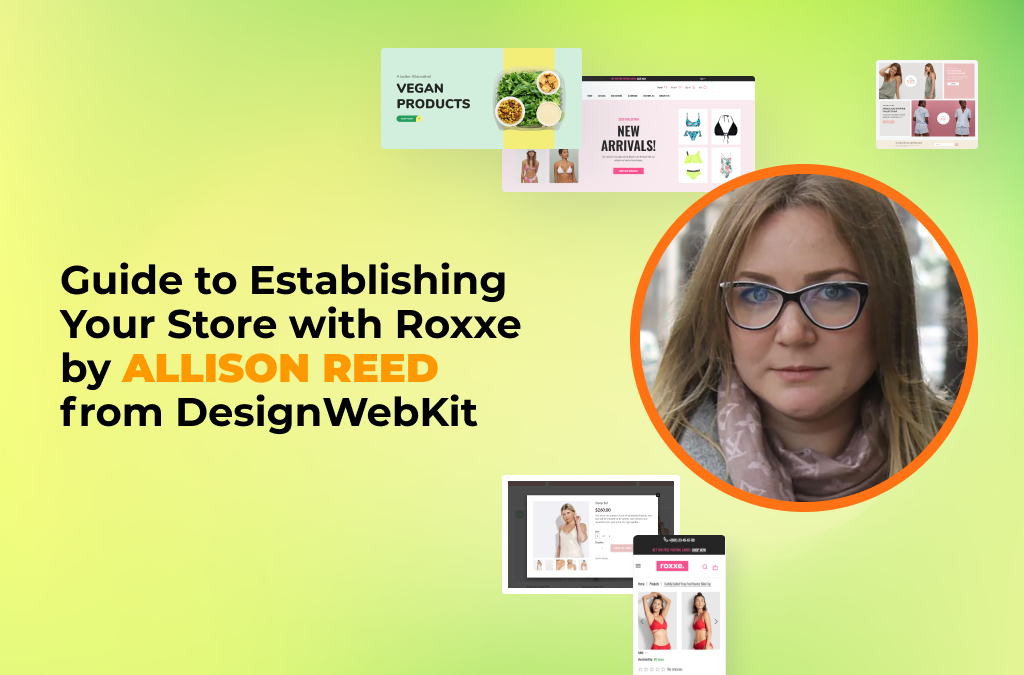 Guide to Establishing Your Store with Roxxe by Allison Reed from DesignWebKit
Allison Reed, the blog author at DesignWebKit, prepared not just a simple review. Her publication offers a 10-step guide to setting up a store with the Roxxe Shopify theme. From installing our solution to localizing it, Allison describes what is required to establish a powerful store with this theme. Her post also mentions aspects of customizing the store.
Roxxe is an ever-growing and constantly developing project that will satisfy the requirements of any.

Allison Reed, designwebkit.com
Besides, she writes about setting up payment methods, taxes, and shipping. Making a strong header is also advised for giving your eCommerce website more individuality. This part of creating an online store is also described in the author's guide. She mentions all required elements for an attractive header, such as:
Account block;
Shopping cart;
Search module;
Wishlist;
Currency switcher.
The guide describes various measures necessary for building an online store quite well. Moreover, it gives some important information about creating new pages for your store. This can be done using the pre-designed page layouts. Also, further customization with the Shopify Builder is possible. Reed's post also contains a short overview of diverse homepage designs or skins. While varied in topics, these skins allow getting started with creating a stunning online store quickly. Lastly, the guide mentions such important website elements as popups. Roxxe includes a lot of pre-built popups for your store but you can also create new ones. This can be done with the Shopify Theme Customizer, which is also mentioned in the review.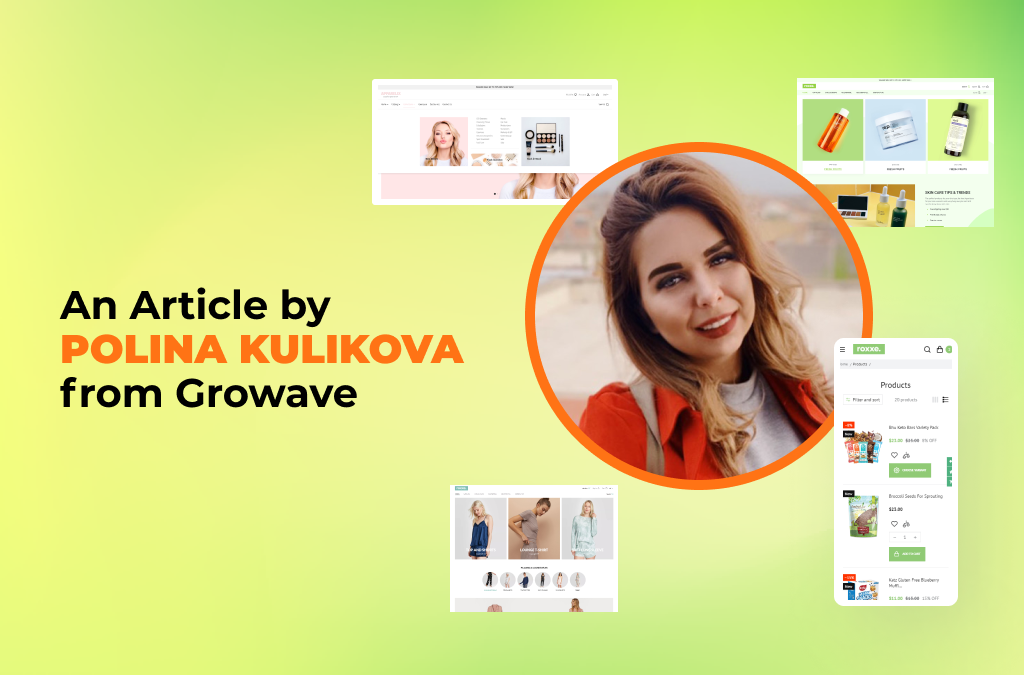 Perks of App Integrations with Roxxe Shopify Theme: An Article by Polina Kulikova from Growave
As we have already mentioned, the Roxxe Shopify theme has lots of supported apps. One of them is Growave, an all-in-one marketing platform for Shopify. When you get Roxxe, you can try Growave free for 30 days. From authentic reviews to loyalty programs, this app adds a lot to our eCommerce theme. The author of the Growave blog, Polina Kulikova, has also shared her thoughts about the Roxxe theme. She also covered how our theme works with the marketing app.
Roxxe is a ground-breaking and all-purpose Shopify theme. With its responsive and varied design, it is a great web solution for literally any online business.

Polina Kulikova, Growave blog author
Being an all-in-one solution, Roxxe is a great choice for any modern online business. Polina supports this statement in her short review of the theme. Besides, she mentions the work of other popular integrated apps. Klaviyo, Trust Hero, and other extensions are just a small part of the theme's potential. And with Growave, using our solution can be even more rewarding. No matter if you plan to start an online marketing campaign or not, Roxxe is ready to give you more than any other solution in the market.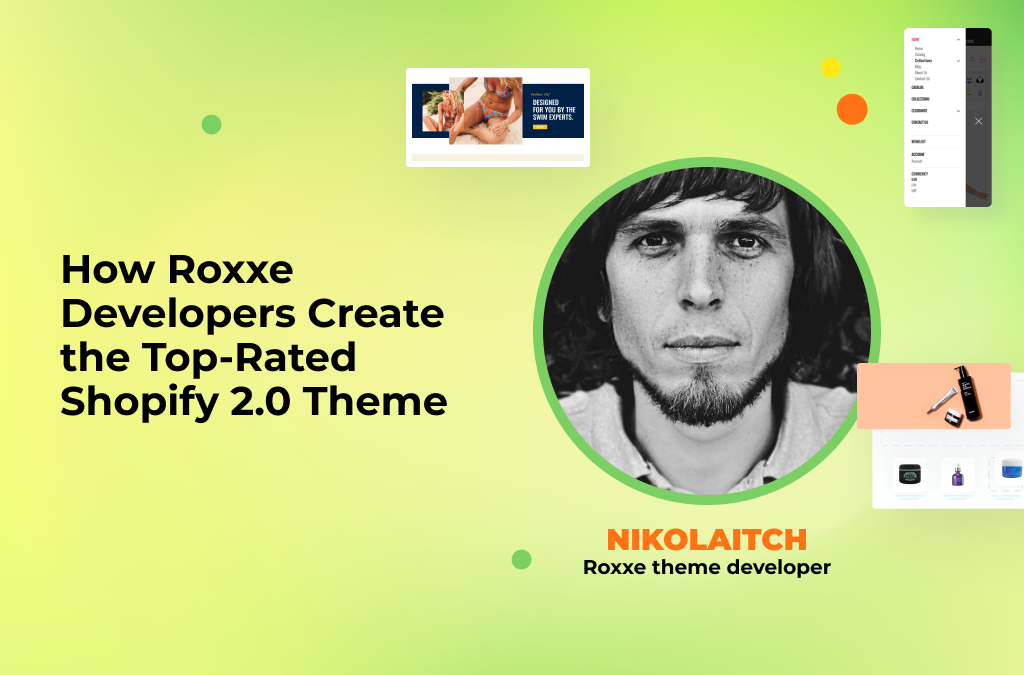 How Roxxe Developers Create the Top-Rated Shopify 2.0 Theme
The constant improvement of web technologies allows us to add new great features. The Roxxe Shopify theme is a great example of how our developers improve the themes over the years. Due to the introduction of Shopify 2.0, creating high-quality solutions became easier than ever. According to one of the Roxxe developers, Nikolaitch, the new version of the Shopify platform completely revolutionized the way themes are created. For example, here are some of the new additions that we used in the Roxxe theme development:
Better product filtering;
New & updated app extensions;
Improved Shopify theme editor;
Reworked checkout experience;
Multilingual features;
Outstanding site performance.
Needless to say that this update added lots of long-awaited features for our developers. For example, there are flexible content blocks and dynamic sources.
With Store 2.0, Shopify provides just the tools we need. Now we can easily craft innovative eCommerce solutions for our clients.

Nikolaitch, Roxxe theme developer
Thus, the Zemez team has more tools for building quality solutions for online stores. With the app blocks and sections on every page, new Shopify themes like Roxxe can give our clients more opportunities for online growth.
Roxxe Shopify Theme Big Update: Conclusion
We hope these reviews helped you to get a clearer look at this solution. Maybe you aren't ready to buy the Roxxe Shopify theme now. In this case, you can always check out its live demo. There you can view all its skins, home pages, and multiple features. With all these advantages, our eCommerce solution is a great starting point for any store. Using Roxxe's designs and layouts can help you transform your store and attract new customers. Developers of Shopify-based websites will also find it quite useful. Our theme can help you quickly create both minimalistic and complex online stores.
If you are looking for more web design tips and guides, feel free to visit our blog. We regularly write on e-commerce, online marketing, web development, and other interesting topics. Moreover, on our website, you can also find out about services and other solutions we provide. We also invite you to take a look at our portfolio for more themes and templates like Roxxe. Whether you work with Shopify, WordPress, or HTML, we surely have a solution for your next online project. And if you want to get regular updates about our products and posts using social networks, we recommend following us on Instagram and Facebook. With Zemez, you'll always stay updated with the latest from the world of web design.