The Monstroid2 Theme: #1 Multipurpose Solution for Your Website
The Monstroid2 theme is one of the most popular themes providing unique opportunities to website owners, designers, and developers. Nowadays, having a well-designed website can hugely impact your business or organization. One of the most effective ways to get a modern website is to use themes or templates. With one of the most versatile solutions available on the market, building a noticeable website won't be a problem. Monstroid2 offers what you'd expect from an industry-leading solution for both regular users and web developers.
With hundreds of multipurpose templates and themes available on the Web, it may be hard to choose a proper one. This is especially true if you are working on several online projects and are using diverse web development platforms. However, Monstroid2 offers time-tested solutions that are combined with innovative techniques and approaches. In today's article, we'll take a detailed look at what different versions of Monstroid have to offer. Also, we'll describe how 5 years of updates and constant improvements have influenced one of the most successful products Zemez has to offer.
If you want to know more about web design tricks and techniques, we invite you to our blog. The authors of Zemez regularly publish new posts covering the latest web design trends and sharing web development tips. Regardless of the platform you use, be it WordPress or Shopify, you are sure to find something that interests you in our blog. Moreover, we publish reviews and guides of popular web design themes and site builders. No matter how experienced in web development you are, we are always ready to keep you updated with the latest news on web design.
The Story of Monstroid2 Website Theme
The Monstroid2 theme represents the development of ideas and strivings of Zemez to make an easy-to-use, multipurpose, and feature-rich website theme. Being a continuation and a better version of Monstroid, its second installment introduces better performance, more functional advantages, and an updated design. Developed in 2017, Monstroid2 is based on a modular structure that allows easy website editing. During the recent 5 years, it became the website design solution we are truly proud of. Now there are three fully-featured versions of Monstroid2 for diverse CMS and platforms – WordPress, WooCommerce, and HTML.
But what makes Monstroid2 so great? While every version of this solution has its own perks, they have indisputable advantages. You can easily create a website of any complexity with any version of this theme. Whether you need to create a simple landing page or a multipage & detailed business website filled with content, Monstroid can be your powerful yet affordable choice. Also, it is great when you need to build a high-quality online store for an established or new website in no time. Now, let's explore each theme version in detail. Below, we'll find out what makes every template stand out and what they provide.
Monstroid2 Modular Elementor Theme for WordPress

The story of the Monstroid2 theme begins with its version for WordPress. It was released in 2017 and provided customers with numerous advantages. One of the most notable innovations at the time was its modular structure. This is true, especially when compared with the first version of Monstroid. But what made this template truly successful? Its combination of cutting-edge design and functional features definitely laid the foundations. Now, this theme is one of the most asked-for multipurpose solutions. Our team aimed to make Monstroid2 suitable for all users. From web industry newcomers to professionals, everyone can get what they need to succeed on the Web.
This theme was designed to be 100% compatible with Elementor builder. Alongside the benefits this builder includes, you also get various JetPlugins developed by our team. These and many other benefits were developed and perfected during the recent 5 years. They provide useful features and innovative functionality for the builder and your website. For example, you get to create powerful navigation for your site using the JetMenu plugin. Or you can fully customize your blog posts and layouts via JetBlog. And with the abovementioned modular functionality, reordering sections and blocks is excitingly simple. You don't even need to have coding experience to do it. Here are some other features that Monstroid2 for WordPress includes:
A variety of ready-made sections and blocks;
WooCommerce package;
A variety of supplied plugins and options;
Free weekly updates;
One-click installation & low template size, etc.
Leading WordPress Theme with Hundreds of Skins and Pages
This is only a small portion of the benefits provided by the Monstroid2 theme. For example, it offers a variety of skins and ready-made pages, too. They can easily transform your website and provide it with space for your content. With an easy installation process, using this theme for the first time will be rewarding. Our developers also made sure to improve the theme performance. This means the solution we offer guarantees fast loading speed. Also, with a performance grade of A93, a website built with Monstroid2 will run faster than most modern sites.
Still, there are other advantages our solution provides. One of them is a variety of pre-designed child themes and pages. With Monstroid2, you get over 200 ready-made and customizable pages. The included themes vary in topic and provide modern and creative design for any website. From a corporate website to a personal portfolio, you can have anything with Monstroid2. Every theme and page is well-developed and thoroughly tested. This is done to help your visitors have a great user experience. Moreover, with comprehensive documentation and professional support from the Zemez team, building an appealing website is easy.
Multipurpose Monstroid2 Theme for Bootstrap 5 Websites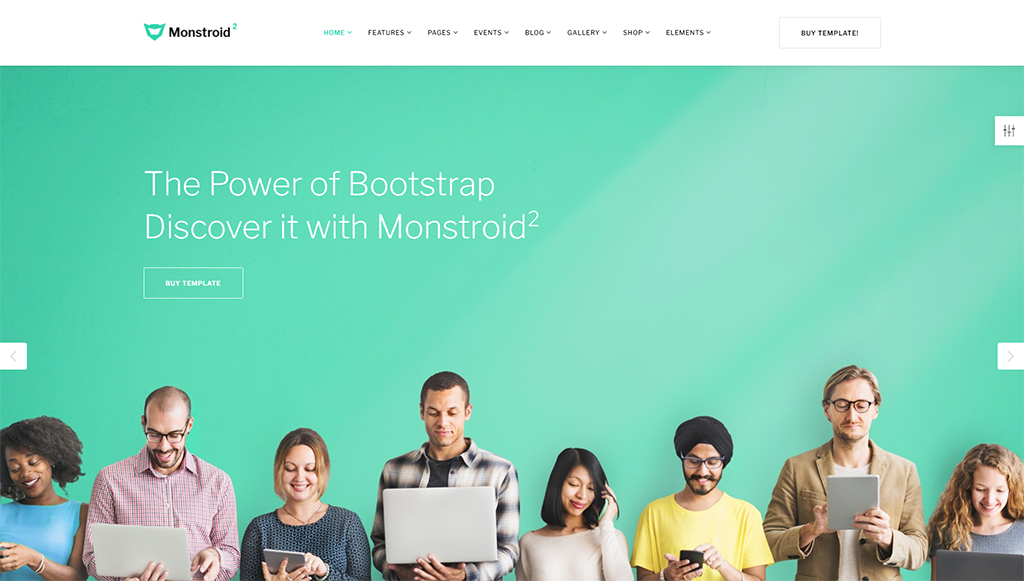 The success of the Monstroid2 theme for WordPress provided the demand for updates and new solutions based on it. This included new versions of this bestseller adapted to popular platforms. That's how the HTML version of Monstroid2 appeared. It was released shortly after its WordPress original. While being similar in various features, it provided additional advantages for owners of HTML websites. From pre-designed layouts to the supplied Novi Builder visual editor, there are dozens of benefits included with this multipurpose website template. Let's take a closer look at it.
Those who are planning to switch from WordPress to HTML are in for a treat with Monstroid2. This multipurpose HTML5 website template has what it takes to make your website look impressive and user-friendly. But it not just looks great, it runs smoothly as well. Our developers took care of it while also rolling out constant feature updates and upgrades. With the Bootstrap 5 framework, you get a variety of functional advantages. First of all, it offers a responsive and mobile-friendly layout, which is easy to customize. Moreover, there are hundreds of pre-designed pages, blocks, and sections. They don't require coding knowledge to be used and can be easily edited. Most importantly, the HTML version of Monstroid2 includes dozens of child themes and templates suitable for:
eCommerce-Ready Solution with Efficient Customization Potential
Another great option available with both versions of the Monstroid2 theme is their eCommerce-ready pages. The original version for WordPress provides a WooCommerce package we described above. The HTML variant, on the other hand, includes pre-designed layouts for your store. Monstroid2 for HTML includes everything a modern online store needs. For example, you can describe your products in detail or provide customer reviews. Your website visitors can also apply filters to the shop catalog. This way, the clients will easily find what they need. You can also freely use the diverse layouts and design of Portfolio and Blog pages. With them, you'll be able to add more interesting content to your website.
Monstroid2 wouldn't be complete without vast customization options. That's why we supplied it with the abovementioned Novi Builder. It is a versatile solution for creating and editing powerful HTML5 websites. This builder can be easily used by website owners and developers of various skills & knowledge levels. There are hundreds of presets, layers, and blocks provided with the Monstroid2 multipurpose HTML5 website template. The template also provides dozens of elements and components. They include Google Fonts, Google Maps, buttons, progress bars, counters, etc. Since the template's release, these features proved to be beneficial for users and developers.
WooStroid2 – Top-Class eCommerce Theme for Online Stores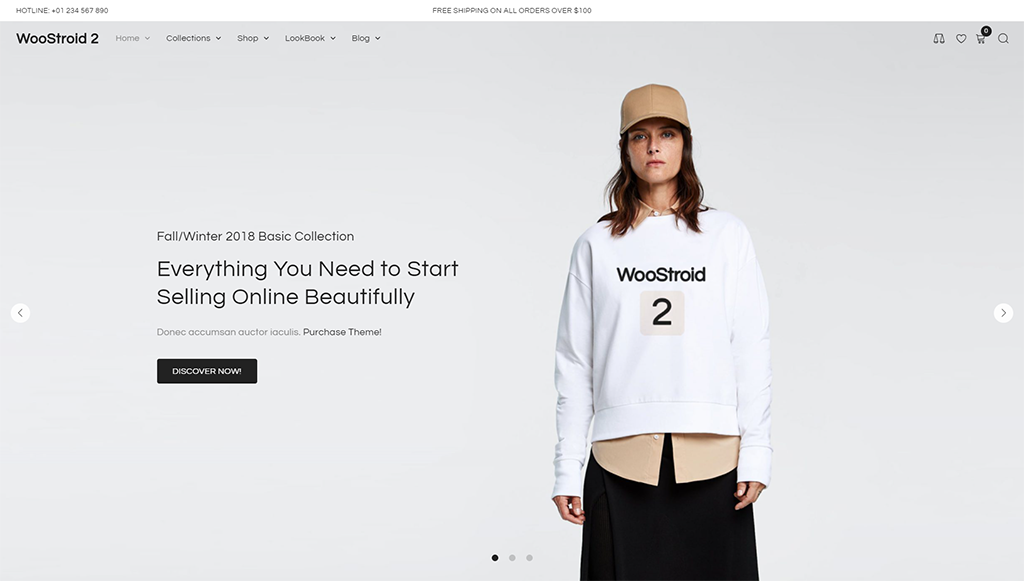 The last version of Monstroid we would like to talk about is WooStroid2. As you may have guessed from its name, it's a version of the Monstroid2 theme adapted for the WooCommerce platform. The latter is a WordPress-based platform for online stores. That's why you can expect a variety of design features and advantages from it. However, WooStroid2 is eCommerce-oriented. So if you need a high-quality theme to create an outstanding online store for your business, using this theme is highly recommended. Moreover, it comes with a vast range of advantages that cover its design and functionality.
The features supplied with the WooStroid2 website theme cover the needs of modern online stores. Firstly, it provides a wide range of design benefits. For example, this theme allows you to boost your sales by effective promotion. With pre-designed pages for collections, lookbooks, and product catalogs, you can easily transform your store. An easy-to-use JetWooBuilder allows you to fully transform your online store. Over 50 widgets and a selection of JetPlugins make the creation of any store quite simple. Moreover, this WooCommerce theme comes with a vast choice of pages and other features, including:
6 homepage layouts;
Variety of collections and categories;
Product grid;
Taxonomy tiles;
10 product carousel options;
5 blog layouts;
Product cart & wishlist etc.
Widgets, Plugins, and Other Advantages of WooStroid2 Theme
The WooStroid2 WooCommerce theme provides a wide range of functional advantages for your store, too. For example, they include AJAX filters. They are ultra-fast and can be used to help your customers find what they need. Such filters are integrated into various catalog pages of this theme. Also, there are comparison blocks available. They are highly customizable just like any other Monstroid theme or template. And with a Quick View plugin, it's easy to implement a product preview on any page you want. Finally, the JetProductGallery plugin is a great solution for creating impressive portfolios and galleries for your site. All these features are perfectly combined with the traditional advantages of a modern online store.
However, one of the strongest suits that WooStroid has to offer is its customization potential. Since the release, our team upgraded and improved this theme. As we mentioned before, it features an easy-to-use page builder. It is based on Elementor, which is a quality standard for website customization. For example, this Monstroid2 theme allows you to quickly change the looks of your store. With a wide amount of layouts and widgets, you can create what your visitors need. Furthermore, making your website interactive is easy with this solution. From neat accordions to parallax effects, WooStroid2 can give your website what it needs.
The Phenomenon of Monstroid2 Theme
For 5 years since its release, all versions of the Monstroid2 theme have provided great opportunities for web development. Designed to be simple yet effective in its usage, this solution quickly became the #1 bestseller of Zemez. It also branched out into templates for different platforms that are also successful today. With a varied and unique combination of functionality and design, now it is a truly multipurpose product. It satisfies the needs of both regular users and professionals. We hope this overview of Monstroid2 themes provided a better understanding of what it offers and how it helps in web development.
To find out more about this and other solutions, feel free to visit our website. Zemez provides web design solutions for a wide range of topics and platforms. To stay in the know with our latest updates and news, we also recommend taking a look at our blog. And in case you find social platforms more fitting for getting in touch with us, don't forget to follow and like us on Instagram and Facebook. We are glad to provide you with everything for creating a website you'd love.