A website is an amazing online tool that modern entrepreneurs cannot ignore. Many people think this is a complex and lengthy process, but it is not. Creating a website with an online store is not a big problem these days thanks to the presence of WordPress. You can sell about anything online by building a store with a WooCommerce themes 2022. With this fantastic eCommerce plugin, you can turn your simple website or portfolio into an online store. Of course, the list of popular themes is constantly updated, so today we want to tell you about the best WooCommerce themes 2022.
WooCommerce themes have an intuitive user interface. Because of this, you can use them to showcase digital and physical products. Its reporting feature will help you monitor performance and evaluate the progress of your online business. WooCommerce themes 2022 can be used effectively for various business websites. All of them can offer clothing and footwear, physical goods, digital goods, cosmetics, and virtual goods.Of course, with their help, you can quickly sell services. Do you just want to create a business card website for your company? You can easily complete a task of any complexity with the help of the topics that we will show today.
Why should you choose WooCommerce themes 2022?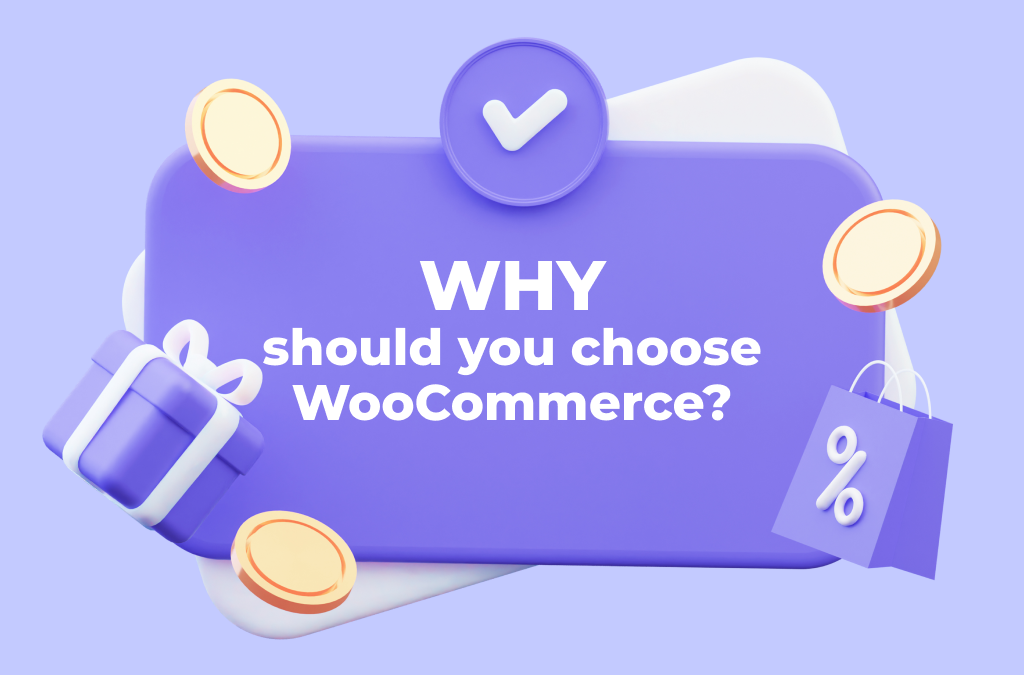 Adding an online store is a big step toward expanding your customer base and increasing your income. WooCommerce has many benefits that make it the perfect solution for small business owners who want to sell online in an elegant way.
WooCommerce is easy to set up and use. This means you can have your store fully up and running within minutes.
It integrates with any WordPress theme and has a clean and minimal design so your store won't look out of place.
Payments are also easy to set up and you can choose between PayPal, direct bank transfer, cash on delivery, or check. There are so many points that could be compelling reasons to use WooCommerce. WooCommerce online store design customization options are the same as any other WordPress site. The number of options available to change depends on the theme. The engine itself allows you to create and edit menus, add widgets to pages, and build the interface of individual pages using a convenient editor. All WooComerce themes are well optimized for the requirements of search engines. The position in Google depends on how you will use the WooCommerce features. We have already written about the WooCommerce WordPress plugin overview.
Lastly, since WooCommerce is so popular, you can easily find answers and support from developers who specialize in WooCommerce customization. And it's really cool.
What will you like about WooCommerce?
WooCommerce is very easy to set up. This is an easy-to-install WordPress plugin. It is suitable for small businesses that need a simple and stable solution. Seamless integration between WooCommerce, WooCommerce Extensions, and StoreFront mean more efficiency in your work.
Sell on multiple channels – why stop at one? You can sell your products across multiple devices, including mobile apps. This channel diversification capability allows your customers to shop anywhere, anytime. Integration with Google, Amazon, eBay, and Walmart makes products more visible worldwide. For example, a customer who selects your products on Google will get them from your store. You control product listings, including inventory management, price, and product name. Your store sends products sold through the appropriate channel to customers.
Customers are safe with secure payment services. There are a large number of payment gateways with multiple payment channels. Your customers will have a wide choice of payment methods. In addition to integrating with well-known third parties like Stripe and PayPal, WooCommerce also has its own.
WooCommerce payment services have their own payment gateway integrated with Dashboard services. There are no setup fees and no monthly fees while transaction fees remain low. The advantage is that customers can make purchases and pay for purchases on the WooCommerce platform.
Extensive customization options. You can do everything yourself because you get detailed documentation and instructions. Or you can hire a developer who will do everything in a short time.
Excellent abandoned cart recovery system. A simple but extremely effective feature that allows you to remind customers about yourself and restore the cart. This action allows you to return up to 30% of the total number of orders in the store.
What will you find in WooCommerce themes?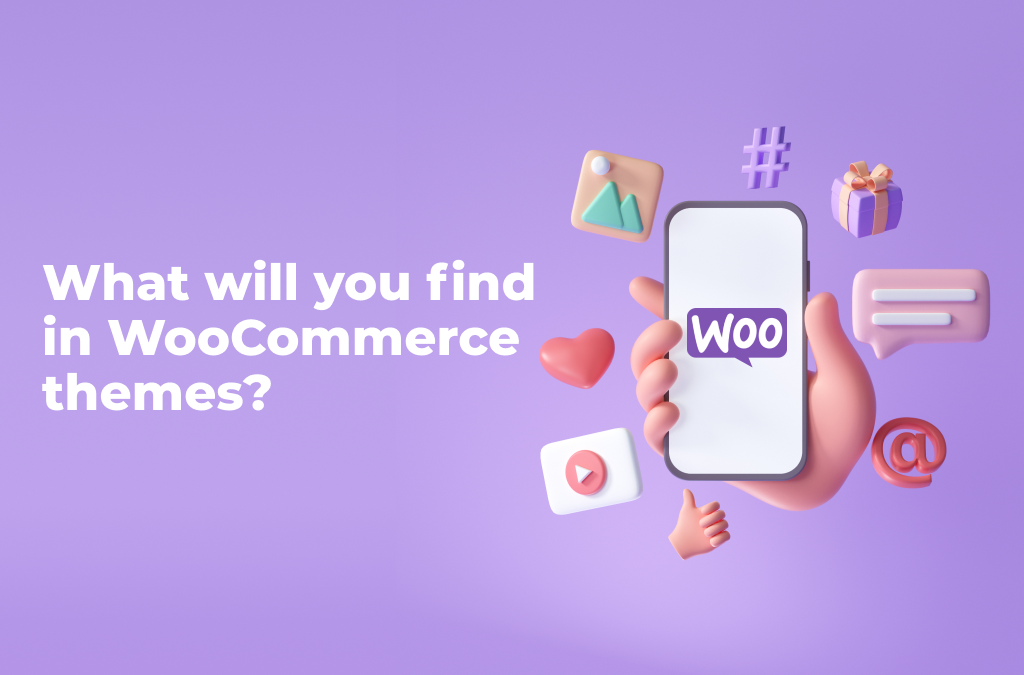 Choosing the right theme is not easy. However, you can find something in common that is in every topic. Simple and convenient features for every store.
Attractive design – in addition to this, the chosen theme should correspond to the interests of your audience and the type of products you sell. For example, if you're selling clothes or toys for kids, use a theme that has a fun look and bright colors.
Constant updates and support – choose a theme that is well maintained and developed to avoid possible conflicts when WooCommerce or WordPress release their updates.
Feature customization – If you know you need special features such as sliders, custom widgets, or various layout options, choose a theme that already has them.
Flexible design and fast loading – With the increasing use of mobile devices, look for themes with flexible design and fast loading.
Many of our WooCommerce themes already include all of these features and are sure to take your online store to the next level. In this post, we offer our best WooCommerce themes 2022 to help you grow your store.
Medijuana – Medical Cannabis WordPress Theme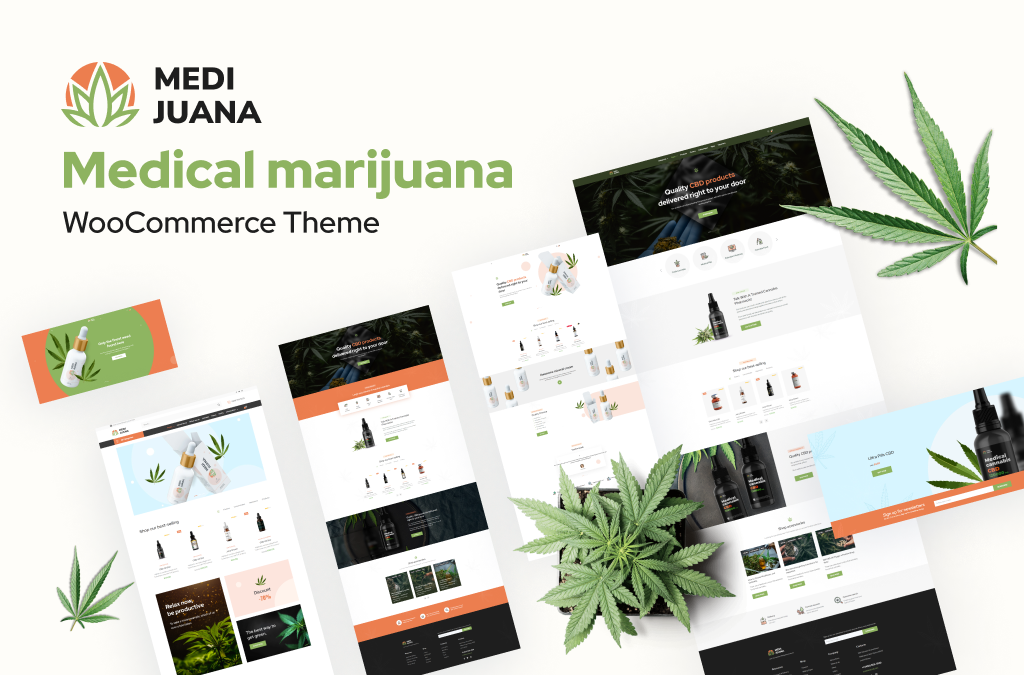 Medijuana is a WooCommerce theme 2022 that offers you amazing designs and plenty of options to make your site a masterpiece. It's true that a website talks a lot about a business, and in the modern age, that's what attracts online audiences. Medijuana offers you quick no-code settings, a robust and secure interface with lots of support, and endless customization options. It includes an off-canvas sidebar, grid options, checkout options, streamlined widgets, and more to help you get started on your entrepreneurial journey.
Thanks to support for installation in two simple steps, you will receive a ready-made website in just a couple of minutes. In addition, you will be provided with cool sliders and beautiful fonts. Here you can create a very beautiful catalog with filtering support. Customizable widgets for comments and social media sharing. Built-in theme customizer for quick editing. An SEO-optimized theme layout will help you make a big statement to hundreds and thousands of potential members and followers. Google will appreciate it!
This theme will become your reliable assistant when developing websites. You no longer have to choose between beautiful design or functionality. A simple constructor allows you to change the elements of the theme, you can customize any page of the template as you wish. Powered by the WooCommerce plugin, the Medijuana online store template is robust and packed with resources ready to handle payments and shopping carts overnight. Just add your product catalog and work with Medijuana now!
Biona – Sports Nutrition WooCommerce Theme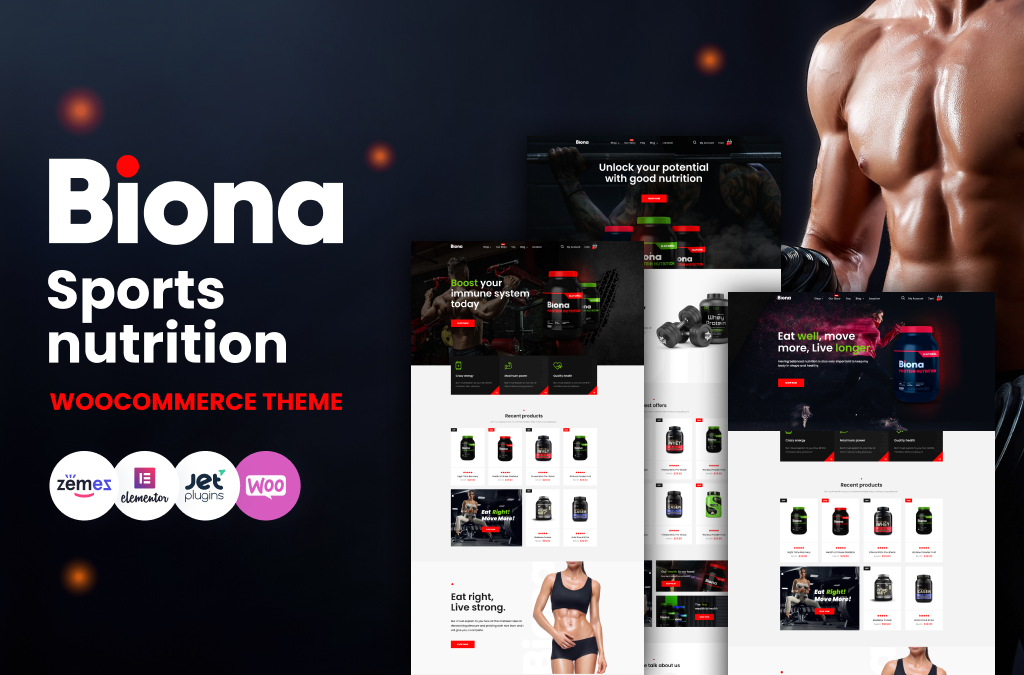 Biona is an amazing, responsive WooCommerce theme with a modern design and tons of features. It can serve any industry; you can create a multi-page general store. Biona comes with Elementor which makes it easy to create unique and interesting layouts for your store and customize them to your liking. You can also use a blog here if you want to drive even more traffic to your site.
The theme options panel is easy to use and includes customizing colors, and fonts, and adding your own logo and shopping cart icon. Other features include instant direct search, customizable checkout pages, a built-in quick view feature, sidebars, and more. This theme is optimized for fast loading thanks to its smart mode that only loads the resources your page needs.
Other features include unlimited color schemes, support for SEO-optimized Google fonts, multi-language support, many layout options, mailing list integration, and more, making the online store fully functional.
MyGrace – Churches and Charity WordPress Theme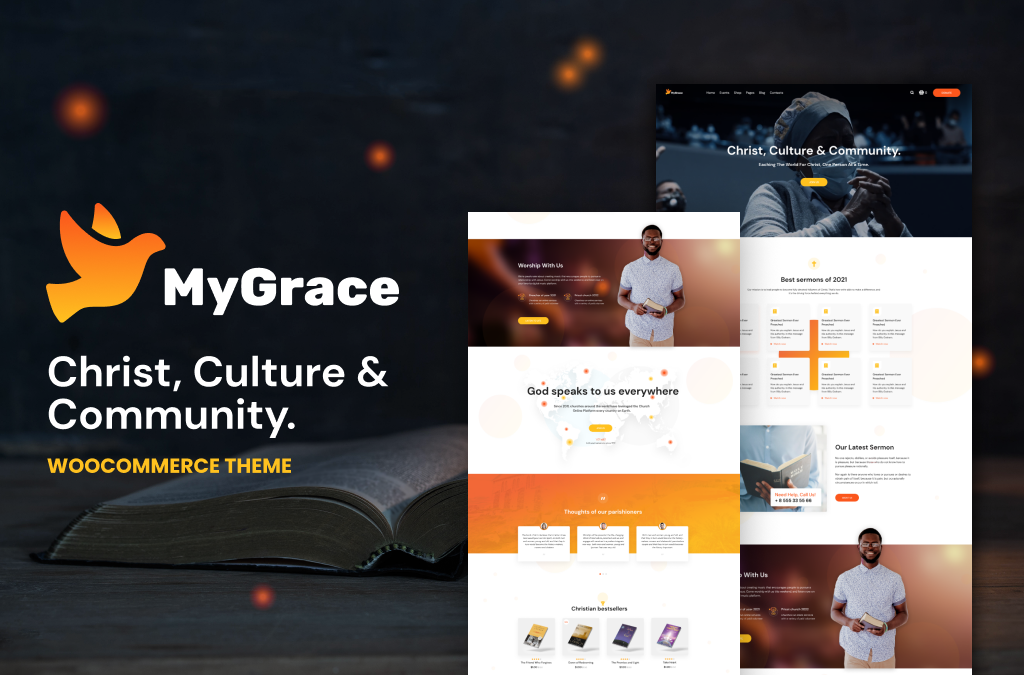 Sometimes it can be so difficult to find a good template for a non-profit organization. Of course, most of the topics are now focused on online sales and the creation of online stores. Test My Grace. This is a great theme to help you create a website for a charity, church, or volunteer site. With this theme, you do not have to deal with serious technical work, because here everything is already thought out to the smallest detail. You can use almost all the settings by default, but if you want, you can also customize the site to perfection. Many users love this theme for its perfect design and excellent technical support. It will last forever, especially if you want to use it on multiple projects at once.
It supports a plugin for selling goods, an online post, and a blog. You can upload your photos and videos here to create your own gallery. The theme includes a donation plugin that allows you to create a flow of funds for a good cause. This theme is fully responsive and SEO friendly. My Grace comes with Elementor Page Builder so you can manage and customize your site with a handy editor. This will allow you to easily edit content without any programming skills. All design elements have been noticeably improved to make your site look spectacular. You'll find plenty of page variations and demos here to help you build your organization's website from scratch.
Cosmetro – Cosmetics Store Elementor WooCommerce Theme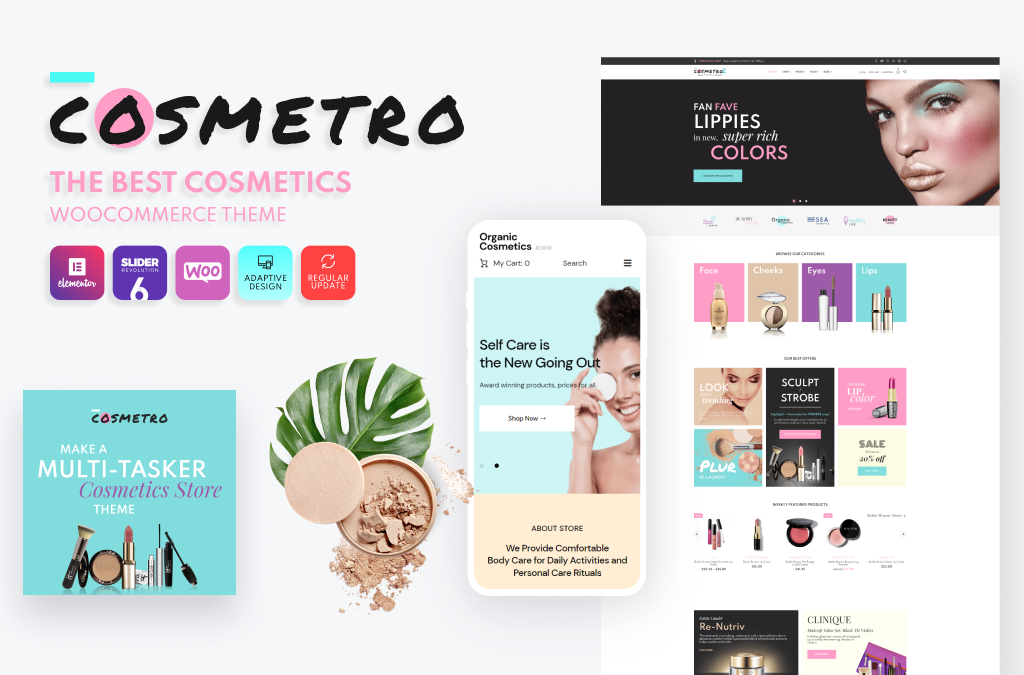 Cosmetro is a modern well-designed WooCommerce theme for online stores and e-commerce sites. The theme is fully responsive and ensures that the website will function on all web devices. It is also compatible with all modern browsers and search engines. Cosmetro is a great solution for those who do not want to spend time developing a website.
The template includes a smooth design and cool features. You will find ready-made page layouts here. They allow you to instantly set up an online store. The theme offers multiple header options and an impressive full-screen slider with beautiful animations and parallax effects. Cosmetro comes bundled with premium plugins, making it easy to display products. The theme offers advanced options for pre-made layouts for different niches.
Cosmetro comes with custom widgets and powerful shortcodes so you can easily organize and customize your theme elements. Many entrepreneurs and store owners prefer this theme because it is fully integrated with the WooCommerce plugin.
Roxxe – Beauty Salon WooCommerce Theme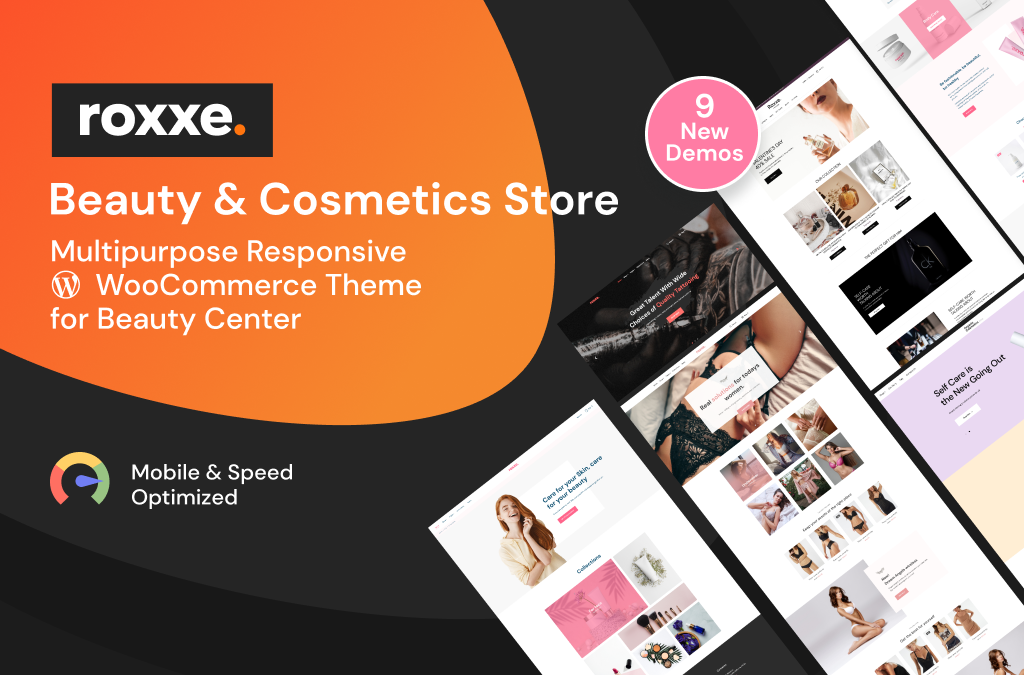 Roxxe is a perennial favorite among our users. It is a versatile, intuitive, and innovative WooCommerce theme for creative multipurpose websites, portfolios, or beauty salons. In the template, you will find a large set of demo pages. The user-friendly Elementor builder is one of the top most popular themes today.
With advanced portfolio options and full integration of the WooCommerce eCommerce plugin suite, Roxxe has everything you need to run all kinds of online business ventures. The theme allows you to do marketing of any kind of product to an audience around the world of any size and scope. The theme can provide amazing hover effects on product images and many features for visitors.
Roxxe will become the most beautiful platform to showcase products or services to your audience. Roxxe allows you to present your catalog the way you want. This is possible thanks to a variety of page layouts and dozens of handy customization options. You can make any settings with a few simple mouse clicks and without any special knowledge.
Conclusions
As you can see, all the themes we have shown have excellent design, high responsiveness, and easy settings. Check out their amazingly high performance – you will be impressed by the page loading speed. In addition, you always get excellent technical support, and detailed documentation, so that your work is as simple as possible.
To get started, take a look at all the themes we've tested and see which ones suit your brand's style. After that, write down the list of features you need. You can browse this list of the best WooCommerce themes to get an idea of what features are included with each one. This should narrow down your own list a bit and give you a clearer idea of ​​what exactly you need. We understand that such questions are very important when it comes to your own online store. Without a doubt, you will get great pleasure when working with any WooCommerce themes 2022.
WooCommerce is a powerful and convenient tool for creating an online store. It smoothly integrates into the WordPress environment, retaining all the advantages of the most popular CMS. On WooCommerce, you can flexibly manage products, payment, and delivery methods, and taxes. The extension also offers built-in marketing tools and an analytics system. You can always install additional plugins if you need to improve your store. With the help of other extensions, you will also be able to upload your products and work on other sites.
As you can see, the arguments for using WooCommerce themes 2022. You just need to show a little initiative and take the time to create your site.