The Era of Vendy Theme Family. How Did It Start?
Vendy theme family is one of the most diverse and successful solutions that our team has worked on in recent years. Following the latest trends in the web development of Shopify themes, it has a range of useful options. They provide what every merchant needs. Vendy incorporates a vast selection of advantages, including Online Store 2.0 features. So regardless of the store your business needs, these themes allow you to choose what fits your shop the most. Moreover, they provide a quick start for Shopify beginners and are also a great choice for professionals.

In today's post, we will explore the variety of Vendy themes and learn more about each of them. From their designs to features, each solution we'll discuss today provides something unique for each eCommerce sphere. Additionally, we'll talk about the free themes. They are also a part of the Vendy family. Whatever Shopify theme you're interested in, after reading this article, you'll find out which fits your online store best.
Vendy Theme on Envato. The Beginning of a Great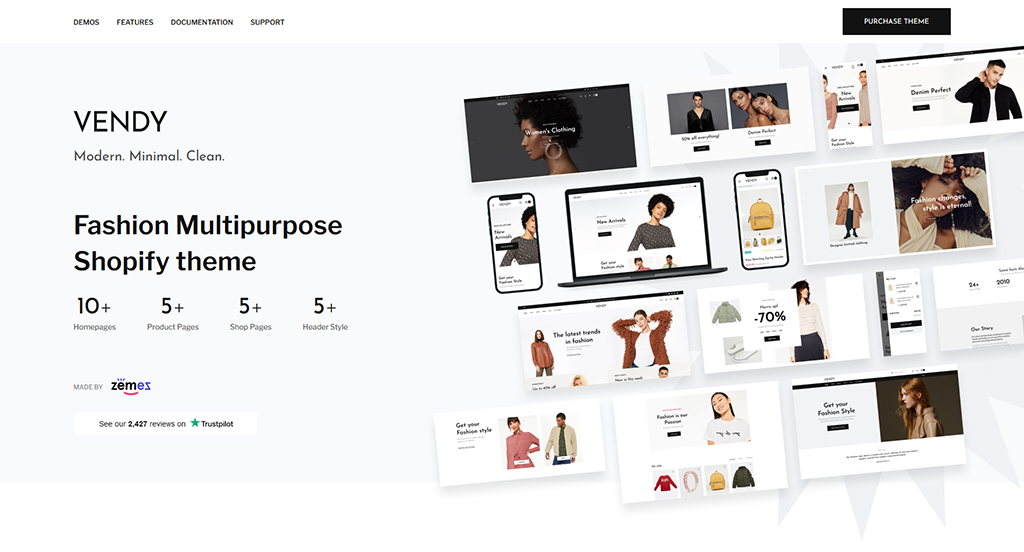 We'll start with the solution that laid the foundation of the whole Vendy theme family. This first theme appeared in May 2021 on Envato as one of the multiple products by Zemez. However, it became a step up for our team in everything concerning web development and design for the #1 eCommerce platform. Being a great fashion-oriented solution, the Vendy multipurpose Shopify theme offered more than just nice designs for clothing stores. It provided our clients with a vast selection of functional advantages. From lookbook pages to listings and collections, Vendy provided top-notch features. They are expected by merchants worldwide. Here are just some of the advantages the theme offers today:
Dynamic blocks;
MegaMosaic Product section;
12+ Homepage layouts;
Call-to-action popups;
Official Shopify App integration;
5 Product pages;
Shopify Visual Bilder;
2 collections pages.
After a few years of constant updates and improvements, Vendy became a top-notch solution suitable for any modern fashion-themed store. It features clean and smoothly performed calls to action, popups, headers, and footers. If you want to combine both an online store and a blog on your website, Vendy also has something to offer. It includes many blog options to help promote your store and products more effectively. With an advanced mega menu and extensive size charts, this theme can assist your clients with what they need. Additionally, this solution's usability is customer-oriented. It guarantees that your potential clients will find the right product.
Vendy Pro: A New Concept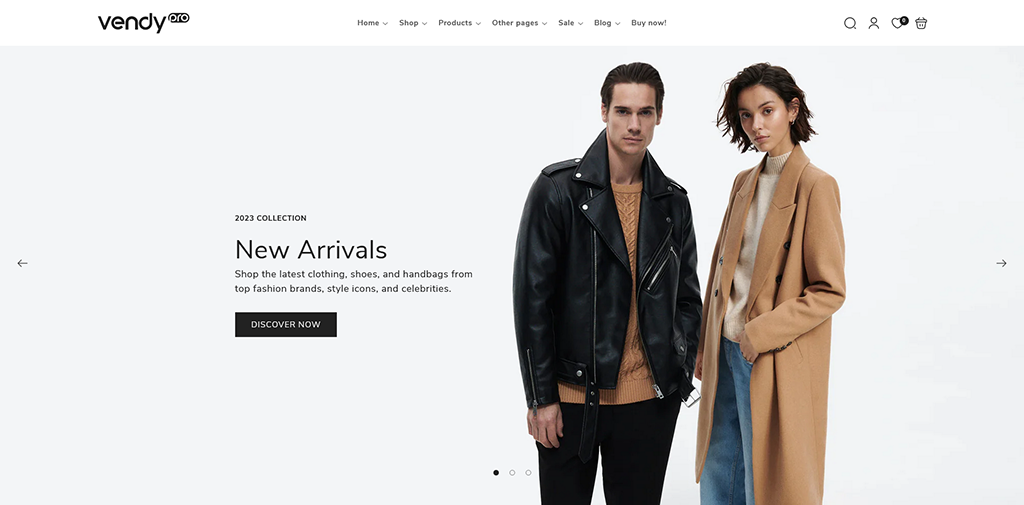 In early 2023, our team introduced a new multipurpose solution as a part of the Vendy theme family. Vendy Pro is based on the latest innovations and developments of Online Store 2.0 and our team's achievements. This premium theme is a considerable improvement on all fronts. It comes with over 14 ready-made homepage layouts. More designs are added with free regular updates. As for features, this multipurpose solution provides more than you can expect from a modern, well-designed, and highly functional Shopify theme. For example, it comes with a vast variety of cutting-edge advantages, such as:

EComposer page builder;
Advanced product filter;
Wishlist & Product comparison popup;
Mobile-first design;
Custom badges & tabs;
Additional information section for Product Page;
Price range slider.
Being an all-inclusive solution, Vendy Pro provides our clients with extensive functional advantages. The abovementioned ones make up only a part of what's offered to Shopify merchants. Additionally, our theme uses the full potential of the world's popular eCommerce platform. For example, it guarantees effective navigation due to the built-in compound mega menu. Feature-rich admin panel allows a store owner to manage the product catalog without any troubles. Also, this Shopify theme offers responsive design while also being SEO-friendly. No matter what kind of online shop you are planning to work on, rest assured that Vendy Pro can make it attractive and fully functional.
Vendy Theme Family Representatives: A Focused Niche, Packed with Uncompromised Functionality
Aside from the themes we mentioned above, there are other great solutions. They are a part of the Vendy theme family. Considering an extensive range of topics that are popular among store owners and their clients, our team decided to add more diversity to our themes. This resulted in more impressive solutions and designs for the Shopify platform. Each of the themes we will talk about below provides not just well-designed storefronts. They deliver an outstanding experience for your buyers and website visitors. These themes are an awesome pick for stores that provide:
Clothes and shoewear;
Accessories;
Beauty products;
Auto replacement parts.
Like any other Vendy theme, these solutions guarantee a top-notch level of performance. Improved optimization is also important when it comes to establishing an online store. After the fairly recent update of Shopify, our developers integrated its new features into all our major themes. Now websites based on Vendy provide more opportunities for your online business. They attract and retain customers while also promoting your products effectively. Moreover, our qualified support team will be happy to assist you in learning and using our themes.
Vendy Fashion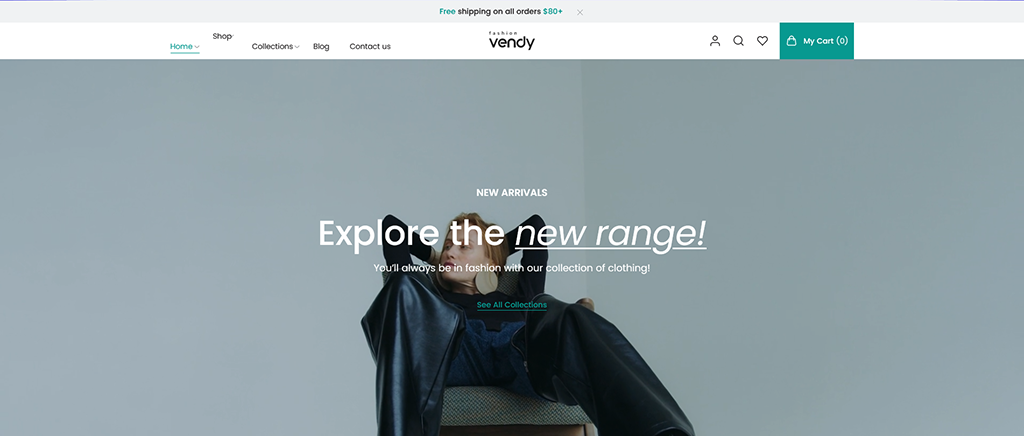 Many Shopify merchants are interested in a stunning layout for their fashion stores. To help them make their websites look and feel remarkable, our team has recently introduced the Vendy Fashion theme. It provides a diverse selection of features and designs. Based on our Vendy Pro solution, this theme delivers a wide range of layouts for your store and its product pages. With over 8 included designs of the store homepage and mobile-oriented website UI, it is a great choice for any modern store. The performance of this theme will make sure your clients will get what they need at the right time. Moreover, our solution can positively transform both new and established Shopify websites.
As for the included advantages, our clients get just what they expect from a complex and professionally designed theme, but at a more affordable price. Being a part of the Vendy theme family, this solution can make every product and service you offer shine and attract your customer's attention. With Mosaic block constructor, any store owner can customize their storefront without any extra coding. To stimulate the customer, we have also included fake notifications with this theme. And with a more efficient filtering system provided by the latest Shopify 2.0 improvements, your clients will be able to quickly choose what they are looking for.
Vendy Shopping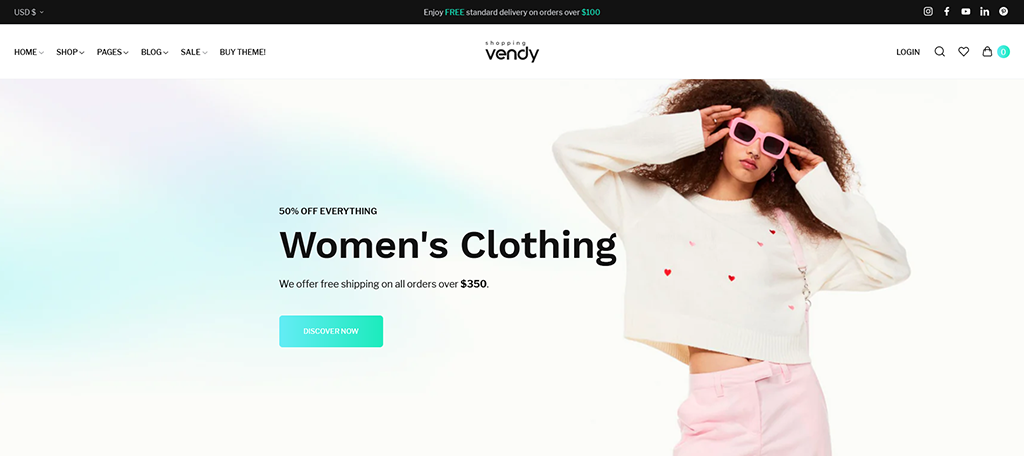 Many wholesale stores also require a proper website. This is especially true when it comes to selling products online. Those store owners who are looking for a great way to represent their eCommerce business can use the Vendy Shopping theme. This Shopify solution combines the best technologies and achievements. We've also implemented them in our previous themes. Moreover, its high-quality code provides an awesome basis for an online store of any complexity. As with any other eCommerce theme developed by Zemez, this solution includes a wide range of functional advantages. They can help you improve your online shop by:
Boosting your sales;
Providing better layouts for your product pages;
Increasing the store's performance;
Offering official Shopify App integration;
Making your website's UI more friendly.
Moreover, this part of the Vendy theme family provides perfect mobile compatibility. As more users shift towards purchasing via smartphones, many online stores aim for mobile-oriented design. Our themes, including Vendy Shopping, provide that as well. Also, this solution helps you to efficiently manage your store catalog without any extra coding or complex apps. The included LTR & RTL support allows merchants to meet the needs of more potential clients than ever before.
Vendy Auto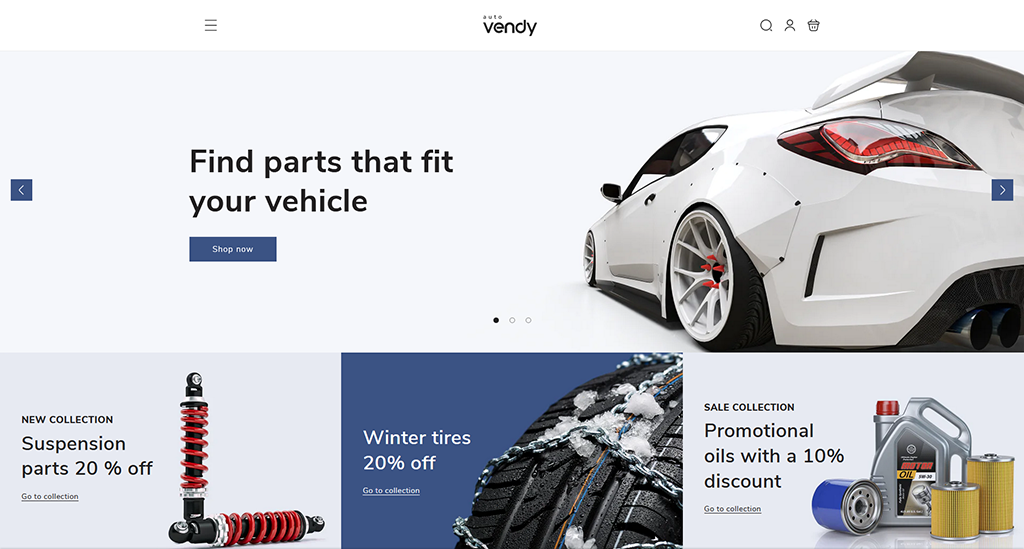 Another premium theme for Shopify that we'd like to talk about is Vendy Auto. As the name suggests, this solution was initially designed for auto parts stores. It offers all the advantages a modern eCommerce website needs. However, it is entirely oriented towards shops offering authentic replacement parts and vehicle repair services. The theme offers 3 unique homepage designs and outstanding features. This member of the Vendy theme family is a great choice for your automotive store, too. Moreover, it comes with pre-defined categories for your store's catalog. From transmission parts to air filters, there are various products you can sell with this theme.
When it comes to its functionality, there's also something that Vendy Auto can deliver. It takes the best advantages from our multipurpose bestsellers. This is done to make sure that your store will stand out. With the help of our auto theme, it can attract more potential clients. Whether it's about comparing products or presenting them in 3 diverse layouts, this Shopify theme provides various benefits to all kinds of auto parts stores. Moreover, with effective breadcrumbs and navigation, your clients will have an improved buying experience. Color, size, and material swatches will make choosing the right product variant quite simple. And for those merchants, who want to get started with dropshipping, our team has also provided optimization of this theme for AliExpress and Oberlo marketplaces.
Vendy Lite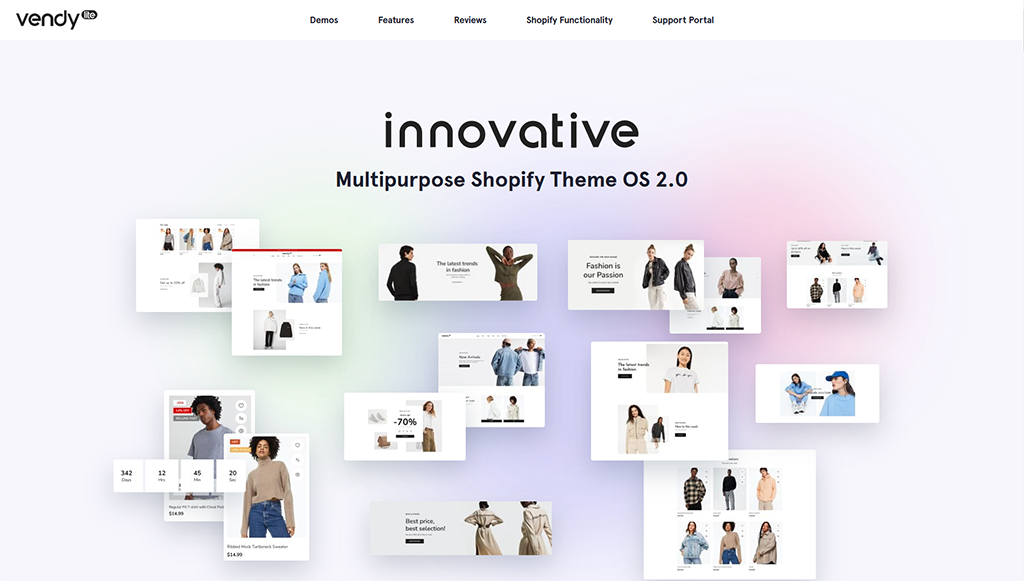 One of the most recent additions to the Vendy theme family is Vendy Lite. It is a multipurpose and innovative solution just like other themes that we described above. However, it offers a suitable compromise between price and functionality. For example, it provides some of the benefits that you may have seen in our Shopify solutions. While this theme may seem to offer only basic advantages, it still is a great tool for creating a modern eCommerce website. Additionally, this theme includes 4 homepage layouts. They allow you to easily choose how you want your store to look like. Also, this theme is a great choice to help you upgrade to Online Store 2.0.
As for the functional advantages, this theme provides a variety of layouts and styles. They allow you to effectively present your products on any page. With special price countdowns and dynamic checkout buttons, you can spice up your store's interface. These elements will make the storefront more interactive and attractive easy-to-use. Moreover, with responsive design and a powerful admin panel, this Shopify theme improves the user experience for both store owners and customers.
Uncertain but Eager to Explore? Experience Vendy's Free Themes
Unfortunately, not all premium themes are the same. Sometimes you may want to go for something cheaper or even free. Our team has thought of that, too. For that reason, we provided our clients with free versions of the abovementioned themes. They are also a part of the Vendy theme family. While free, these themes can provide a great browsing and shopping experience for your clients. Additionally, they are good for presenting your products on any modern device. They also include collections and varied product view options. These Vendy themes offer clean and responsive design alongside easy-to-use filters and contact forms.
Suitable for both fashion and wholesale topics, these free themes are flexible and configurable. Moreover, they don't require any extra coding knowledge or additional payments. Thanks to the built-in Shopify features, you can quickly customize them. This way you'll be able to quickly set up your store. You may also want to take care of the store's online marketing capabilities. For that reason, we made our themes SEO-ready. This way, you can improve the discoverability of your store. With our free themes, you can promote your products not only by using a website. Applying other marketing channels is also possible. And with ready-made layouts and templates, you can use the potential of these themes to the fullest to improve your eCommerce business. Now, let's take a quick look at these free themes and learn more about what they offer.
Vendy Free Shopify Theme for Fashion Store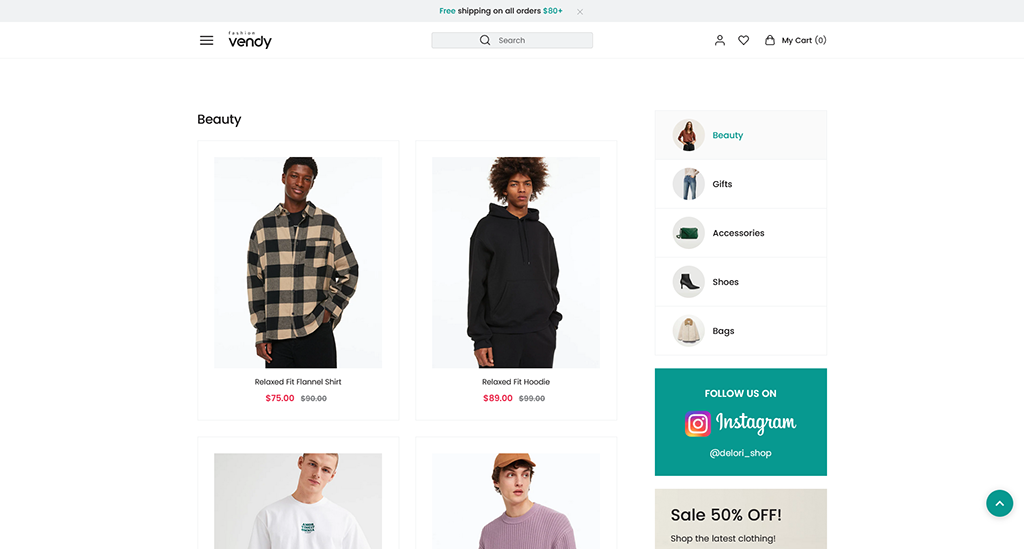 To provide all modern fashion stores with a ready-made solution, we have developed a free version of our Vendy Fashion theme. It comes with advantages that any Shopify merchant will appreciate. The theme includes a wide range of sections and supports full customization. You can easily reorder and edit any of them to create a unique user experience. With its clean layout, using Vendy Fashion can help you showcase your trending products. From clothing to accessories, this part of the Vendy theme family can help you sell anything you prefer. This is achieved by using a lookbook and pre-designed collections among other benefits. This theme also has ready-made category pages, such as:
T-shirts;
Vintage;
Uniforms;
Hats & caps
Women's clothing etc.
Vendy Free Shopify Theme for Wholesale Store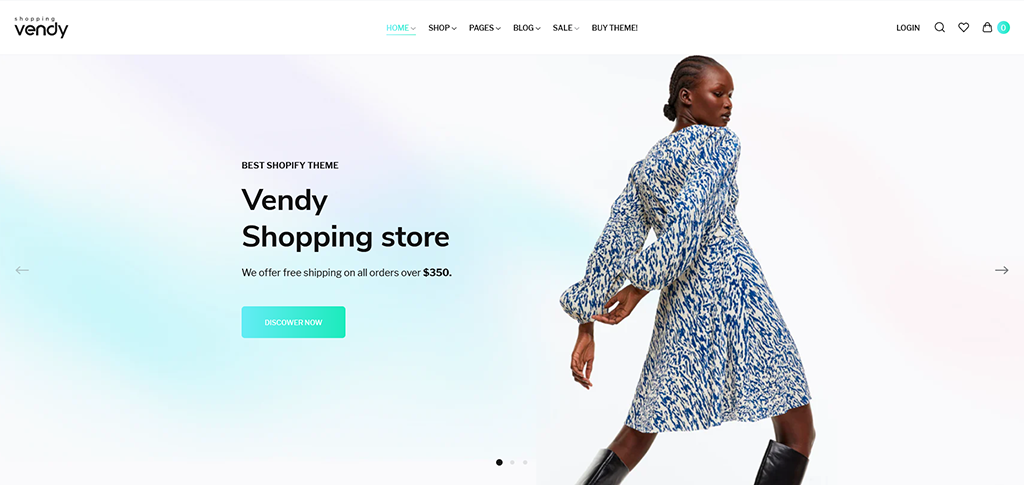 Finally, there's one more free theme we'd like to take a look at. As the previous one, it's a free Shopify solution. However, it is oriented toward shopping centers and wholesale online stores. Just like its premium variant, Vendy Shopping provides a great choice of interesting features. From sidebars to popups, this theme offers an effective way to establish online stores. Configurable contact forms and page templates make it a fully customizable solution. It can be used as a basis for any kind of online shopping website. While it may provide less than other paid themes, it offers something to get started with. Moreover, it allows you to present products more effectively. For example, you can use several product view types.
Vendy Theme Family Overview: Conclusion
We hope this overview of the Vendy theme family solutions was useful and informative. With this guide, you can decide what you want for your next online store. From fashion to auto replacement parts, many shops deal with different products and client needs. With Vendy, you can easily solve any task you face as a merchant. Thanks to the latest Shopify technologies and developments of our qualified team, we deliver ready-made themes. They allow modern eCommerce businesses to stand out and attract more clients. Whatever your store needs, rest assured that with Vendy themes, you can transform it to provide what your customers need.
If you want to learn more about our solutions and the world of eCommerce, feel free to visit our blog. We regularly publish new reviews, guides, and tips about web development, AI tools, and search engine ranking. On our website, you can also find more information about the Shopify themes and services we provide. And in case you prefer getting updates via social networks, don't forget to follow us on Facebook and Instagram. At Zemez, we aim to deliver the best from the world of web development, online marketing, and eCommerce to keep you informed with the latest news.