Those who want to buy or rent a home often do not want to walk around offices or delve into the many ads. It is much easier to find a real estate agency that will take care of all issues related to the search, purchase, or sale of real estate and the execution of the transaction. Where do we start our search? That's right, from the internet. For example, we google, go to sites, look at available offers, and then decide to call the manager or look further. If your business is related to real estate and you want to get more clients, analyze your website. Perhaps your low sales are connected with it? Those who want to get more customers and profits need a user-friendly and adaptive website. In fact, these are the realities of today. But how to create it? Consider a ready-made best WordPress theme for real estate – this is a great option for anyone who does not want to spend time developing a website and loves ready-made solutions for their business.

The site of a realtor or real estate agency can be anything. Someone prefers a landing, someone prefers a multi-page site. The best WordPress theme for real estate will allow you to realize any desires related to the development of the site and its design. You can be sure of its high usability, which means that your conversion will also be high. Of course, the real estate theme will help you create a convenient directory for finding housing with a filtering and sorting system, a quick search, and a feedback form. Here you can place your complete catalog with descriptions, terms of cooperation, services, prices, feedback form, and other types of contacts. Also, a blog will not hurt, which will help expand the base of keyphrases and provide useful information to those who want to buy or rent a home. A blog plays a critical role in many ways in driving organic traffic and building trust with visitors.
Comfortable WordPress theme for real estate with great functionality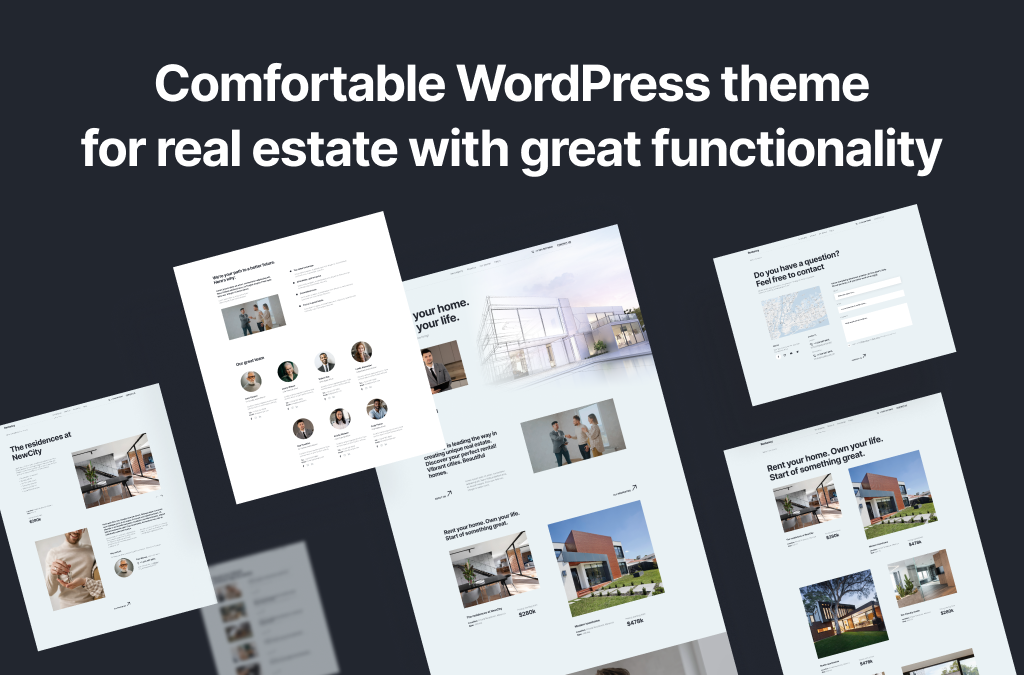 Website design plays a huge role, especially if users see it for the first time. Many make a decision in just a few seconds whether they should stay on the site or better to close it. The best WordPress theme for real estate will favorably distinguish your resource from competitors. Modern creative design is quite restrained, but gives out interest and attracts the attention of visitors.
Features of the real estate theme that you should pay attention to:
1. Fresh and clean, modern and functional, versatile and elegant, cool template with which you can make yourself a great real estate website.
2. Various options for the first screen. Ample opportunities for using the slider, map, and search bar.

3. Convenient description of housing, the information is neatly divided into blocks.
The benefits and flexibility of the template are simply endless. Of course, this could be the subject of a separate article. Indeed, the theme has a huge set of tools. You can easily create a website, in addition, you can interact with visitors, accept applications and orders, and make newsletters. With Restancy theme, you can make a website of any complexity: simple, install a demo, enter your data and the site is ready. You can also easily create a complex site by changing all the settings for yourself.
Pay attention to the design of the template. For example, light colors, modern fonts – everything is thought out to the smallest detail. Your site will help attract visitors, while you will not pay for the services of a designer.
Finally, template developers offer you to look at the template from the inside, just download the demo.
What will you find there?
– Advanced and customizable search
– Google maps with markers
– Easy customization of layers for the homepage
– Simple layouts to display benefits in the options list
– convenient display of a separate housing card
– Clear settings for filling in information for each house
– Can conveniently show the floor plan
And much more. Working with the template will be super comfortable for each user, and your visitors will appreciate all the benefits of the site.
In conclusion, Restancy definitely deserves attention. The WordPress template is designed for agents and real estate agencies. The theme design is focused on potential customers. You can easily create a landing page using the page builder. You can also easily scale your site or enhance it with additional plugins. Inside is a beautiful choice for media control of galleries, lightboxes, dynamic AJAX categories and search functionality, and great scrolling, and pagination options. Without any coding skills, you can customize the site to your requirements.