Do you want to create an online store? One of the best solutions today is Shopify's ready-made themes. Surely you have already heard much about this and perhaps even used them. Today, many people prefer Shopify 2.0, and there are reasons for this. Online store 2.0 advantages – something that you should also pay attention to and use for your business.

Shopify is the leading e-commerce platform and the best online store builder for entrepreneurs to create their own online store or dropshipping business. It's easy to use, so you can create your own store even if you don't have the proper experience. This is the ideal solution for those who want to launch their own online store without any costs.
One of the benefits of Shopify is the incredibly beautiful off-the-shelf themes. While aesthetics matter, you must be clear that your website must sell a product. So, it is important to choose a theme that is meant to sell. You must clearly understand that your website will sell the product. And for that, we recommend Vendy Pro – one of the best eCommerce themes.
Let's see what are the benefits of online shopping 2.0. In this article, we will talk about how to get started with the store, its most important functions, opportunities for promotion, and other interesting details. After reading the article, you can determine whether it is worth launching your online store in 2023 on Shopify.
How Shopify works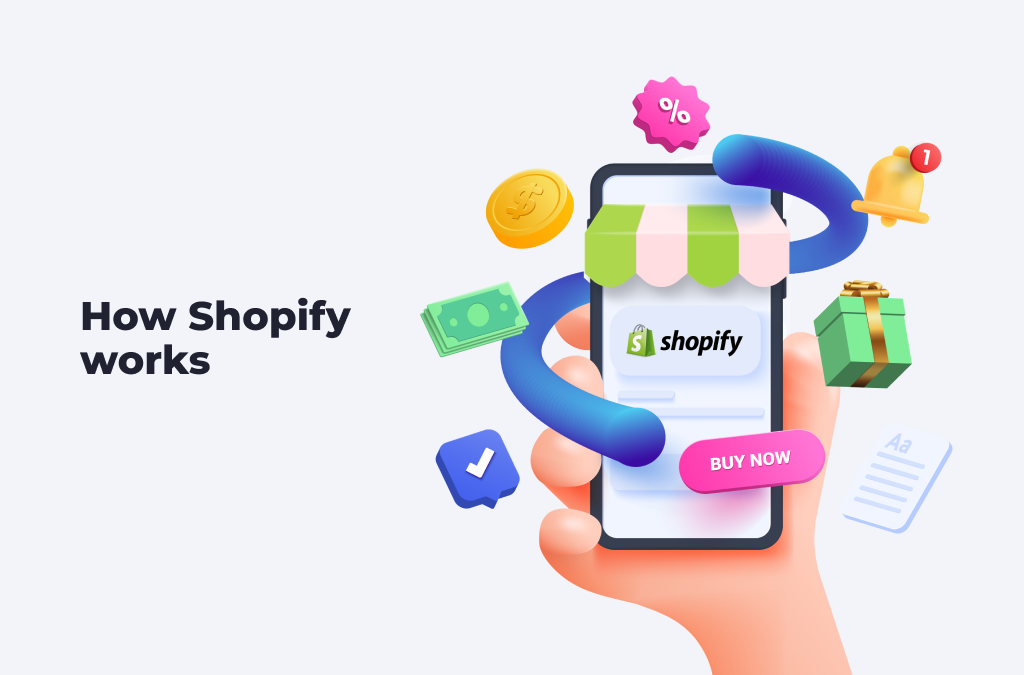 Shopify is a convenient Saas-based product for creating online stores. It allows you to sell both physical and digital goods around the world. The history of platform development began in 2004. Today, Shopify is one of the most popular solutions for launching your own eCommerce project.

Despite the ease of use, the platform has all the functionality necessary for an entrepreneur. One of the main advantages over alternative platforms is that it is possible to build an online store on Shopify without programming skills. If you know HTML and CSS, there are even more possibilities for you.
When you sign up, you get a wide range of tools to help you manage your site. Using them, it is convenient to set up a product catalog, set prices, edit content, connect payment systems, and in addition, install widgets to implement additional functions.
On the Shopify platform, you can develop a site for selling a wide variety of products: from clothes, beauty gadgets, and custom portraits to consultations and online courses. It is also possible to organize work on the dropshipping model. Tariffs are designed for both small start-up projects and large stores with a wide range of products and high incomes.
Interested? And now more about Vendy Pro and the online store 2.0 advantages.
Vendy Pro – amazing opportunities for your business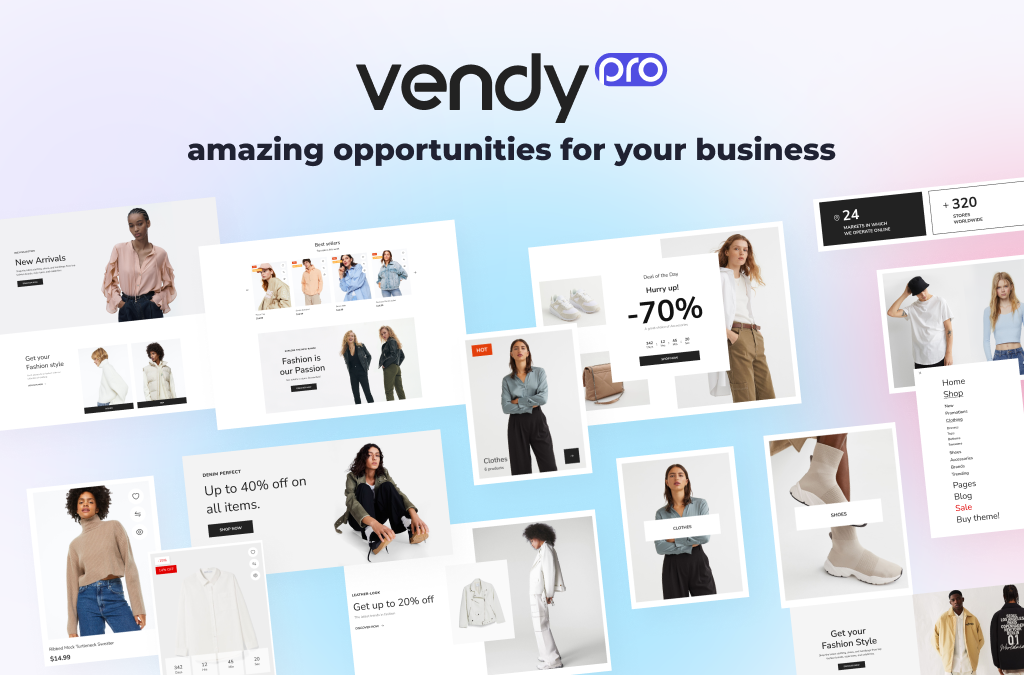 Vendy Pro provides amazing opportunities for your store. You can use it in any area of business. It is also suitable for those for whom it is important that it is possible to manage the store without special technical knowledge and skills. The possibilities of the platform are very wide, and you will surely be able to realize your idea with the help of this platform. We recommend Shopify to absolutely everyone who wants to sell goods online, regardless of the country of the project. In addition, we will be happy to help you set up your store, and we constantly create tutorials. They display in detail the features and capabilities of Shopify.
Your online store is the face of your brand. This should make your visitors feel welcome and encourage them to explore the products you offer. Shopify will do everything possible to make your visitors feel comfortable on your site.
With Vendy Pro, you are guaranteed to get everything you need for a successful eCommerce project. It's an incredible design, has fast page loading, an easy setup, and much more. This theme is fast, mobile responsive, and cross-browser compatible. Here you can also easily integrate your social networks so that you can communicate with customers on different sites. Whether you run an organic food store or a store that sells high-quality designer accessories, Vendy Pro may be your safest bet. It's a one-click theme, which means you don't need to be a programming pro to install and customize it.
Benefits of Vendy Pro
More than 10 homepage designs. Choose any of them or create your own. Your possibilities are not limited!
Composer – advanced page builder. It gives you the ability to customize the theme design more flexibly. With EComposer you can take your online business to the next level.
A huge number of widgets. Use the ones you need for your store. Improve functionality and get even more profit.
Translation into all languages of the world. Professional features to help you set up a Shopify store in any country.
Wishlist & Popup Compare. This will make shopping even more convenient. Users can compare products or save them for later to make amazing choices. How to work with these settings, you can read here.
Product tabs with section content. A structured store is the foundation of successful sales. Create your ideal structure, it will distinguish you from your competitors.
Drawer option with reviews output. Here you will find a simple tutorial on how to work with this feature. Box customization is available for both beginners and advanced users.
The main thing is that Shopify is incredibly easy to work with. And we make every effort to make your work even more comfortable. To do this, we create detailed tutorials and constantly update them.
Conclusions. Online Store 2.0 Advantages
In general, online stores on the Shopify platform provide a convenient tool for creating and managing an online business. They also provide high performance, security, and functionality. The Shopify store is able to grow and scale with your business.
Vendy Pro is a premium theme that increases store loading speed because visitors never prefer a slow-loading site.
Sales notification is one of the most commonly used tactics to boost conversions. Apart from the visually appealing theme, Vendy Pro was also created with a high conversion rate.
You can increase your sales and conversions by using Vendy Pro Human Psychology, which has been customized for this purpose. Upselling products is one of the best ways to add value to a customer's purchase. Installing this theme is very easy and you don't need to know anything about coding to do it. Simply download the theme, add it to your store, and activate it on your Shopify dashboard to get started.
Now, to create your own unique store, you do not need to create it from scratch. Vendy Pro will provide you with the necessary tools. You can also choose or customize the design according to your needs. And all this – without the help of specialists and in a short time. Online store 2.0 advantages have convinced you that it is definitely worth testing this platform and launching your store. Get started today before your competitors do!