Shopify provides many free themes that can be used to create an elegant and functional online store. Are you looking for the best free Shopify themes to give your online store a professional look? Look no further! This article details the best free Shopify themes 2023. We have carefully researched and compiled the best themes available to help you create the perfect online store. Each theme comes with impressive features such as responsive design, customizable colors, and various layouts. With these free themes, you can create an amazing online presence to attract customers and increase your sales. So what are you waiting for?
Shopify provides an excellent foundation for your online business. This is a custom-built CMS just for online stores to manage everything in the most professional way. The popular platform already operates thousands of online stores and is the fastest-growing eCommerce platform for building online stores. Shopify stores can have a significant impact on eCommerce. You can find out more about this here.
Check out the list of the best free Shopify themes 2023. Download any of them and start building your online store today. If you haven't worked with Shopify yet, you can also read what the free trial offers for users.
Is it Difficult to Set Up a Shopify Store?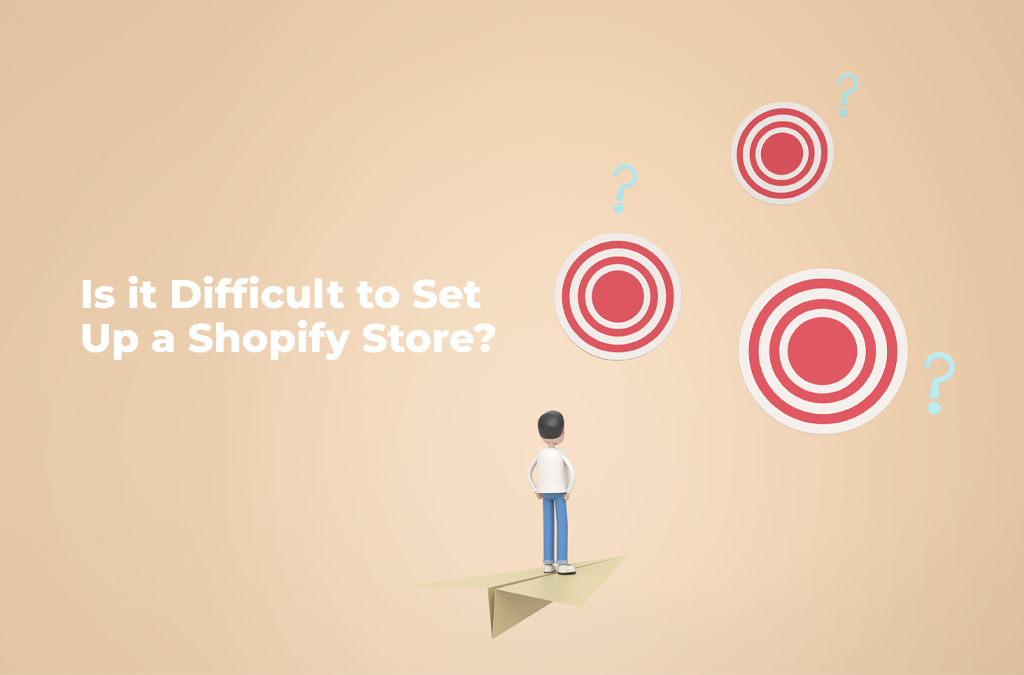 Free Shopify themes 2023 are professionally designed templates that you can use for your online store. They are a great starting point and are easy to install, set up and maintain. With a Shopify theme, you can quickly create a beautiful online store that is both functional and visually appealing.
Setting up a Shopify store is very simple. You will need to create an account and choose a plan that suits your budget and store size. Next, you will be able to customize the look and feel of your store by choosing the best Shopify theme. You can also customize your theme at any time by adding your logo, images, and content. Once you've chosen a theme, you can start adding products, setting up payment and shipping methods, and creating pages for your store. After that, you can launch your store to the public and start taking orders.
Entrepreneurs often have a lot of questions along the way to creating their own store, which step-by-step tutorials can help with. We've created tutorials for the main sections of Shopify for you. Please familiarize yourself with them, you will definitely find a lot of useful information here.
Features of Free Shopify Themes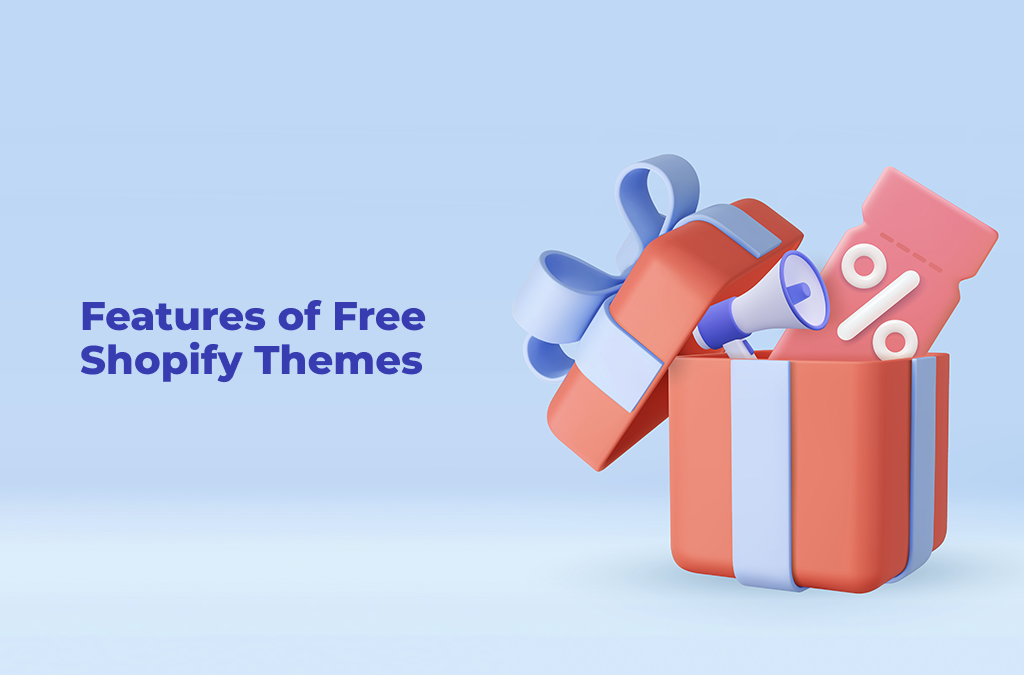 We often recommend premium themes from Shopify due to the extra features and more intuitive design. When you choose premium themes, you can also choose the best plan for your business. At the same time, there are plenty of free Shopify themes for creating modern, sleek eCommerce stores without the hassle or extra cost.
These themes offer great features for listing products in catalogs and options for linking to social media pages and providing a quick checkout area. Other features offered in free themes include product details, slideshows, and product filtering. In addition, free themes usually have two or three options for creating drastically different layouts and designs for other industries.
So put your wallet down and keep reading to find out more about the best free Shopify themes on the market.
In addition to blending in with your corporate identity, your online store should have a number of important features that will make your website stand out and delight your visitors. When choosing Shopify themes for eCommerce, you will make sure they have the following features:
modern, light, and easy to adjust
compatible with all browsers, responsive design and optimized for SEO
offer customer support, quality code, and great reviews
built-in settings panel that will allow you to change the template to your liking
With a quality Shopify theme in hand, you will launch your online store with a great eCommerce design. All you have to do is set up a little, add your corporate identity, and description of your products and start optimizing online sales. The features of each theme are all you can experience for your store. They include – responsive design, color options, flexible layouts, integration with Google Fonts, and many other tools useful for online business.
Vendy Fashion – Free theme for Online Store 2.0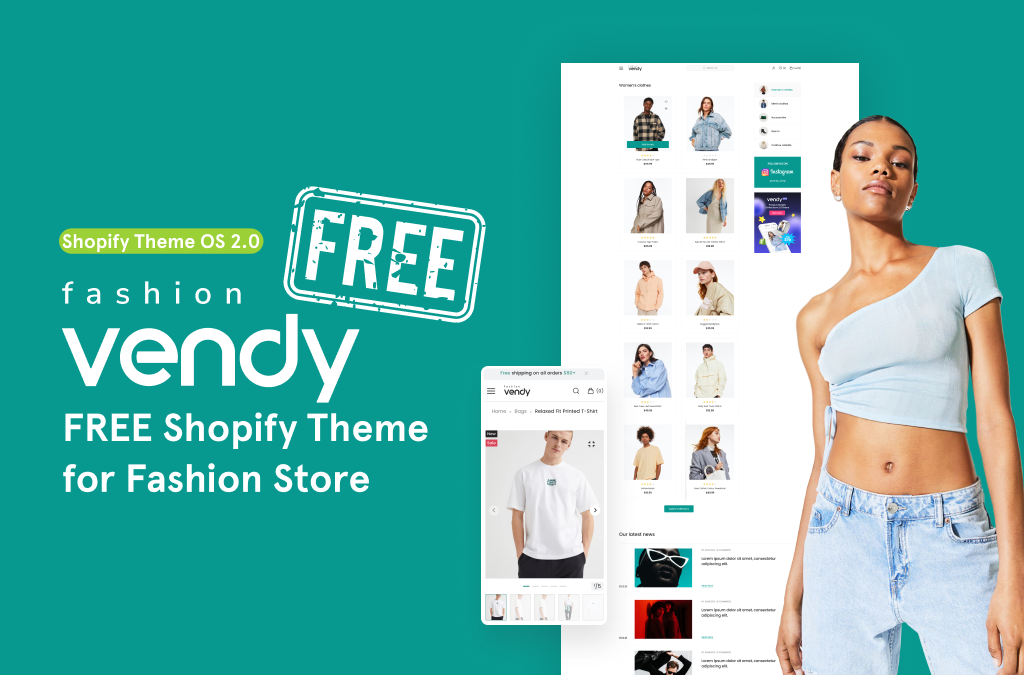 We recommend it first, it's the perfect theme to try out today. The perfect free Shopify theme will help you explore this platform's possibilities and set up an efficient operation of your store. The theme is based on Shopify 2.0, which means even more features for your store.
The main features of the theme:
responsive design
free widgets
2 product display options
collections
popup "just bought"
product comparison
distribution and much more
Thanks to the professional design of the theme, you can adapt it for any business. This theme is very popular among our users. The theme also provides product recommendations, filtering, and many more features for product placement. A promotional banner is a key element for an ad, and customer reviews are sure to improve your sales. The theme has a slideshow banner to showcase your products or even some of your main customers. Finally, the quick search bar helps customers find your products.
Vendy Shopping – Free theme for Online Store 2.0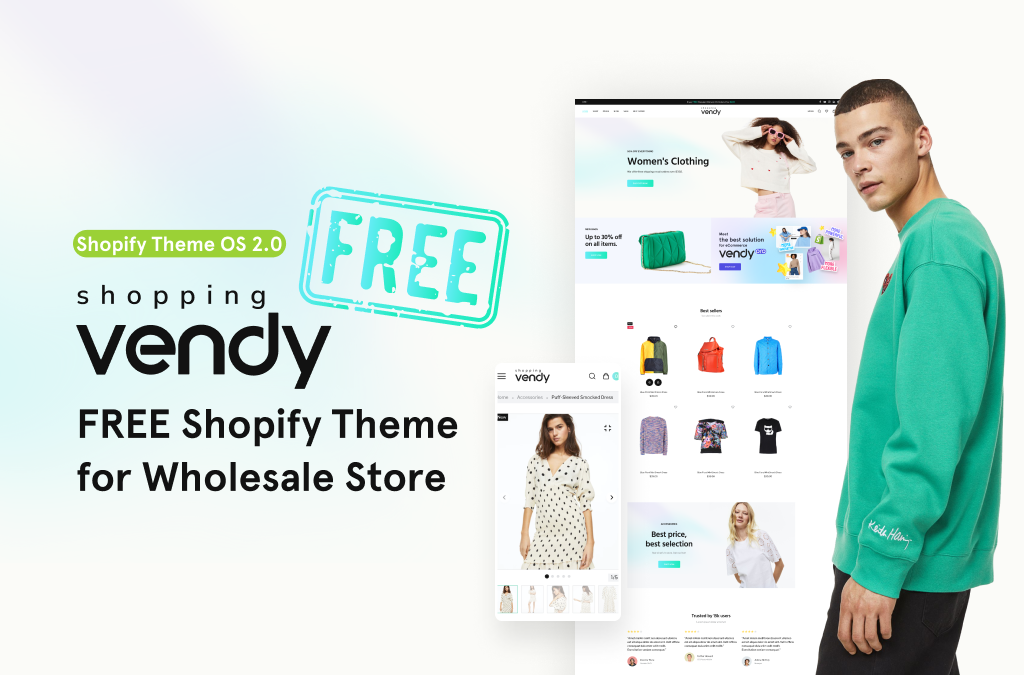 Stunning Free Shopify Theme with minimalist design. It also has everything you might need to work with the store. Don't forget about SEO-friendly and highly responsive themes. You can work comfortably and with pleasure, while your sales will be high. And your store will stand out from the competition.
This theme offers a fully responsive design, multiple menus, product page options, a product quick view, an Ajax shopping cart, advanced filtering, optimized speed, and more. Moreover, this theme also offers SEO support, multi-currency support, easy customization, product image scaling, multi-language support, and Google Fonts.
Customization options allow you to customize the color scheme and style of the checkout, as well as the client interface, and upload your own logo as you wish. Other features include "similar products" at the bottom of individual product pages; customizable static pages such as Contact Us, About Us, Collections, FAQs, and Reviews. You will find much more here if you download the demo.
LendLane — Free business theme includes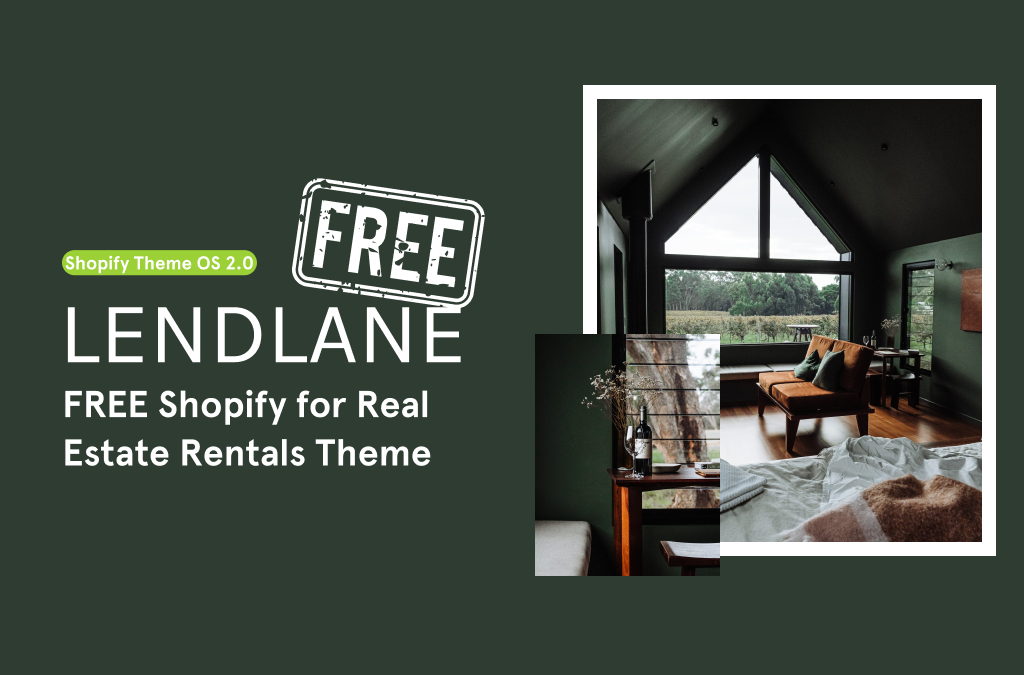 LehdLane is a modern, minimal, and free premium Shopify theme with a vintage style. It is designed to help you create a beautiful online store. It offers a number of customizable features that make it easy to set up your store and start selling. The theme is fully responsive so it looks great on any device and also comes with a great set of features to personalize your store. Ideal for a real estate agency, professional blog, or other business.
You can choose from multiple color, font, and layout options to create a unique look for your store. You can customize the header, footer, and product pages to match your brand.
LendLane also includes a handy search tool that allows customers to quickly find what they're looking for, and there are a number of features on the product page designed to increase conversions. You can add property reviews, similar properties, and more to make it easier for clients to find what they want.
You have a great opportunity with this theme to create a website for showcasing and selling apartments and viewing real estate. It will be easier for you to convince customers to respond to your offers. The template is fully responsive and fully customizable via the admin panel.
Kardone Free Pets Store Theme Shopify Template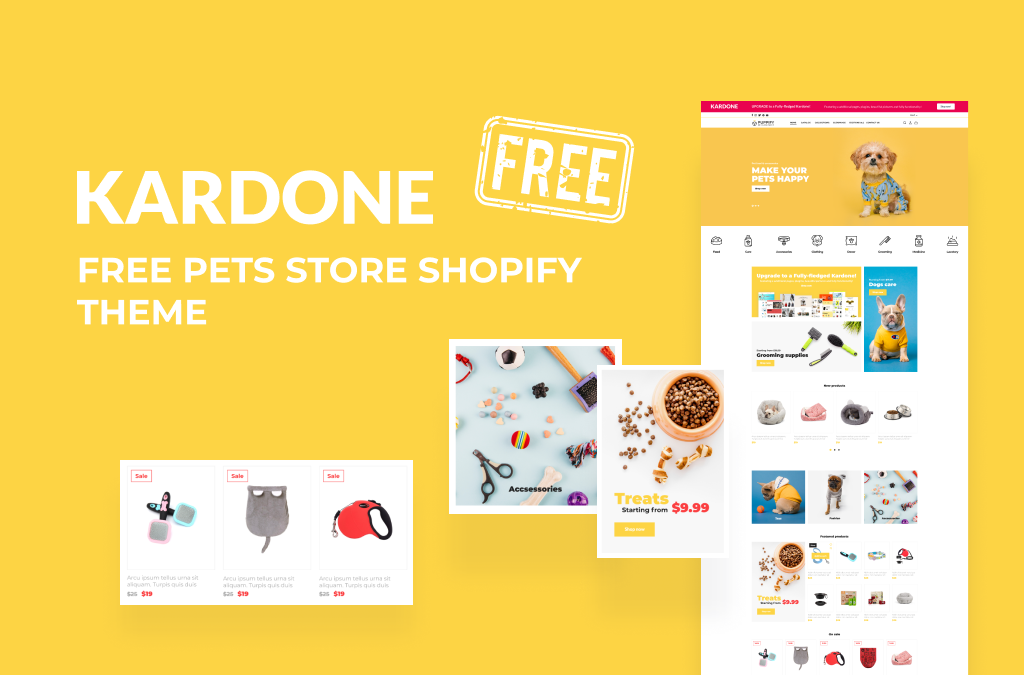 Another modern online store, interactive. At the time, it's packed with useful features that you'd expect from any Shopify store. You will find here creative design and modern effects. The popularity of a theme actually starts with the documentation and customer service provided by its developers.
This is a multi-purpose, responsive eCommerce theme suitable for any type of online store. Its special mega menu comes with an advanced filtering module that allows your customers to sort products by size, color, or price. This Shopify theme also includes many free widgets, built-in customizations, and many more features. It should be noted that the theme also allows you to add videos and has the functions of social "share" buttons.
Pets Store Theme provides ready-made demos, you can easily deploy the finished site and replace the demo content with your own. Thanks to the possibility of the user interface, you will be able to create and manage any store. You can also add new products yourself, and your visitors will have multiple payment options, a quick buy, and a wishlist.
Multifly – Free Fashion Shopify Theme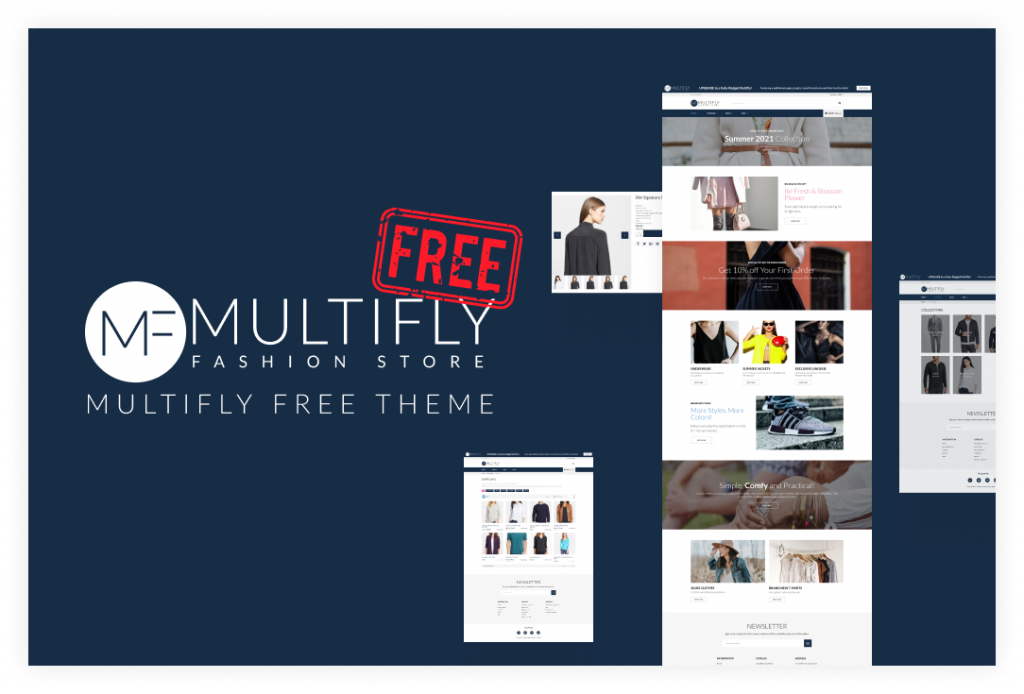 If you sell clothes, accessories, or other fashion items, the theme is perfect for such services. We recommend downloading the demo version, which will immediately demonstrate all the features of the theme. If you're looking for a truly versatile theme, Free Fashion Shopify Theme is for you. With various designs, this theme will be the perfect solution for any type of e-commerce site, from a fashion store to a luxury watch store and a hardware store.
It features a responsive design, an advanced product filter, a mega menu, multiple slideshows with different effects, a set of free widgets, custom settings, and more. With a feature set like this, it's a great starting point for any eCommerce website you plan to launch.
This template is retina ready, fully responsive, and optimized for mobile devices to make your website look stunning and run smoothly on all modern devices. It provides your users with an amazing view while shopping.
Conclusions
Whichever free Shopify themes 2023 you choose will be great for any eCommerce website with a lot of inventory. The main feature of all themes is a quick and easy view of all the categories and products that are offered in your store.
Choosing the right free Shopify themes 2023 for your eCommerce website is just the first step on your journey. If you want to make the most of your online store, check out four tips to help you optimize your website and make sure your online store is ready for a great launch.
Harness the power of SEO – there are a number of improvements you can make to your site that you can do to increase your search engine rankings to help people find you. These improvements include adding a blog to your online store where you can answer potential customer questions, provide more informative product descriptions, add additional descriptions to your product images; use short and clear URLs, and fast loading of your site.
Provide Persuasive Content – make sure your home page has a clear and compelling call to action and that your content clearly communicates what your store is and what you do, as well as product reviews and testimonials. And describe your eCommerce products in a way that sells.
Help shoppers find what they're looking for – add main categories to the main navigation bar and make sure the search box is clearly visible. Don't forget to add a similar product block on single product pages.
Reduce Cart Abandonment – there is nothing worse than a customer who abandons a purchase right before checkout. To reduce cart abandonment, make sure all of your prices are clearly listed and offer free shipping when you reach a certain value of the items in your cart. Another great option is to guarantee satisfaction and provide Shopify with automatic cart recovery and add a Live Chat option to your site.