Starting an eCommerce Business Checklist
Business on the Internet is developing very rapidly every year. If previously it was difficult to shop online, now it is easier to buy something in an online store. And all thanks to the fact that the demand for online shopping is increasing. Over the past few years, there has been a global shift in commerce because of the pandemic. Therefore, the eCommerce industry will continue to grow in 2022. At this time there are many eCommerce business checklists for businessmen.

Want to know how to launch a successful eCommerce business? Then this eCommerce business checklist from the experts at the Zemez team will help you:
get to know the main advantages of eCommerce business;
understand what it takes to have a successful eCommerce business website;
find out what the top 5 eCommerce trends are for 2022;
after reading this eCommerce business checklist, start your online business.
Advantages of eCommerce
You've probably heard of the eCommerce business, but do you really know what it is? This eCommerce business checklist will help you understand all the important questions.
First of all, it is important to know that eCommerce is a complex special industry to sell goods and services over the Internet. The object of eCommerce, that is, the online store is virtual.
The first thing to remember is that this trading opportunity has many advantages over traditional market or store trading. Firstly, availability to customers in 24/7 mode, which is very convenient for customers. Secondly, reduce the cost of maintaining your business. In other words, you don't need to hire salespeople and rent premises. And also, thanks to doing business online, it will be easier for you to monitor your work, and most importantly, it will be easier to reach the next level of your income.

Next, with this eCommerce business checklist, you'll learn where to start creating a successful eCommerce business. And you'll also have the opportunity to learn about the top electronic commerce trends for 2022!
Essential Steps to Launch an eCommerce Business
Our Zemez team in this eCommerce business checklist will show you what it takes to have a successful electronic commerce business.
First, choose a platform with which you will create an online store. To date, there are many different platforms for eCommerce business. But the specialists of our team, who made this eCommerce business checklist, recommend the best platform—Shopify.
Shopify is the most popular commerce platform that allows quickly launching the profitable business and start selling to your customers, wherever they are. Moreover, Shopify is designed for users without advanced design and technical skills. Also, the platform has the simplest possible functionality and has a wide range of templates that allow you to launch any website quickly and without problems.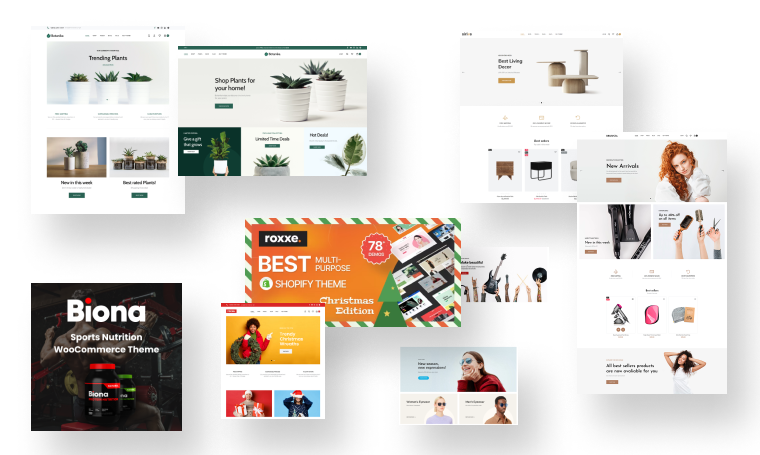 Zemez's team of professionals has developed many different Best Shopify Single Product Themes for any kind of eCommerce.
Shopify has many functionalities that will make your eCommerce business successful.
Secondly, you need to decide on the product. After all, on the Internet, you can sell a wide variety of goods. For example:
Finally, you need a high-tech website for the best business.
What does a successful eCommerce business website need?
If you've mastered everything we've pointed out above in this eCommerce business checklist, then it's time to move on to the important step of doing business.
And so, to reach a high level in eСommerce, you have to have a great website. After all, the website is the main indicator of your store.
This eCommerce business checklist provides some important tips for developing eCommerce websites.
To start with, the homepage is the first thing a customer sees when they visit your website. That's why you need to create not just an attractive homepage, but one that is comfortable for your customers.
We suggest you create a website based on one of the best Shopify theme for fashion with a beautiful eCommerce design.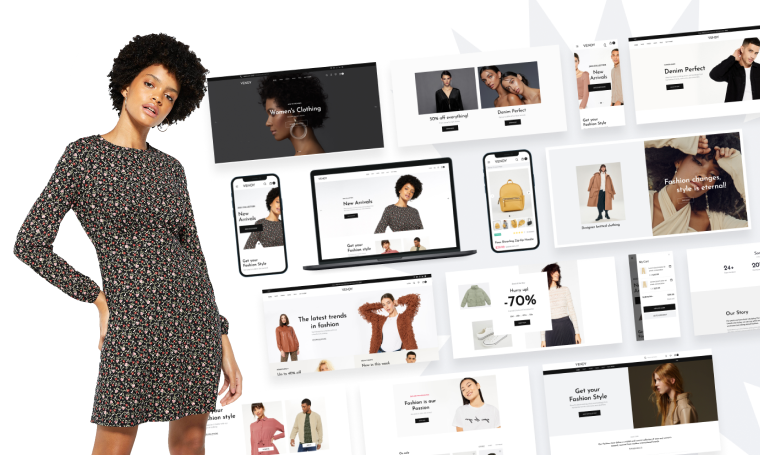 After all Shopify BigCommerce themes have a lot of functionality. In Vendy Shopify Theme from Zemez, we gathered the most powerful functionality with lots of useful features and trendy design. Vendy includes:
Mega Menu;
Filter System;
Mosaic Block Constructor;
Blog;
Shopping Cart;
Wishlist;
Multiple layouts etc.
Be sure that with the features that are listed in this eCommerce business checklist your homepage will be remembered by your customers!
Next, what's important for a successful website is a modern design. Fill your online store with quality product images. You can also emphasize the originality of the website with features:
LookBook;
Slider;
Login Drop Down & Social Login;
Product Quick View etc.
We are happy to inform you that you will be able to customize these features yourself with a Shopify theme from Zemez.
In addition, informative content is also an important point in e-commerce. Make your site useful! Add educational blogs to your site to tell your audience about current trends.
Moreover, the Shopify theme from Zemez has many other features as well. Check our portfolio on ThemeForest and learn more!
Top Ecommerce Trends for 2022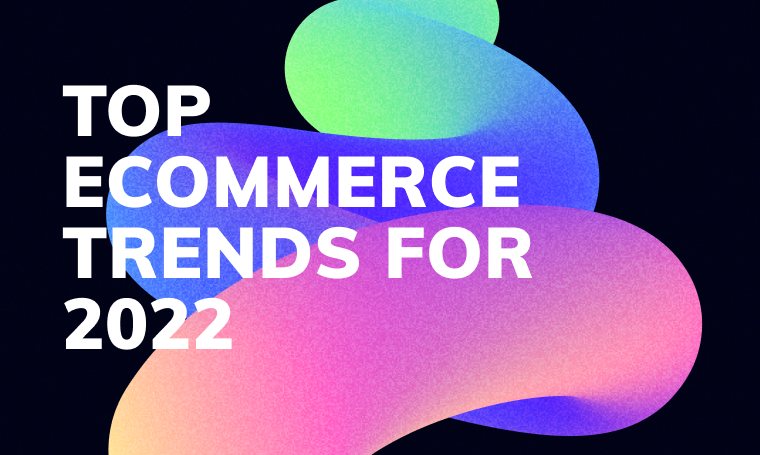 Since according to many business people, e-commerce sales will increase several times in 2022, it is necessary to prioritize the quality of customer service. Therefore, one way to establish a successful business is to know the current eCommerce trends. In this eCommerce business checklist, our team will present you with several eCommerce trends for 2022.
Diverse Payment Methods
First on our eCommerce business checklist is Diverse Payment Methods. Diverse payment methods will encourage customers to spend more money and not leave the selected item in the shopping cart. What's more, the one-click interest-free payment option will continue to gain popularity and attract shoppers.
Video overview
Video Marketing will definitely become popular in 2022! Product videos are an effective way to promote your products and attract new customers. Create product videos for your online store and post them on your online store's website.
!We advise you to create unpacking videos. This kind of product advertising will interest your customers!
Social Commerce
Go beyond regular commerce and promote your e-commerce business on social media. Think about sharing content to attract subscribers, collaborating with bloggers to expand your reach, and using live streaming to showcase your store's products.
Chatbots
Support your customers 24/5. Chatbots provide 24/5 customer service. They can also direct customers to the right pages, thereby making customers stay on the website.
Augmented Reality
The future of eCommerce in 2022! Features such as product visualizers, product builders, and 3D images make it even easier for customers to imagine the product. These features will help the customer pinpoint the product to their needs.
Experiment with new technologies in 2022 to stand out from the competition!
Conclusion:
The business of eCommerce is evolving every day. And keeping up with new trends is not always possible. We hope that this eCommerce business checklist has been useful for you, dear businessman.
Rest assured that if you implement new eCommerce trends and create an online store based on the Shopify template from Zemez, your business will be the best in 2022!