Conversational Commerce 2023, Its Benefits, and Examples
Conversational commerce 2023 provides customers with convenient and highly personalized service. This is also true if your company sells its goods online. This type of commerce offers a better approach to delivering what your clients need. Being a blend of commerce and messaging, it can also be easily applied to eCommerce. In this sphere, communication plays a vital role, especially when it comes to buying decisions. Using conversational commerce for your store opens new horizons for your business. For example, it can help you increase customer loyalty and engagement. In return, you can get a boost in sales and a higher amount of regular clients.

In today's post, we will explore what you can expect from conversational commerce. Additionally, you'll learn more about its benefits and prominent examples. From chatbots and AI to messaging apps, applying this approach will make it easier for your potential clients to discover what your store and brand have to offer. Besides, it is a great way to enhance customer satisfaction. You'll also get to improve marketing campaigns when communicating with your customers properly. But before we look at the advantages of this method, let's learn more about the meaning of conversational commerce.
What Does Conversational Commerce Provide?
With the development of online communication, conversational commerce 2023 becomes one of the primary tools for merchants. It allows them to promote products and services, such as dropshipping outside of the storefront. Besides, it allows online stores to establish a trusting connection with buyers. Consumers rely on messaging when looking for a new product to buy. Businesses in eCommerce can use this trend to improve the purchasing experience of their clients and followers on socials. Needless to say, such an approach directly impacts your reputation and sales. It can also influence your brand and make it more recognizable if you organize communication properly.
Selling products and services using online messaging has been used for years by entrepreneurs worldwide. It is one of the most common and simple ways to reach and engage customers. Moreover, it allows you to easily find out what your clients prefer when looking for a product. Besides, it's a more convenient way for customers. When conversing with a seller, they don't need to endlessly browse search results for the product that fits their needs. By reaching out to the merchant and asking about the product, a buyer can learn what they need in a few minutes.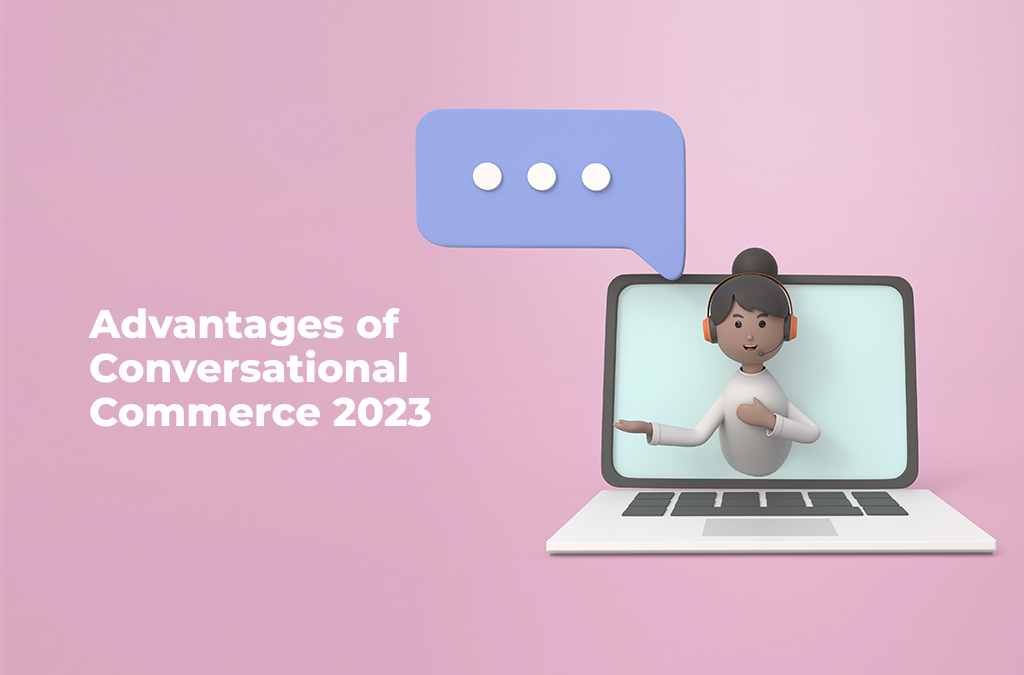 Advantages of Conversational Commerce 2023
Now that we've figured out what to expect from conversational commerce 2023, let's learn more about its benefits. As mentioned above, this approach provides a more comfortable buying experience for your clients. This ensures that a first-time customer will become a regular one. Conversing with clients also helps you with feedback. This way you can collect it instantly and properly analyze it to avoid any unnecessary issues. Moreover, it helps with improving your SEO and SMM campaigns. Furthermore, by engaging in conversations, your customers will receive more personalized offers that meet their needs. There are also other useful benefits to this type of commerce, such as:
Improved customer satisfaction;
Higher customer loyalty;
Better conversion rate;
Well-planned marketing campaigns etc.
These advantages not only influence your interaction with the customers. They also impact your store's success and brand image. Moreover, using conversational commerce opens new opportunities. For example, this strategy can help you complete both in-store and online purchases. Many customers may get advice by messaging your store's consultants and then purchasing the desired products. Whether it's an online transaction or a store visit, it is important to create a positive buying experience from the start. Properly planned communication can help you with it. And with constant online availability, you can cover more global requests than just catering to your local clients. This results in higher sales and a better online reputation.
Enhanced Customer Satisfaction and Increased Loyalty
Let's take a detailed look at some of the advantages that conversational commerce 2023 offers. One of the primary benefits is the increase in customer satisfaction offered by this approach. This also includes some additional bonuses for both you and your client. For example, you get a better retention rate while meeting the needs of your customers. Moreover, you don't have to install any expensive software or integrate any new technologies. All you need is a social page on any major network (or several). From Instagram to Facebook or Twitter, you can choose what fits your audience. Additionally, your clients can finish their purchases conveniently. This can be done by reminding your store visitors about their abandoned shopping carts.
Increasing customers' loyalty also plays an important part in the store's success. Chatting with your customers regularly leads to knowing them better. By providing the necessary assistance your clients get a sense of satisfaction and commitment. Through delivering more personalized offers, you can expect your clients to return for repeat purchases. Quality interaction with your store visitors leads to an increased customer base. It is important to remember that customer service both on your social pages and at your store must match their needs and expectations. This results in a better outcome for a client and a merchant.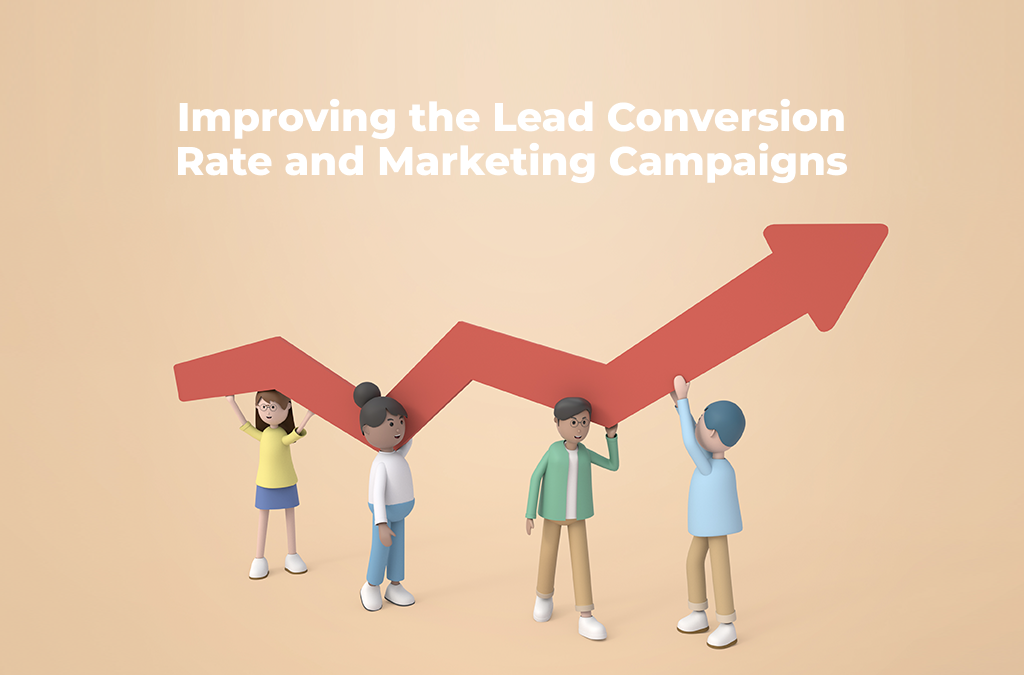 Improving the Lead Conversion Rate and Marketing Campaigns
Another good advantage of applying conversational commerce is its potential to increase the conversion rate. By interacting with customers without any third-party solutions, you can easily understand their needs. Besides, this allows you to collect data about popular products that clients are interested in. Many store visitors are more likely to purchase at a store that offers a messaging option. Such an approach allows you to create a customized chatting experience. It directly influences the buying decision of many customers. Moreover, a properly built conversational strategy may quickly convert a potential customer into a regular one.
Collecting customers' data through conversational commerce also changes how merchants approach their marketing campaigns. Discussing the needs of your store visitors provides a better understanding of what they expect from your brand. Learning more about their interests will help you find out what to address in your ads and how to make them more personalized. Moreover, it directly influences your content strategy and activity on social accounts. From posting on relevant topics to meeting the client's needs through assistance, this type of commerce solves several tasks at once.
What are the Examples of Conversational Commerce 2023?
This commerce type has diverse benefits for eCommerce businesses. But how can you apply this approach to your online store? There are lots of useful methods any online store owner can use. First of all, you need to decide what platform to use for conversational commerce 2023. It can be a social network like Facebook or Instagram. They can gather a lot of potential buyers that belong to your target audience. Your task is to engage them by using your social pages. This will help you promote your products, gain subscribers, and get the necessary attention from them. The latter can be done by using video platforms such as TikTok or YouTube. They can be great tools in both marketing and conversational commerce. Other important examples include:
Chatbots;
Messaging apps;
Virtual assistants;
Voice search.
All of the examples we'll talk about below are the results of modern technology development. They include conversing in the chat and suggesting products via an assistant. This type of commerce can take various shapes. However, the result is always similar. Clients get what they are interested in and you receive a boost in sales. Moreover, it is recommended to apply more than one method of conversational commerce. This way you can ensure that your customers will get the necessary support. And when looking for a product and purchasing it is a satisfying experience, a store visitor will undoubtedly want to repeat it.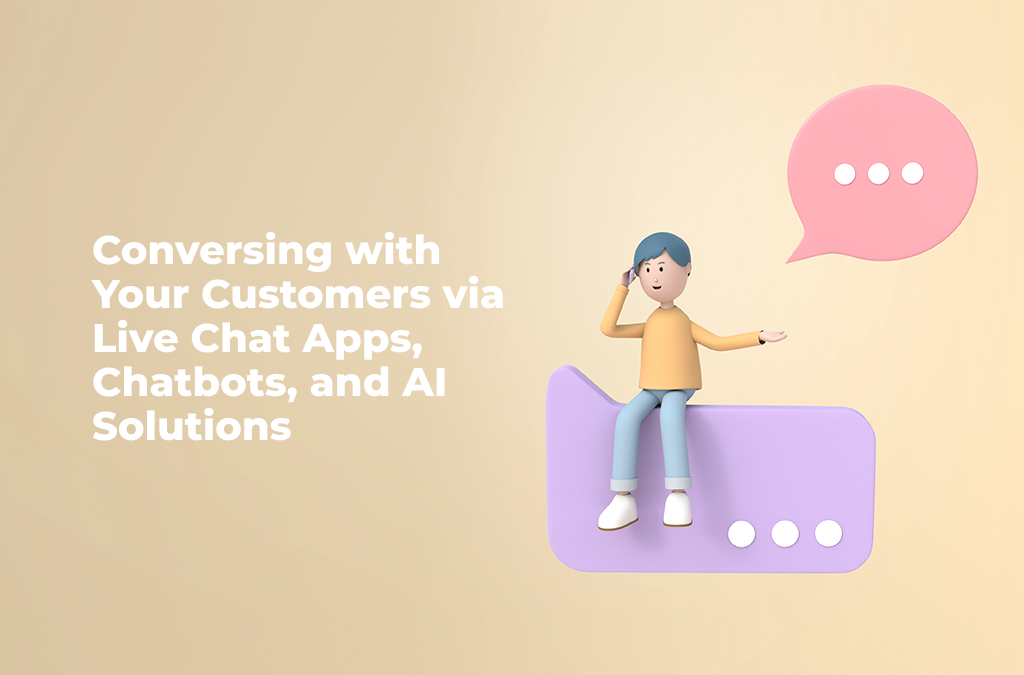 Conversing with Your Customers via Live Chat Apps, Chatbots, and AI Solutions
In conversational commerce, timely and informative responses are crucial. Live chat apps and social network messaging solutions are widely used by online stores to connect with customers and gain more subscribers. Chatting with potential clients can also build trust and provide valuable insights into their interests and expectations.
Aside from using live chat apps, many stores have recently begun to apply chatbots. This software provides your customers with instant answers about your store and its products using text messages. Unlike live chat, bots can simultaneously converse with lots of people and provide relevant information. This makes them a favorable choice for many online stores and their social pages. Moreover, if you need to provide consultations 24/7, a chatbot can be a real problem-solver.
With the increased popularity of AI, many bots such as ChatGPT are able to engage in dynamic, free-flowing conversations. This is a departure from the more traditional, linear chat experiences offered by other services. One great example of this is Crisp, a popular alternative to Intercom. Their platform offers five different types of chatbot API, which enable businesses to build natural and engaging conversational experiences that are much more likely to result in conversions. These experiences are designed to be rich and nuanced, allowing customers to interact with the bot in a more personalized way. With such technology, chatbots become true virtual assistants that can provide extensive help and answers to any questions from your clients. From giving product recommendations to completing transactions and retaining customers, there are lots of tasks you can entrust to a chatbot.
Messaging Software as a Part of Conversational Commerce 2023 Strategy
Chatbots may be one of the best tools for conversational commerce 2023. Still, most stores also rely on messaging. Many modern apps both on mobile and PC offer instant messaging functionality. This is also true for the majority of social networks. Modern eCommerce is mostly mobile-oriented. That's why using related messaging tools and apps is highly recommended. This allows you to stay connected with your target audience on a platform that is comfortable for them. Besides, this way you are delivering the purchasing experience outside of Shopify. You can still provide your potential and regular customers with content and products from your eCommerce website. Thus, you'll be offering what they need without losing their engagement. Here are some of the software examples that you can use to converse with your clients:
While these examples mention standalone apps, many social networks provide similar functionality. You can even apply SMS marketing as a method of communicating with your clients. The decision on what to choose depends on what's popular among your customers. The primary goal of using these tools for conversational commerce is in providing proper customer service. By using one or several of the abovementioned methods, you can solve several store problems at once.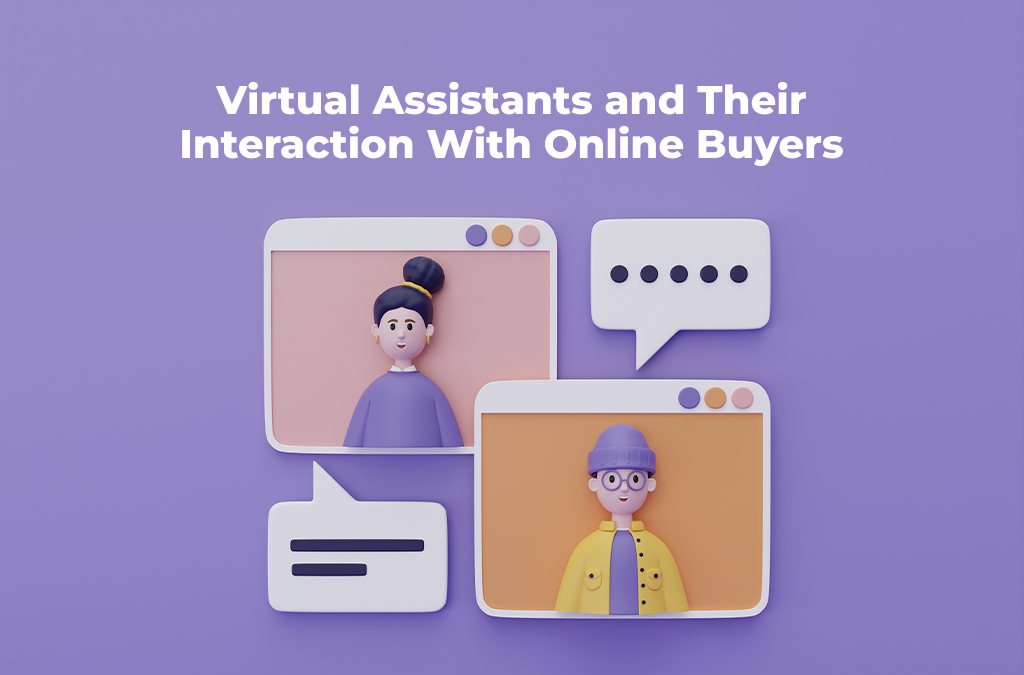 Virtual Assistants and Their Interaction With Online Buyers
These solutions are more than enough to provide simple assistance to your clients. However, most of them require your direct participation in communicating with your clients. To automate the process of conversational commerce in 2023, some stores also use virtual assistants. They provide integration of diverse services based on voice search. From Amazon Alexa to Google Home, there are lots of assistants your clients may be using. One of the main advantages here is that your store visitors don't have to spend time calling or messaging you. They need to voice their search request for a desired product. Then, a virtual assistant will provide them with several fitting options.
Devices that offer such features are built on a personal approach to a user. This means you can better meet the needs of your client. This is done by providing what they are searching for. Voice assistants can recommend various products and services based on recent requests. This opens a new horizon for eCommerce and conversational commerce. By making these devices and technologies a part of your marketing strategy, you can get better results than just using regular methods. Moreover, combining voice search and assistance with SEO, email marketing, and messaging can help you establish a trustworthy relationship with your clients a lot faster.
Conversational Commerce 2023: Conclusion
We hope this overview of conversational commerce 2023 has helped you understand how it can help your online store. Communicating with your clients can help you solve a wide range of tasks. From collecting customer feedback to helping them find desired products, a simple chat is the first step to better understanding your audience. Moreover, by applying proper strategies, you can boost your brand's image. Improving your reputation and growing your sales is also possible with conversational commerce.
If you are interested in more articles about eCommerce and online marketing, feel free to visit our blog. There you can find more guides and posts about Shopify development, and graphic design. On our website, you can also find a variety of Shopify themes and related services that will prove useful to your store. And if you are used to getting news via social networks, don't forget to follow our pages on Instagram and Facebook. There you can always find recent updates from our team. Moreover, it will help you to stay updated with the best from the world of eCommerce, web design, and development.