Landing pages are still popular, and this is for no reason. They have a number of advantages, in comparison with full-fledged multipage sites. On a landing, a person concentrates on one idea, one product, which allows him to study your offer without distraction and is more willing to leave an application. Using a Shopify single product themes, you can introduce potential customers to your product. The advantages of landing over a multipage site lie in the relatively easy and fast creation. The development of landing also makes sense when during the advertising campaign it is necessary to attract as much attention as possible to the product or service and sell it in large quantities.
Landing page significantly affects the upward conversion of traffic. The potential client has no choice: send an application, write or call. Such a site can significantly help you in the promotion of a product or an entire business, it is worth only correctly approaching its creation.
First, we determine for the purpose of landing what we want to get from visitors to the page. As a rule, this is one of three:
1. Sale of goods/services;
2. Receive contact (example: mailing subscription, measurement request);
3. Information (example: invitation to a free offline event, promotional page of the store with shares).
All these needs can be easily solved with the Shopify single product themes. In this article, we will show cool landing page patterns of Shopify that are suitable for business, sales of goods, agencies, freelancers and any other topic. After all, such templates can and should be configured for yourself and your offer. Many templates use fashionable twists, such as parallax effects, flat design, full-screen photos and videos. Adaptation for mobile devices is in each template.
Advantages of One Product Shopify Store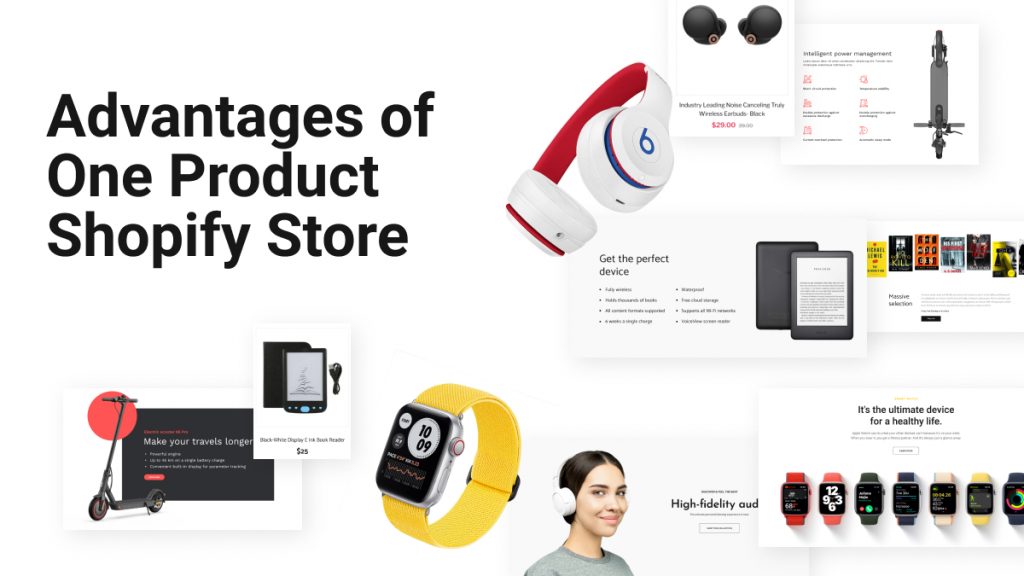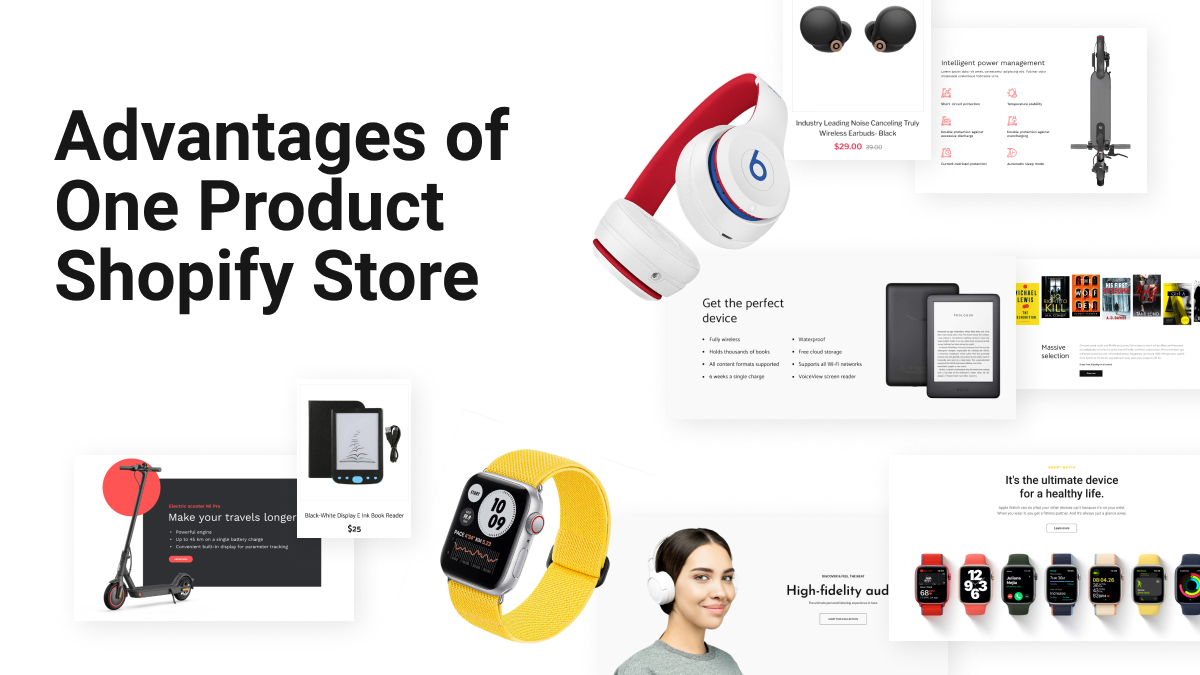 Shopify single product themes have many advantages. We will list the most important so that you can determine how appropriate you are to create a landing page.
1. A promotional offer that contains a landing page is always specific and not blurred. As a rule, it is one product or service, which increases the likelihood of customer interest.
2. Navigation of landing is as simple as possible, which is not to say about the site where you need to find the product, read about it, and then go to the tab with contacts.
3. Creating a landing page is easier from a technical point of view, the same applies to changing information on it.
4. The landing page is quickly loaded, because it does not have heavy graphics and other elements that can always slow down this process.
5. Based on one theme, you can create an unlimited number of landings.
6. It is convenient to observe the page statistics, and by changing one landing page you can track and monitor how content and graphics affect page conversion.
7. Due to the large number of different forms of capture. The conversion of landing can be 3-5 times higher than the conversion of a multipage site. Conversion of a single-page site depends on the topic, competition, sales offer, segment of the target audience and type of traffic.
8. If you need to sell now, and you do not have a site, a one-page site will solve this problem. In the future, you can easily make a full-fledged site with numerous landing pages.
Of course, we cannot call Shopify single product themes a universal tool. Nevertheless, we advise you to familiarize yourself with the topics of Shopify so that you can make a final decision.
Single Product Shopify Startup Theme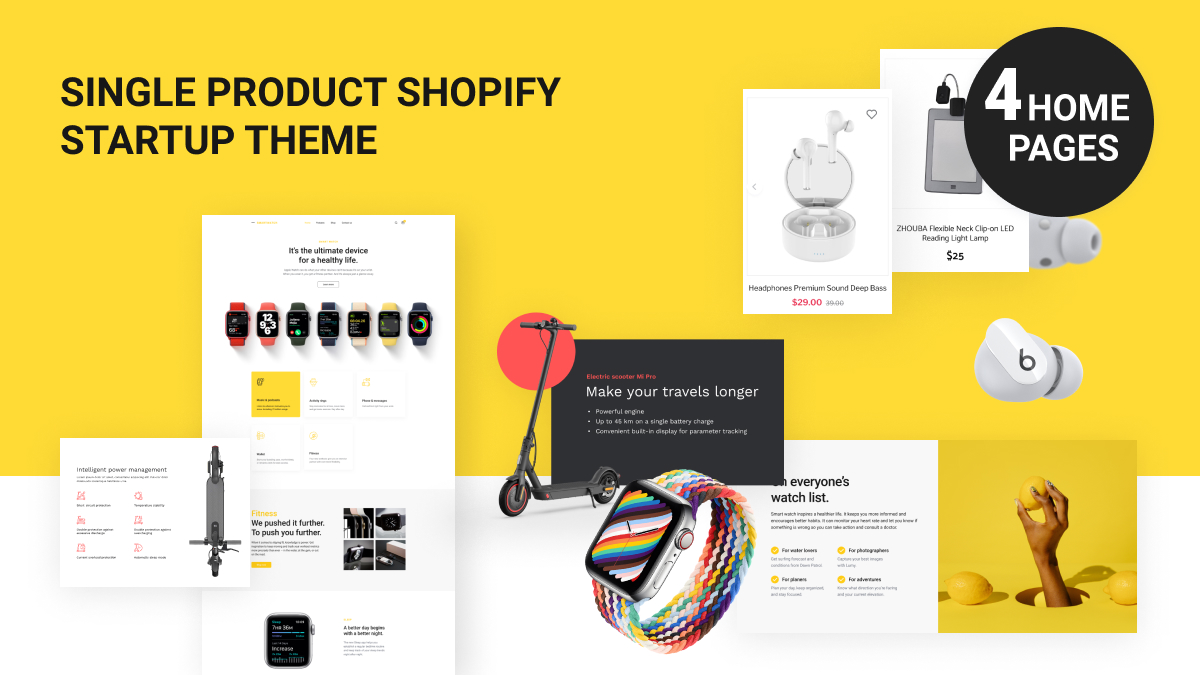 Create your own unique site with a Shopify single product themes for Startup. This is a great, flexible theme that will allow you to create a site with absolutely any design. Use it if you have a small business so far and only read online sales. The startup theme will help you sell any products, talk about your company, show customer feedback and much more. Of course, it is adapted for viewing on all modern devices, features convenient flexible settings.
This is an advanced and unique theme that allows you to not only create a landing, but also without additional settings to integrate it into the main site of the project. In the template you can find many ready-made styles for blocks in demand on landing pages – team presentation, gallery, portfolio. Beautiful page preload effects are also available. You can customize the theme design yourself. Your site will be under your full control. Convenient, isn't it? You can also use this theme an unlimited number of times, which means you can create as many landings as you need.
A simple Shopify single product themes means that pages can be loaded quickly. It is compatible with all modern browsers and search engines. The flexible theme also includes the AJAX download blog, which means your items are downloaded instantly. You will find here a wish list function, mega-menus optimized for SEO reviews, a separate landing page template and integration with social networks.
This is your ideal choice if you don't know where to start or what design to choose for the site. You will work with pleasure, because you do not need to think about technical details – everything is completely ready for work!
Airy – Drones Store Shopify Theme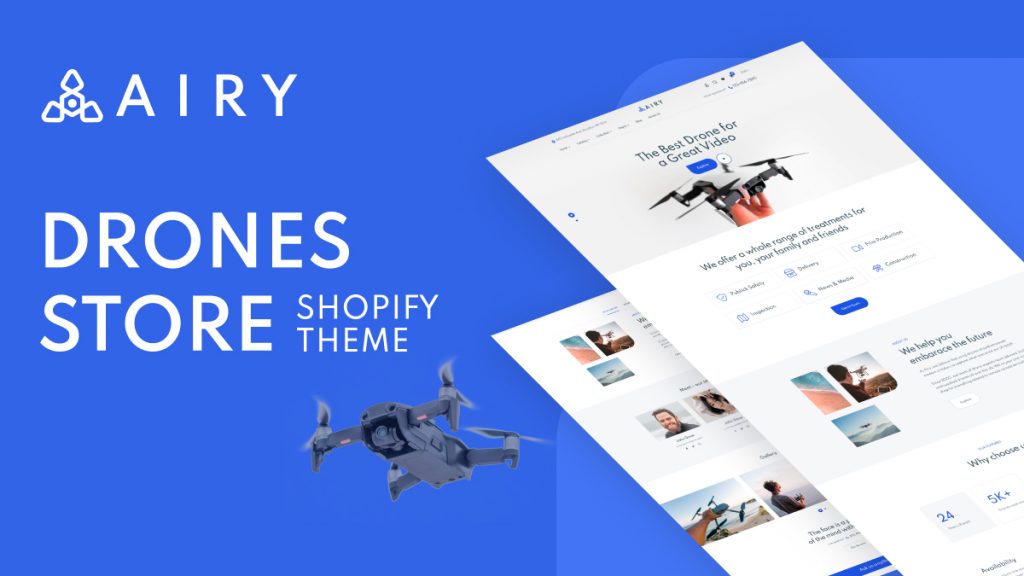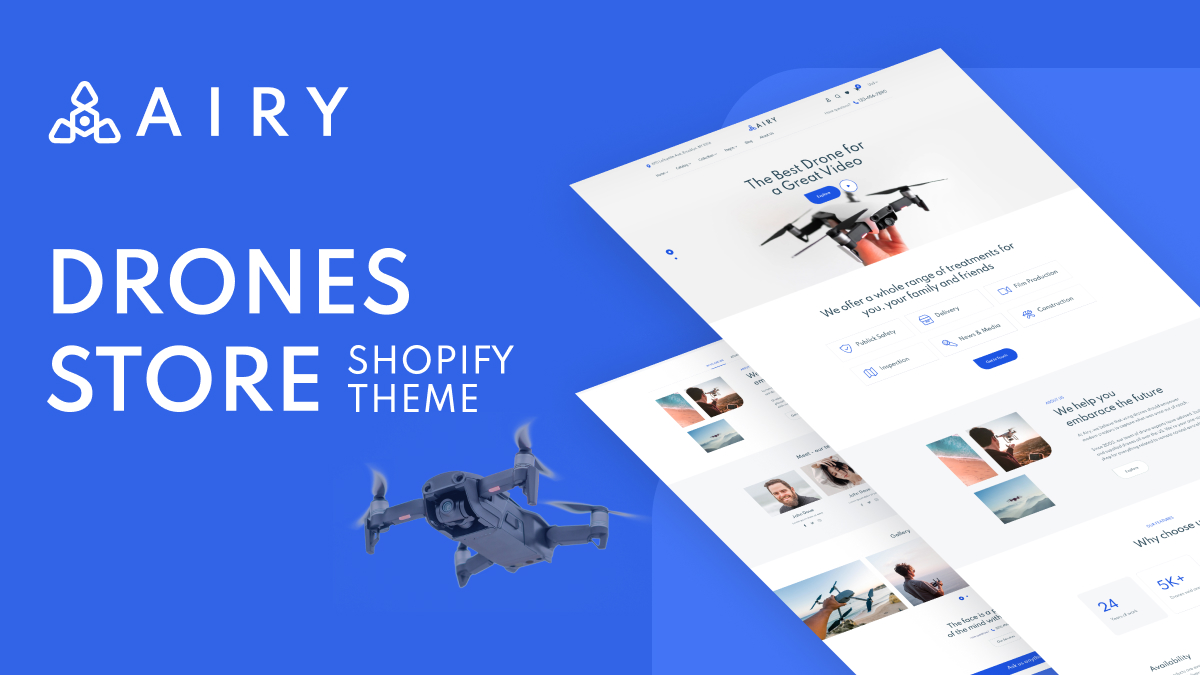 Drones are not just fun entertainment or a toy. Video shooting, surveillance, various functions – all this is possible thanks to controlled "drones." The offer to sell devices or services will find their buyer, and they are highly likely to search through the Internet, because the target audience is fans of high technology. The Shopify template for the drone business will help to quickly make a modern, spectacular site and promote your business in this direction.
This is a universal adaptive template for a videography or the sale of appropriate devices. First, design draws attention to itself – it is strict, elegant, without unnecessary effects, but at the same time works well for its main task – presenting information about the services and capabilities of the "park" of devices. Animation is used on the title screen, imitating the shooting style from the gadget, so it looks thematic and stylish. Minimalism is achieved by a color scheme that uses a limited palette. You can use additional plugins, convenient designer for working with the site, subscription to the newsletter, integration of social networks. For additional customer comfort – a form of feedback where you can ask a question or simply send a message to the company.
You are guaranteed the ease of installation and configuration, which does not require advanced programming knowledge. You can make a business card or landing page, depending on your tasks.
Here you can set up a gallery for the portfolio. This will explain exactly how the devices are used. Thus, your customers will clearly understand what this technique is used for. Attached is a set of plugins, SEO optimization, guaranteed mobile adaptability.
Interesting? Watch the demo and download the theme to get started!
Nextra – Single Product eCommerce Shopify Theme, Electronics Store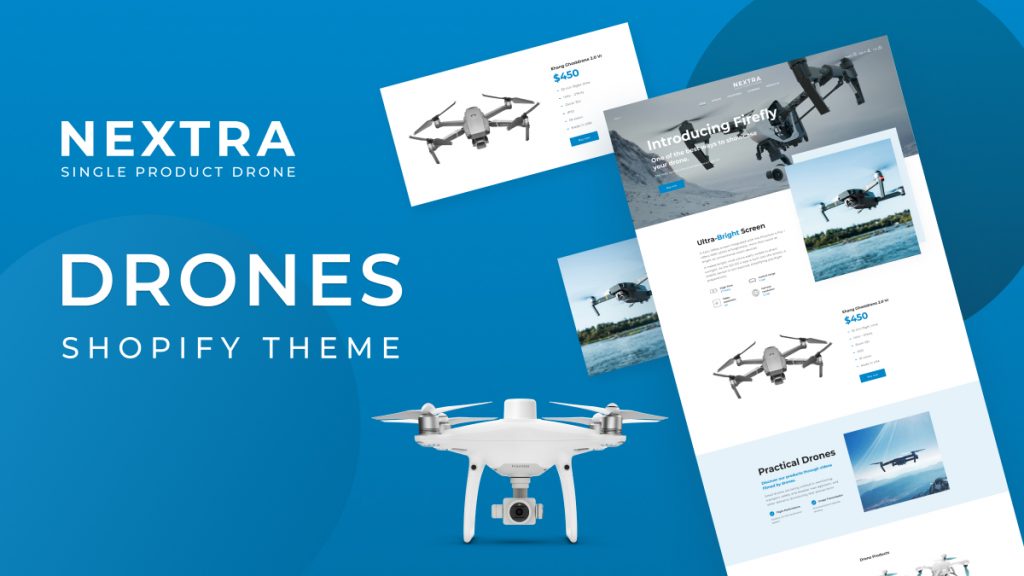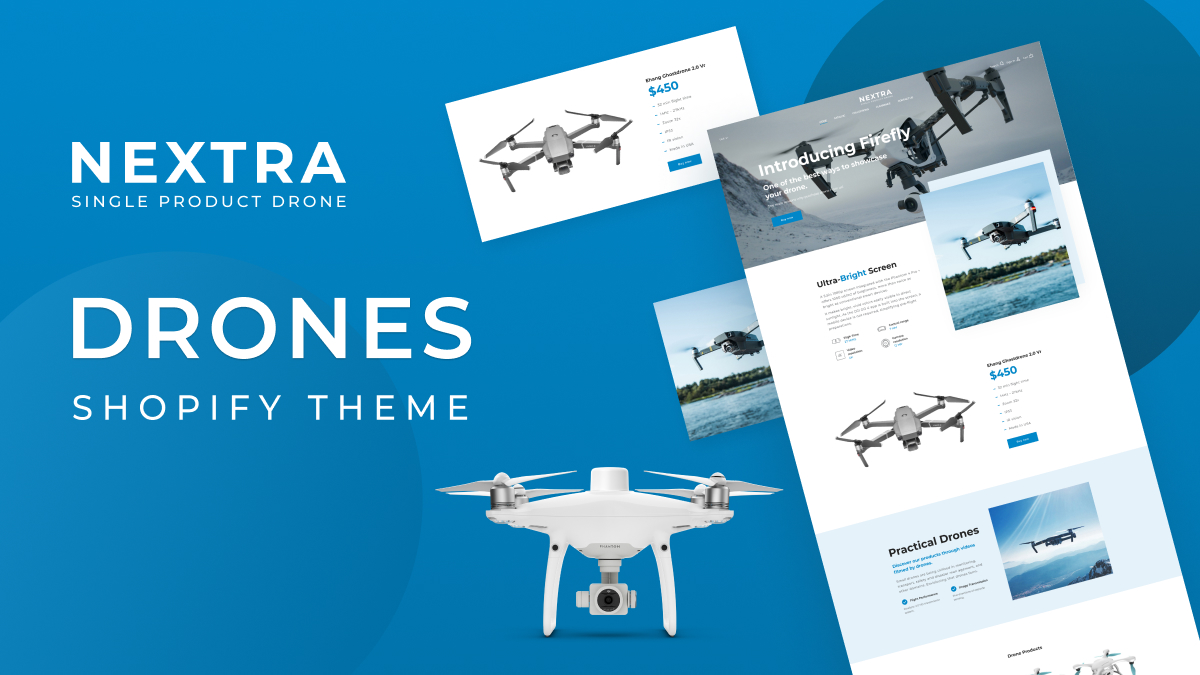 Beautiful stylish Shopify single product themes. The Nextra is notable for the fact that here you can combine various details in any order, without fear that this will disrupt the structure of the page. No matter how you work with the design or construction of the page, its mobile adaptability or cross-browser compatibility remains. The theme also supports animations, scrolling capabilities – all in one, for which it is very popular. Under the theme of selling products, a pleasant design is proposed, from which you can, on the one hand, make a blog and talk about the advantages of video shooting, and on the other hand, the topic allows you to easily customize online sales, manage goods, delivery and others.
The Nextra features high performance and an advanced option bar. The best plugins for creating landing page are added to the template. Template developers pay special attention to user support – any question should be answered quickly, describing how to solve the problem. The theme is already localized for many languages. You can control it anywhere in the world.
Electronics refers to complex products that are not so easy to sell online. Customers often need the help of a specialist in choosing a technique. For this purpose, a feedback form is provided herein. You can also set up an online chat or callback on the site. All of this will help you increase your sales conversion.
Optional – you can use feedback from your customers, a gallery to demonstrate the product. All in order to demonstrate the advantages and attract visitors. Highlight the benefits to interest visitors even more. Describe the advantages in simple language, highlight them using lists, focus on the distinguishing features. All this can be easily done with the theme of Nextra.
Avanti – Shopify Tshirt Store Theme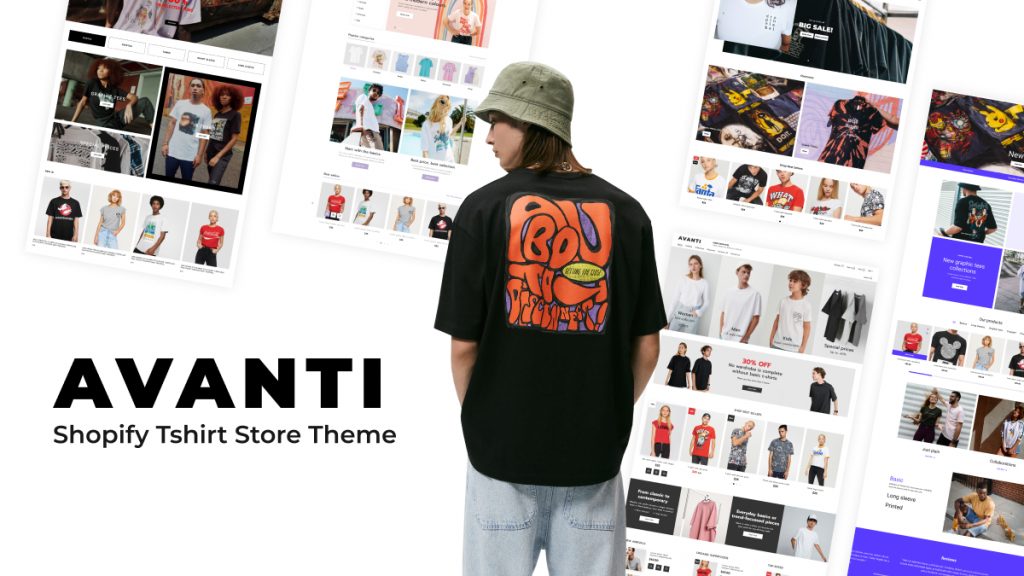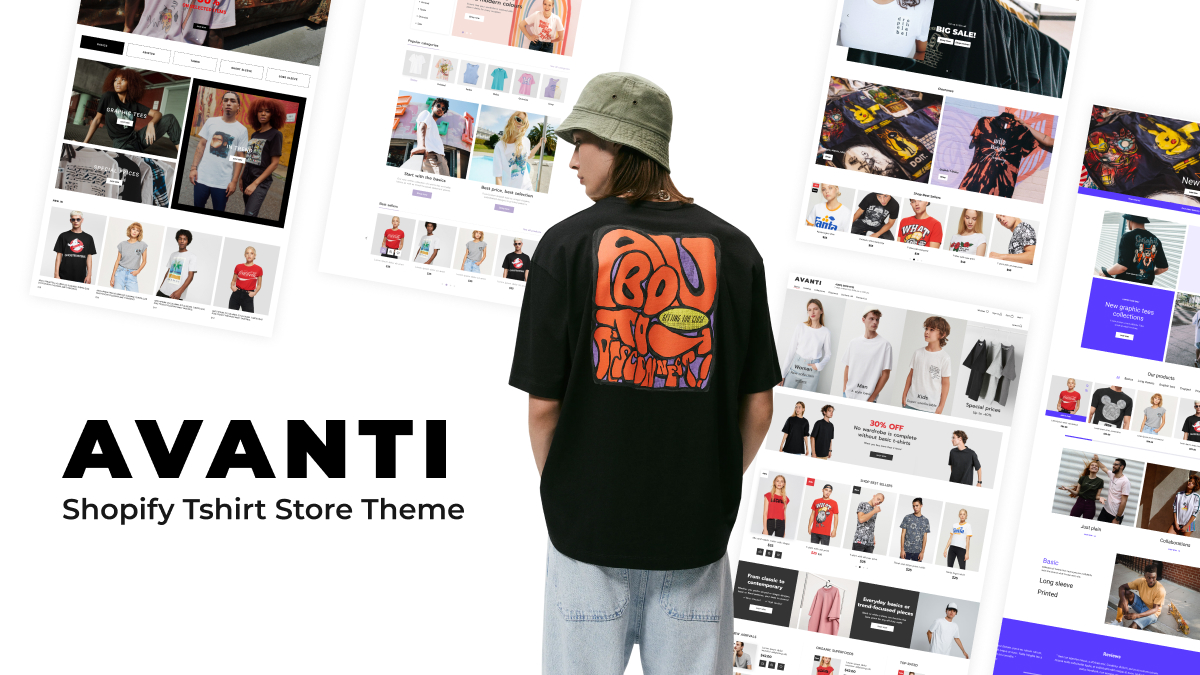 The Shopify T-shirt Store Theme is not suitable for selling a large assortment of goods. At the same time, she will perfectly cope with the promotion of a specific collection, the presentation of new products on the market, limited stock, wholesale sales and other similar tasks. This is a high-quality professional Shopify template, with which you easily create resources with high conversion. Your visitors will be able to easily understand the navigation and order the necessary product. Quick purchase is available, convenient viewing of items. You can set up multiple payment options, track delivery, and manage orders. Your customers can easily add items to the shopping cart and go to checkout, and find out which products are new or on sale.
The undeniable advantages of this theme include simplicity, ease of navigation and understandable text, a wonderful adaptive layout. You will be satisfied with the high responsiveness, excellent design. Here you can arrange all the information necessary for visitors. A convenient administrative panel allows you to customize the site. Even a newcomer will simply understand the page designer and site promotion.
The theme features also includes a large banner. You can use it to show your most popular products. Your customers can also easily view all products and sort them by price, brand, size. You can customize the appearance of the page yourself, change the location of the blocks and edit the texts at any time.
The Shopify single product themes are also adapted for CEO. Checks show that search engines will easily find and rank your site. Avanti is a clean template that is easy to edit. Due to the use of visual effects, such as parallax, the theme turns out to be alive. It's nice to be on this site and shop.
Holy Weed – Medical Marijuana Shopify Store Template for Cannabis Oil and Drug Shop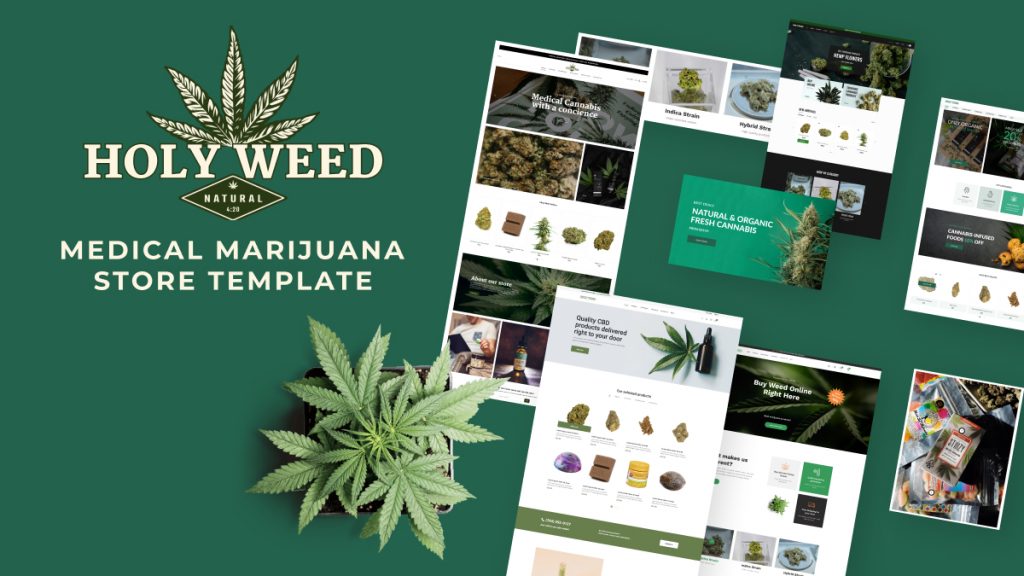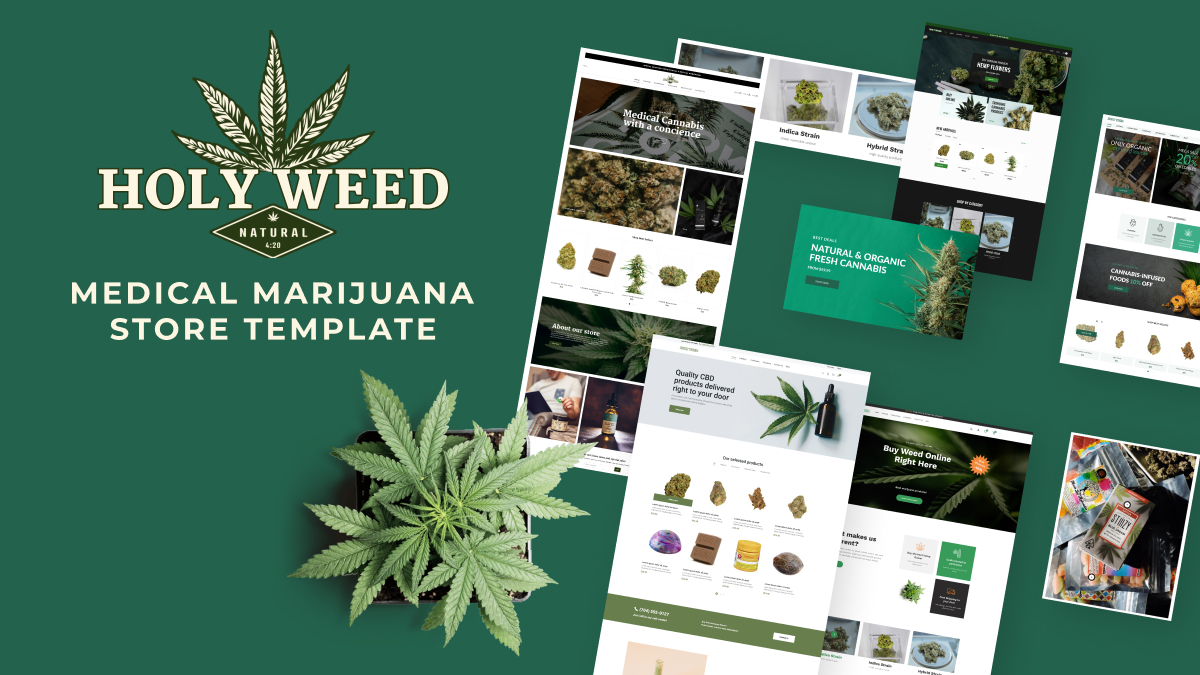 Are you planning to organize online sales of medicines? Meet Holy Weed. You can use this topic to sell cosmetics, drugs or drugs. It is also suitable for the sale of any chemical products. Landing has all the necessary sections. Buying a site of this type and remodeling to your prices, photos and descriptions is a great choice. This landing page pattern is time-tested and has excellent conversion.
We understand that drugs or dietary supplements are a specific product. Therefore, it is important to have a modern site that will help not only attract customers, but also ensure high sales. Such a site will be easy to promote. Thanks to modern design, it attracts attention and has the confidence of visitors.
With this Shopify single product themes, you will be able to launch your own sales campaign at a modest price and, in the most record time, start promoting new products or create an effective online point for wholesale sales.
Of course, it is not easy to hit the imagination of customers today. But you can keep your attention and position yourself. Here, everything is created so that purchases can be made quickly. Your visitors will find a convenient shopping cart, a wish list, comparison of goods, one click purchase and much more. Any questions? They can contact you through a feedback form.
The theme comes with unlimited color settings and an impressive number of Google fonts, so you can easily change colors and text. In addition to optimizing SEO, the theme includes demo data that is easy to install. You can speed up the customization process and choose from unlimited options on the product details page, customize parallax banners and add even more products and content using custom blocks.
Conclusions
It will be easy for you to work with any of the Shopify single product themes. No doubt you will appreciate the benefits of each of them. And, of course, each of these topics can be made even more effective. How do you do that? Follow the simple recommendations, they will help you make your work more enjoyable, and the online resource is even more interesting.
Here are some basic techniques for highly convertible landing pages. Use a clear and concise statement of values (under the heading) so that visitors can understand the purpose of your page at once. Pick the main title to the ad that your visitor will click on to get first on the landing. Use social influence and feedback to confirm your requirements. Focus your entire landing on one sentence, with one basic call to action. Use a conversion-oriented layout to highlight your uniqueness (think about spaces, color, contrast, and directions). Test new ideas using A/B testing. Sometimes what works will surprise you.
Shopify single product themes remains a simple but very effective way to communicate with its target audience. Due to its convenience and versatility, landings can be used by international corporations and local business representatives. However, a lot of preparatory work is hidden behind external simplicity. Starting to create such a resource, you need to understand your target audience perfectly and be ideally guided in the market situation. The topics suggested above will help you understand this and create your ideal resource!
Although the quality of your products matters, the design of your store is the first thing your visitors see. Make sure they feel welcome and enjoy viewing all items through Shopify's attractive and flexible theme.