Ranking The Best Platforms to Sell Digital Products
Choosing the best platforms to sell digital products is a tricky task that can impact your commercial success. With the constant development of modern technologies, more and more people are looking for a way to sell products online. From music and podcasts to eBooks and templates, there are lots of unique content that requires promotion and advertising. Modern platforms and CMS are the best choice for many startups, entrepreneurs, and freelancers. If you are looking for a chance to sell your services and ideas or establish partnerships, modern web technology such as a mobile website builder or eCommerce websites can easily help you.

In today's post, we will talk about various online platforms and sites that help with selling digital goods online. You'll learn what digital products are and how they vary. Also, we'll cover the top 5 popular platforms for selling such products, both user and developer-oriented. Besides, we are going to explain how selling digital products can be beneficial to modern businesses. Whatever products or services you specialize in, you'll surely find what suits you the most in this article.
eCommerce in the Age of Digital Products
For starters, let's look at digital products and learn what the term means. It is a product existing only in digital form that can only be purchased online. Thus, it can't be presented or sold physically unlike the products available offline. Modern digital goods need a platform that represents all its advantages properly. With an ongoing eCommerce trend and website building platforms like Squarespace, creating a memorable look for any of your digital goods is easier than ever before.
The popularity of NFTs has strengthened the importance of selling goods online. Now it not only helps promote your business. Such an approach is also beneficial for creatives who need instant feedback. This is especially vital for artists, musicians, writers, etc. The best platforms to sell digital products also have a customizable design. It allows you to adapt to your target audience quickly. No matter what type of products you sell, working with digital goods and eCommerce allows you to stay independent while also getting profit and recognition. Whatever platforms you are using, you may try different techniques to grow your profile. For example, you can plan to buy real Twitter followers if you are using this platform.
The Best Platforms to Sell Digital Products: Top 5 Picks
From world-renown eCommerce sites like Amazon and eBay to independent platforms, there are lots of places where you can get high-quality digital products. Nowadays, web development for eCommerce is versatile and easy to get started with. It enables many stores and individual sellers worldwide to establish an attractive presence for their digital goods. Whether you are planning to sell software-as-a-service (SaaS) products, eBooks, online courses, or anything else, it is necessary to understand how these platforms work.

To put it simply, the best platforms to sell digital products allow for direct interaction between a seller and a customer. Unlike real-life products, you can't touch or hold digital ones. For that reason, a digital goods store needs to be able to demonstrate a product to a customer. If we speaking about services sold online, a well-performed portfolio is required. It allows your potential clients to understand what they are buying. Modern digital platforms, as well as eCommerce content management systems, are perfectly suited to perform this task. Here are some of the most popular platforms for building a noticeable store that delivers quality online goods:
BigCommerce;
Sellfy;
Shopify;
WooCommerce;
SendOwl.
Using these platforms allows you to establish a store that corresponds to your ideas and the expectation of your audience. Besides they allow you to control promotional campaigns as well as add new products and update existing ones with a single click. This is what makes selling digital products different from traditional eCommerce. Now let's look in detail at the five resources mentioned above.
Sell Digitally with BigCommerce
One of the best platforms to sell digital products is BigCommerce. It allows you to get started with your online store easily. Also, you don't need to own a hosting account to establish an eCommerce website on this platform. With lots of templates and services, the platform helps anyone to create an attractive store. Moreover, with constant support from the BigCommerce staff, and BigCommerce theme store, you can quickly figure out how to promote your store and its products properly. The extensive knowledge base available on their website can further assist you with creating your first platform for delivering digital goods to your customers.
This platform is available both for well-established businesses and individual stores. It is possible due to the diverse options available in its pricing packages. From B2B and wholesale to multicurrency support, there's a lot this platform offers. Thanks to the integrated plugins, you can customize your store at any time. Most importantly, the services provided by BigCommerce allow you to boost your sales and attract necessary traffic. With its affordable monthly subscription plans and customized approach to its clients, this solution has won the trust of over 60,000 clients all over the world.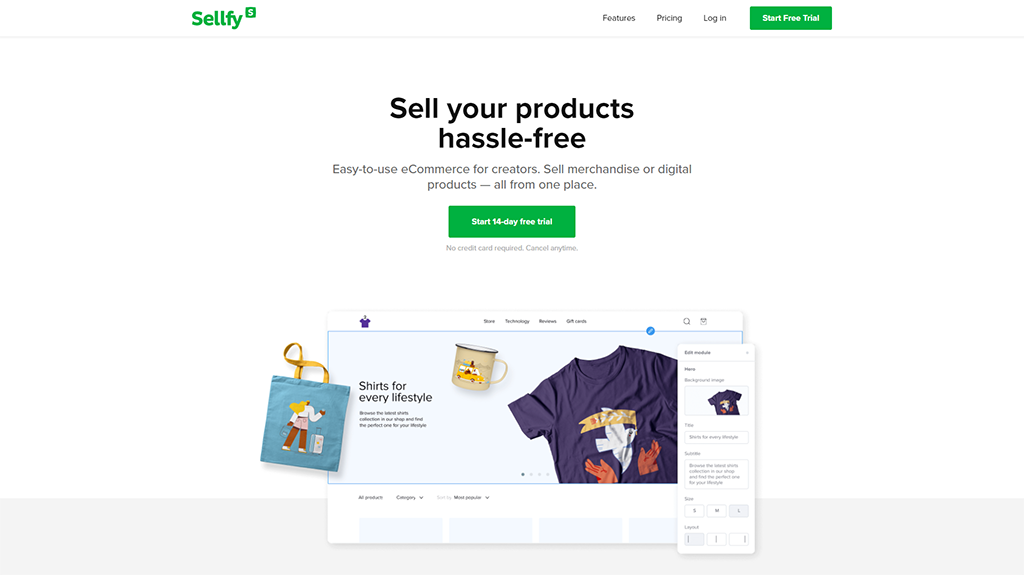 Sellfy: The Leading Platform for Digital Goods
Another popular platform for getting started with eCommerce is Sellfy. It is perfectly suited not just for traditional eCommerce, but also for digital goods. When it comes to creating unique products online or customizing existing ones, Sellfy is the #1 choice. This platform is mostly oriented toward goods of the digital era. From ebooks to audio and video, there's almost no limit to what you can sell with Sellfy. However, it can be used for physical products too, due to its customizable storefront.
Sellfy offers just what you'd expect from the best platforms to sell digital products. A shopping cart and optimization for mobile devices are available out of the box. You can also embed portions of Sellfy to your website or any social network. The platform supports all popular payment systems, too. Security is also taken care of. With Sellfy, you can be sure of all transactions' safety. Every data interaction is encrypted and safe. With its 4 affordable pricing plans, you get a wide choice of options for any purpose.
Shopify, a Professional Approach to eCommerce
When it comes to a quality eCommerce website, many businesses choose Shopify. As one of the best platforms to sell online, it offers a variety of tools. This platform is a fitting CMS for physical stores, for example, fashion websites. However, it can handle digital products as well. With a variety of templates, apps, and plugins, this platform allows you to build a unique store for any kind of digital goods. Moreover, this CMS helps you to easily manage every product of your store. It also simplifies advertising and marketing for your store due to these features:
Built-in SEO tools;
Store analytics;
Campaign management apps;
Blog support;
Email marketing.
Like any modern eCommerce platform, Shopify provides powerful customization features. The platform allows you to change the look of any digital product page. Also, with the Shopify platform, you can create a powerful brand for your digital goods store. The wide choice of options will help you on your way to success in the digital goods market. The reasonable monthly pricing rates will help you establish a noticeable online presence.
A large percentage of Shopify's revenue stems from digital products like online courses, which make up $79.5 billion in value. Online courses are a popular method of monetizing eCommerce businesses. Besides, selling online courses is one of the most effective ways to start a passive income stream as it requires little capital.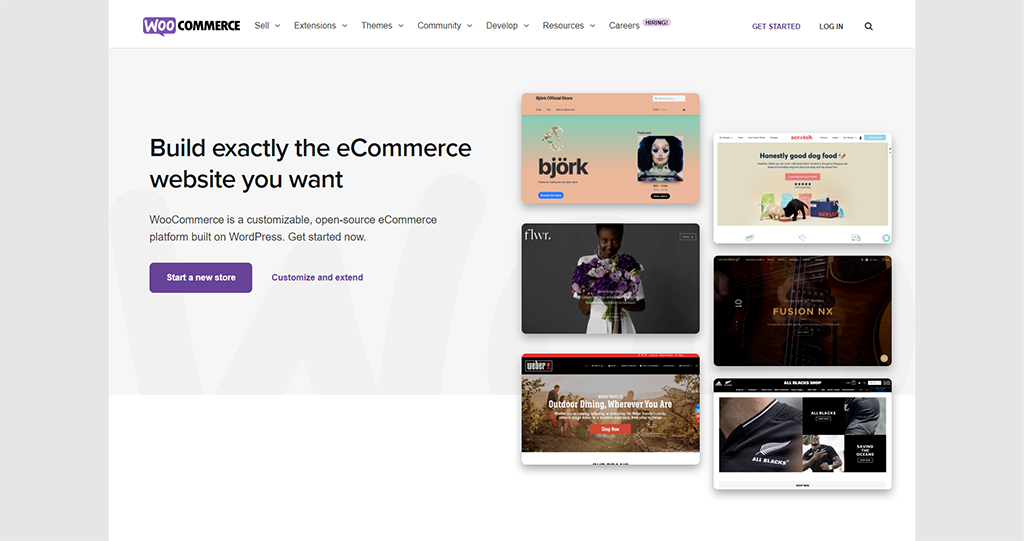 WooCommerce as a Choice for Your Digital Store
If you prefer to create eCommerce websites on WordPress, the WooCommerce plugin is the solution for you. You may be planning to build a new store or customize an existing one. Regardless of your goals, this platform fits an eCommerce site of any complexity. It helps you to set up your store in several clicks and manage your catalog. With WooCommerce, your clients can be sure all their data are safe at all times. This is possible thanks to the secure approach to all transactions. Here are some other benefits this platform provides:
Ready-made store themes;
A variety of extensions and plugins;
Regular store backup;
Easy-to-edit product layout;
Add-ons and bundles for any store;
Gift cards & coupons.
WooCommerce is also great for creating an online presence for a physical store. However, it can be considered one of the best platforms to sell digital products, too. This platform comes with a powerful dashboard and store builder. It allows you to craft an impressive store for all your digital products. From subscriptions to webinars and online education, WooCommerce is fitting for various digital goods. And if any issues emerge, a qualified support team will be glad to help you anytime.
SendOwl, a Platform for Digital Creators
If you are a creator of digital goods, SendOwl may be an option for you. This platform was specifically designed to provide the full cycle of eCommerce solutions. From establishing your store to customizing your goods, it suits any creator. There's a variety of digital goods and services that the platform can handle. The range of products to include in your store depends only on your imagination. These are just a portion of what can be provided:
Subscriptions;
Codes;
Videos on demand;
Audio streaming;
Bundles etc.
The user-friendly UI of SendOwl makes it one of the best platforms to sell digital products. It gives you full control over your goods and content. It also provides outstanding marketing tools. Upsells and e-mail marketing integrations are just a few options that come with this solution. Most importantly, the SendOwl eCommerce platform pays a lot of attention to security. Whether it's a download link with a time limit or 2-factor authentication, your customers will get the content they pay for. The developers of this platform also took care of sales analytics. There are various kinds of extensive reports and summaries available. They will help you properly analyze and modify your selling strategy.
The Best Platforms to Sell Digital Products: Conclusion
We hope this short guide to the best platforms to sell digital products has helped you decide what platform suits you the most. There's more content available every day. Thus, it is important to know how to provide quality paid content to your clients. The abovementioned platforms are great not just for selling digital products. They are also offering wide customization and valuable insights. Besides, they allow you for transforming your store at any point to sell physical products, too.
If you are interested in more articles about eCommerce, we invite you to our blog. Our authors regularly publish new guides and reviews of eCommerce themes and platforms. For solutions developed by our team, feel free to visit our website. We regularly provide updates via our social channels, too. Feel free to follow and like us on Instagram and Facebook for more information. With Zemez, you can always stay in the know with the latest in web design and development.