Mysterio Multipurpose Shopify 2.0 Theme: A Powerful Solution for Your Store
The Mysterio multipurpose Shopify 2.0 theme represents what many website owners are looking for when building a quality online shop. With Shopify being one of the most demanded CMS for eCommerce, choosing it for your store seems quite a good idea. Still, creating an attractive online store from scratch is a complex task. That's why Shopify and themes for this platform are highly popular nowadays. They provide professionally designed UI and a look for your online store that meets your needs.

However, there are thousands of themes for Shopify. Such an amount of ready-made solutions makes it tricky to choose something fitting. No wonder multipurpose themes attract a lot of attention. In today's post, we'd like to talk about a multipurpose theme that fits any modern Shopify store – Mysterio. Moreover, it is oriented towards the future of eCommerce. With its help, creating even a complex online presence won't be a problem.
However, before we describe the details, features, and advantages of the Mysterio Shopify theme, we recommend checking out our other blog posts. From publications about content marketing trends to reviews of the latest updates, there's always something interesting to read. Our blog is constantly updated with new articles & guides. Besides, a variety of categories for posts and publications will make it easy for you to find what you need in our blog.
The Advantages of Shopify for Your eCommerce Website
For those unfamiliar with Shopify, it is necessary to know that it offers more than just a single product experience. This CMS is a multi-component eCommerce platform. Its tools help you establish an online shop in no time. With this solution, you can create a fully functioning eCommerce website with hundreds of cool features. Shopify gives you complete control over your products and content. It allows you to easily customize your store and sell even on social media. Moreover, this system allows you to access your online store easily. Shopify uses cloud hosting technology that increases your site's security and makes it available worldwide.
Due to a wide range of integrated technologies, Shopify grants you unlimited site-building possibilities. However, if you don't want to build an online store from scratch, you can always use a pre-designed Shopify theme. Aside from having a professionally performed design, they offer a wide choice of other features. One of the most important ones is high responsiveness. Any online store needs to run smoothly on a wide range of devices. It also must include comfortable yet simple navigation. And of course, any properly built Shopify theme must be updated regularly. The Mysterio multipurpose Shopify 2.0 theme offers all of the above and even more for your online store.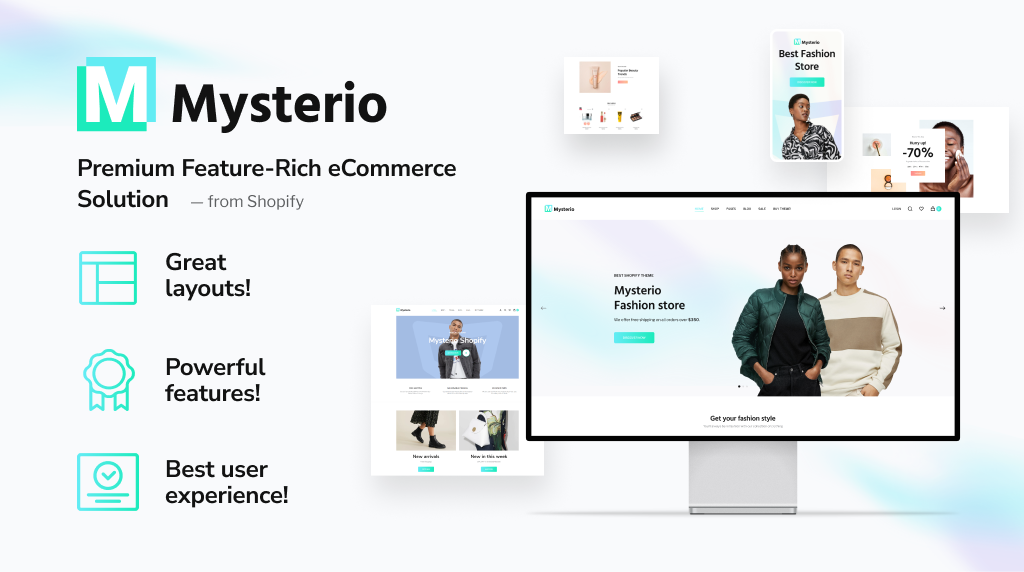 Mysterio: Quality Shopify Theme with a Wide Range of Features
Mysterio multipurpose Shopify 2.0 theme is a high-quality multipurpose solution. It allows you to create any kind of eCommerce website without having to deal with the intricacies of online store development. This theme provides you with a wide choice of design features as well as rich functionality. Moreover, it delivers a vast range of ready-made layouts for homepages, product pages, galleries shop catalogs, etc. Being fully compatible with the latest Shopify update, our theme provides:
12+ Homepage Layouts;
Shopify visual builder;
Full support of Shopify apps;
Wishlist;
Quick View;
Shopping cart etc.
However, these are only a small part of all features the Mysterio theme provides. It also has a variety of features that you'd expect from any premium eCommerce theme. For example, it has an integrated size guide for fashion stores. The smoothly operating AJAX live search enhances the browsing experience of your potential customers. You can also attract your clients' attention with well-styled modal windows and well-designed forms. They are perfect for improving interaction with your site visitors, too. Moreover, you can freely use the integrated megamenu to showcase the most popular products and improve navigation.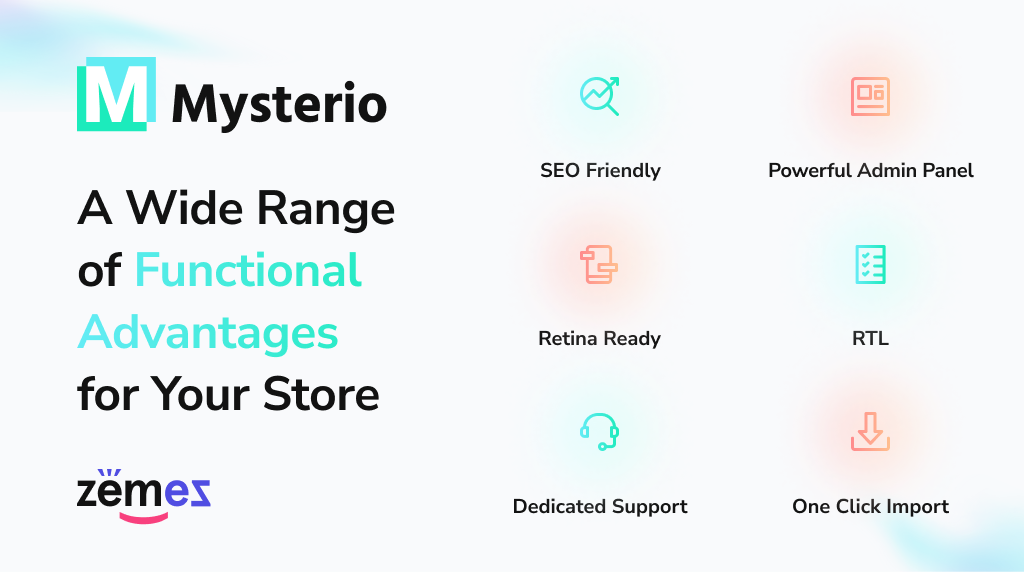 Design Advantages That Mysterio Multipurpose Shopify 2.0 Theme Provides
Now let's take a more detailed look at the design that Mysterio theme has to offer. Firstly, it comes with a variety of both minimalistic and quite detailed homepages. The spacious layouts supplied with this theme allow you to post various information about trending and new products. Also, you can attract your customers' attention with sections for specials and best sellers. And of course, you can easily add articles and guides for your site visitors to read using the integrated blog.
Each theme layout can be improved and customized according to your ideas and vision. Thanks to the powerful Shopify visual builder, creating a unique look with our multipurpose Shopify 2.0 theme is easier than ever. You can quickly add all the required sections for your store without any complexities. They can help you improve various aspects of your eCommerce website. From better navigation to increased informativity, the customization options of this solution offer immense potential for your website.
A Wide Range of Functional Advantages for Your Store
Aside from the design options, the Mysterio theme for Shopify also provides other features. Its rich functionality is aimed at improving usability. Moreover, it makes your website easy to use. Developed with attention to detail, this theme takes into account the needs of fashion stores. Besides, the theme can be used by owners of furniture and jewelry shops. The supplied features are oriented towards a better user experience. From sliders to product descriptions, every section provides lots of useful information. However, all the provided features are built to fit the style and goals of the Shopify theme. Here are some of these features and advantages:
Cross-functionality;
LTR & RTL support;
SEO-ready layout;
Responsive & mobile-friendly design;
Easy demo import and configuration.
When combined with modern & spacious layouts, such components as sliders, forms, and product lists show their true potential. They are perfectly integrated into the theme by our team of developers. Also, the Mysterio multipurpose Shopify 2.0 theme is fully compatible with all popular extensions and apps for Shopify. Its shop catalog and other related pages have lots of space for product presentation. Furthermore, the theme uses detailed filters for products that include various tags, brands, and categories. Atop of that, the theme was thoroughly tested to provide incredible performance and fast loading times.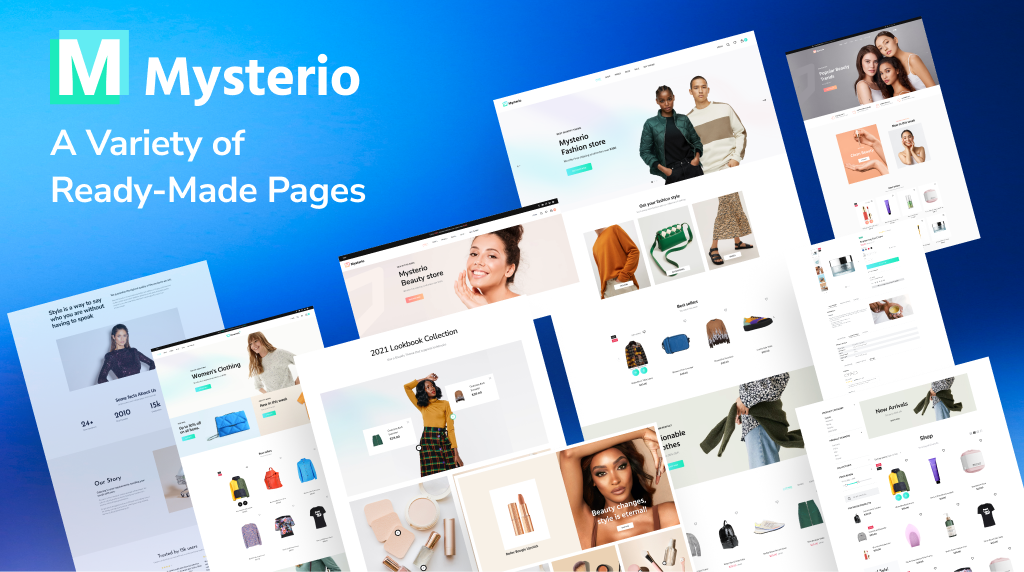 A Variety of Ready-Made Pages to Fit Your Shopify Store
When you set up your store, you want it to have lots of content. We took care of this aspect as well. Our team combined everything you expect into various layouts. Also, we added diverse ready-made pages. They are fit to be used for a wide range of purposes. For example, you can tell more about your team and your store. Also, you can share recent testimonials and publish regular updates with this Shopify theme. And of course, our solution allows providing necessary information for your clients (shipping, refund policy, etc). Other notable pages of Mysterio multipurpose Shopify 2.0 theme include:
5 Fashion Homepages and 5 Beauty Homepages;
Product Pages;
Product lookbook;
5 Blog layouts;
Collection Pages;
Listing Pages.
Our team of designers and developers has also used the advantages provided by the Shopify platform. This allowed us to make the Mysterio theme even more flexible. That's why when you purchase our solution for your online store, you get dozens of awesome benefits with it. Moreover, all the features described will run smoothly right from the start. We ensured that your online store built with this theme will function just like you want it to. Also, it is guaranteed to provide the best performance and high stability.
Powerful Shopify Functionality in Multipurpose Shopify 2.0 Theme
As one of the biggest eCommerce platforms, Shopify offers a wide range of integrated features. There's no limit to what you can do with Shopify. It can help you make your site mobile-ready. Or you can use a powerful website builder to make your website even more unique. However, to take advantage of all its features, you need to have a better understanding of how its components work. Thanks to this multipurpose Shopify 2.0 theme, you can save a lot of time and get a professionally designed online store quickly.
However, you can always add more apps to your Shopify to extend its functionality. Whether you want to integrate your social accounts or improve customer service on your website, the app catalog has what you need. Shopify uses the star rating system for all its apps. This will help you easily find a suitable app to install. Besides, you can easily modify the HTML and CSS code of your website. A few other advantages that Shopify provides include flexible shipping rates, free SSL certificates, and multilanguage support.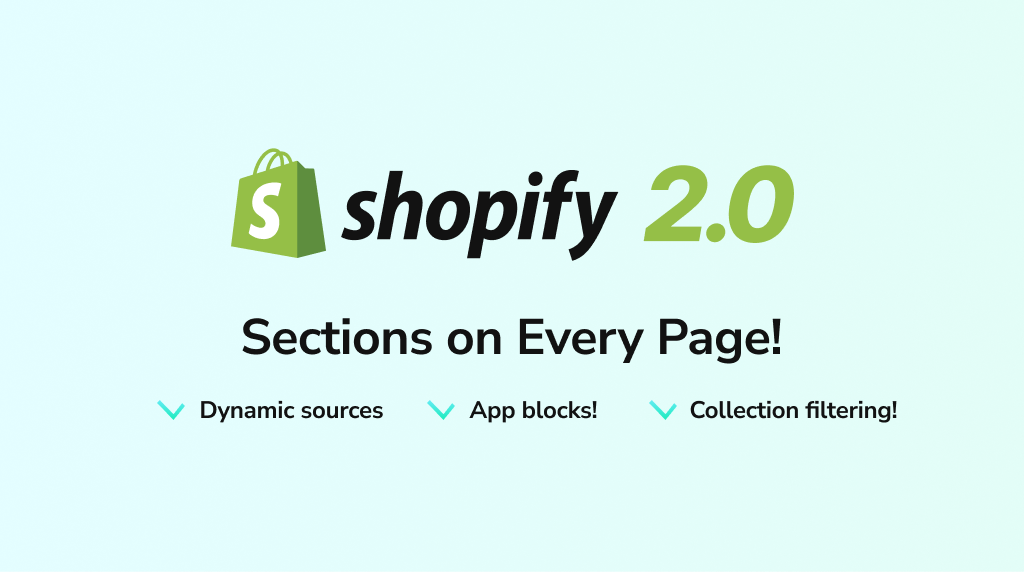 The Future of Shopify 2.0
The recent update to Shopify is called Online Store 2.0. It has introduced huge changes to the platform. Our team decided to make the Mysterio theme fully compatible with the new Shopify version. But what exactly does this new update introduce? First of all, it makes building new apps and features easier for developers. Moreover, merchants get more power to create something new for their stores. Shopify 2.0 makes it a 100% flexible platform. From increased performance to simplified site maintenance, this is a huge step forward for the platform, its users, and developers.
Every theme developer, including our team, can take advantage of the new Shopify version. However, merchants will also benefit from the new theme architecture that the platform provides. Firstly, it provides more flexible customization of your online store. Secondly, you can use app blocks to extend the functionality of the Shopify apps you use. Besides, developers can now use improved meta fields to add what the store needs. The theme editor was also updated to give you more tools that change how your store looks like.
Mysterio Multipurpose Shopify 2.0 Theme: Conclusion
We hope our today's review of the Mysterio multipurpose Shopify 2.0 theme helped you decide what you want to see in your online store. At Zemez, we always aim to deliver first-class solutions for all content management systems. Shopify is no exception as it is one of the biggest eCommerce platforms. So with Mysterio, we tried to give our clients more power to create what they like. This solution enables all the advantages of the latest version of Shopify. It grants you full control over your site's content, the products you sell, and customization.
If you would like to get regular updates about the Mysterio theme and other solutions we provide, feel free to visit the Zemez website. Also, don't forget to follow us on Instagram and like our Facebook page. We regularly post news regarding our templates and themes as well as various special offers. If you would like to share what should be added to forthcoming Mysterio updates, let us know about it in the comments. We are always glad to receive your feedback and answer any questions you may have.