Certainly, you have heard about the most popular platforms, WordPress and WooCommerce. On the Internet, you can find a lot of different information about it. But often it's all complicated and not understandable. Therefore, in this article especially for you, dear reader, I have collected the most relevant and interesting information about the WooCommerce WordPress plugin.
You will learn:
important details of the eCommerce plugin;
price component;
all the advantages and disadvantages;
best WooCommerce-based Themes from Zemez.
Let's dive into the fascinating world of WooCommerce together right now!
WooCommerce – WordPress Plugin Introduction
The world-famous WooCommerce is a free eCommerce software that allows you to create a CMS-based website. WooCommerce is also designed as an extension of WordPress, the most popular website builder. WooCommerce WordPress plugin has become the most popular platform. After all, this platform is already used by millions of small and large businesses (online stores).
As open-source software, WooCommerce is free to download and use. However, you will still need a domain name and web hosting service to set up your website. And these aspects cost money. We'll talk more about WooCommerce pricing later in this article.
Also, this software is popular among businessmen because of its simple operation, unlimited extensibility, and a variety of functional advantages. After all, with the WooCommerce WordPress plugin you can:
create a successful website easily and independently;
develop online stores with an original virtual storefront based on a variety of WordPress themes that will match the industry of your business;
in a moment to set individual settings for each page of the website, thanks to the modular blocks;
put a wide variety of goods for sale;
set personalized settings, instantly load and sort information on your website.
I would also like to note that large companies also use WordPress themes to create online platforms. However, it is not uncommon to stop at alternative solutions. One way or another, the target audience of the WooCommerce WordPress plugin – is entrepreneurs and small business owners. They seek to minimize investment in the initial stage of creating an online store.
WooCommerce Plans and Prices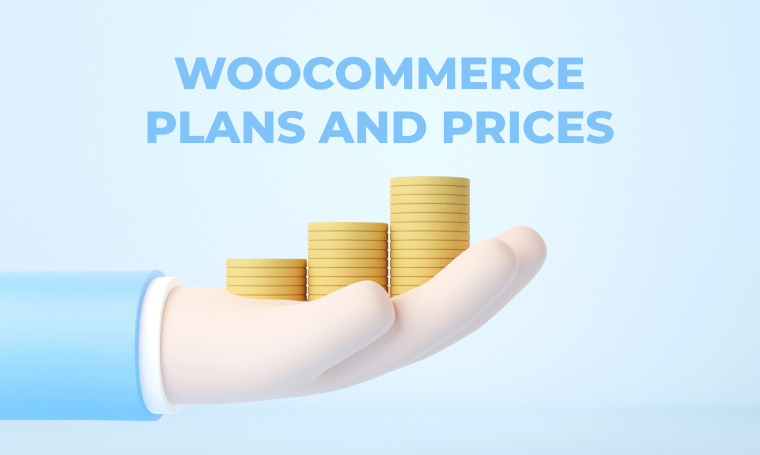 As I mentioned above, the WooCommerce WordPress plugin is the right and reliable solution. Moreover, with free installation. Moreover, you can find a large variety of free WordPress themes on different marketplaces. And these free themes can also help you to realize your business goals.
However, you will still have to spend some money. After all, some elements of the service are free. But if you plan to create a website from scratch, you need to consider the cost of the successful launch of a new business.
So, what do you have to pay extra for?
Usually, it comes down to these important aspects:
web hosting and advanced customization;
theme and website design;
functional features;
additional functionality extensions.
Let's take a closer look at each element!
Web Hosting and Advanced Settings for WooCommerce WordPress Plugin
As already mentioned WooCommerce WordPress plugin is an open-source software package. Therefore, you will need a server to keep your website running. Also, consider that you will need a domain name to create your website. Obviously, each company sets a certain price for a theme. For example, the Zemez team offers many themes from $29 and up.
WordPress Theme Design and Layout
Undoubtedly WooCommerce WordPress plugin is equipped with free functional website themes. But often this design is not attractive. Therefore, if you want your online business to succeed and attract many customers you need a professional solution. And for that, you will need the services of a graphic designer or a premium theme.
Functional Features
The basic version of WooCommerce provides only the basic basics of your eCommerce promotion strategy. But if you need additional features for the WooCommerce WordPress plugin, such as SEO, payment processing, and marketing features, you will need to pay for these extensions.
Additional Functionality Extensions
Once the website setup is complete, you will need to add other additional features. For example, push notifications, subscription tools, and more. These features that you can add to the WooCommerce WordPress plugin are needed to enhance the customer experience.
In short, we can conclude that it is difficult to set a general certain price tag on themes based on the WooCommerce WordPress plugin.
However, we are happy to inform you that professional developers of the Zemez team have created many unique and feature-rich WordPress themes at a decent price for a wide variety of sectors of your business. These themes include all the most important functional benefits for which you pay only once. You can see the variety of themes on the Zemez website.
Pros and Cons of WooCommerce WordPress Plugin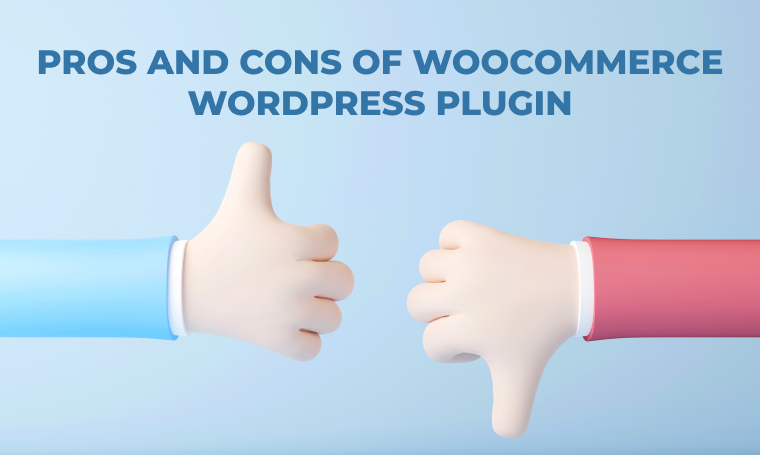 The leading plugin has been a phenomenal success since its inception. All the advantages of this platform have been appreciated by many businessmen around the world. Now let's deal with an important aspect. Namely, I will tell you about the pros and cons of the WooCommerce WordPress plugin.
I hope that after this breakdown of all the advantages and disadvantages, you can see why the WooCommerce WordPress plugin is popular around the world. Moreover, you will be able to learn new information about this platform and make a melting choice.
So, let's start sorting it out!
Pros of WooCommerce WordPress Plugin
Easy setup WooCommerce WordPress plugin. The plugin is the most popular eCommerce software. Because it is 100% customizable. And when you create a website, you can customize absolutely all sections. All this is possible due to the free access to CSS, HTML, and PHP styles code. Therefore, this plugin is suitable for both professional users and beginners.
Payment security. The plugin is equipped with a large number of payment gateways with multiple payment channels. Your customers will have a wide choice of payment methods. In addition to integration with well-known organizations such as Stripe and PayPal. Moreover, WooCommerce payment services have their payment gateway integrated with Dashboard services. However, transaction fees are low.
Flexibility. Another reason why business owners choose the WooCommerce WordPress plugin is flexibility. You can add extra features by using different jet plugins. Moreover, all WordPress themes from Zemez are equipped with many jet plugins that can customize mega menus, banners, logos, product layouts, and so on.
Complete freedom of doing business. By creating a website, you can sell absolutely any kind of merchandise. From physical (clothing, accessories, home goods, cosmetics, etc.) to digital (various services, spas, fitness centers, event advertising, etc.). What's more, the WooCommerce platform puts no restrictions on how you run your business.
Promotion of goods and services on several channels. The ability to diversify channels is a unique advantage. After all, it allows your customers to shop as they please. Moreover, integration with Google, Amazon, eBay, and Walmart will make your online store known all over the world! For example, a customer who chooses your products on Google will get them from your store. You will be able to control the whole shopping process.
Cons of WooCommerce WordPress Plugin
WooCommerce WordPress plugin is considered one of the best, but still, I managed to find a few flaws. Although, to be honest, it was hard to do.
According to most users, this plugin has only two disadvantages:
Having technical basic knowledge. Working with WordPress and WooCommerce requires some basic knowledge. Unfortunately, some users may have difficulty creating a website. But don't rush to get upset! If you choose a WordPress theme from Zemez then all your questions will help solve the professional customer service! Guys will quickly help you understand the complexities of configuring a website.
Additional payment. Of course, WooCommerce WordPress plugin installation is free. But, as mentioned above, the installation of some extensions may require some payment.
In summary, these "shortcomings" do not spoil the WooCommerce WordPress plugin at all. Even with these points, it is quite possible to deal with and find a good solution!
Featured WooCommerce Plugin

Of course, there are many different WooCommerce WordPress plugins. But now I want to draw your attention to a special ShopLentor WooCommerce plugin . ShopLentor has an extensive collection of pre-made templates for any type of business, from online stores to blogs to save your time and effort. If you can't find a specific design or layout that you're looking for, they can also customize existing templates to better suit your needs. Instead of having to create your own custom design from scratch, you can simply select a template that is already created and then add your own personal touch to it.
Get access to amazing modules like wishlists, Quickview, and a Shopify-style checkout without installing separate plugins. Plus you can try it for free. Upgrade with even more features in the Pro version such as partial payment, multi-step checkout, pre-order options, and email automation that are simple enough for users of all levels of expertise – no matter what level of eCommerce knowledge you have.
ShopLentor WooCommerce plugin gives you full power over your store- and It comes with a whole bunch of features to help better manage and market it. With ShopLentor, you get the following:
105+ Elementor widgets;
54+ Gutenberg blocks;
24 modules;
Countless preset page templates;
Wishlist For WooCommerce;
Multistep checkout;
Backorders;
Pre-orders;
Product Compare;
Product Filter;
Quick view;
Order Bump;
Checkout Field Manager;
WooCommerce Email Automation;
WooCommerce Email Customizer;
Shopify Style Checkout and so on.
ShopLentor is loaded with features to help you manage your WooCommerce store more efficiently. With no coding required, you can easily create custom WooCommerce pages. ShopLentor has everything you need in one convenient place, No additional plugin is needed.
Make managing your online storefront hassle-free with Shoplentor today!
Top-rated WooCommerce based Themes
Now it's time to learn about the top-rated WordPress themes based on WooCommerce plugin. And we will talk about themes from Ukrainian professional developers and talented designers Zemez team.
Zemez is a Ukrainian team of professionals who despite the war in Ukraine are trying to create high-quality themes. Each company theme is truly amazing and unique!
The list of top-rated WooCommerce based themes includes 3 themes:
Cosmetro – Cosmetics Store Elementor WooCommerce Theme;
Biona – Sports Nutrition WooCommerce Theme;
Medijuana – Medical Cannabis WordPress Theme.
Each of these topics has shown excellent sales results. Moreover, the ratings of these themes are increasing day by day.
So, let's learn more about each theme, which is created based on the WooCommerce WordPress plugin.
Cosmetro – Cosmetics Store Elementor WooCommerce Theme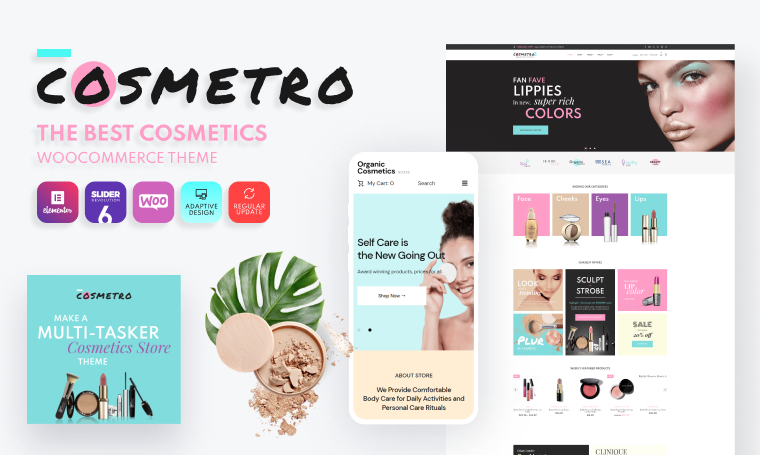 I present you with a highly appreciated and justifiably priced theme, which is created based on Woo plugin – Cosmetro. This theme is designed as a tool for creating stores of cosmetics and other beauty products. Besides this, Cosmetro is equipped with a variety of multipurpose ready-to-use demos that you can adapt for any business.
With Cosmetro – cosmetics store Elementor WooCommerce theme every user has unlimited editing. Moreover, this theme has an excellent elegant and adaptive design for mobile devices. And all these thanks to the built-in drag and drop editor- Elementor.
This editor is provided with a lot of add-ons for the fast and flawless launching of your online store. With Elementor add-ons, you can customize your store with several pre-styled templates. And then even create your own!
Cosmetro theme, which is based on the WooCommerce WordPress plugin, has many more advantages. For example:
a variety of page and UI layouts;
stunning eCommerce design;
no coding but visual editing with Elementor;
easy integration with social networks;
powerful SEO and responsiveness;
online support and documentation.
Right now take a look at the demo and choose Cosmetro Elementor WooCommerce. I assure you it will be the best solution for your beauty business!
Biona – Sports Nutrition WooCommerce Theme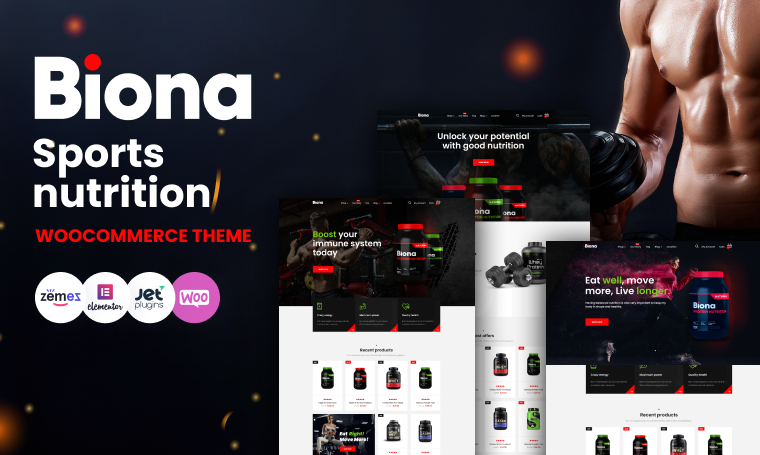 The next bright representative of the best WooCommerce-based WordPress plugin theme from the Ukrainian team Zemez – Biona.
Sports nutrition WooCommerce theme – Biona is designed with the latest eCommerce trends in mind. This theme is designed for online stores of sports nutrition, clothing, and even equipment. You can also apply this WooCommerce theme to promote a gym or fitness center. In short, there is a limitless variety of uses for Biona.
Besides being based on the WooCommerce WordPress plugin, Biona includes Elementor Page Builder. This best page builder is indispensable for fast visual editing. And impressively, this theme comes with an unlimited number of additional extensions! By selecting some of them, you can create:
universal pop-ups;
sliders;
product grids;
lists;
tables and even add parallax effects.
What else can this theme boast of?
Modern clean design;
page templates and sections;
responsive and retina-ready;
visual drag-n-drop editing;
SEO-friendly and WPML-ready;
blog and gallery options;
detailed how-to documentation;
live professional support.
And to finally convince you that Biona – sports nutrition WooCommerce theme is the best, go to the website!
Medijuana – Medical Cannabis WordPress Theme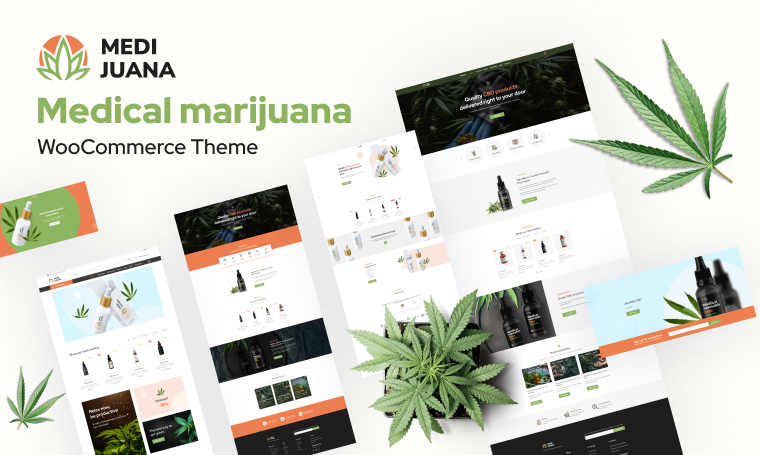 Now we are going to talk about a theme that has been the best product of the Zemez team for several years in a row. Medijuana template is a special medical theme based on the WooCommerce WordPress plugin.
Medical cannabis WordPress theme – Medijuana is specifically designed for stores that sell:
medications;
vitamins;
medical cannabis;
oils;
cannabis and other medical supplies.
What's more, the clean design of this theme fits any medical purpose. You can use it to talk about your clinic or medical practice.
The feature of Medijuana is that it is intended only for a small target audience! This theme is unique and one of a kind!
The main characteristics of Medijuana are the main advantages. After all, this theme has:
wide footer area;
best page builder – Elementor;
WooCommerce WordPress plugin;
many ready-made page layouts and much more.
Wrapping It Up
To create a successful online store, you don't need to come up with something complicated. The solution is already there! You just need to choose the best theme based on the WooCommerce WordPress plugin. And your business will reach a new level!
As you can deduce from this article, creating a website is easy. The main thing is to use the best tools. Of course, sometimes there may be difficulties. But for this, there are professionals, such as the Ukrainian team Zemez. The specialists of our team specifically for you to create unique products. Moreover, they are always ready to help you in solving the difficult moments when creating a website. In my words, you can see for yourself by visiting our website.
I hope you now have enough knowledge about WooCommerce WordPress plugins and the best WordPress theme. So I wish you success in creating the best online store!