Most website templates start as a drawing or a mockup created by a designer in a .fig format. A .fig file commonly includes drawings, graphics, vectors, etc. You can edit this type of file with the appropriate program, usually Figma. In the context of the Vendy Pro Shopify theme package, the inclusion of a .fig file suggests that the theme's design was created or prototyped using Figma. The .fig file is likely a source file that contains the visual elements, layouts, and styles used in the theme's design. This allows users to customize design elements to suit their specific needs.

Zemez developers include a .fig file of the Shopify theme's design in the template package. You don't need a .fig file to install the template, nor to make it work. It is included as a source file that you can use if Figma needs to make some design changes. The file is located in the sources folder of the package. Agree, this is quite convenient for Shopify users.
Besides the .fig file and the actual Shopify theme files, the package also contains more data.
For example Vendy Pro Shopify package structure: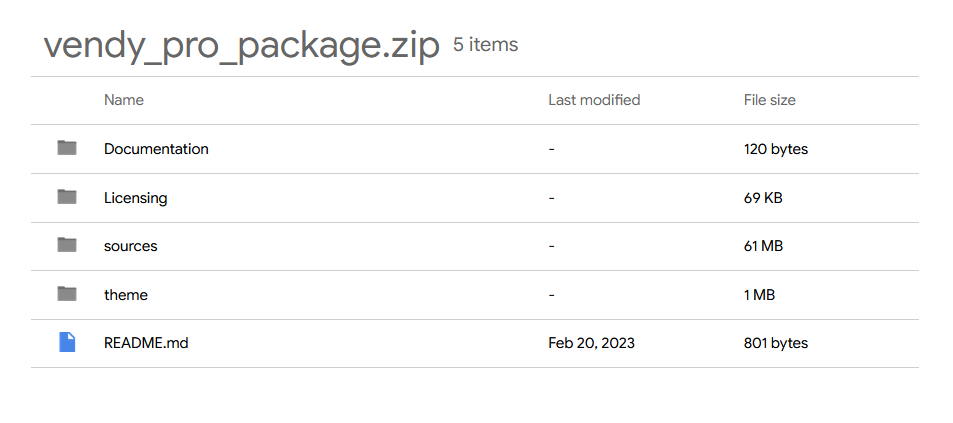 – documentation
A folder that contains the template's documentation, including installation instructions. You'll also find a feature overview, changelog, and other information about the template here.
– licensing
A folder with several text files with detailed information about the template licensing.
– sources

This folder includes:
– images – a folder with all the images and other media used as a part of the template's demo content;
– products_export.csv – a CSV file with all the data of the demo products used in the template. You can import the file into Shopify if you need demo products;
– VendyPro_home1.fig – a source .fig file of the original template design.
– theme

This folder includes:
footers – a folder containing all the needed files for importing the footer layouts included in the template;
layouts – a folder containing all the needed files for importing the home page layouts included in the template;
skins – a folder containing all the needed files for importing the alternative skins included in the template;
VendyPro_main.zip – the main Vendy Pro theme's archive: the actual theme that is installed in the Online Store > Themes tab.
– README.md
A text file with general information about the template.
So now you know what is .fig file. It is easy enough to work with, you can see for yourself. Read also how to manage Product Compare in Shopify. Finally, you can also contact us if you have any other questions.