The user may decide that Shopify no longer fits their current needs or changes in their business strategy. For example, he may want to move to another eCommerce platform or create his own website. Shopify has various pricing plans, and if they don't suit you either, you can always cancel your subscription. Here we will show you how to cancel Shopify subscription.

Shopify offers several options for store owners that want to deactivate their shops temporarily or permanently.
1) Switching to the Pause and Build plan: this plan stops all sales, yet still allows working on the store setup;
2) Deactivate the store and cancel the subscription: the website will be closed, as well as the access to the Shopify admin panel.
Note: Even if you canceled your subscription and closed your store, Shopify still retains a backup of your store information for 2 years after you terminate your subscription. In case there's a need to get the store back up and running again within these 2 years, Shopify can restore the website.
Store deactivation steps:
1) Log in to your Shopify admin panel and click the Settings tab in the bottom left corner;
2) Navigate to the Plans tab. In this tab, you can check the information about your current plan, change the plan, or deactivate the store: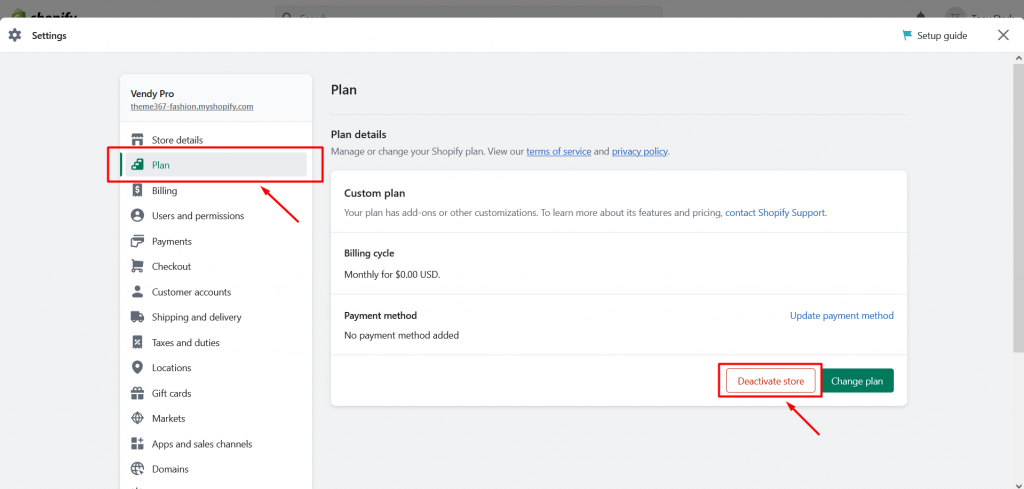 3) Click the Deactivate Store button. In the new popup window that appears after this, select the reason for the store deactivation from the list or add the reason manually. Depending on the reason you choose, you might need to fill in another optional or required field. After you have filled in all the fields, click the "Continue" button: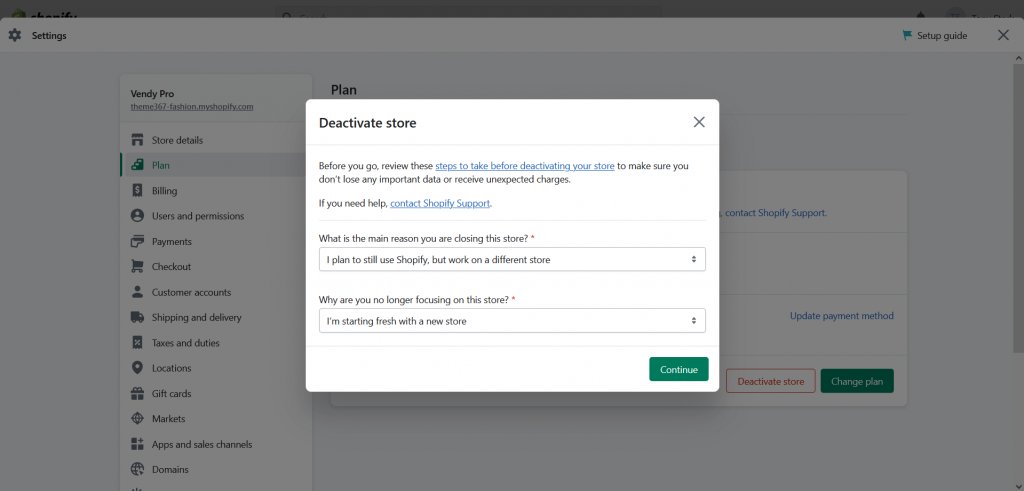 NB! After the next step, the access to your Shopify admin panel will be closed and you will no longer have access to your store data. The necessary information about the store – products, sales, reports, etc. – you can export before deactivating the store.
4) In the new window insert your Shopify password and click the Deactivate Store button to complete the process: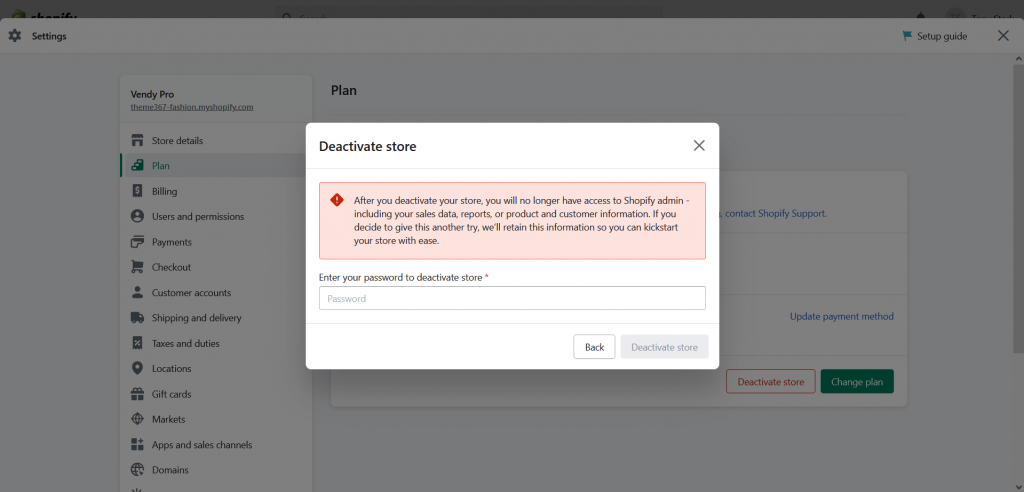 You have successfully deactivated your Shopify store!
Please note that the process for unsubscribing from Shopify may vary. It depends on your region and how you registered on the platform. If you have any problems or questions, we recommended you contact us for further assistance.
Read also how to remove powered by Shopify. We are always happy to share useful information with you and provide detailed tutorials for your work.