Shopify Stores of the Future and Their Expected Trends
Shopify Stores of the Future may completely change how we see eCommerce today. Through the years, multiple trends and technological development have influenced how we perceive buying products online. This is true for any industry but most of all for online sales. These days, it is obvious that online stores heavily rely on mobile devices more than ever. Also, diverse eCommerce platforms have already become an integral part of our lives. It is now almost impossible to imagine a successful online store without a catalog of products accessible online.

In today's post, we'll take a look at the upcoming trends in the world of eCommerce. From customizable products to new ways of marketing, there are dozens of interesting trends. They involve diverse aspects of eCommerce as we know it today. Any of them may influence and transform online sales in a few years. We tried to pick the most interesting of them, while also providing a quick analysis. With a diverse selection of trends and ideas, we believe our guide may be useful to a lot of merchants on Shopify.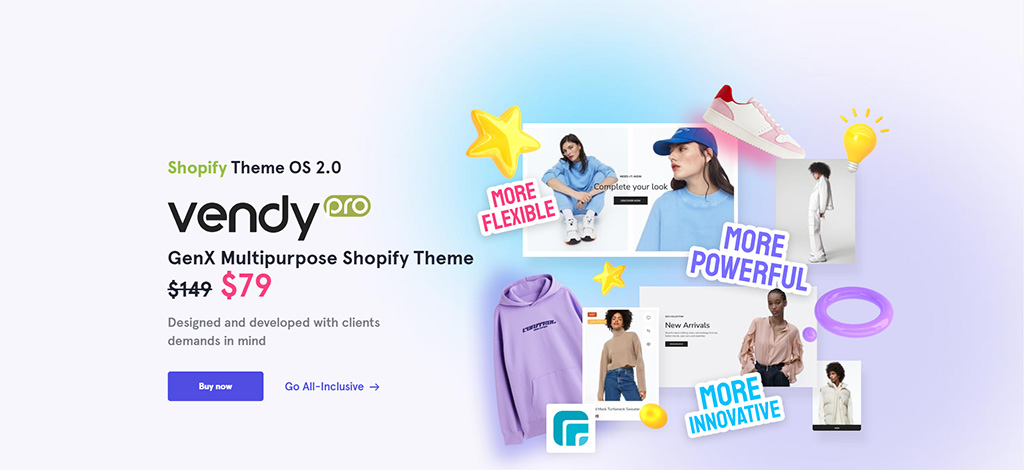 Additionally, at Zemez, we decided to give online store owners more tools to make their businesses profitable. This defined our goals in 2023 and encouraged us to become Shopify experts. We try to provide top-quality eCommerce solutions for our clients who use Shopify, the world's leading platform for online sales. Our team provides the necessary support for our customers in promoting their products and services. However, we also deliver impressive and multipurpose Shopify themes, such as Vendy Pro. Creating responsive solutions for this platform with diverse functionality empowers our clients to sell and achieve more. This wouldn't be possible without detailed insights into the upcoming e-commerce trends.
What are the Top 10 Trends to Influence the Future of eCommerce?
First of all, it's necessary to mention that eCommerce has already experienced a lot of growth and transformation due to the pandemic and lockdown. This resulted in an increased role in online sales and logistics. Still, this industry constantly develops and evolves. First of all, this is visible through the development of the most popular eCommerce platforms, such as Shopify. While some of the trends that will undoubtedly influence its further development are obvious today, others are worth additional attention. Here's a short list of such trends and popular ideas:
Customizable products & personalization;
Flexible payment options;
Exclusive products;
Subscription-based eCommerce;
Visual Merchandising;
Micro-Moments;
Video Content;
Voice Search;
Omnichannel Ecommerce;
Artificial Intelligence (AI).
There are more popular trends in eCommerce of the future than we can cover in this article. However, we believe that these 10 ideas will transform the way online sales are performed. Without any doubt, some of the mentioned trends are already becoming a part of our lives. However, their global impact may change the way of online sales and purchases. Let's look closely at them to understand what to expect from e-commerce in a few years.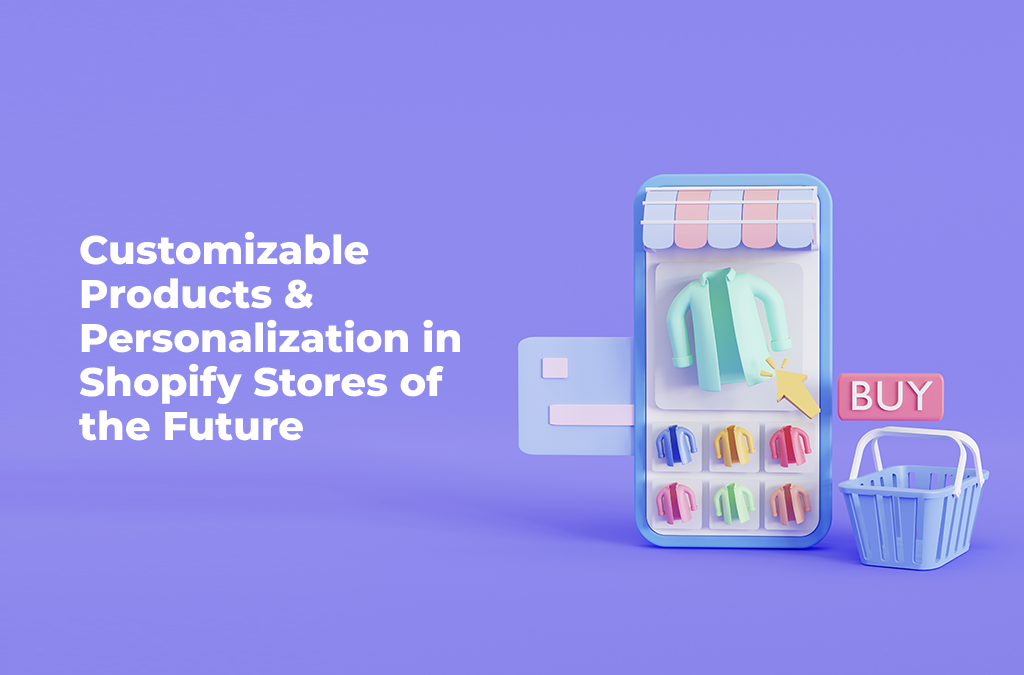 Customizable Products & Personalization in Shopify Stores of the Future
With a wide assortment of goods available these days, it's no wonder that people spend a lot of time searching for a desired product. Shopify stores of the future aim to instantly provide customers with what they are looking for. It is planned to be delivered through personal recommendations and product customization. The latter implies total customization of looks and features that a product can offer. Aside from changing the color or size options of clothes, some stores also allow using the customer's design. This makes the purchase more unique and memorable.
However, personalization can also concern the product range that you display to your clients. Depending on your interests and store browsing history, you can recommend certain items. This will not only make the next purchases easier for your customers. it is also a great step toward new potential purchases. Additionally, some stores allow the personalization of certain interface elements and blocks to registered users. However, this feature is quite rare. In the future, it may improve the user experience of your customers by creating a comfortable space for buying their favorite products. Combining these two trends allows stores to cater to the various tastes of their customers more effectively.
Flexible Payment Options & Exclusive Products
Payment options play a huge role in the store's reputation and public image. For many customers, the lack of certain purchasing methods may be a reason to choose another store. With the development of financial technologies, the trend of flexible payment options is becoming a new way for stores to retain more clients during the purchasing process. Additionally, the more diverse your payment methods are, the better you can differentiate from competitors. For example, it is recommended to include not just credit cards as a method of making purchases. Also, online payment services and popular cryptocurrencies are in demand. This also helps in building better relations with your customers in a long run.
Another trend that defines Shopify stores of the future is product exclusivity. This means providing your dedicated customers with the goods they can't find anywhere else. Needless to say that such products should allow you to differentiate from your competitors. Most importantly, they need to provide your customers with undeniable benefits. This, in return, will lead to an increase in sales and more interest in your store and its products. However, such an approach requires proper marketing measures. And one of the best ways to promote exclusive products is to use subscription-based services.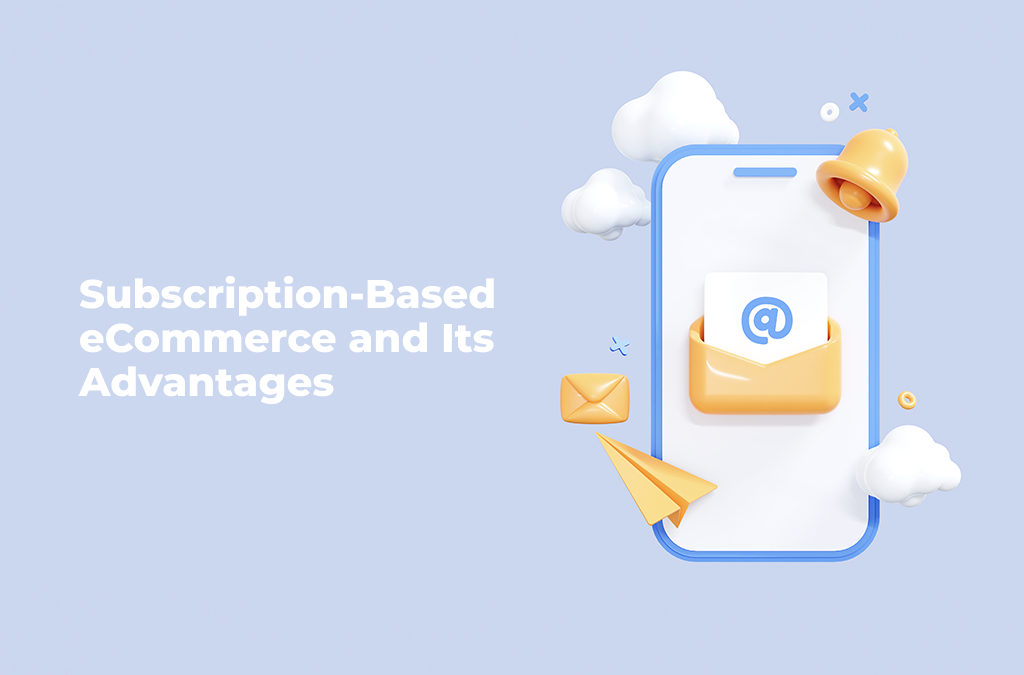 Subscription-Based eCommerce and Its Advantages
eCommerce solutions based on subscriptions are another important trend. It may set the path for the Shopify stores of the future. This business model allows stores to introduce memberships with rewards to loyal customers. Besides, it is a great way to provide your clients with unique offers. In the meantime, you can improve your brand's image. Using a well-marketed subscription allows you to get regular revenue as well as increase customer retention. Many brands have been successfully using this model to build a strong and loyal customer base, for example:
The abovementioned examples are great for stores providing content via subscription. However, many modern Shopify stores sell physical products, such as clothes, food, or beverages. Still, they can benefit from a trend of subscriptions. Many stores provide curated boxes delivered to their customers monthly. These are a set of products within several categories that a store is known for. However, clients may not always know what products they are going to receive. Such sets provide an element of surprise while being of high quality. Another possible method of using this business model is to provide your customers with early access to sales or new collections. Besides, you can offer exclusive discounts to your subscribers regularly.
Visual Merchandising & Micro-Moments as eCommerce Tools
There's a single advantage that comes to mind when talking about traditional stores. It is an ability to look at the product from different angles. Recently, some stores began to introduce a similar concept to their product pages. Visual merchandising is a trend that uses the latest technologies. It helps customers explore items most comfortably. By making 3D models of goods, a merchant provides a better visual representation. This allows a customer to make a purchase decision faster. It also helps in receiving the necessary information, too.
The future online stores are believed to make use of a customer's instant decisions. Similar to spontaneous actions, they are called micro-moments. It is important to provide proper information at the right time in this case. It satisfies the needs of your potential customers. For example, you can tell more about a certain product or event. Suggesting content about the item's usage can also be beneficial to your clients. More importantly, when a person is looking to buy a product that you can sell, providing it at the right time may be decisive for your store's reputation.
Using Video Content & Voice Search in Shopify Stores
Video content is becoming a more popular type of content for informational purposes. From reviews to tutorials, many online stores use such media. They attract attention to products and services. This is one of the biggest trends for Shopify stores of the future. Moreover, it is becoming commonly used. The reason for it is the increased popularity of YouTube. It is the primary source of content for a majority of people nowadays. Using videos is one of the most effective ways to convert your potential customers into regular clients. Furthermore, well-produced videos of high quality increase your reputation. It is true for both merchants and content providers.
Aside from using videos, it is highly necessary to provide a proper product search. One of the trending concepts in this regard is applying voice search technology. It already became a part of our lives. Almost everyone is using an integrated search on Android or iOS. Voice search is integrated into every device & gadget these days. That's why it is also considered one of the future eCommerce trends. Adding voice search to your store's website may be beneficial. Those customers who rely on using voice instead of typing will appreciate it. Moreover, modern devices remember the voice search history and may suggest related products to your potential clients based on their search requests.
Omnichannel Commerce & Artificial Intelligence Trends
When it comes to marketing, eCommerce isn't limited by just a single channel or media. From social networks to marketplaces, nowadays there are dozens of places to choose from & buy a desired product. This tendency is expected to increase by 2025. Shopify stores of the future need to talk with customers in a variety of ways. This allows you to ensure your customers are getting the best interaction with your store and its products. Additionally, it helps you increase the customer retention rate. An omnichannel marketing strategy will allow you to not just reach potential customers at the right time. It also can be decisive in shaping your reputation. Besides, it offers a personalized buying experience to your customers. In contrast to multichannel marketing, omnichannel strategy usually includes:
Your store's website and social media;
A mobile app for your online shop;
Same messaging on various platforms and devices;
Ensuring issue-free user experience;
Simple communication with the brand anywhere.
Many upcoming ideas that we've described are influenced by modern technologies. The last trend on our list is no exception. Artificial intelligence (AI) has already impacted our lives. It influenced the work of journalists and artists by introducing neural networks. This concept can also change the way eCommerce works in a short term. For example, applying a chatbot may improve your store's customer service by answering their questions and giving recommendations. Also, using AI is beneficial for marketing and logistics. By using machine learning, you can find solutions to shipping issues and other Shopify problems. The predictive functionality embedded in the complex AI algorithms also allows you to adapt to market changes by applying a dynamic pricing strategy. Depending on the demand and supply, AI may suggest necessary improvements for your product's prices making them more attractive to your customers.
Shopify Stores of the Future: Conclusion
Any of the abovementioned trends may heavily influence Shopify stores of the future. Modern eCommerce websites must take advantage of these concepts and ideas today. This way you can be sure that your store will be on the right path in the nearest future. Hopefully, our today's selection of upcoming eCommerce trends helped you to decide how to apply them to your store. With constant technology development, adapting to future changes can positively impact your online store.
For more articles about Shopify trends and related solutions, feel free to visit our blog. We regularly publish new posts with tips, reviews, and recommendations for eCommerce pros and enthusiasts. From SEO tricks to code editing advice, there are lots of interesting topics to discuss. In case you are looking for new and impressive Shopify themes, check out our website. And for those interested in getting news via social networks, we invite you to follow us on Instagram and Facebook. There you can stay tuned with the latest from our team. Also, it is a great way to be notified about the best of eCommerce.