When you open an online store, you need to find the best Shopify theme for your business. Research shows that 70% of people distrust poorly designed websites. A poorly designed store will scare away your potential customers at first sight. The theme of your website will lay the foundation for how people perceive you.
To choose the best Shopify theme, you must know what aspects to consider when choosing a store theme. You will also find the best Shopify theme, Vendy Pro, available today.
We will show you the super creative Vendy Pro theme and tell you about all its benefits and upgrades that can be useful for your store. This theme will undoubtedly be useful for any store, no matter what kind of products you sell: clothing, jewelry, sporting goods, or even cars. Vendy Pro will help you quickly meet the needs of any business and take it to the next level. Many features are unique and only available here. Let's take a closer look at them.
Vendy Pro – the perfect Shopify 2.0 store
Discover Vendy Pro – the ultimate Shopify 2.0 online store. And the first thing you will definitely pay attention to is its flexibility.
If you are a regular Shopify user, you will see that the theme architecture has changed and improved with the update. On the one hand, this affects your experience and experience in the Shopify theme editor. On the other hand, it also makes it easier to integrate the app into the store in the future.
From this, the first benefit you will appreciate is that it is now very easy to add application features to the theme editor without digging into the code! More and more apps adapting to the new Shopify 2.0 architecture are following suit.
Default features of Vendy Pro in detail
1. Sections on every page – Sections are everywhere
Until now, the maximum flexibility in designing your store has only been available on the start page. Now you can use all the blocks available in the theme in the theme editor. This is part of the past. With "Sections Everywhere" you can now use all the elements on every page. It doesn't matter if it's a home page, a product page, an about us page, or a page you've created yourself. You can customize your pages with all the blocks and have much more flexibility to design your store according to your wishes.
The look and feel of your theme editor have also changed. The tree structure of individual elements simplifies the work and makes editing the theme more understandable. You can simply use the toggle to close items you don't need at the moment.
Flexibility has also increased within individual elements. For example, if you look at the product page, you can see that you can now even customize the product information.
2. Even More Opportunities for SEO: Meta Fields for More Personality
With the help of meta fields, you can place additional content and elements on your pages. What is it for? Meta fields give you the ability to override global settings and values in Shopify and only customize product information on specific pages.
This will help you if you need to display additional items, different delivery times, or any information related to your products. Quite convenient and allows you to reduce the time when working with the site significantly.
3. Individual templates – new possibilities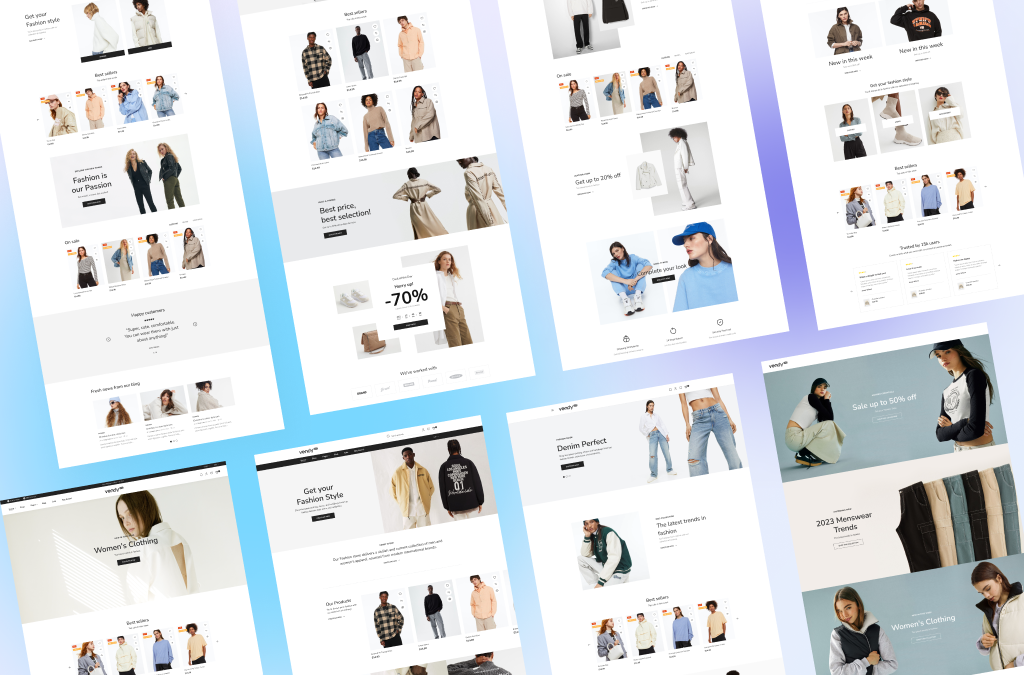 Want to make your store even more interesting? Use custom templates. This could be a template for individual products or categories. You might want to highlight an about us page, contacts, or a FAQ. As you can see, there is flexibility even in these settings, which is excellent. This feature will be especially appreciated by beginners or users with no website experience. Vendy Pro has provided everything you need for your comfortable work and will help you complete your tasks faster and more efficiently.
A simple constructor that is easy to use. Previously, it was quite difficult to implement some tasks when working with the site. But with Shopify 2.0 you will be free from these problems. A simple Drag-and-Drop builder will make your job easy and fun. And all changes can be made by dragging and dropping elements. Sounds fantastic, doesn't it?
Separately, mention should be made of applications. Previously, adding them as possible by making changes to the code. With OS 2.0, app developers can now create app blocks that merchants see directly in the theme editor. This eliminates manual placement in code and makes integrating application features more user-friendly. Of course, this process will become even more convenient in the future, but even now we see positive changes.
4. Speed – something that significantly affects the behavior of your potential buyers
No one will wait for your store to load – it should happen instantly. Shopify 2.0 provided such an opportunity. Your store will be a huge success and page loading speeds are guaranteed no matter how many products you have in your store. So, you get not only a flexible but also a fast theme with high adaptability.
Vendy Pro & EComposer Partnership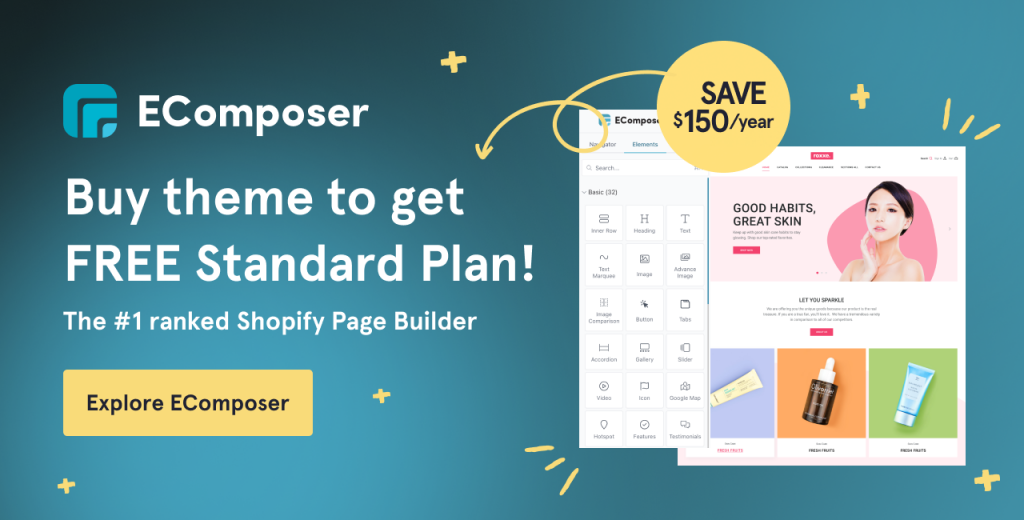 Exclusive Offer for Zemez buyers: Get the FREE Partner Plan of EComposer!
EComposer is the next generation of Shopify page builders that helps you create your dream store in the fastest way. A drag-and-drop editor allows merchants to create any type of page or section quickly and easily with EComposer Page Builder. With the rich collection of elements, options, and templates in EComposer, even beginners can customize pages quickly and easily. Take your sales to the next level with 16+ built-in extensions that are compatible with third-party apps.
Learn more about app on Shopify Store.
Unique features for eCommerce made by Zemez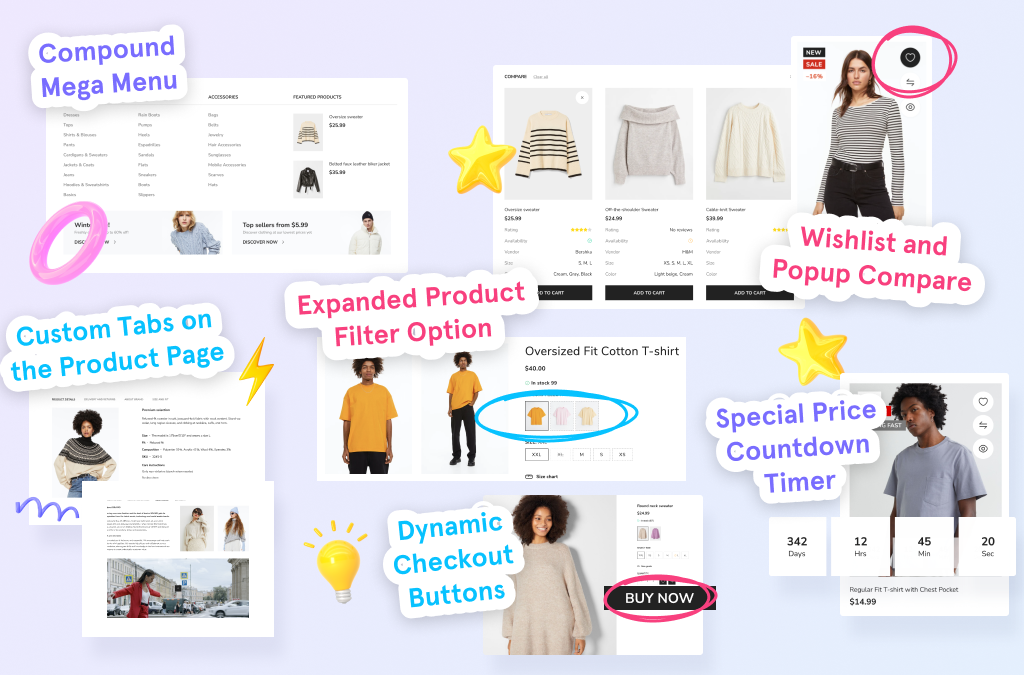 Multipurpose responsive Shopify theme is a modern and niche eCommerce template that is perfect for your online business. Vendy Pro includes ready-made pages with category and product descriptions. The theme is constantly updated with additional features.
As a super-fast Shopify theme with one-click installation, Vendy Pro's solution is a handy way to quickly create a professional-looking website. This theme works well with various plugins and popup options and is also great for simplified scrolling.
Choose a convenient location for you and view products, use the features of the wish list, page scrolling, and product comparison. All this will significantly improve the functionality of your store and give you new opportunities for your business. Unique design features make Vendy the most desired theme for newbies and advanced users alike.
Compound Mega Menu
Shopify's Mega Menu enables you to easily create and manage complex menus for your online store, allowing you to display multiple menus from one dropdown menu in your store's main navigation. The mega menu provides quick access to all your products and collections.
Wishlist and Popup Compare
Let the customers create their own product collections and enable them to compare products that fulfill similar needs and help them to make the right choice.
Custom Tabs on the Product Page
Structurize your product page content and make it more readable using tabs (collapse). Row content, unique icons, custom liquid, and functionality options with help you organize the info on your product page
Expanded Product Filter Option
Use instant filters for products by colors & images swatches without any additional apps.
Special Price Countdown Timer
The main purpose of a countdown timer is to create a sense of urgency and give the feeling that "time is running out." Price Countdown is proved to be a highly important feature as it will help the customers to find the best deal at the end time.
Dynamic Checkout Buttons
Dynamic checkout buttons are an alternative to the Add to cart button for single products. Make a flesh purchase, skip the cart, and go directly to the checkout. Customers can choose to check out with Shopify, or with another familiar accelerated checkout method. This helps speed up the payment process and lets customers check out using a method they're comfortable with.
Vendy Pro Phenomenon Conclusion
Vendy Pro is not just a pretty eCommerce theme. It's specifically made for large product catalogs, so if you're growing your business, this might be perfect for you. Multi-column menu access for customer convenience, and you can even upgrade your SEO with this theme. The options are endless. Your online retail business will be relevant no matter what you offer.
Should you switch to Vendy Pro? Of course, if you want to grow your business. You should definitely test this theme if you want the store to have everything you can without any codes. Choose Vendy Pro regardless of whether you have experience with websites or you are doing it for the first time. This is the best theme you can get for your store.