Fear and distrust are the most common reasons why a visitor leaves an online store or abandons a basket of products they like. Fearing fraud, poor product quality, and poor service, the audience became especially wary of every click. In order to dispel fears and thus bring a potential client closer to a purchase, it is necessary to work out and actively use various trust indicators on the site. We'll show you how to build Shopify store trust.

To gain trust means to create a base of loyal customers. Unless you're a big, well-known brand, visitors will be hesitant to order from your store. Trust is what helps them make a favorable decision to buy from you.
When a visitor first arrives at a new site, they begin to evaluate whether they can be trusted or not. Customers are afraid of misleading information and want the goods to be delivered in the proper form without a catch. The study of an online store is the search for information that will prove its reliability.
The Internet is a low-trust environment. This is where anyone, including a scammer, can open their store. Therefore, if you are running an online business, you will have to compete for customer trust and prove that your store deserves it.
You probably understand that one person runs most Shopify stores. At the same time, it seems that a whole team is working here: the work is in full swing and there is certainly a desire to buy something here. Let's see if this is possible and how to achieve this effect.

What causes distrust among site visitors?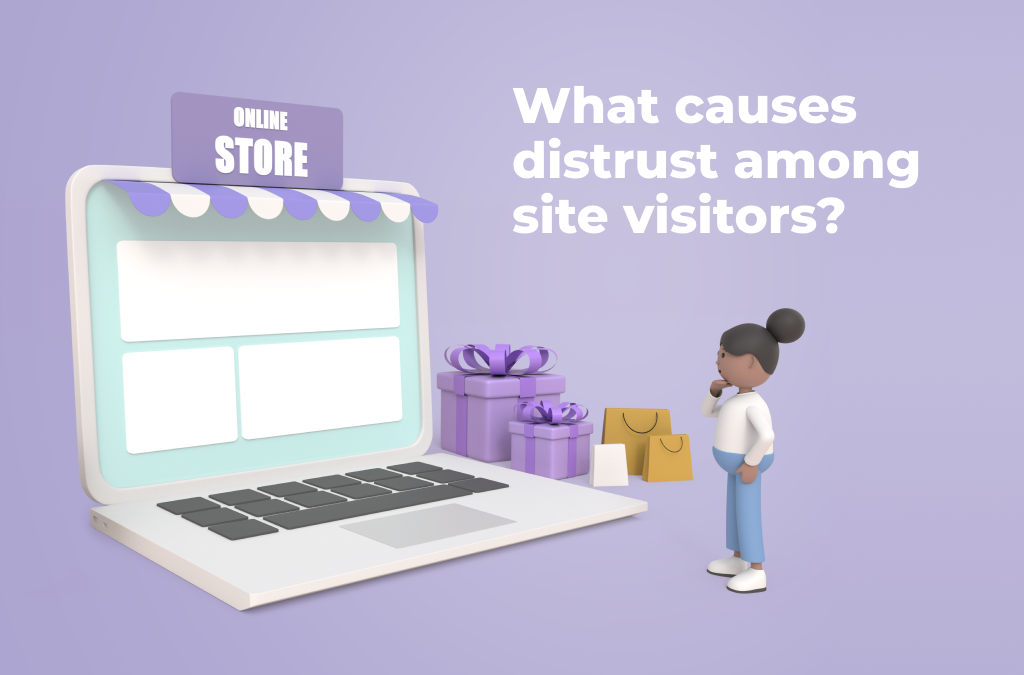 First of all, you need to clearly understand what exactly can cause suspicion among site visitors and frustrate a potential purchase. What exactly cannot be built Shopify store trust?
Common triggers of distrust in e-commerce:
Unfortunate name and logo, are domain name that looks like spam.
Poor design, illegible or hackneyed fonts, too bright or nondescript colors, an overabundance of pop-up windows, and blinking elements (gif, animated pictures, flash).
Excessive complexity of the site, overload with unnecessary information, incomprehensible navigation.
Incorrect display of pages on different types of devices and in different browsers.
Deceptive or illiterate content, of little use, and poorly structured information.
Dubious statistics that contain atypical figures and facts.
Lack of a clear USP, a direct call to action.
Hidden contacts, uncertain cost of goods/services.
Lack of feedback, details of payment, and delivery methods.
The abundance of promotions, discounts, and sales.
Fake accolades, sugary praise of a product/service/company.
No secure HTTPS connection.
This is not an exhaustive list, but it indicates the main factors that need to be worked on in this direction. You can check your site right now just by this list. How trustworthy is your favorite resource?
Ways to increase Shopify store trust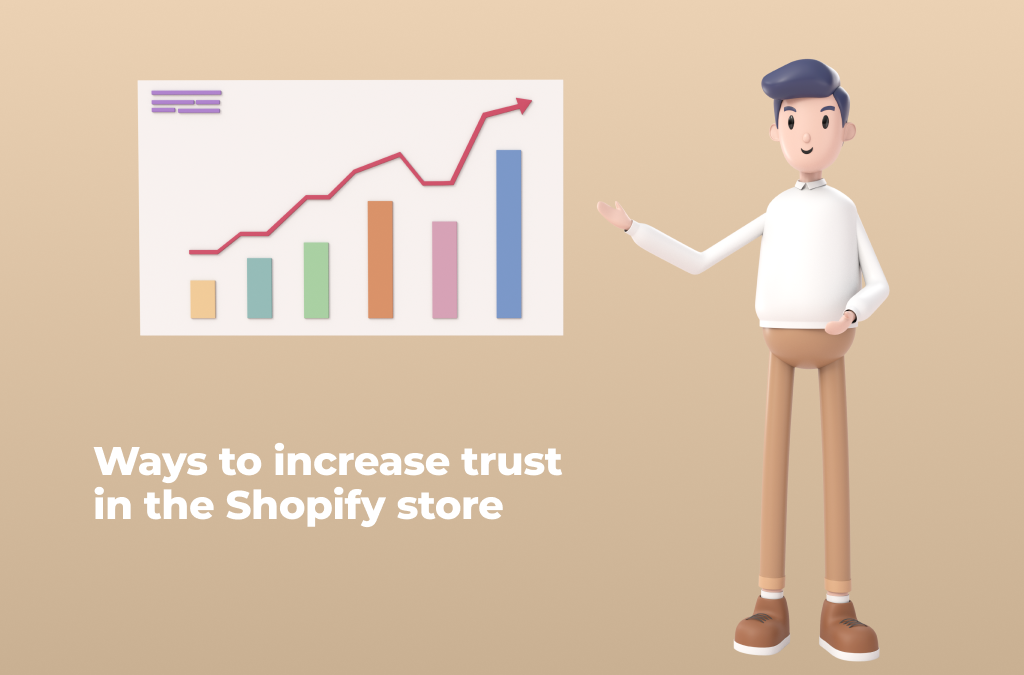 We will analyze the key methods, techniques, and rules that will help to form, restore or increase the Shopify store trust. Even if you implement them gradually, you will definitely see a positive result. The issue of trust in modern marketing is almost on the same level as the price of a product if we are talking about products of comparable quality. In order for a visitor to place an order with you, it is not enough to make a beautiful design, add promotions with 20% discounts, and launch advertising. We'll figure out exactly what you should do.
Ease of use and nice website design
The first impression is very important and applicable to almost all areas of life. Online stores are no exception. Clear and beautiful sites have a visitor, cause a desire to see the product, and is associated with high-quality products and a decent level of service.
The site design should be modern. We often write about it, you can read it here. Explosive colors, funny icons, and emojis, funny animations are no longer relevant. Such sites are perceived as cheap and frivolous, which forms the corresponding attitude of the audience. If the design of the resource is characterized by such outdated features, it is worth reviewing it and redesigning it.
The convenience of the site is evaluated by the structure of the menu and controls, formats for presenting important information, loading speed, and ease of navigation. All these criteria are united by one concept – usability. The quality and comfort of user interaction with the resource depend on it.
Bad design, poor navigation, and an awkward interface repel visitors and reduce the level of trust in the company.
In order to improve usability, you need to:
apply the principles of visual hierarchy;
optimize the main page – add a slogan, logo, greeting, profitable offers, an overview of the content of the site, and visual clues for further actions;
divide information into logical blocks, structure texts;
organize high-quality navigation – a simple and obvious menu, sub-items and labels, graphic elements with a text description, and thematic linking.
Photos of goods on the site
Of course, photo and video content is the first thing a user focuses on. Buyers who come to buy something specific, most likely, have already seen the product they came for somewhere. Accordingly, the photographs are not new to them. Therefore, the photos on your site should be not only of high quality but also original. This will have a significant impact on the opinion of the client.
From the point of view of consumers, good self-images are one of the indicators of a company's reliability and serious approach to business. Photos should effectively present the product, complement each other, and reveal the properties and benefits of the product. It is desirable that they be as realistic as possible, without unnecessary effects, with good detail and lighting. It is better to show the product as it really looks. Realistic photos are a huge plus for the trust of your visitors.
If a customer enters the store and cannot get clear information about what he will purchase and how much it will cost him, taking into account all the nuances, he will not be able to trust you.
What should also be added to the product page to convince the buyer:
Product photos;
Descriptions;
Dimension tables (if necessary);
Reviews and product reviews (but we'll get back to this later).
Social proof
Simply listing the advantages of an online store and a product on the site is not enough. Every word must be backed up with facts:
disclose the details of the company's work, explaining important details;
show certificates of quality and conformity;
post successful cases, "live" reviews, and comments of real clients;
publish links to active communities of the company in social networks;
connect well-known bloggers, opinion leaders, and industry experts.
You need to prove to the audience that the company is ready to make commitments and you are ready for long-term relationships with customers.
Concrete figures also serve as effective evidence – the total number of employees, partners, and customers, territorial coverage, and the number of years of experience in the market. Although there are now services that allow you to buy reviews, it is worth collecting and appreciating the reviews of your real buyers. Remember, fake reviews are very easy to distinguish from real ones. So, you should not treat this lightly, because "live" reviews play an important role.
So, the user got acquainted with the product and looked at the reviews about it. It's time to talk about shipping and payments.
Delivery of the order to the client
Offer the user several ways to deliver the order, giving him the opportunity to choose the most convenient option.
Suppose the client is a resident of a large city. Most likely, such a buyer will choose the delivery method by courier or will want to pick up the order at the pickup point on their own.
If the client lives in another region, most likely, he will choose cash on delivery and will want to pay for the goods upon receipt.
Be sure to give your customer the option to pay for the item after they receive it. More delivery options, the more chance that the buyer will order the goods. The main thing is not to overdo it.
Quality and return guarantee
When a potential client is almost ready to buy, it remains to finally increase the degree of his confidence and dispel doubts with the help of guarantees. If the products are certified, it is worth confirming their quality and safety with relevant documents, awards, and certificates.
It is also important to provide guarantees:
return within the statutory period;
exchange in case of marriage or any defects;
repair in case of breakage.
The possibility of a return should be mandatory, with the exception of some niches in which this is not possible due to the specifics of the product. When such a service is not available, the consumer has serious suspicions about the integrity of the seller.
Choice of payment method
Agree, the more options your customer gets, the more likely they are to make a purchase. Shopify has taken care of this and provides over 100 payment systems that you can implement in your store. All Shopify payment gateways are easy to use and designed to offer the simplest and most user-friendly interface for today's business leaders. Your customers can make quick credit card payments, and you can easily set up your payment system in your store without worrying about spending tracking in another environment outside of your store.
The good news is that you shouldn't have too much trouble setting up your store and connecting a payment gateway that makes sense for your customers. Both small and large companies can quickly resolve a one-click purchase using various checkout pages. All you have to do is make sure the credit card rates you pay are worth the results.
Contacts and feedback
Now imagine that you are the customer. Your trust in the online store has grown significantly. The product, delivery methods, and payment methods – you appreciated everything. It's time to go to the "contacts" section, which no online store should do without.
The contact number is required to use, the main thing is that the number is direct. The details of the online store positively affect the trust of customers. The more contact you have, the better. Therefore, indicate as many ways of communication as possible, be it Skype, email, phone, social networks, a callback form, or an online consultant. It is also important to indicate the addresses of your offices, and the directions to them are even better. In addition, it is desirable to use additional communication channels: online chat with a consultant, chatbot, and callback form.
Be always in touch. This means that you need to quickly respond to messages or phone calls, and provide the information that customers need. There are special monitoring tools that help sort messages and reply to them.
Personalization
This is a great way to increase the credibility of the site. Such a tool is much more effective than generalized mailings. Every day, visitors come to the online store. If the site is not personalized, everyone sees the same content, although everyone has unique tasks and needs. The situation is similar with mailing – without personalization, recipients are offered the same goods and promotions. We are not talking about any individual approach, although personalization is one of the marketing trends of 2022.
Website personalization is the dynamic adjustment of the resource to the preferences and needs of the user, in which the recommender system personalizes the content in real time. Relevant content to users' needs is recommended based on previous activities, purchases, or interests in certain categories, products, brands, the user's location, and other criteria.
How to implement a personalized approach:
use a welcome email, addressing new customers by name;
set up product recommendations;
offer to get acquainted with the content relevant to the user's requests;
send motivational messages with personal advantageous offers;
send reminders about abandoned carts and reserved items, notifications about order status, new arrivals, promotions, and sales;
provide assistance if a customer is having difficulty making a purchase or making a purchase.
Much of this you can easily customize in Shopify, even without additional plugins. It's convenient and doesn't take much time. And you will see the result immediately.
Provide excellent Customer Service
It's obvious, isn't it? And this point is worth repeating over and over again because it is excellent customer service that contributes to building long-term relationships with customers and helps to avoid unpleasant gossip. This is what sets you apart from your competitors. Zappos has been able to build trust with customers through customer service. But how can it be improved?
First, you need to learn to listen to customers and respond to their requests in a timely manner. A representative of your company should always be available to consumers. Make sure they know the email address, phone number, and social media pages of the company. You must do everything possible and impossible to delight customers. Then your customers will come back to you again and again.
Tidy up your social media
Social media is the face of a brand. And it depends only on you what this face will be. Try to put yourself in the place of the client and look at your social media accounts from the outside. Is everything beautiful, convenient, and affordable? Test yourself how much you know social media trends 2022.
Even in the design and convenience of social media pages, the client feels cared for. When you don't have to look for an address for half an hour, think about what this profile is about or a cluttered account with pictures that don't fit at all.
You must be comfortable and understandable. And also – to be able to predict the needs and path of the client on your page.
It's the same as with an apartment. You invite guests, and they see how clean, and beautiful, everything is in its place. It should be the same on your page. Remember the first impression.
If you have several accounts, it is important that they all have the same style, recognizable handwriting and design are used everywhere. The "voice of the brand" should be the same everywhere and recognizable to the audience.
All Shopify themes have integrated social media buttons, which means your visitors can visit all your sites freely. You get additional traffic to your site and the opportunity to increase your sales an infinite number of times.
Even more loyalty and trust from customers
Want to do even more? These simple ways will help you quietly but significantly increase the trust in the eyes of customers.
Add photos of company employees. Post photos of your office, warehouse, and workflow. Provide links to groups on social networks where you communicate with customers and are active. And do not forget to constantly update the information there.
Give gifts to your clients. You will not spend at all, but for the buyer, it will be a nice bonus and he will definitely order something else from you. Samples of any product, accessories, or discount coupons can serve as gifts. But the main thing is to be friends with your customers and then they will become your loyal customers. Check out these best conversion-friendly Shopify themes. Perhaps you will find inspiration for yourself here.
Vendy – Multipurpose Shopify Theme for Fashion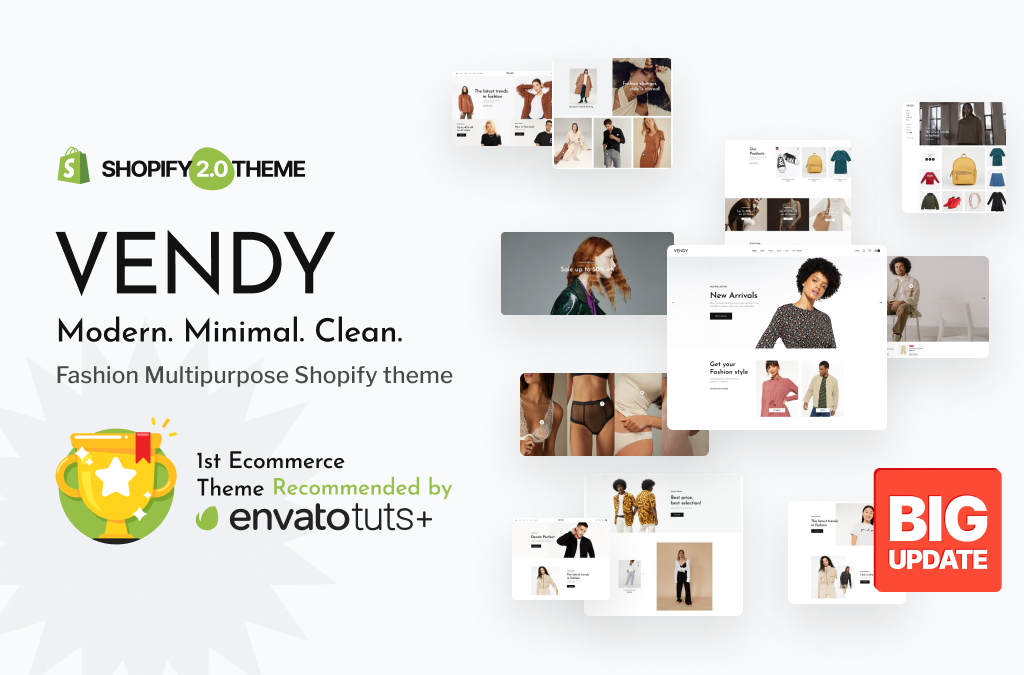 Vendy is a multifunctional theme suitable for almost any online store. The theme is suitable for those who value simplicity, concise design, and user experience. Vendy will allow you to customize the store for almost any request and design, thanks to many built-in tools.
Vendy is a theme that is actually tailored to the fashion niche. The theme includes a large number of ready-made pages where you can tell about the store, showcase your product, share contacts, and much more. In essence, Vendy is a versatile and complete tool for creating a clothing or accessories store on Shopify. By using this theme, you can not only keep your store running smoothly, but also optimize it for high conversions using various built-in tools. We highly recommend using this theme if you want to achieve high scores in the shortest amount of time.
Conclusion. Does it really work?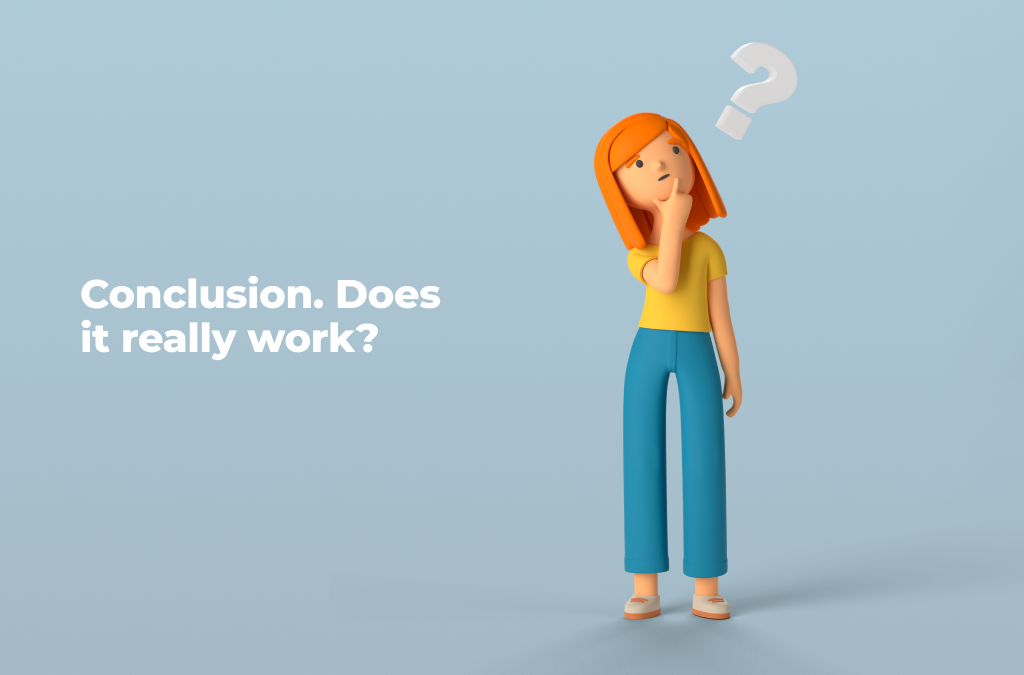 Yes, it really is.
The chips and rules described in the material are very simple. Use them as a checklist for an online store and pay attention to how, after their implementation, customer confidence and, of course, sales and conversion on the site will increase. So you can easily increase the Shopify store trust
Many online business owners look down on everything and do not at all try to see their online store as the buyer sees it. It's a pity because they look from the other side and see everything that the owner missed or did not take into account.
Increasing customer loyalty is not a one-time event. It is necessary to work constantly in this direction: to improve the site, the quality of goods and services, and the work of the staff. Only with this approach can you form a loyal audience committed to the brand.
Increase loyalty and increase the level of customer confidence, develop, and stay ahead – it's never too late to start.