Many events that take place in the modern world significantly affect the development of social networks. Social networks have now become an integral part of almost every business, as well as sales. Now it's easier than ever to shop online with just a few taps on your smartphone. Before 2020, online shopping was already on the rise. The pandemic has only accelerated the growth of eCommerce, and in the future, these figures will only grow. Let's take a look at what social commerce trends in 2022 will be important.

Social commerce is when you buy and sell goods or services directly from a social media platform. Why force someone to leave Instagram when they can click on a product tag and buy something in less than a minute? Social commerce works to attract potential customers. The product itself finds buyers in their usual environment – social networks. The idea is to integrate sales seamlessly into the social interaction process. Technically, this concept is implemented through the integration of e-commerce platforms with social networks. Users share likes, reviews, and other product information with their social media followers. The advantage for the user is that he does not need to go to other sites and platforms. He also can not be distracted from communication and entertainment in order to make a purchase. In addition, choosing products becomes even easier thanks to the recommendations of friends and opinion leaders.
Despite the impressive statistics, social commerce is still a new word in sales technologies. Social media is a really important part of promoting any brand. There are many tools that help attract attention, captivate, retain customers and increase their loyalty.
2022 social media. Which social media is best for eCommerce?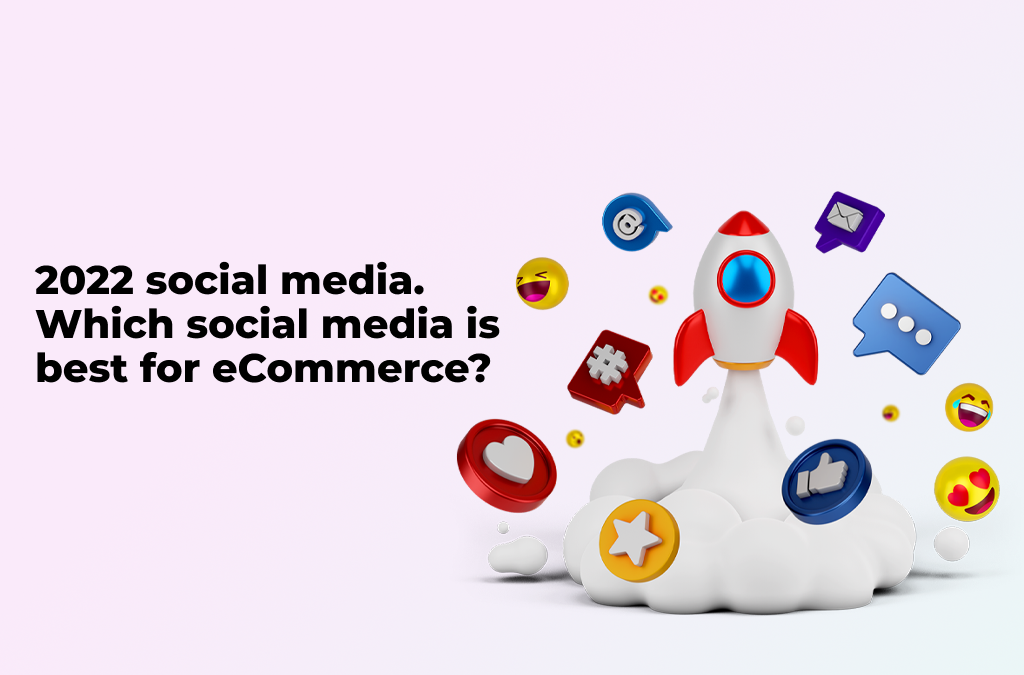 According to many studies, 73% of businesses are already engaged in social commerce, and another 9% expect it to happen in the next three years. If you haven't started selling on social media yet, chances are your competitors are already selling or planning to do so. Many of them utilize tools like Instagram likes app to grow their business faster.
For companies that want to work with younger generations, it's important to know that almost half of them have been shopping online for a long time. According to a recent study, in 2021, 55.5% of consumers aged 18-24 and 48.7% of consumers aged 25-34 have made at least one social media purchase. By 2025, social commerce in the United States is estimated to be nearly $79.6 billion.

The main goals of most social media entrepreneurs in 2022 will be to attract new audiences, develop customer relationships, and improve customer service. Companies have always put a lot of effort into increasing revenue and promoting products.
As such, we expect there to be a clear change in how manufacturers use social media in the future. Instead of just promoting products and services, you can also use social media as a channel. This will help develop deeper relationships with customers.
At the moment, social commerce trends in 2022 are being developed by Instagram, Facebook, Pinterest, and Snapchat. Instagram is superior to other platforms in many ways, which is why many companies use it confidently. Instagram can help companies to expand their purchases, increase conversions, and increase the ability of visitors to recognize a brand.
Social commerce today allows you to solve important issues:
Facilitate the buying process. When consumers are already aware of products and brands on social media, it makes sense for them to purchase products through this platform. The shopper journey has one less click, which means less chance of a shopper abandoning a cart.
Large audience coverage. In 2020, 3.6 billion people used social networks, by 2025 this figure is projected to reach 4.4 billion. This is almost the entire active population of the globe. Another plus is that social media tools allow you to customize the target audience according to social, demographic, and other characteristics. Your offer will be seen not just by a lot of random users, but by those people who are interested in it. More than half of the younger generation learn about new brands through this channel.
Easy access from mobile devices. The social media interface is perfectly adapted to smartphones. This is an important advantage since 72.9% of digital purchases by Internet users are made from mobile devices.
Building trust. People are more willing to buy those goods and services that someone has already successfully used. It can be celebrities – show business stars, popular bloggers, and opinion leaders. But the experience of acquaintances, friends, relatives, colleagues – the usual social circle – works just as well. The mechanics of social commerce (for example, group purchases) are designed for the fact that users of social networks will share information about products with each other. Thus, a valuable resource of brand trust is accumulated.
Instagram Shopping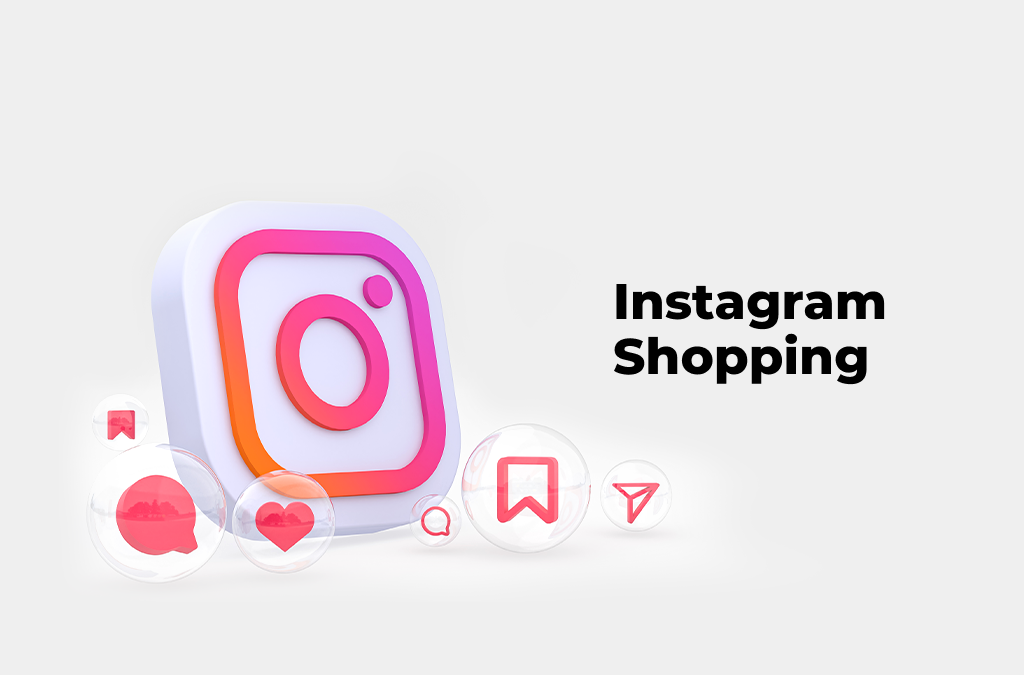 If you've tried to promote or sell your products on your Instagram account, you know it's not exactly an easy platform to work with. While tons of brands are making big money on Instagram, it takes a little creativity to get your customers to click on a link and actually make a purchase. Instagram has become a huge shopping mall of sorts. Here you can find any goods or services, read reviews and place an order right here.
Before you start selling on social networks, we recommend that you carefully study the competitors, their audience, and their promotion methods. Study the strengths and weaknesses of stores, play on their shortcomings and be attentive to their advantages.
Instagram is not just a pretty picture. Here you must present information in such a way that even those who come to you for the first time can understand it. To make your purchase even easier, take good photos and a detailed description. Tell us about the features of your product, and its differences.
When it comes to your online store, design matters. Your online store is the face of your brand. It should make your visitors feel welcome and encourage them to explore all the products you offer. An attractive design shows customers that you care about their experience and helps build trust, which can increase your conversion rate.
Also, if your site is flexible, you will ensure that mobile visitors can enjoy a seamless shopping experience, which also brings you profit. Due to the increasing use of mobile devices, many people use their phones and tablets to search for their purchases online. According to several studies, conversion rates are on the rise. Get to know Delori to make sure your store meets all the requirements of today's social commerce. All social commerce trends in 2022 you will find right here. You can also look at other best conversion-friendly Shopify themes.
Delori – Shopify High Fashion Theme for Instagram Store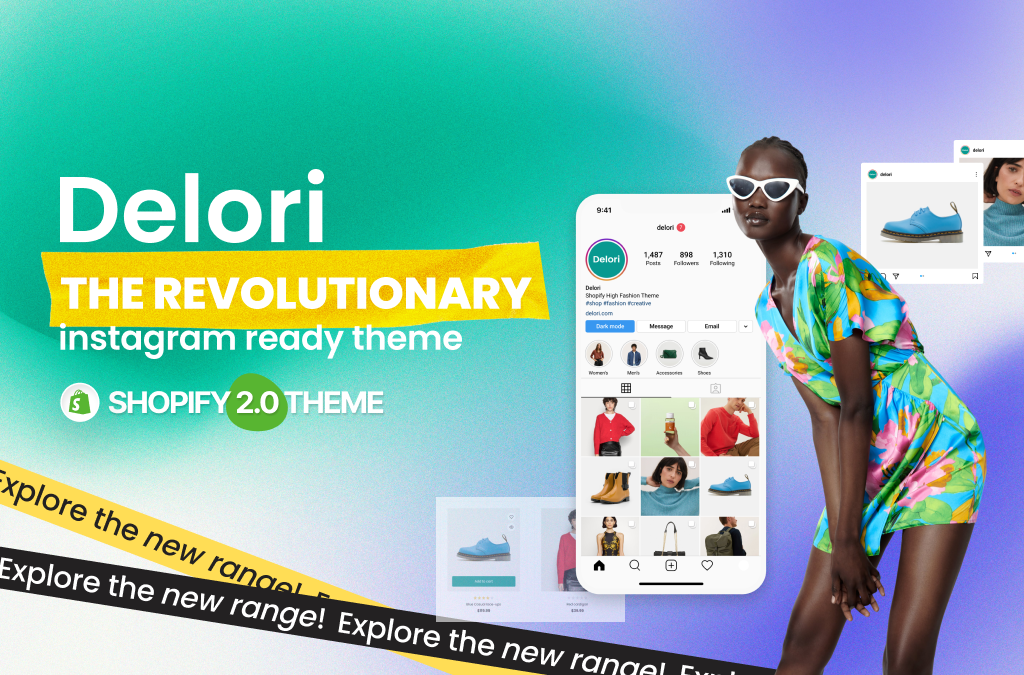 Delori is a perfect choice if you can't decide which theme to choose. It is a multi-purpose theme which means you can use it for different areas. The theme includes all the features you need for fast and efficient sales. What will you find here:
1. 7 home pages.
2. 3 product pages.
3. lookbook, blog, collections, about us pages.
Extras: Instagram widget, newsletter signup popup, product comparison, quick buy, and more. The theme supports lazy loading of images. It helps to increase page speed, the theme also has everything you need for SEO. Your customers can also easily view all categories thanks to the dedicated category module, as well as filter products based on price, size, color, or brand.
Of course, it will help you create an influential and convenient store. You can easily customize the layout of any page using the drag-and-drop editor and style every aspect of your site through the admin panel. Plus, the theme is translation ready, which is perfect if you're trying to connect with an international audience.
The theme is ideal for fast loading as well as flexibility for both you and your clients. Your customers can easily add items to their shopping cart and proceed to checkout, as well as see which products are new or on sale. Additionally, this is a fully responsive theme, retina ready. You can improve Delori with additional plugins. Thanks to this, your site will have a high rating among buyers.
One of the perks of any Shopify theme is its incredibly beautiful design. Of course, aesthetics matter, but with Shopify, you can be sure that you are choosing not just a beautiful picture, but also a great online resource.
Delory offers so many benefits that you are unlikely to find on other sites:
Fast installation and easy use.
You don't need technical knowledge to work with the site.
Your store will be completely safe, and your customers' data will be securely protected.
Permanent and professional customer support.
Responsive design and flexible settings.
Super fast page loading.
Many plugins help improve the store experience.
Tools for SEO and marketing.
Recover abandoned carts.
Own payment system.
Definitely, Delory is worthy of your attention. This is one of the best options for creating an Instagram store where you can safely embody all the social commerce trends in 2022.
Conclusions
An online store is the face of your brand. You can make sure that your visitors will explore the products posted on the site with interest. As the influence of social media continues to grow and develop around the world, so will online commerce. You need to take this into account if you want to not only create but also develop your business. Today, we are all adapting at lightning speed. Digital communities are becoming more important to consumers' lives and brands are holding themselves to higher standards. We're watching social media move out of the marketing department. This is normal as social commerce is gaining momentum and customer service opportunities are popping up on the most popular platforms.
With over 4.5 billion people now using social media, our physical and digital lives are increasingly intertwined. Setting up social media has become even more of a challenge for brands and organizations. That is why we are actively working on creating templates that will help you to work more productively in online sales. We also keep a close eye on social commerce trends in 2022 so that you can implement them in your business.
Delori is a prime example of how you can quickly and with minimal investment use a theme to create an online store. The topic is of interest to visitors, and everything here is thought out to increase your conversion. Follow just a few simple steps to create and set up your store. You will be surprised how easy it is. If you encounter any difficulties, you can always contact technical support. Ultimately, you get a store that can automate most of your workflows. Here is an unlimited space for analytics. So what's the benefit here? You work with clear forecasts, improve the shopping experience and expand your online store. Do you want to try too? Download the demo immediately and enjoy!