Now it is much easier to create an online store than a regular store. Many people know this, but not everyone understands how to create a store with high conversion. Of course, in order for you to have high sales, and customers to want to come back to you again, you need to do something more than just a store. Which theme to choose to create a super high converting resource? Pay attention to conversion-friendly Shopify themes, here you can easily find a store with a high conversion rate. Today we're going to discuss the best themes to help you increase your conversions and skyrocket your sales on Shopify.
Everyone knows that with the increasing dependence on smartphones and the Internet, people prefer to make online purchases over the traditional way because of its simplicity and convenience. Did you know that Shopify has over 800,000 eCommerce stores? Of course, the competition is high, especially if you are selling clothes or jewelry. But even then, you can make your store super profitable. More and more users join Shopify every day, so don't miss your chance to create an online resource that will provide you with great sales and high profits. Now you too can create a store with a great selection of conversion-friendly Shopify themes.
Building a Shopify store is a significant step forward, but it's only the first step in a long-term race to build a profitable eCommerce platform. The main goal here is to create a store with an ever-increasing conversion rate. We'll show you which conversion-friendly Shopify themes are the best to use today if you want to work like a pro.
Shopify is More Than a Website Builder
Shopify is no longer just a tool for creating online markets, but a full-fledged platform. What is there?
Payment system;
Community of developers;
Software for offline outlets;
Application store for business;
A full-fledged constructor for launching an online market;
Own help center;
The partnership program brings together experienced users of the platform.
In addition, the platform successfully integrates with giants such as Google, Facebook, Instagram, Amazon, Microsoft, and Oracle to offer users the most advanced software solutions, promotions, and global sales opportunities.
With Shopify 2.0 you get great opportunities to grow your store. This platform allows you to organize sales through several channels at once. Your site gets fast loading, regardless of the number of pages or products. Here you will find more than 100 payment systems around the world. Quick buy, product comparison, favorites, recommendations, and linked products are just a huge number of tools that will help you develop and increase sales. Don't forget professional support and detailed documentation as well. This will allow you to quickly set up and launch a store of any complexity.
All conversion-friendly Shopify themes presented here are from Online Store 2.0 (OS 2.0). This improved and updated platform makes life easier for developers and allows them to create custom features and apps for merchants. What's more, merchants get more control over creating and editing their storefronts. Today we will talk about the main updates and themes of Shopify OS 2.0 for different tastes and needs.
Mysterio – Multipurpose Shopify Sections Theme Store for Fashion and Beauty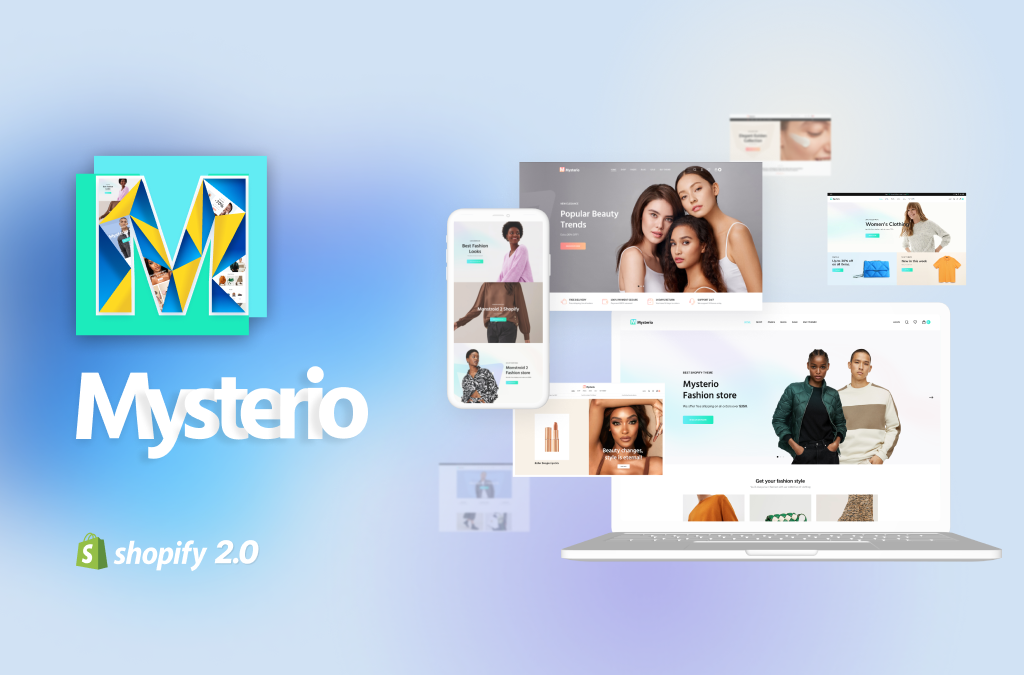 A distinctive feature of Mysterio is that it is equipped with everything necessary for the successful operation of an online store. This is one of the best conversion-friendly Shopify themes. You don't need to download and install any plugins or addons – it's all there. Another advantage of the theme is that you can easily change any page. Without knowledge of the code, but with the help of the drag-and-drop function. Do you need a banner or slider on your site page? Simply move this element with the mouse in the GUI to another location. Or delete it. Create your own unique design in a couple of clicks and you don't have to write a single line of code.
This Shopify template is designed according to the latest web development trends. It has all the necessary elements for the functioning of a modern online store so that customers can quickly and easily find what they need. You can also be sure that you will not have problems with the functionality and page loading speed of the site. All elements load quickly, which is very important for your users.
Wokiee – Multipurpose Shopify Theme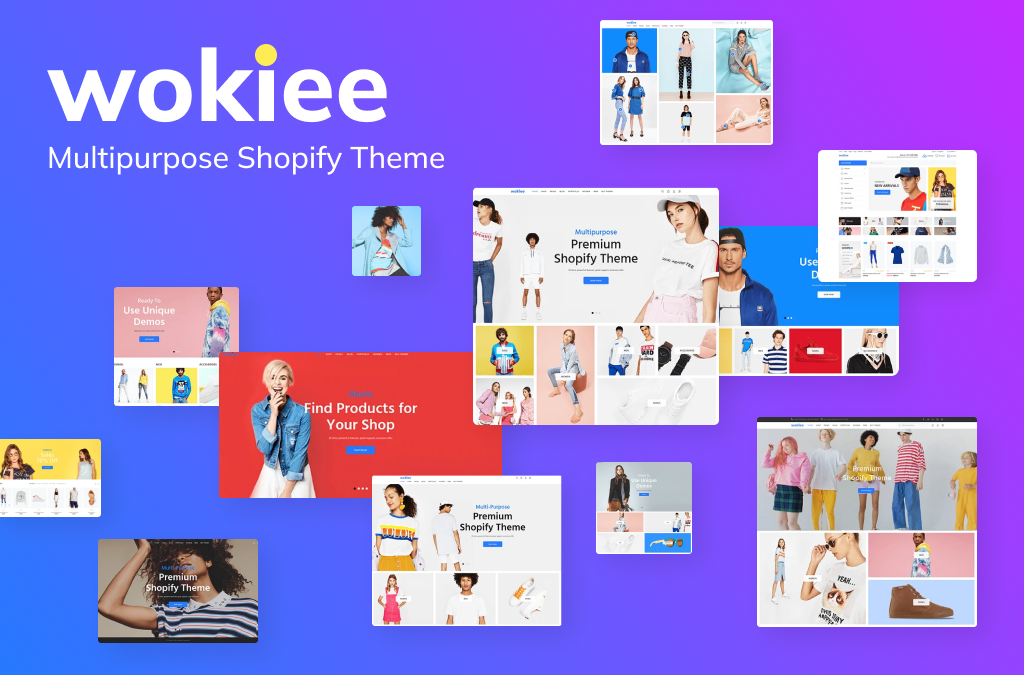 Wokiee is a creative conversion-friendly Shopify theme with a vibrant style and simple module configuration. It can be perfectly adapted to your current stores and also allows easy and quick modifications. Its bright design and eye-catching fonts will attract more customers to your store and increase sales. To provide your audience with a superior user experience, be sure to use the mega menu. This allows you to categorize the assortment and speed up the search for the right products. There are also advanced product filters that will also help people in the same task. It also has multi-language and multi-currency support to attract buyers from different countries.
Key features:
Ajax cart;
Wish list and comparison;
Quick view of goods;
Fully adaptive design;
The unlimited number of banners.
This theme can be used to sell any product. More than 90 demos, new blocks, stylish elements – everything is done taking into account modern trends. Rest assured, this theme will remain popular for a long time to come!
Vendy – Multipurpose Shopify Theme for Fashion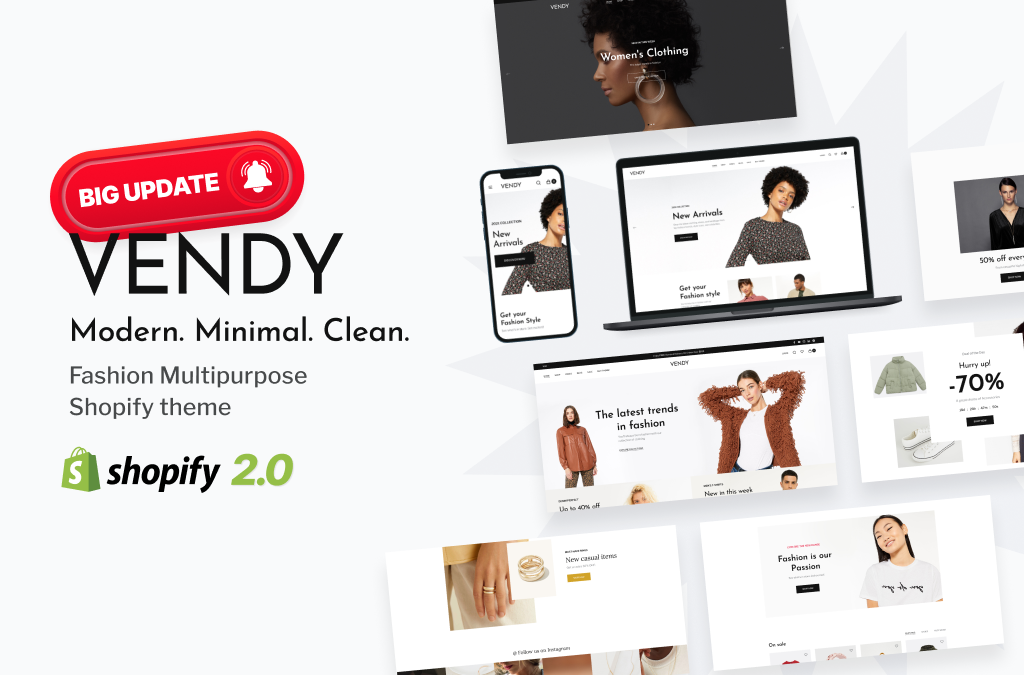 Awesome conversion-friendly Shopify theme. We are constantly amazed by its simplicity and functionality. Compatible with all modern browsers, convenient, and adaptive. Vendy will be your best assistant. It allows you to present your products in the best light, is constantly updated, and is included in the list of the most popular Shopify themes. You will have a beautiful store with a unique design, thoughtful interface, outstanding functionality, and easy customization.
With pre-made inner pages, you have the freedom to spread the word about all the important details. People can use Ajax search to quickly find the right product. You can also use features such as automatic price changes and newsletter subscriptions. It would also be great to interact with and share social networking sites. The package includes a drag-and-drop feature that makes it easy to work with content and customize its appearance. In other words, you won't have to deal with code to manage your site. We often recommend this theme not only for selling clothes but also for any other products. You can change the design, and the number of pages, or add any number of products.
Do not forget that a blog will help you increase traffic and the number of buyers. Just make sure that all information on the site is constantly updated, and popular products are on the main page.
Material – Responsive Shopify Theme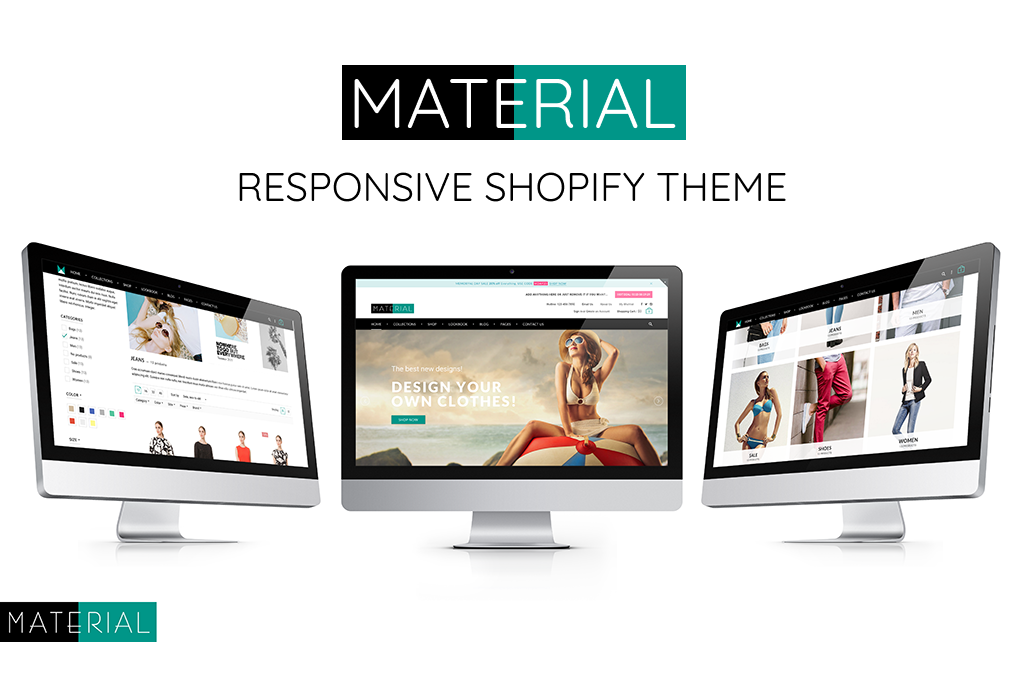 This minimalist Shopify theme looks very elegant and is perfect for different online stores. The design is designed in such a way as to focus on the goods sold. The neutral color scheme and user-friendly structure of the Shopify Material theme create an atmosphere conducive to shopping. This Shopify template is built to run your online business website flawlessly. You can be sure that the pages of your site load quickly because the development team has taken care of pure HTML code. You can easily edit your site in the admin panel using the drag-and-drop feature. The Shopify template has pre-made pages. They allow you to organize online trading using different currencies, keep in touch with customers using social options, and create a personal blog to inform customers about your business and discounts on new products.
Key Features:
Fully adaptive design;
"Quick start" package;
Wish list and comparison;
Advanced Search;
Feedback form.
Check out the demo to learn more about the template.
Doni – Minimalist Shopify Theme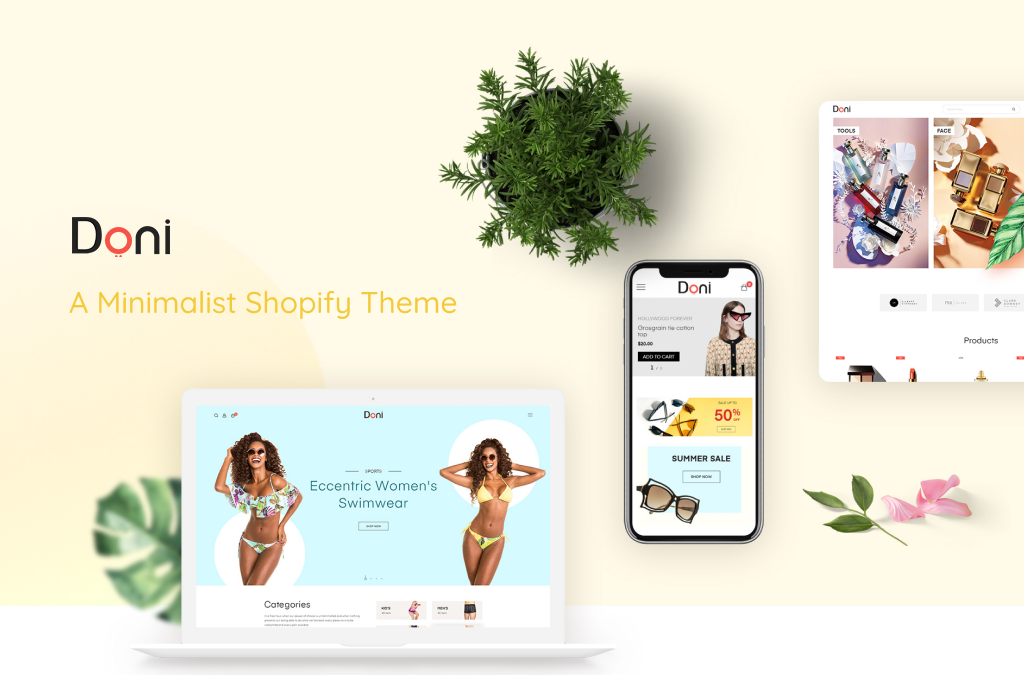 Lovely minimalist Shopify template. The carefully thought-out design of this theme will help you present your product online in the best possible way. A fairly simple theme that you can use an unlimited number of times. Intuitive search navigation and stylish design with bright accents are balanced by enough negative space in white. Spectacular widescreen photos are a great opportunity to draw the attention of potential buyers to your store. The template includes pre-made web pages that you can fill with content.
Doni allows you to trade using multiple currencies and payment systems, just like many other Shopify themes. This Shopify store theme allows you to set up different payment methods and shipping methods. Moreover, you can use many visual and structural elements to attract customers. This is one of the best themes for creating websites of various formats. It can be used in different styles, for a traditional online store or for an online business. The template has all the possible features that are necessary for an online store.
It works great on computers and smartphones with any operating system. At the same time, it is easy to edit and for this, you do not need any knowledge of the code. You can create a blog to keep your customers up to date with the latest news and new arrivals. Doni will surprise you with eye-catching visuals, payment options, colorful full-screen images, and more. We encourage you to check out the demo and see if Shopify's free premium themes are the best solution for your business.
Sirius – Handmade Minimal Shopify Theme Store for Dropshipping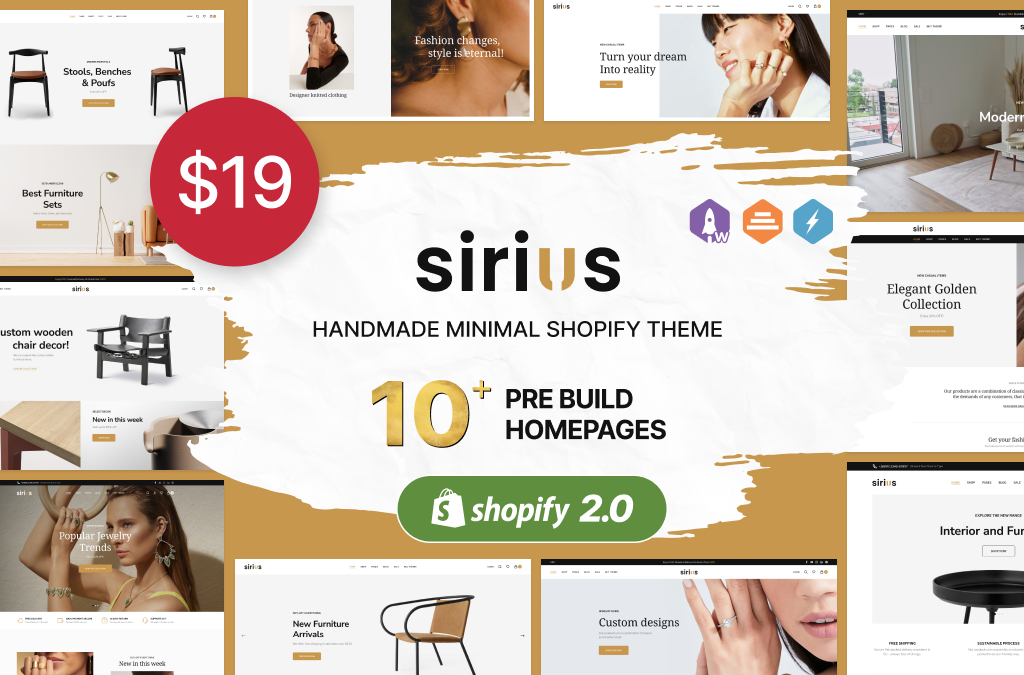 Do you want to start your business through dropshipping? The best theme that can be recommended for this is Sirius. There are more than 10 ready-made homepage options. A design that you are sure to love and of course can be modified to your liking. You can easily manage website content with a simple drag-and-drop technique. This Shopify template has intuitive navigation making it easy for your customers to find and buy. Plus, you'll have free stock photos and some innovative design elements to make your site even better. You can also customize it however you like, just like any of the free Shopify templates, with a variety of color and layout options. That is why the Sirius theme is an excellent choice for various online businesses.
Professional support and detailed documentation will make your work with the site easier. Use the best Shopify theme, and compress files, images, and videos to reduce stress on web pages and ensure they load fast. You can remove unnecessary elements, and install additional plugins. Everything to make your site the most convenient for you and your customers.
Ella – Multipurpose Shopify Theme OS 2.0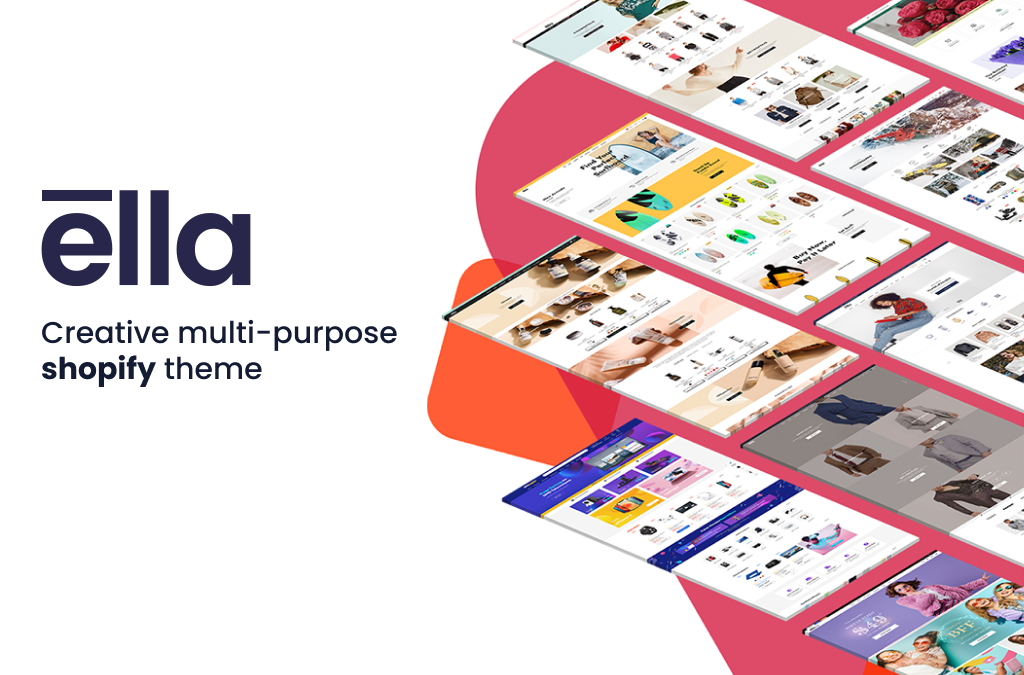 To create the most fashionable online store that will not be equal, you just need to use this template. Another versatile Shopify theme that will help you build a high-converting store. The advantage of this template is its versatility. The lightweight and unobtrusive design allow you to use the template for an online store with any product. On the site, you can not only place products for sale but also blog, and share trends and other useful information. On the main page, you can place popular products and your recommendations. In order to make your products look as attractive as possible in the eyes of potential buyers, use the product carousel. You can also attach badges to certain products to show their special status (for example, new arrival or best-selling item).
The slider is well made, you can place promotional offers on it to increase sales. It is possible to create noticeable labels on products – new, discount, bestseller. Conveniently implemented admin panel, intuitive control, ideal for beginners.
Kodo – Minimal Layout Builder Shopify Theme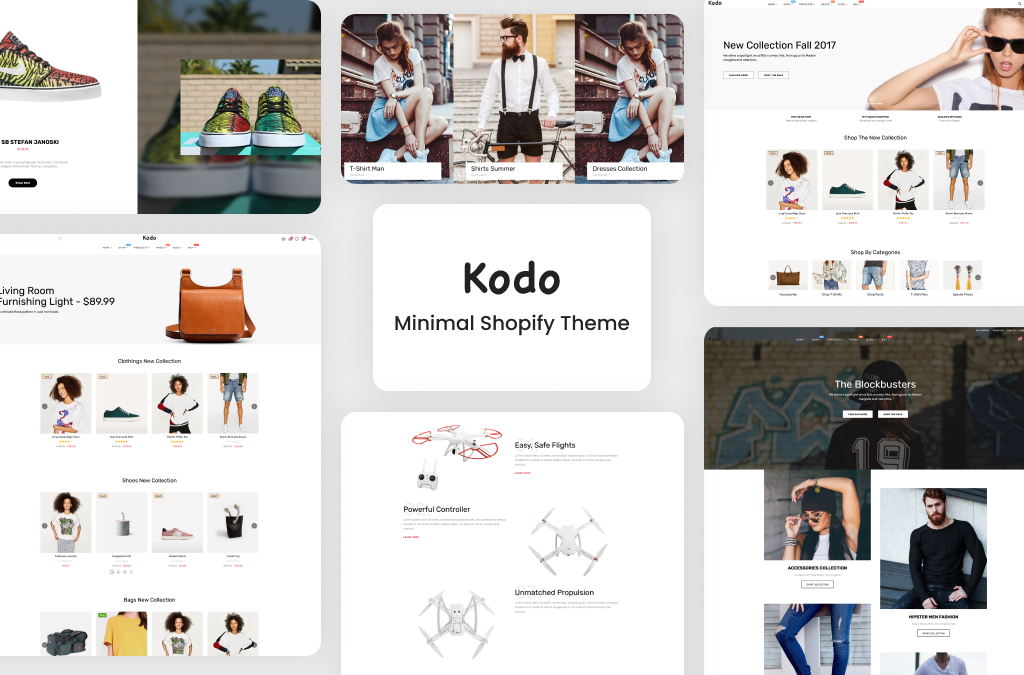 A theme that consistently gets great reviews. Have you been looking for a more multi-purpose choice among the conversion-friendly Shopify themes? In that case, this worthy and noticeable turnkey solution may be a great option for you. It includes 17 pre-designed home demos on a variety of topics. These include beauty and spas, food and drink, home decor, clothing, sports, and more. You only need one click to install the selected demo along with all the necessary components. You can completely change the design and structure of the site to create a resource for your business. Stylish design and modern effects will attract the attention of the buyer. It has a convenient search and quick purchase, and excellent options for sorting products, so you don't have to worry – your store will have a very high conversion.
Key Features:
Multicurrency and multilingual support;
Google Maps;
Ajax functionality;
Gallery functionality;
Fully responsive design.
Improvise and work with the store to your heart's content. Here you can safely realize all your ideas.
Fastest – Shopify Minimal Theme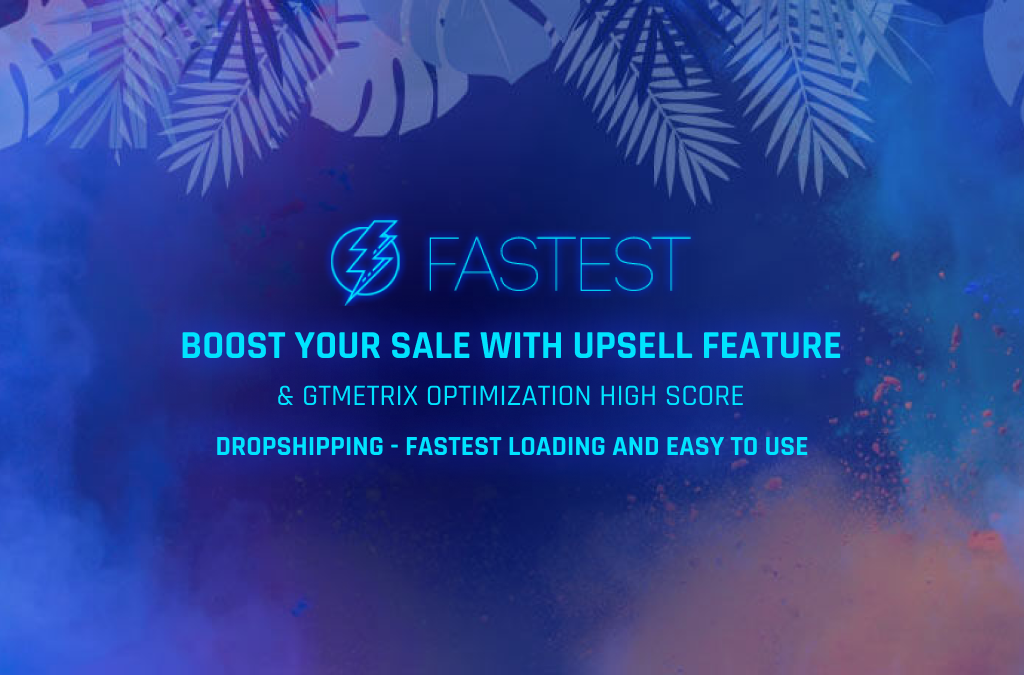 Fastest is one of the perfect conversion-friendly Shopify themes for building any type of store, especially for people with minimal technical knowledge and no programming or website-building experience. The admin panel of this template is designed so that each user can set up, fill and run their online store. The admin panel has a mega menu, thanks to which product management is quick and easy. You add categories and subcategories, forming a convenient site structure. This is useful not only for shopping navigation but also for search engines that prefer to order everything. Create your store in just a few hours, and you will be surprised how easy it is to scale a small business into a big business that brings a steady income.
Even the smallest store can look luxurious with the Fastest theme. Creative design, convenient arrangement of elements, and clear administrative panel make it popular and in demand. A successful parallax effect with thematic photos on the main page, combined with a list of products, helps to interest the buyer from the very first seconds and get quick sales even without visiting other pages. The description of the goods is detailed, a table with characteristics is provided, it is possible to add photos and videos, and the buyer can zoom in on the image and view the product in detail. It is easy to switch currency, and language, which expands the geography of online trading. Work with coupons and gift certificates is flawlessly implemented. For the sale of any goods – this is a very relevant function.
Botanika – House Plants and Gardening Shopify Theme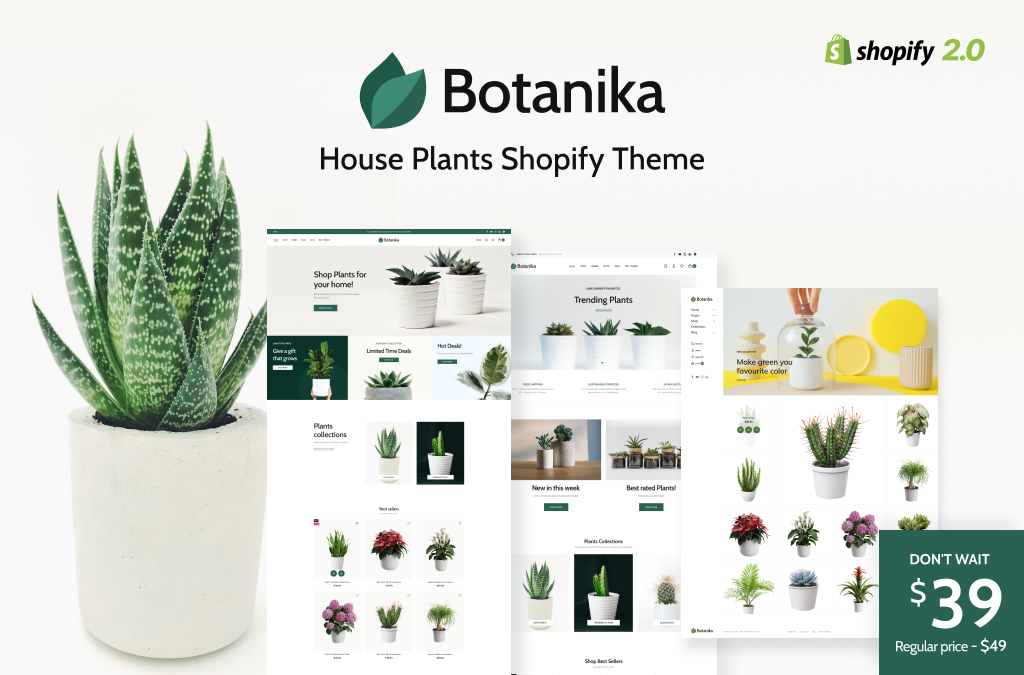 Delightful shop for selling plants or household goods. An incredibly cozy site that inspires trust and sympathy from the first seconds. Just look – Botanica – perfectly represents a variety of products. It is made in a minimalist style so as not to distract the user from the product. It is possible to easily add products, categories, and subcategories. The template code is valid and optimized for fast search promotion. If necessary, the template can be used for other related categories.
The goods have a detailed description, the buyer has the opportunity to view the images in detail and make an informed choice. The parallax effect provides depth to the design and makes the site more modern. The template has a built-in category module for brands. You can easily replace them with your own, and offer customers convenient online shopping. The template can be used for sites with a large number of products, without fear that the buyer will get confused in a huge range. Convenient sorting and using filters to find the right model will make your online store stand out from the competition. Also worth noting is the high-speed interactive search, in which the user has the opportunity to see the results when entering a few characters of the query.
Conclusions
Of course, working with conversion-friendly Shopify themes will make you look at website building differently. The launch of such a resource ensures that even the smallest store here will not lose its relevance in a few years. All this is because the main value of the resource is the possibility of constant changes and adaptation to modern trends.
A complete Shopify ecosystem will allow you to fully organize the work of your store: from the placement of goods and their promotion to the moment of shipment and repeat purchases. All this greatly facilitates the tasks of any entrepreneur.
Online Store 2.0 speeds up Shopify development with a significant tool upgrade. This allows merchants to do more with their companies without touching the code. Bringing greater convenience and flexibility to Shopify, the latest updates open up a whole new world of possibilities for Shopify users. Merchants have more creative control over how their store works, and Shopify's page speed has been improved, which is a crucial ranking factor for SEO.
Highlight your unique selling proposition and highlight how it will help your audience. When writing product cards, use keywords that can give your SEO an edge.
Remember that people buy products that solve their problems and make their lives easier, so clearly highlight the benefits of products to encourage visitors to add the product to their cart.
Download the demo, see the details, and get started. Conversion-friendly Shopify themes are really profitable and convenient for everyone!