Chatbot marketing involves promoting products and services using a chatbot – a computer application that conducts conversations with users. In digital marketing, chatbots are becoming increasingly popular, but one of the most popular ways to use them is through messenger applications. In this article, we are going to overview chatbot marketing as a marketing technique and available chatbot builders.

Chatbot Marketing Benefits
Chatbots have become increasingly popular nowadays. The customer demand for excellent service is growing. Every brand wants to meet the requirements of its clients and prospects. Chatbots are everywhere: in social media, messengers, and websites. Customers only need to start a conversation to receive all essential answers about a brand and its product. According to statistics, 68% of consumers say they are satisfied with the speed of chatbot answers and their answers. This is a great success for businesses and their customer service.
As an entrepreneur considering implementing a chatbot, you don't need to worry about technical skills and knowledge to create it. Visual chatbot builders will help you do it without much effort.
We've prepared this article for those who to incorporate a chatbot into your marketing strategy but don't know which one to choose. There are many chatbot builders that will meet your purpose. However, we'll review the best in terms of price, interface, and quality. So let's start with SendPulse.
SendPulse
SendPulse multi-channel platform enables you to set up chatbots for Instagram, Telegram, WhatsApp, and Facebook to ensure a seamless experience for customers. It helps reduce the workload of your customer support agents and provides instant answers. So customers don't need to wait hours to find a product price, size, or item availability. Moreover, after implementing chatbots, customer support managers can have time for solving high-priority tasks and problems.

The platform allows you to provide 24/7 support. The service's chatbot builder enables you to create chatbots for multiple social media to be always in touch with clients. With the service, you can build a multi-channel subscription widget to turn your site visitors into subscribers. As a result, your conversion rates will increase.
Chatbots work based on triggers. You can choose the most suitable trigger and write auto replies for different scenarios. This way, users will receive accurate answers to their questions. You can use subscription, keywords, and unsubscription as triggers to action.
SendPulse offers two plans: free and paid. A free plan enables you to have 1,000 contacts, 10,000 messages, 10 variables, and 3 bots per month, while a paid one — 1,000 subscribers, unlimited messages, bots, and variables for $12 monthly.
Let's take a look at the example below. This is how you create a chatbot flow in SendPulse.
Tidio
Tidio offers you to use 35+ pre-designed templates to create chatbots for your business. The platform's chatbot builder enables you to generate sales by building chatbots for different scenarios. They include abandoned carts, product recommendations, and discounts for new or returning customers. With chatbots, you can let consumers place orders, sell additional products by providing free delivery, and qualify leads based on their behavior.
The platform helps you have multiple conversations while ensuring the best level of customer service. You don't need to hire more people to support customers and provide an excellent experience. You need to create a flow to automatically respond to users' questions. With a chatbot, you can update them on shipping policy, new releases, discounts and promos, the availability of items and sizes, etc.
Chatbot enables you to send messages to customers who haven't received any answer from a customer support agent. It allows you to reply to users' inquiries when all operators are busy solving urgent problems.
To build a quality chatbot, use actions, triggers, and conditions. They set the behavior of chatbots.
Tidio has a free and paid plan. A free plan allows you to communicate with 100 users using chatbots. A paid plan starts from $39 monthly for conversations with 40,000 users.
The screenshot below demonstrates the process of building the chatbot flow.
ChatBot
ChatBot is software that assists you in building excellent customer service and improving customer satisfaction. The platform allows you to connect with prospects and customers using preferred communication channels and provide your consumers with essential information through websites, live chat, and Facebook Messenger.
ChatBot software is easy-to-use because of its intuitive design. No knowledge or skills are required to set up a chatbot for different communication platforms. The chatbot builder has special conversation blocks to create a flow. Select among the available actions and triggers to start the flow and ensure a seamless experience with your brand. With the company's free chatbot widget, you can launch chatbots on your site in no time. The widget is customizable so you can align it with your site design and brand style.
You can design your chatbot from scratch or use ready-to-go templates. Find a template that fits your scenario and adapt it based on your product.
The platform offers a 14-day free trial and paid plans. The cheapest plan costs $65 monthly. It covers 1 chatbot and 1,000 chats.
The screenshot below demonstrates the usage of the customer service bot template in ChatBot.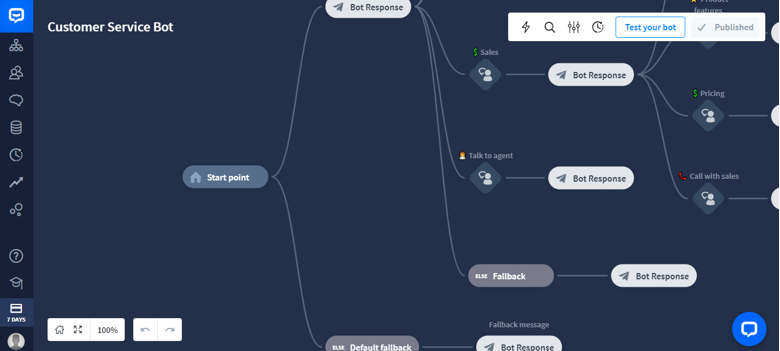 MobileMonkey Chatbot Marketing Tool
MobileMonkey enables you to build live chat and chatbots for Facebook Messenger, Instagram, and WhatsApp. The platform's chatbot builder is intuitive and easy to use, so you can instantly design quality chatbots. With MobileMonkey, you can establish connections between your company and customers. The service's OmniChat technology helps you provide 24/7 support, generate leads, and encourage inactive consumers to purchase. The technology allows you to communicate with customers on multiple platforms besides your website. You can automate communication with clients through SMS and messaging apps.
You don't need experience or coding skills to create chatbots. Use a drag-and-drop editor to add questions, forms, images, text, and GIFs. They will help you make your chatbot interactive. It'll take you minutes to develop your chatbot and start your flow. Consider applying one of MobileMonkey's pre-designed templates to build your chatbot faster.
Although OmniChat unifies all messages in a single inbox, you can easily find conversations with specific customers or prospects. You need to sort messages based on conversations. Assign agents to certain consumers if necessary.
You can send 1,000 messages every month to unlimited subscribers for free. However, if you need to have a bigger limit of messages, consider upgrading to a paid plan. It starts at $19 per month and covers 2,000 messages monthly.
The screenshot below shows you how to create a chatbot in MobileMonkey.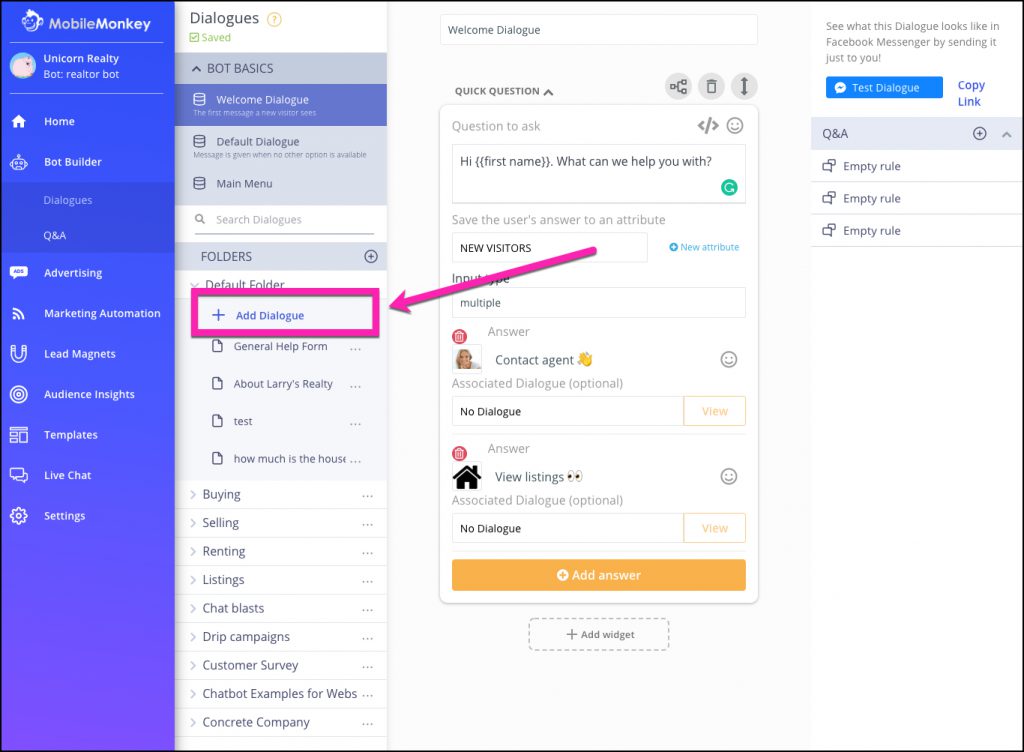 Intercom
Intercom lets you instantly reach your prospects through the most popular communication channels and accelerate conversions. The platform offers a live chat where you can provide customers with a consultation on a product, help at the right time, and have your chat history saved. Intercom's Business Messenger, with bots, apps, and in-app messages, allows you to connect with your prospects and consumers instantly. All your conversations are stored within one inbox so you can easily find an appropriate chat.
The service's Resolution Bot ensures 24/7 support. When your support agents can't handle the request, the chatbot provides visitors with the necessary answers. Resolution Bot is easy-to-train automation, so you don't need to ensure answers to similar questions. If a chatbot recognizes a similar inquiry from a past conversation, it provides an answer. When customers ask the same questions, your support agent doesn't need to respond. Leave this task to the smart chatbot.
The chatbot reacts instantly to customers when they start typing the question. Based on the words, the bot provides relevant answers.
Get a demo or purchase a paid plan to enjoy Intercom's features. Contact support for more information about the pricing.
In the screenshot below, you can see how to work in Intercom's chatbot builder.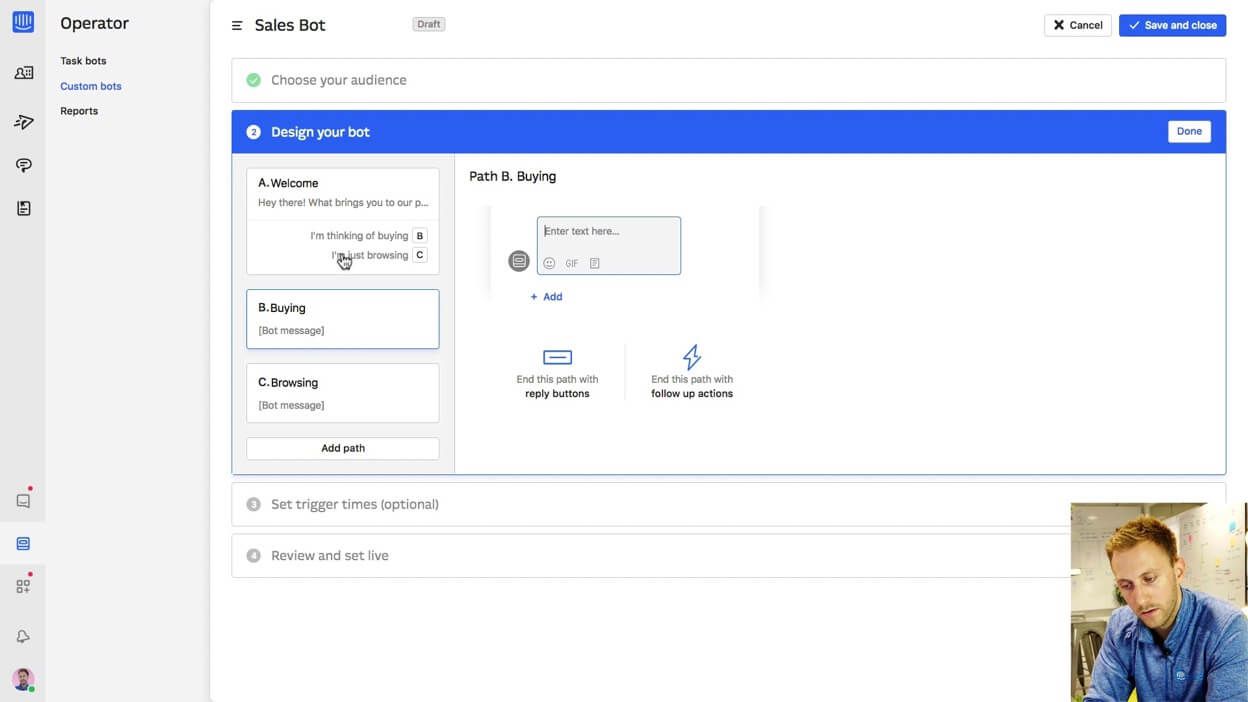 Going for a chatbot to improve your customer support as well as your marketing strategy is a very good solution, especially if you want to reduce business expenses. For many small and mid-sized businesses, hiring a customer support agent is not a feasible option.
You need to choose a suitable platform to build clear communication with your customers and establish trust. Identify your key goals, budget, and audience size to decide which service best fits your primary purpose. As a result, you'll get more conversion and higher customer satisfaction.
The future of online marketing is chatbots
Chatbot platforms powered by artificial intelligence have gained popularity in recent years. Using an artificial intelligence chatbot can provide a cost-effective method of automating customer service, sales, and marketing for your business.
You should consider a few key factors before making your decision, even though there are many options available.
Start by considering your budget. A chatbot platform based on artificial intelligence can cost from a few hundred dollars per month to several thousand dollars per month. The second step is to consider what your company needs. How would you like to be served? How do you want to automate your marketing and sales processes?
The evolution of AI chatbots is still in its early stages, and we don't anticipate that to slow down in 2022. Using AI chatbots for your business is as good a time as any to get started. It's really hard to not consider them when they have so many advantages.