Web design performs one of the most important roles in creating a site, application, or entire online portal. With it, you can increase not only the aesthetic but also the functional appeal of your site, making it more convenient and understandable to users. Web design trends are updated annually. All of them are aimed at adapting the site and giving it an excellent appearance. To do this, tools are used that ensure a high level of adaptation of ideas to the code. This makes it possible to eliminate the long-load process. Every year we see new trends, and now there is no exception. We want to talk about fashion web design trends for 2022. Let's remember the best trends of 2021, you can see them here.

The main tasks that web design performs are:
Maintaining or creating prestige;
Allow consumers to receive the brand information component in its accessible form;
Effectively promote the site in the search rating;
Retain and attract new visitors.
To achieve these goals, you can use various tools and methods. All of them can act individually or in combination with each other. At the same time, they must be selected from the trends of a certain year so that the site continues to generate revenue, and can also solve all the tasks set.
This work is entirely about exploiting the creative potential of the developer. The quality and appeal of the page depend on the creativity and professionalism of the web designer. Constant changes and the emergence of new trends allow you to expand the field of creativity. They also force specialists to be under constant strain in order to effectively track and create profitable projects. Let's talk about how trends in web design will change in the coming year.
Should you follow web design trends?
You will not find a single answer to this question. First, you need to rely on your audience: visitors to the site and your customers. Often, many tips boil down to the fact that it is worth evaluating fashion trends and introducing them gradually. By the way, you can also get acquainted with a selection of the best Shopify themes for fashion. This will give you an opportunity to understand what works and what does not. Why? 98% of visitors will never return to sites with poor design. That's an impressive figure, isn't it? The design of the site allows you to make a first impression on visitors and attract their attention. If you want to achieve better performance from your site, you should probably see other numbers:

Users can form an opinion about your website in 0.05 seconds.
94% of first business experiences depend on the design of the site.
94% of negative website reviews are related to design.
93% of users leave the website because it does not display correctly on their devices.
93% of users leave the website because it downloads too slowly.
90% of users leave the website because it is poorly designed.
75% of consumers admit that they judge the reliability of the company based on the design of the company's website.
Users spend an average of 5.94 seconds viewing the main image of the website.
Design-oriented companies are 69% more likely to succeed than their peers.
Bright colors can increase conversion rates by 24%.
Please remember these numbers the next time you want to update your site design. Take advantage of the web design trends for 2022 to make your resource truly attractive and interesting.
What do trends need for?
Trends exist to maintain the visual interest of not only consumers but also the designers themselves.
Following trends is always to some extent a risk. If you overwork, your work is likely to quickly get out of fashion, and next year you will have to start everything again. Also, blind following trends can turn your site into one like everyone else. In a sense, to follow trends is to follow the majority. Therefore, it is best if you use them while maintaining your unique style and brand recognition.
The advantage of web design trends for 2022 is that they help young businesses develop quickly. Most young companies successfully use stylish and fashionable website designs to quickly advance their idea. Trends always carry new ideas that you can embody yourself. This significantly reduces the time to develop the site and allows you to quickly update your site.
You will have to think a little about how to apply new trends so that your site remains unique and remains interesting for visitors.
The next year will be crucial for eCommerce. People are increasingly inclined to do online shopping, so the development of online trading is very important for any business. Success is achieved primarily by those who switch to online on time and transfer their business to the Internet. This gives a lot of benefits, because you are now not limited to the borders of your city or your country, and you can work in any mode. ECommerce significantly reduces office rental and employee wages. Many tasks and processes can be automated, making your work easier and more enjoyable. Interesting? Do you want to try? Let's see what trends in web design are preparing us for the coming year!
Top Trends in Web Design 2022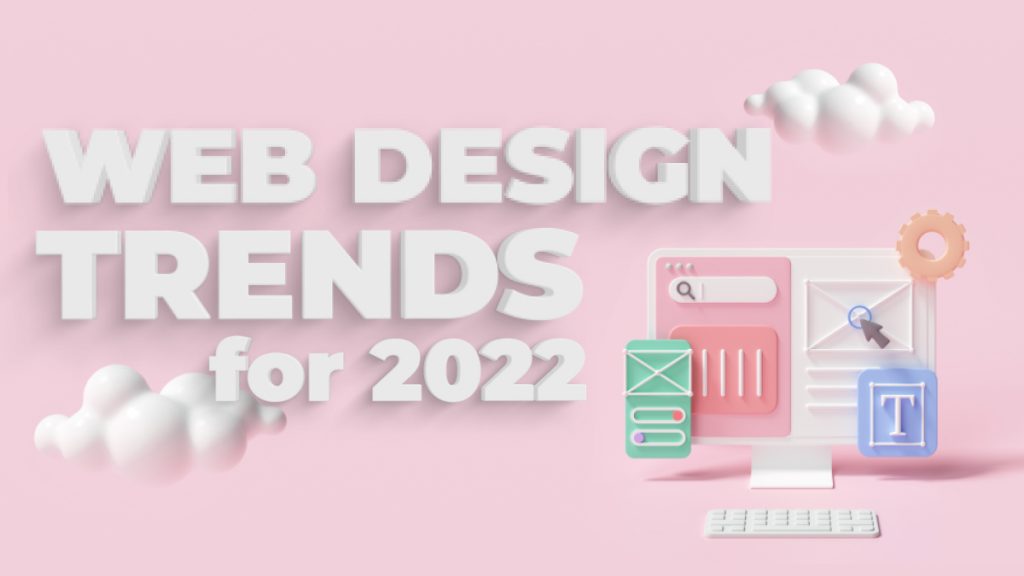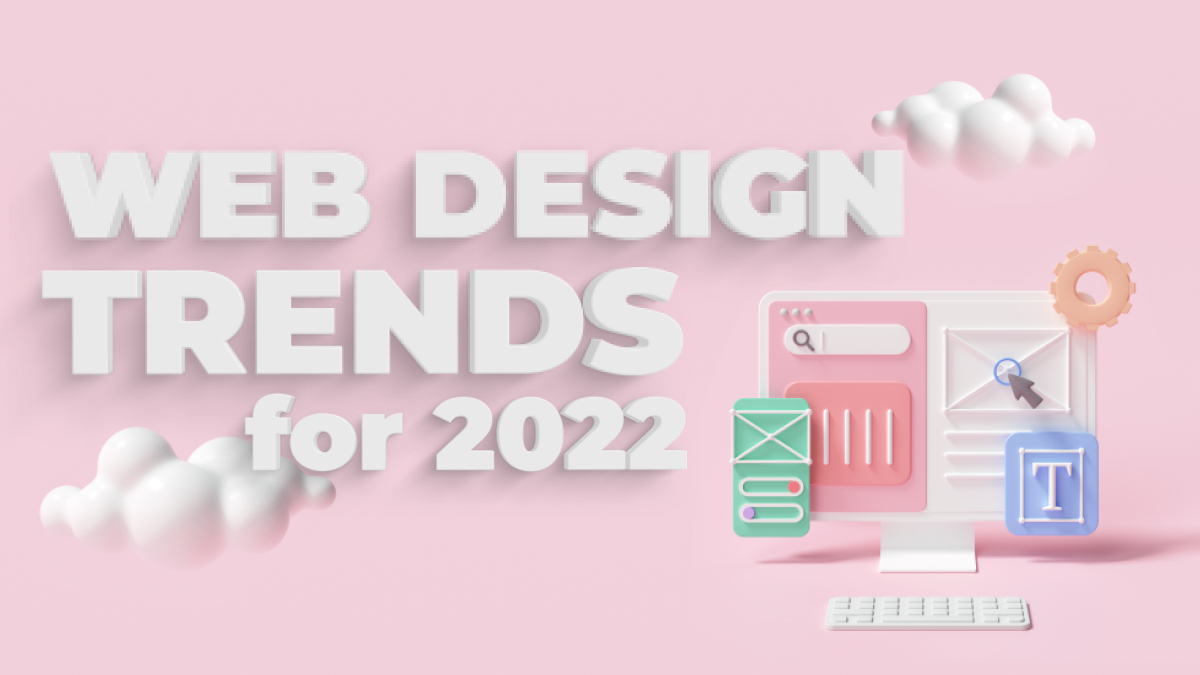 Remember that these web design trends for 2022 are only recommendations. You can choose what is more suitable for your online resource. You can also experiment freely by applying your own findings and maintaining your style. Our observations are only advisory.
Bold colors for an unforgettable design.
Bright colors are something that will help you create a truly unforgettable website. Bold, bright, saturated tones will replace the pastel tones that many brands have used in recent years. However, in order to produce a certain effect on the consumer, it is necessary to understand the psychology of color. How does color affect our feelings and desires?
Web design forecasts for 2022 show that it's time to think about what you want to say with colors on your website and think about using more powerful shades.
Dark topics are one of the trends that have remained relevant for more than a year. In 2022, dark topics are still interesting and in demand for visitors to sites. You can manually set up a dark theme. This topic allows you to favorably place emphasis on the site, highlight your products or a profitable offer. It also helps to reduce the load on the eyes and optimize the mode of battery consumption – these are important advantages, you need to take into account them.
Individual content.
Websites are no longer static. You may have already had experience returning to a previously visited web page and discovered that the design has changed, but if you look at it in another browser, you will see the previous design again. This is because some sites take into account your view history and offer content tailored to each user.
Personalized content is especially important on eCommerce sites since you can use it to show products that are likely to interest a particular user, and thereby increase the conversion rate.
Artificial intelligence.
Lets you take another step in setting up your website content. The use of artificial intelligence-based on data allows you to use machine learning to improve user experience and personalize the transformation process. For example, think about the algorithms for recommending Amazon products or personalized Spotify playlists. It's so much more convenient, isn't it? How can you apply this on your site?
When developing the user experience of your website, consider how to use artificial intelligence to customize it as much as possible in accordance with the interests of the visitor. So you will be offering more than ever before.
Chatbots to promote your goods or services.
This technology has been used for many years on social networks and websites, in 2022 we will see how they evolve to become much more human-like. As artificial intelligence and machine learning become increasingly complex, chatbots are becoming an increasingly common way to offer personalized recommendations, help customers in the buying process, and solve customer service requests.
In the coming years, chatbots will become increasingly able to interpret user behavior, take initiative and demonstrate their unique personality.
Micro-interaction.
This is a great way to personalize your site and improve user interaction. In fact, these are small animations that guide the user through various actions.
Some types of micro-interactions have existed for many years, for example, links that change color when you move the cursor over them, or the cursor itself changes depending on where it is located. These details now apply to many other icons and website items.
Intelligent video.
Video has long been one of the star formats of the Internet. Its popularity has increased dramatically on mobile devices. But in 2022, it is no longer enough to embed video from YouTube on your website.
Instead, there is an era of intelligent video, which means finding more targeted ways to embed video on websites. You no longer need to limit yourself to the format of the built-in player, and you can use creative resources, such as replacing the background image with video.
Large images with text.
The main image of the web page is becoming increasingly important. In some cases, we can see "images of heroes" that occupy the entire home page to achieve maximum effect. If this resource is well-thought-out, it can be the key to immediate user attention.
Another interesting trend of web design is the creation of "heroes" based on text, almost like a poster. These may be bright colors that will be on-trend in 2022. In this way, you can create a different kind of your website, quickly attract the attention of visitors and communicate your message.
Color gradients and the effect of blurry glass.
These two visual trends will help you create an even more attractive website in 2022. Gradients have evolved from thin effects to full-color background images. They can be used to add depth and texture or to make your site unique, especially when combined with large fonts.
On the other hand, recent advances in web technology have greatly simplified the implementation of the "mist glass" effect on websites. This allows you to add color to different areas of the page without affecting the readability of the text and images placed on them.
3D elements.
3D elements are becoming increasingly popular in web design as technologies have made them more accessible, and they can also be interactive. Their main problem has always been slow download times, which can negatively affect the usability of the website, but technological progress has reduced this obstacle.
3D can be used both to give your site a modern look and for a detailed display of your products thanks to photos taken 360 degrees.
Minimalism and simplified navigation.
Obsessive ads, alerts, and pop-ups? The experience of viewing is full of incentives, so users appreciate the break offered by simple and minimalistic sites.
Clean web design with several carefully selected items helps visitors to your site focus on what is really important so that they can perform the actions you are looking for.
Another closely related trend in web design is simplified navigation. The easier it is to get what they are looking for, the more likely users are to convert. Reducing the number of navigation menus will help simplify interaction with the user, and can also help increase the speed of your site.
Monstroid – Multipurpose Shopify Sections Minimal Theme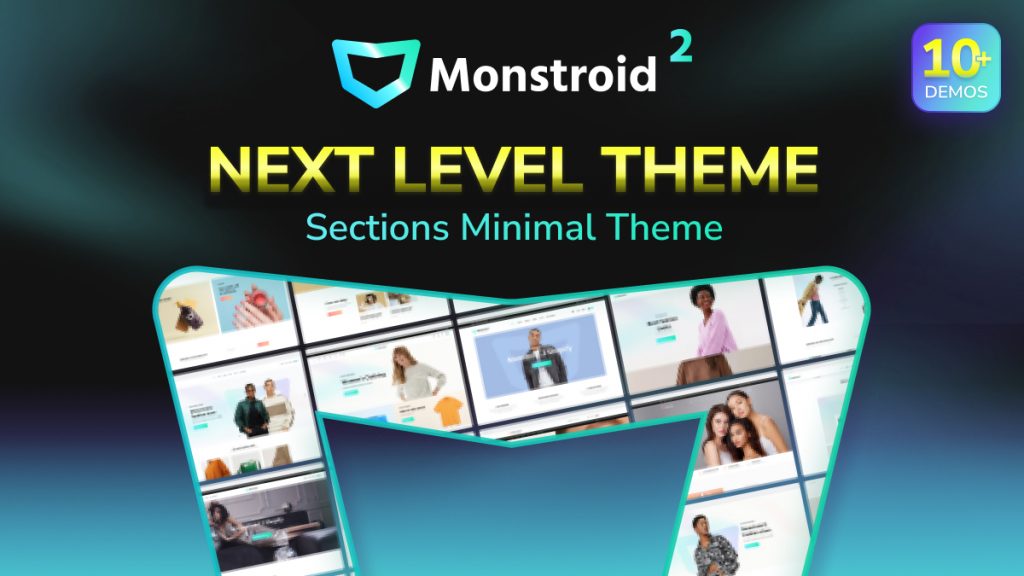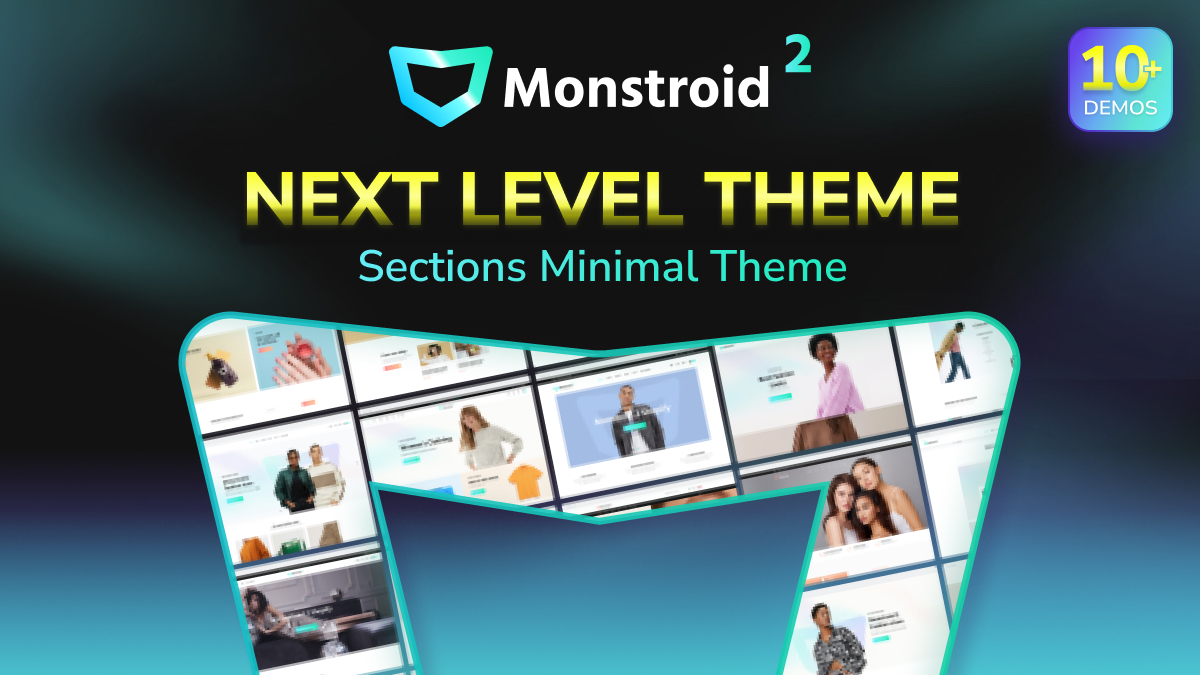 A super modern theme that largely reflects the most recent trends of 2022. You will find here everything you need to create an easy, fast, stylish site. Shopify makes it easy to convert a website into a sales machine. To begin, you can add pages of goods to the site, with a picture of products, services, descriptions, specifications, and prices. Visitors to your site can then add these items to the virtual shopping cart and, when ready, go to the payment page. All this may seem incredibly heavy, but thanks to the simplified buying process, it is very easy to organize. Even novice Shopify users will have no problem adding eCommerce functionality to their site with an intuitive interface and simple settings.
For your comfortable work, there are 10 different home page designs. A simple design allows you to quickly assemble a site. The theme is absolutely all-around and suitable for selling clothes, shoes, cosmetics, or accessories. You can create your own individual design here and make your site unique.
A powerful administrative panel – for simplified work. You will find here everything you need to customize the site and edit it. It is important because you can make all the settings of the site yourself. Now you do not need to involve other specialists in the work – your site is at your disposal.
On the home page of this template, you can see the following sections: best sales, new receipts, selection of collections, and announcement of articles from the blog. Perfect for your online store. Don't forget to use the mega menu, multilingual and multi-currency support, trademarks, and much more to give the customer a positive experience with their website.
Without a doubt, this theme will impress you and help create a great stylish site. Give him very little time, and he will help you grow your business.
Conclusions
Much has changed in web design, but next year promises to be very rich. For a long time, sites have impressed us not only visually. For web designers and users, 2022 will be a year of technological capabilities, highly intelligent interfaces, surprisingly creative solutions. We hope you stay with us and use our ready-made solutions to grow your business! Success and prosperity for you!
The presented web design trends for 2022 are implemented in various versions and rarely cross. Each of them is a great idea for developing a large-scale project. In some cases, mixing and creative processing of two or three of the described trends help create a truly memorable design.
The choice of combinations depends on the idea and direction of the web resource, as well as the talent and vision of the web designer. You should also clearly understand what result you want to get in the end. The structure and components, special techniques for positioning the site, are easier to think about at the development stage. Boldly embody your ideas!