Shopify vs WooCommerce(WordPress) platform for creating online stores
If you visited this article, it means you want to understand the intricacies of the world of online trading? And you are on the right track! After all, the creation of a successful online business must begin with the selection of the best eCommerce platform. And at the moment the best ones are Shopify vs WooСommerce (WordPress).

Especially for you in this article, the two best platforms for an online business are considered. In a simple and accessible way, I will tell you about the features of Shopify and WooCommerce (WordPress) platforms. We will also identify the different advantages of Shopify vs WooCommerce (WordPress).
Shopify vs WooCommerce (WordPress) which platform is better?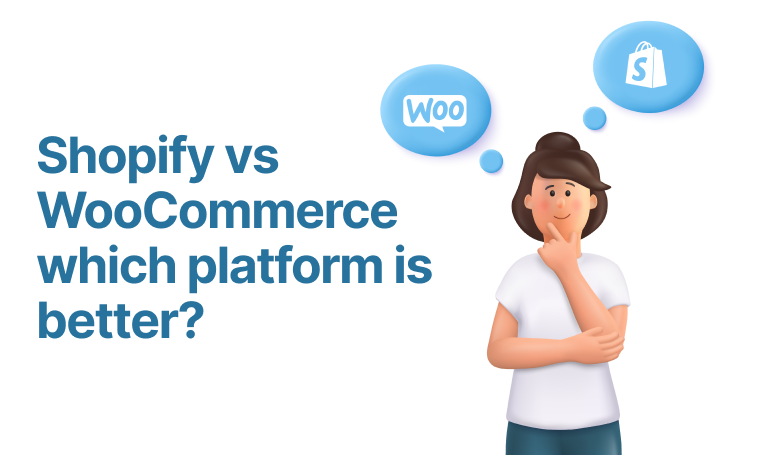 Different companies offer many platforms for creating online stores. But if you do not understand the nuances of creating an online store, the level of your business is not developing. It follows that your web site is of poor quality. First of all, it is important to immediately identify the best platforms for online business. And so, we will tell you about the two main leaders Shopify vs WooСommerce (WordPress). Besides this, we will find out which platform is the best.
Shopify vs WooСommerce (WordPress) is always put in the same row. After all, these are two of the best online store builders in the e-commerce market. These two have reached the top of the user rankings. Moreover, are constantly in a state of long-term "battle".
Even though both of these platforms are the best, each of them has its winning advantages. When choosing Shopify vs WooСommerce (WordPress) you should consider some key factors that will affect the efficiency of your online store. First of all, you should pay attention to such factors:

available and essential features;
design and themes;
customization;
usability;
security;
customer service;
SEO options;
payment options;
price.
After all, agree that these aspects are the main ones. The presence or absence of one of the advantages depends on the further work of the platform to create an online store. It also undoubtedly affects the operation of your future online store site.
Shopify 2.0 Overview
Before we decide on Shopify vs WooCommerce (WordPress) which platform is better we need to know about each platform in detail. And we'll start with Shopify.
What is Shopify?
Shopify is the leading eCommerce platform that allows entrepreneurs to create their online stores. The Shopify platform is very easy to use. Therefore, you will be able to create your store without any special programming skills. Moreover, this platform is ideal for entrepreneurs who want to start their online store without large financial expenses.
Besides Shopify has the simplest possible functionality. It also has a wide range of templates. These templates allow you to quickly and easily launch a website of any complexity. With Shopify, you do not need to worry about the aspects that are important for the further operation of the website. The platform gives you everything you need to create and manage your store.
Main advantages of Shopify
Before comparing Shopify vs WooCommerce (WordPress), I suggest you consider the main advantages of working with Shopify.
First of all, Shopify has proven itself to be quick to install and easy to use. In other words, Shopify offers a simple way to quickly launch an online store without additional development costs. The interface is very user-friendly and simple because all functions are logically structured.
Secondly, with the Shopify platform, you won't have to worry about the technical component! After all, most of the software, hosting, SSL certificates are provided. The hosting of the Shopify platform excels compared to other website management systems. Shopify has also taken care of all the software updates. This way, you can focus all your efforts on selling products and not worry about technical issues.
The next feature that will help determine Shopify vs WooCommerce (WordPress) platform is better is security and reliability. After all, the work of an online business is directly related to the client's confidential information. Moreover, including credit card details. Therefore, your internet site needs to be fast and secure. The Shopify platform system includes server maintenance and upgrades. Eventually, your online store will always be available to customers. In addition, this platform integrates SSL certificates with your online store and transmits them through a secure connection.
Another important feature of Shopify is its powerful search engine optimization (SEO) features. SEO helps your site to rank at the top of search engines. This, in turn, guarantees the success of your online business. An online store, built on the Shopify platform, has functionality that provides access to a vast number of marketing tools, such as the integration of social networks, the import of feedback on products, and email marketing.
Successful Shopify Theme by Zemez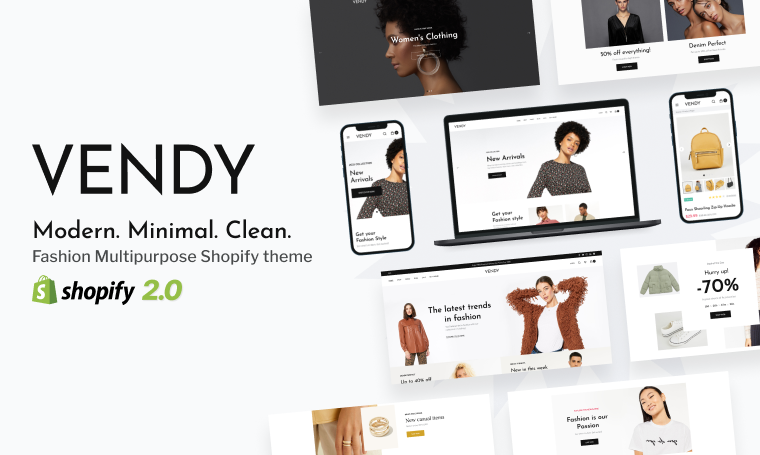 To understand the differences between Shopify vs WooCommerce (WordPress), you need to look at themes based on these platforms. The Zemez team has a lot of examples of really successful themes that are based on the Shopify platform in their arsenal. And one such theme is Vendy – Multipurpose Shopify Theme for Fashion.
Vendy is one of those themes for Shopify that are for professional users and newbies. For example, if you want to check how to create an online clothing store without special knowledge, choose Vendy. This all-in-one layout is based on one of the best eCommerce platforms. Without doubts, by relying on it, you will not only establish a place to buy, and sell but power your brand awareness. Plus, all this is available not touching a code line.
The simple clean Vendy will help you blast off your business, as it's developed at the best Shopify traditions. That's why it gives shop owners full control over their product pages, customers' details, lookbook fashion, website traffic, and its sources.
Furthermore, Vendy has:
5 Listing pages;
5 Product pages;
2 About Us pages;
Lookbook fashion page;
2 Collections pages;
fashion Blog pages;
3 newsletter pop-ups variations.
By the way, right now a unique offer from the Zemez team! The best Shopify Vendy theme at a unique price! Buy Vendy – Multipurpose Shopify Theme for Fashion at a very good price!
WooCommerce Overview
Next, in the question of Shopify vs WooCommerce (WordPress) which platform is better, we will consider WooCommerce (WordPress). After all, this platform is also one of the best. Moreover, themes based on WooCommerce (WordPress) are the most successful on Themeforest.
WooCommerce is a WordPress extension that has online store management tools. It is one of the most popular eCommerce solutions. Based on WooCommerce, you can create websites of different levels of complexity. Moreover, this platform can be used not only to sell physical goods but also to sell digital goods.
You don't need a lot of money to start an online store based on WooCommerce. This platform provides more than 325 premium extensions to help you implement various eCommerce solutions. Besides this WooCommerce is based on WordPress, which means that more than 50,000 ready-made plugins are available to you.
Best WooCommerce Theme from Zemez- Biona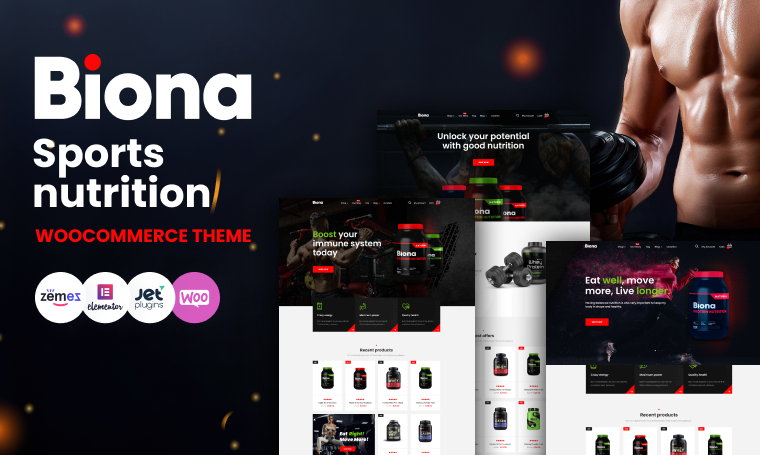 In order to decide Shopify vs WooCommerce (WordPress) which platform is better, pay attention to a bright representative from the Zemez team! Biona is a unique WooCommerce theme for sports nutrition.
Biona Sports Nutrition WooCommerce Theme is loaded with tones of useful features. Each of them is extremely important for online stores. Moreover, you won't have to search for third-party extensions as everything is included and guarantees safety and quality.
Saying precisely Biona boasts of the next page templates and features:
customizable pre-styled pages (Home, About, FAQs, Location);
web working forms (contact, subscription, testimonials, etc);
expanded gallery options for showing your items;
user-friendly menu and site navigation;
Google Maps and Fonts;
countdown timer;
shopping cart;
powerful SEO and more.
This theme is proof that the WooCommerce (WordPress) platform has many functional advantages that will help you create the best online store!
Shopify vs WooCommerce (WordPress) Comparison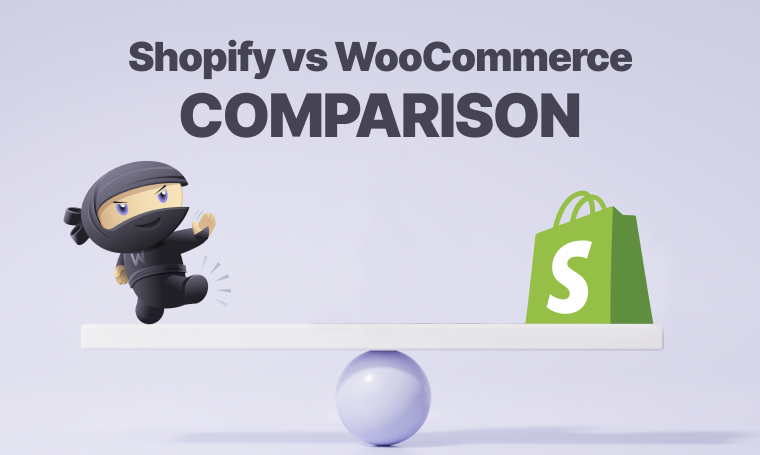 So, after learning more details about the two best eCommerce platforms, we can compare Shopify vs WooCommerce (WordPress) and decide on the choice.
Certainly, Shopify vs WooCommerce (WordPress) is the two main eCommerce platforms in the world. Therefore, each of these platforms has its pros and cons. I will compare by the main criteria:
cost of the topic;
ease of use ;
payment channels ;
scalability.
Cost of Shopify vs WooCommerce (WordPress)
Certainly, the cost is very often the main deciding factor for eCommerce website owners. And that's why you need to consider Shopify vs WooCommerce (WordPress) financial costs.
Obviously, Shopify vs WooCommerce (WordPress) has a wide variety of themes in its arsenal. And of course, these themes have different pricing policies. Also, you can consider the question of price for yourself in different ways. For example, you choose a theme based on the functional set (such themes are much more expensive). Or you choose a theme on your budget.
The Shopify theme plan includes a domain name, SSL certificate, and web hosting. It also comes with enough features to create an online store of any complexity. However, this price does not include third-party tools and plugins that you will need to take your Shopify online store to the next level. In other words, you'll have to spend extra money. But thanks to the professionals at the Zemez team, they've managed to release Shopify templates with enough features that will allow you to create an online store without the extra cost. An example of this is Vendy – Multipurpose Shopify Theme for Fashion.
WooCommerce is open source and freely available as a WordPress plugin. However, to run a WooCommerce store you will need a domain name, an SSL certificate, and a WordPress hosting account. This is usually an additional expense. But fortunately, Zemez offers a unique WooCommerce theme, at a good price. A prime example is Biona – Sports Nutrition WooCommerce Theme for $39. This theme has all the necessary features so that you can create your online store without any additional investment.
In summary, we can conclude that the themes Shopify vs WooCommerce (WordPress) (with the same set of functional advantages) in the pricing policy are the same!
Ease of use: Shopify vs WooCommerce(WordPress)
In general, users who start an online store do not have special knowledge of programming. In order to successfully launch an online business, you need a platform that is easy to use. So now we will look at Shopify vs WooCommerce(WordPress) in terms of usage.
Shopify is a fully responsive eCommerce platform. Therefore you don't need to install, manage or update any software. Also, you will not have to worry about security, performance, backup issues.
With the Shopify platform, you will be able to manage the goods yourself and will be able to control the sales. However, there is one drawback. This interface limits your control. You can only use the design tools and plugins that Shopify provides. Although this is not so bad. After all, for most Shopify users a large selection of available extensions and more than enough to launch and develop a successful website.
WooCommerce is not a hosted platform like Shopify. This means you'll need to install WooCommerce, manage updates, create backups, and secure your website. Although many free and paid plugins can automate most of these tasks
To recapitulate we can conclude that in terms of ease of using Shopify vs WooCommerce(WordPress), the Shopify platform takes the lead.
Shopify vs WooCommerce(WordPress): payment channels
Payment channels in your online store should be reliable and secure. Today there are a large number of payment channels that you can use to accept payments. But some payment methods may not be suitable for you. And others may be unavailable to your customers. So before choosing the best eCommerce platform, let's compare Shopify vs WooCommerce(WordPress) payment methods.
The Shopify platform has its payment solution. It's called Shopify Payments. It also has access to all popular third-party payment channels. But the problem is that Shopify charges an additional fee for every transaction made through third-party payment gateways. This is in addition to the transaction fee charged by the payment gateway. Also, Shopify Payments has a flat fee on credit cards, but no other transaction fees.
In turn, WooCommerce offers PayPal and Stripe payments. It is also compatible with all other popular payment channels through plugins.AlsoWooCommerce supports many less popular and regional payment services. Since there are no barriers to entry, any payment company can create plugins for WooCommerce and provide support. Moreover, being a self-hosted platform, your payment channel or bank only charges a transaction fee. WooCommerce never charges you a percentage fee for transactions in your store, which is a huge plus. In other words, if choosing your merchant account and using a third-party gateway is important to you, you'll save money by using WooCommerce.
Shopify vs WooCommerce(WordPress): scalability
The development of an online store is one of the main criteria for a successful business. Shopify and WooCommerce(WordPress) platforms can be scaled to handle a large amount of traffic and orders. So let's take a closer look at the scalability of Shopify vs WooCommerce(WordPress).
Shopify works with the technical components of an online store, so you don't have to worry about performance and scalability. As soon as your online business starts to level up, you can simply upgrade your Shopify themes. You can manage your growing business without worrying about downtime, backups, upgrades, or security. The Shopify platform also offers business services as part of the Shopify Plus plan. The good news is that your costs will be offset by not having to hire a technical team.
WooCommerce is a standalone platform. Working with this platform you will be responsible for maintaining updates, backups, and security of your site. Moreover, the initial WooCommerce hosting plan will run out of resources as your store begins to receive more traffic. Thus in the process, WooCommerce hosting costs will increase. But you'll have better control over resources and won't pay for resources you don't need. Despite the control that WooCommerce offers, some business owners prefer a hassle-free, low-cost solution.
Therefore, as we found out the scalability of Shopify vs WooCommerce(WordPress) is a complex and important process. But it is with the Shopify platform that you will have an easier time figuring this out.
Shopify vs WooCommerce (WordPress) conclusions
Of course, Shopify and WooCommerce are powerful platforms for launching an eCommerce store. What's more, the Shopify vs WooCommerce (WordPress) comparison shows that each of these platforms is good in its way. Each of the eCommerce platforms presented has its advantages that will help take your business to a high level! For example, Shopify is much easier to use. You don't have to install anything, and you can get started quickly. Setting up payments is easier, and they have easy-to-understand pricing plans. WooCommerce, on the other hand, is open source and gives you full control over your site. Opening an online store with WooCommerce sometimes costs a lot less.
And to make sure you can decide on Shopify vs WooCommerce (WordPress), check out our website() and learn lots of great information about the best Shopify and WordPress templates. Zemez team tried to collect the best features and created the perfect themes for your online business!
To conclude, I want to say that to determine Shopify vs WooCommerce (WordPress) which platform is better you can only rely on your preferences and requests!