Novi Builder HTML Visual Editor: Your #1 Tool for Web Development
The Novi Builder HTML solution provides a variety of great tools for creating a unique website. Nowadays, any business or public persona needs to have a well-developed website. With hundreds of templates and website themes available online, it seems quite easy to do. But what if your company needs a unique website? In this case, you may want to build a website from scratch. However, without any prior experience, it is a complex task. That's exactly where website builders can help. They are especially useful if you don't want to hire a web developer but need to get a well-designed website.
As you may have guessed, in today's post, we will talk about the benefits of using website builders. Moreover, we'll cover various advantages and features of Novi Builder. This tool can help anyone build their HTML5 website in no time. In this article, we'll also take a look at various pricing options for this website builder. Moreover, we are going to take a look at various templates for Novi Builder and the recommended services their team provides. Even if you have certain experience in web development, we believe this guide will be useful to everyone.
In case you are a first-time visitor to our website, we invite you to take a look at the Zemez blog. Our authors regularly publish new articles and guides. From describing new templates to providing tips on web development & online marketing, there's a lot to read on our website. Whether you are interested in HTML, WordPress, or eCommerce, rest assured you'll find what interests you in our blog. And if you want to share a thought or opinion, the comments are open to everyone.
Website Builder Advantages in Web Development
Creating a quality website is an expensive and time-consuming task. This is especially true if you are planning to build it from scratch. However, website builders and templates greatly simplify this task. These tools provide a great opportunity for building a dependable and highly customizable website. It may seem that most website builders are suitable for users with little to no experience in coding. Still, some solutions can be useful even for experienced web developers. Nevertheless, all website builders share a lot of benefits and great features. Here are some of them:
Adequate pricing;
Ease of use;
Responsive website support;
Versatility;
SEO & analytics features etc.
These advantages are only a small part of what a modern website builder can provide. From integrating various eCommerce features to being a great time saver for web developers, such tools have a wide range of features. First of all, it simplifies website maintenance. Also, it helps a lot if you want to design a website from scratch. Many builders provide ready-made elements and even whole sections. They can make your website look impressive and run smoothly. And of course, it is really easy to install and configure builders. This is also true for solutions that work only online.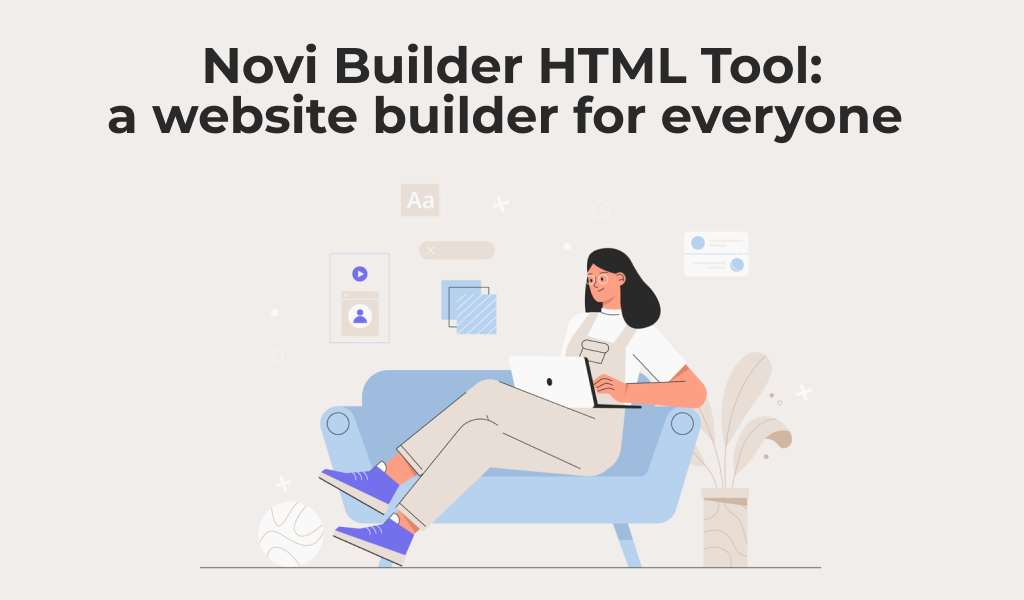 Novi Builder HTML Tool: A Website Builder for Everyone
With a variety of free & paid builders available online, it may be hard to pick the right one. While free solutions often provide limited results, paid builders can also be too complex for beginners. One of the balanced solutions available on the market today is Novi Builder. It is a visual drag-and-drop website builder developed specifically for HTML websites. It allows you to create powerful web pages. This tool can easily help you create a design from scratch, edit pre-designed templates, and preview the result. Besides, you can edit HTML, CSS, and JS code as well as use various presets and plugins.
Website builders have a reputation as tools for beginners. However, the Novi team took every step to develop a solution that would suit not just newbies but also experienced developers. For example, it gives full control over the content, website layout, and code. From editing JavaScript and CSS to adding custom HTML code, this website building solution has a lot in store for developers. Still, its numerous features and user-friendly interface can help any user build a well-designed website quickly. This is also possible due to the detailed and easy-to-understand documentation and tutorial videos that come with the builder.
The Benefits of Using Novi Builder HTML Visual Editor
As we stated above, Novi Builder is a well-developed solution that can help a variety of users to build their websites. Still, who exactly is Novi Builder made for? Is it a truly versatile solution and does it offer a balanced user experience? To answer these questions, we need to explore how Novi Builder can be applied by different users. Whether you are planning to build an eCommerce website or just need an attractive landing page for a product, our solution can help you with it. Still, the ways of using Novi Builder and its numerous features will differ depending on the desired result.
Novi Builder HTML is a great solution when it comes to developing impressive websites. Due to a user-friendly UI, any developer will find it easy to use. Moreover, with the power of provided features, presets, and plugins creating your website templates is simple. With just a few simple steps, you can build a template that can be sold as a product empowered by Novi Builder. Even startups and entrepreneurs can benefit from using Novi. All you have to do is to choose the fitting template. Then, after unpacking and installing it on your hosting, you just need to edit the content or add new elements and sections. Finally, you can publish the created website online with a few clicks.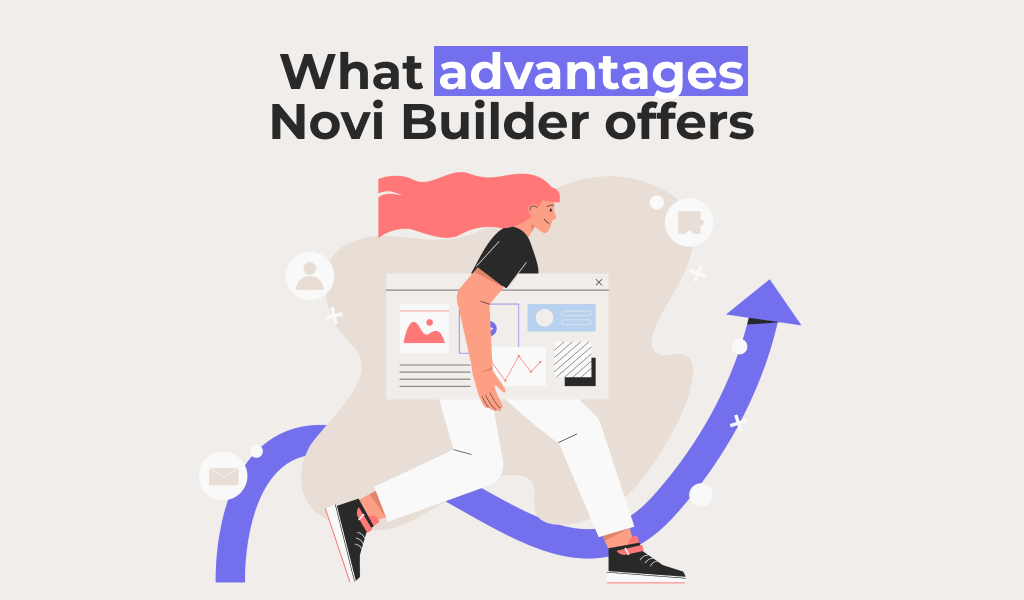 What Advantages Novi Builder Offers
As we mentioned above, the Novi Builder HTML tool has numerous features. Now let's explore them in detail. One of the most obvious advantages of this builder is the variety of provided plugins. They are separate modules that are designed to improve your website's functionality. Most importantly, these plugins can be configured by your personal preferences. From adding images and maps to providing social integration, various plugins can help you achieve diverse goals. All in all, these solutions can easily help you make your website 100% functional and highly interactive:
Background image plugin;
Instagram & Twitter plugins etc.
However, these aren't all the advantages Novi Builder has to offer. Its numerous features allow you to effectively manage pages and content. The builder also allows you to create new sections as well as pages. This helps a lot if you need to give your website an original look. Due to the implemented layer system, creating and adding new elements is simple. Layers support the drag-and-drop method. It allows you to change the looks of your website in a few clicks. You can freely duplicate, paste, delete, and transport all the layers. And with the provided design mode developers can edit the source code of any page and manage the template presets & plugins. Combining all these advantages allows you to quickly create a website your company needs.
Affordable Membership Pricing of Novi Builder HTML Editor
Aside from the variety of features and plugins, the Novi Builder HTML tool offers affordable pricing. It is provided as different membership options. The pricing packages are aimed at beginners, enthusiasts, and professional web developers. Every membership plan includes what is required for any Novi Builder user. Regardless of what you are going to choose, you'll get Novi Builder with all its plugins and updates. Still, there are significant distinctions that define different options. The 3 different memberships include the following plans:
Startup;
Advanced;
Developer.
Each of these plans is designed for different users, from those who begin their journey in web development to acknowledged professionals. Also, every membership provides diverse options that even experienced builder users may find fitting. For example, the Startup plan includes a multipurpose HTML template. On the other hand, the Advanced plan includes over 35 templates that are available via subscription. To get complete access with all Novi templates included, we provide a Developer plan. It also is the right choice if you want to sell your templates empowered by Novi Builder. Unlike other plans that are billed annually, this is a lifetime membership. Also, it is a perfect choice for developers. To learn more about various membership options, you can always visit the Novi Pricing page.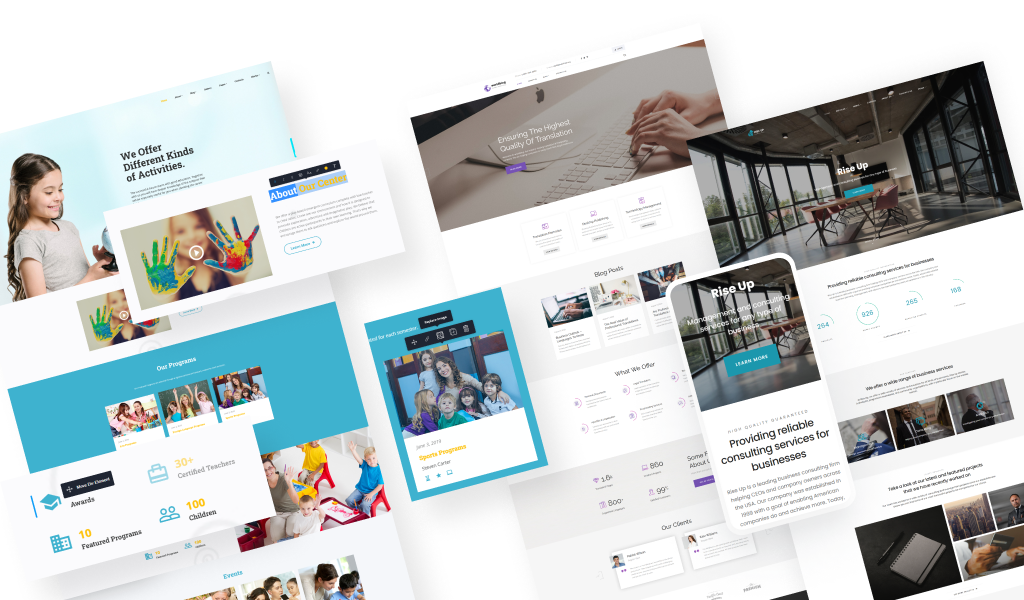 Top 3 HTML5 Templates Optimized for Novi Builder
Another great addition to the Novi Builder HTML tool is its variety of website templates. They are optimized and 100% compatible with the latest version of this website builder. Using them, you can build a professionally designed website. Moreover, it can be done quickly and without huge expenses. The templates and landing pages created by the Novi team are affordable. They are also responsive due to being based on the latest Bootstrap framework.
You can always try various free HTML5 web design solutions. This is especially true if you are new to using HTML5 website templates, They are available to every visitor of the Novi Builder website. In case you decided to purchase a membership plan, you get even more. For example, by purchasing a Startup plan, you can access a variety of premium templates. With these ready-made solutions, you can make your first website in a few simple steps. Now, let's take a look at the top 3 Novi Builder HTML templates.
Smart Kids – Kids Center Website Template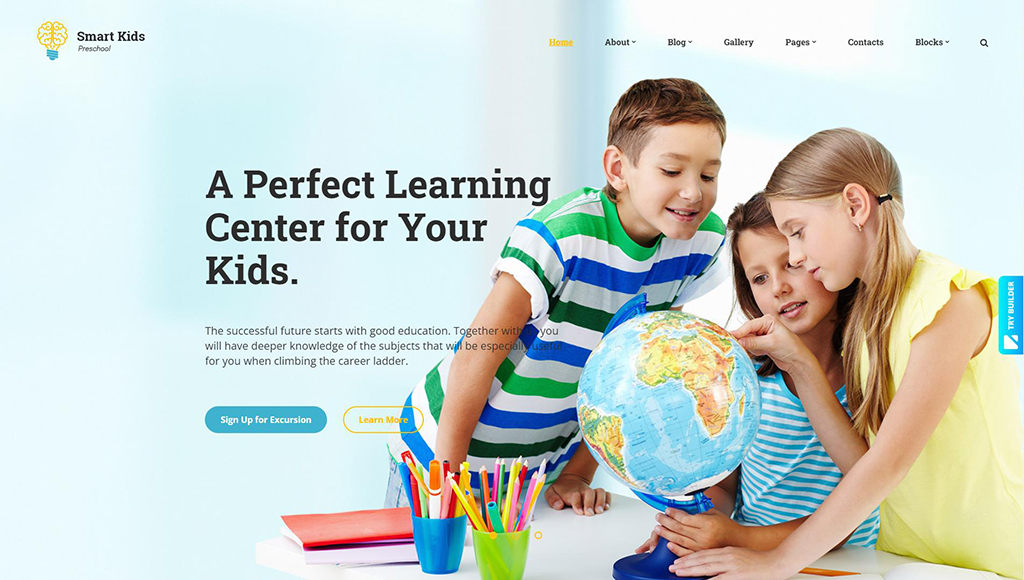 Any modern kindergarten and preschool need to have a proper website to promote their services. The Smart Kids HTML5 template for kids centers is a #1 choice for modern preschools. It can help with describing programs for kids and sharing the parents' testimonials. With a wide choice of pre-designed pages, Smart Kids allows you to quickly create a kindergarten website. It also allows you to post news and event updates. Moreover, you can share more information about your teachers' achievements. On top of that, the template can be easily customized. This can be done with the user-friendly Novi Builder HTML visual editor.
Worldblog – Free HTML Template for Blogs and News Websites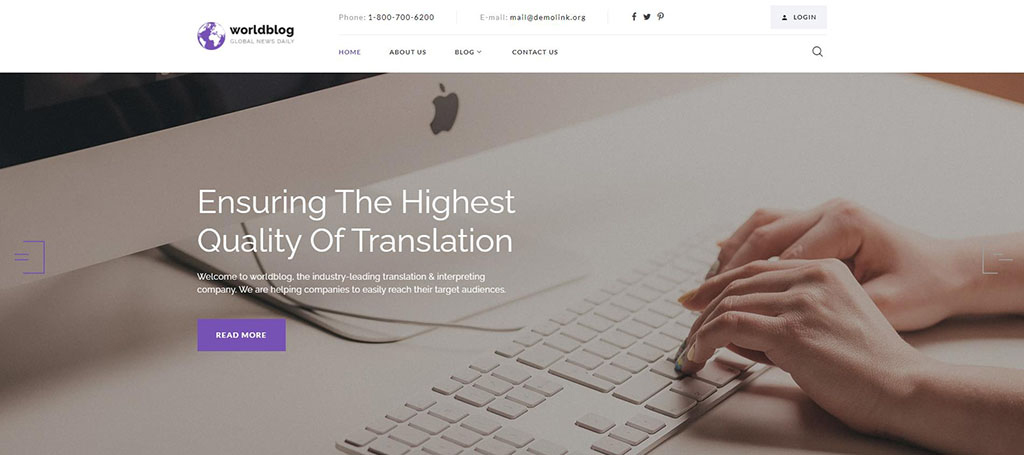 Are you looking for a free solution to get started with Novi Builder? In this case, the Worldblog HTML5 template will help you a lot. It was designed for news portals and translation bureau websites. This website template provides what's needed for a website to be successful. It can help with posting news articles and staying in touch with your readers. Worldblog is a perfect choice for almost any task. Besides, with such elements as sliders and forms, you can easily create a unique site. And the Novi website building tool will help you with it.
Rise Up – Business Consulting HTML Template
Website templates are often used to establish a corporate-style website. To help small and medium businesses achieve success on the Web, the Novi team introduces the Rise Up HTML5 template. It is a web design solution made for consulting companies. However, it can be used by financial and marketing institutions. The template has a wide choice of pages designed for various purposes. With Rise Up, you can quickly build a website that represents your business properly. Moreover, it fully supports Novi Builder and includes pre-developed presets. They simplify customization and website editing a lot.
Services Provided by Novi Builder HTML Team
Alongside an easy-to-use website builder and responsive HTML5 templates, the Novi Team also provides numerous services. From adding logo design solutions to SEO services, you can get everything your site needs with Novi Builder. Every service provided by the team is done on time and is reasonably priced. Working with Novi, you can always expect satisfying results that meet your website needs. Furthermore, the diversity of provided services is pretty impressive. Here are just some of the popular services provided by Novi Builder's team:
Another service that should be mentioned is White Label. It allows developers to customize more than just websites and templates. This solution is a must when you need to change the logo and branding of Novi Builder. Moreover, with White Label you can personalize the visual editor to match your needs. You can also add the builder to your templates. Disabling the unnecessary features for your clients is also possible with this service. This will allow your customers to easily edit the content of your website templates to create new impressive websites. To find out more about the White Label offer, feel free to visit the Novi Builder website.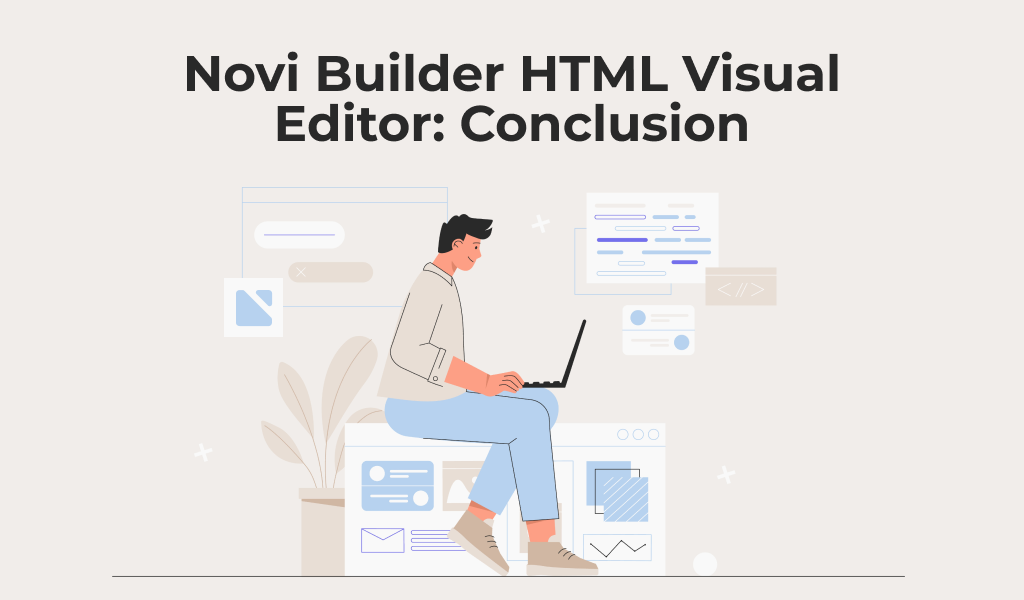 Novi Builder HTML Visual Editor: Conclusion
We hope this review of Novi Builder has helped you understand how website builders improve web development. Even if you have experience with such tools, trying this editor is recommended. Its advantages can easily improve your web development process. Moreover, with a diversity of website templates, you'll be able to easily create any website. And the services by the Novi team will help your website become more unique. Moreover, with support from Novi and its community, you can rely on quick solutions to any issue.
If you liked this article and are interested in more web design solutions, don't forget to visit our website. We regularly add new themes and templates for WordPress, Shopify, HTML, and other platforms. Also, you'll find a lot of interesting guides and reviews in our blog. And if you are more comfortable with using social networks, feel free to follow our Instagram and Facebook pages for more content. Zemez is your #1 source for all the news of web design and development.