Shopify is a powerful eCommerce platform that allows merchants to create and manage their own online stores. It's easy to use and provides merchants with a variety of tools and features to help them successfully run their businesses.
In today's competitive eCommerce landscape, it is important for businesses to keep up with the latest trends in order to stay ahead of the competition. Running sales on Shopify allows you to offer exclusive deals to customers, as well as leverage the power of social media marketing and email campaigns to generate more leads and sales.
This article will walk you through the step-by-step process, like why it's important to run sales and promotions on Shopify, when to run them, and how to notify customers about them.
Why Should You Run a Sale on Shopify?
Running a sale on Shopify is a great way to attract new buyers and increase sales. There are several advantages to running a sale on Shopify, including:
Increased visibility – Sales on Shopify increase the visibility of your store, as customers will be exposed to your products and promotions through Shopify's powerful marketing tools.
More exposure – With Shopify's integrated marketing tools, you can easily reach out to potential customers and inform them of any upcoming sales or promotions. This will help to increase your store's overall exposure and attract more buyers.
Higher conversions – Offering exclusive deals and discounts can be an effective way to drive conversion rates. Customers are more likely to purchase items when they feel they are getting a good deal.
When Should You Run Shopify Sales?
When deciding when to run a sale on Shopify, it is important to consider the seasonality of your products and the promotional events that may be taking place. Generally speaking, it is best to run sales during peak buying seasons, such as Christmas and other major holidays. Additionally, there are certain times of the year when shoppers tend to be more active, such as the back-to-school season and Black Friday. By timing your sales to coincide with these events, you can maximize your chances of attracting more buyers.
In addition to seasonal sales, you should also consider running promotional events on specific days of the week. For example, you could offer additional discounts on Mondays or have special deals on Wednesdays. This will encourage customers to check your store regularly, as they know that new offers will be available each week.
Moreover, you may want to run sales when you launch a new product or line of products. This will help draw attention to your new items and encourage sales.
How to Notify Customers About Shopify Sales?
Once you have decided when to run your Shopify sale, the next step is to let your customers know about it to attract buyers and increase sales. Here are some ways you can do that:
Send out email newsletters
Email marketing is a great way to keep your customers informed about upcoming sales and promotions. You can use Shopify's built-in email marketing tools to create and send out newsletters. Don't forget to create highly customized emails to target specific segments of your customer base. Additionally, you can include relevant information about the sale, such as start and end dates, discounts, and product links.
Be active on social media
Social media is a great way to get the word out about your Shopify sales and promotions. You can use platforms such as Facebook, Twitter, and Instagram to post about your sales and reach a wider audience.
Create ads
You can create ads on Google and other search engines to target customers who are searching for products related to your store. This can be a great way to draw attention to your sales and attract potential buyers.
Use back-in-stock alerts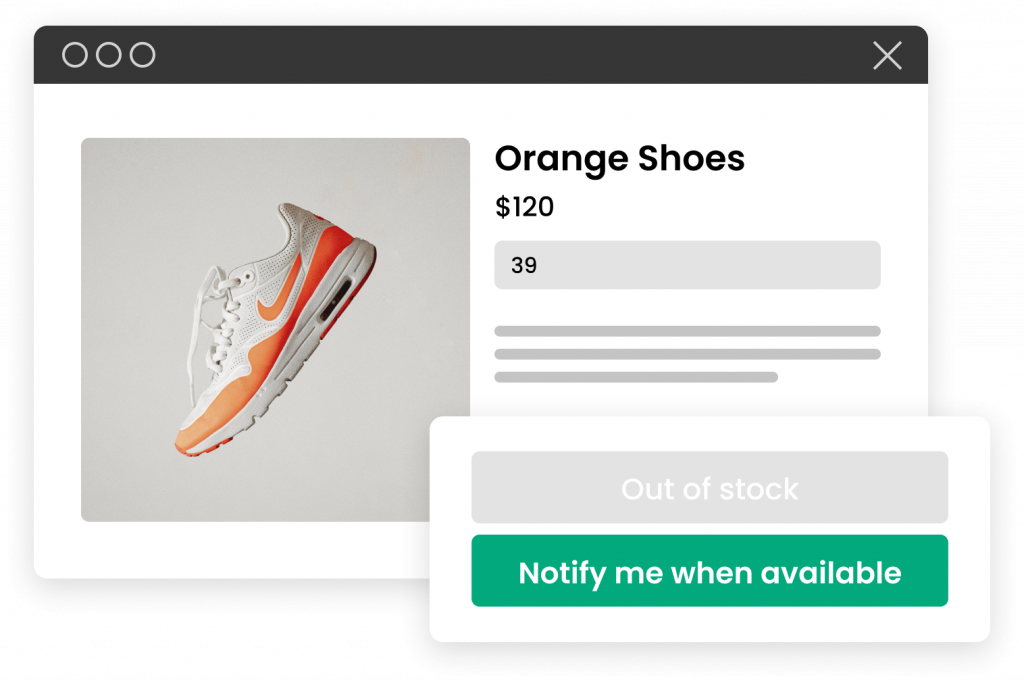 You can use Shopify back in stock alert to let customers know when an out-of-stock item is back in stock. This can be a great way to drive sales and encourage customers to purchase items they may have missed out on. Also, back-in-stock alerts can be used to increase the visibility of your store and attract more buyers.
Final Tips For Running a Shopify Sale
Increased traffic to your Shopify store is great when your marketing efforts pay off with more customers. The goal of selling off excess inventory isn't just to attract more customers during Labor Day or Black Friday sales. When dealing with an influx of customers, it's vital to plan ahead and make sure your store is equipped to handle it. Preparation is key to success, regardless of your store's goals or your desire to boost sales.
Create or Customize Sale Pages
One key to running a successful Shopify sale is to create or customize your sale pages. This means creating a dedicated page on your website that showcases all of your sale items and discounts. This makes it easy for customers to find what they're looking for and helps to increase conversions. You can also customize your sale pages by adding your branding elements and creating a layout that is easy to navigate. Shopify offers several customizable sale page templates that you can use to make your sale page stand out.
Notify Your Customers of Upcoming Sales
One of the most important steps you can take to ensure the success of your Shopify sale is to notify your shoppers in advance. This gives them time to plan their purchases and get excited about the upcoming deals. To do this, you can use alerts and notifications to let your customers know about your sale. For example, you can add a "Notify Me" button to your sold-out product and build a waitlist to recover lost sales with back-in-stock notifications like email, SMS, and push notifications.
Offer with a popup
The use of popups is a powerful way to capture your customer's attention. You can trigger a popup when customers visit your website, which displays your sale offer and encourages them to buy. Keeping your customers informed about your sale is a great way to make sure they don't miss out. You can also use a popup to collect customer email addresses or offer additional discounts.
Utilize a Banner or Countdown Timer
Finally, using a banner or countdown timer is another effective way to create urgency and encourage customers to make a purchase during your sale. A banner is a banner or message that appears on your website that promotes your sale. A countdown timer is a timer that counts down the time left until your sale ends. Both of these elements can be placed prominently on your website, and they can help to increase your sales by creating a sense of urgency and encouraging customers to act quickly.
Conclusion
Running a sale on Shopify is an effective way to attract buyers and increase your profits. By utilizing Shopify's integrated marketing tools, you can easily reach out to potential customers and inform them of any upcoming sales or promotions.
It's important to consider when to run sales and how to notify customers about them. With the right strategies, you can use Shopify sales to drive more leads and boost your business.