Is There an Optimal Way to Increase Traffic to My Store?
"How to increase traffic to my store?" is a question that puzzles many eCommerce business owners. Developing an online store can be done easily thanks to the modern store templates. However, successfully launching it and attracting new customers may seem tricky. For inexperienced managers of online shops, it can be quite a struggle. Fret not as there are multiple strategies you can use to increase the traffic and get the sales that your store needs.

As you may have guessed, today we will talk about the ways to increase your store's traffic. In this post, you will discover 5 popular ideas to boost its popularity. From using social media to optimizing your website's performance, there are diverse methods to achieve the set goals. We'll also explain how to make your website trustworthy. Besides, you'll learn if investing in paid advertising is worth it. But first, let's explore how getting more traffic can help you.
How Do I Get More Traffic to My Store?
With the constant development of e-commerce, there are more customers ready to spend their money online. However, with the variety of stores that we have today, it is more than necessary to stand out. That's when people wonder "Is there any possible way to increase traffic to my store?" And in fact, there is. From content marketing to website optimization, various methods give diverse results. Moreover, working on your store's traffic is important for the future of your business. It provides you with more than just the necessary boost for your website. More traffic also means that you need to rank higher online as well as perform better. These and other reasons are just a small part of what people expect from modern online stores.
Increasing the traffic of your online store is often achieved by combining diverse techniques. They vary from content marketing to SEO. Using social media platforms is also recommended. Also, you have to ensure that your customers get what they want from your store and website. This means understanding all the needs of your target audience. You also have to decide whether you need to get traffic in the short or long term. Finally, it is necessary to define the desirable return on investment (ROI). Before working on possible promotion and advertising techniques, don't forget to determine the budget and effort that you can contribute to achieving the set goals.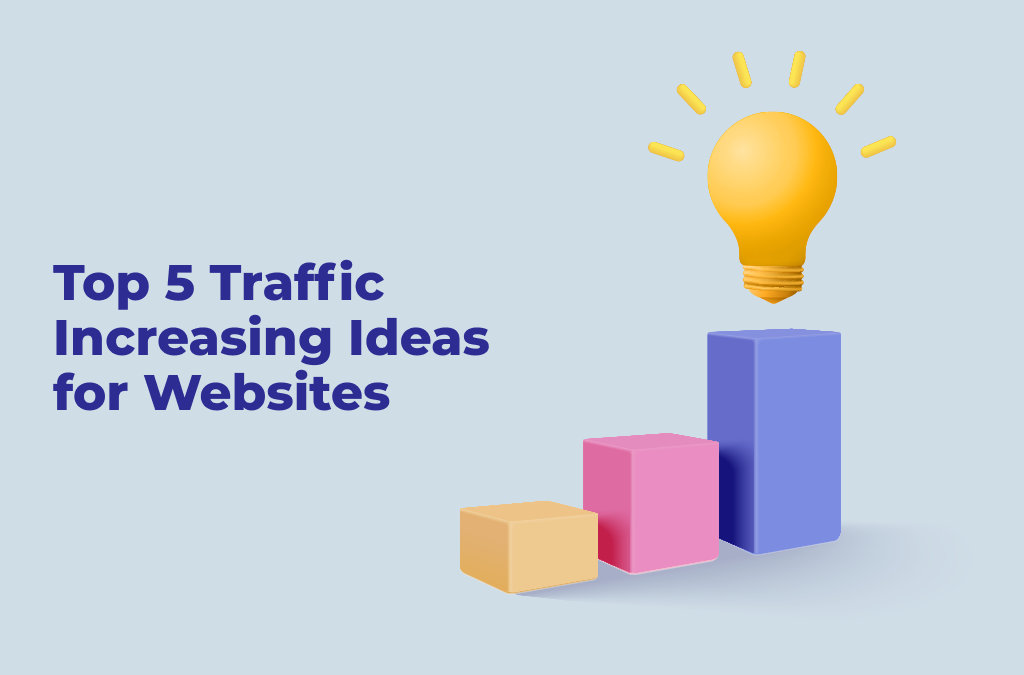 Top 5 Traffic Increasing Ideas for Websites
After choosing the proper way of attracting new visitors and customers, it's time to select the corresponding techniques. As we mentioned above, they do not lie only in marketing. Alongside optimizing your store's performance, you may find it fitting to add more matching blog posts or host giveaways. As a store owner, you may also introduce weekly specials and sales. When properly used and combined, these measures can help you answer the question "How to increase traffic to my store?". While there are many useful methods, we'll stop at the most popular ones. Here are 5 of them:

Increasing the trustworthiness of your website;
Boosting the traffic using guest posts;
Improving the level of store optimization for various devices;
Engaging your followers on social media;
Managing paid advertising campaigns for your store.
Other methods of attracting traffic only add more value to existing ones and help you reach your goals. Whether it's SEO or blogging, it's up to you how you want to build up your traffic. Still, these 5 methods are a good starting point, especially for newly established online stores. These techniques will lay a path for your store's successful development. Moreover, they will help you with getting enough sales and traffic at the very beginning. Then, you can choose what's more important for you and your business and move in the desired direction.
Ensure Your Website is Trustworthy
One of the many possible answers to the question "How to increase traffic to my store?" is to make sure that your website is trustworthy enough. This helps you build a strong and loyal user base. Maintaining the trust of your customers and business partners is important. And not just because it matters for better sales. It also can make a difference in your brand's future. Moreover, a stainless reputation of your online shop can help your business be more recognizable. This is especially important when you're just starting your eCommerce journey.
Security plays the utmost role in establishing your site's trustworthiness. First of all, it is highly recommended to use the HTTPS protocol for your store. It helps with protecting your clients' data and guarantees safer transactions. Optimizing the domain of your store is also useful. With a short yet memorable domain name, you can start building your brand. Don't forget to choose a trustworthy domain extension. Domains like .com or .net are recommended. Using them will make your website address more trustworthy.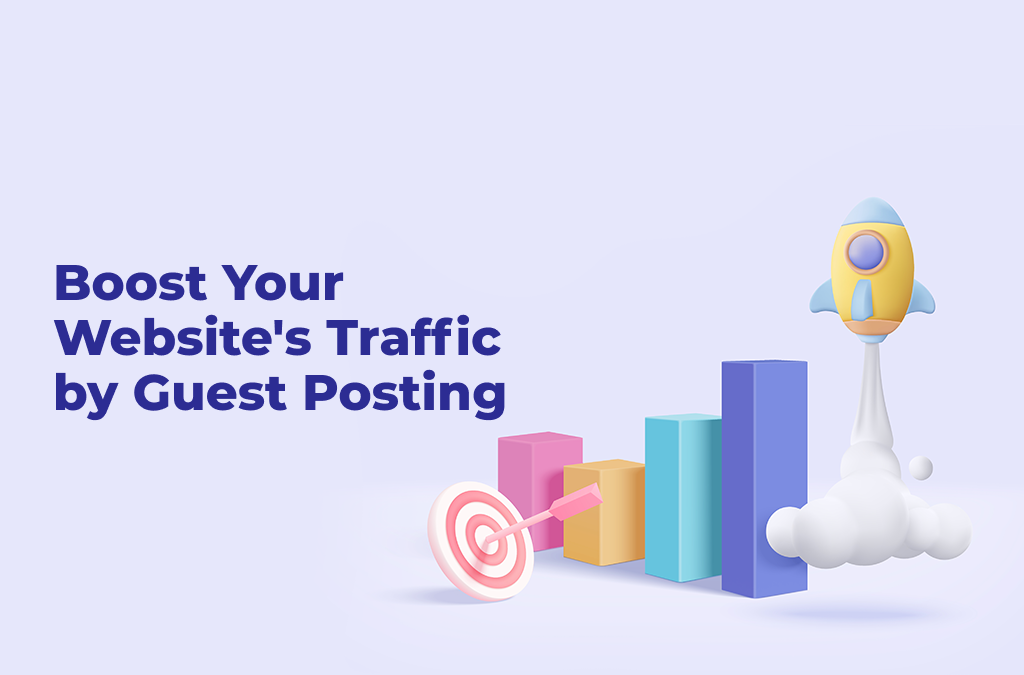 Boost Your Website's Traffic by Guest Posting
Creating proper content for your store is crucial if you want to rank higher online. With well-written guest posts, the answer to the question "How to increase traffic to my store?" is quite obvious. Quality guest posts can easily help you build enough authentic traffic alongside engaged readers. Visitors interested in a post related to your store's products will also be interested in trying the products themselves. This means more sales and reviews. However, there are certain factors you should pay attention to when creating a post.
For example, links and keywords play a decisive role in the success of your posts. Both of these elements will help you improve the exposure of your website. Also, original blog posts help search engines understand that you offer unique content. This helps you attract more organic traffic. Also, this way you'll take leading positions in Google search results. Furthermore, we recommend adding links to your social pages to the guest posts. The more interesting posts you create, the higher the chance that your readers will follow your social accounts. Thus, they will become your potential customers.
Optimize Your Online Store for Mobile Devices
The next step is crucial for the overall performance of your store. When you improve your website's performance on various devices, you must also take care of mobile platforms. As recent research shows, the owners of mobile gadgets and smartphones shop online almost 2,5 times more than PC owners. That's why eCommerce businesses must optimize their websites and make them mobile-friendly. Furthermore, it helps your customers get the exact user experience on various devices, from tablets to computers. Optimizing a store for your mobile users means:
Increased page loading speed with caching and icon fonts;
Intuitive store layout for mobile users;
Mobile-first design for improved user experience;
Prioritizing certain content;
Alternative ways of navigation for the mobile version of your store;
Constant testing.
Often you'll need to find the right balance between layout, navigation, and performance. It can be a key to improving your reputation online. This helps you to find the proper answer to the question "How to increase traffic to my store?". Moreover, you have to use the right approach to all three elements. Then, you'll be quick to find the solution that satisfies your potential clients. But it is important to remember to orient towards mobile users when working on your store's design. This includes effective UI elements like buttons and text blocks. They need to be placed appropriately. Also, don't forget to highlight the right sections of your site with well-designed elements. Adding engaging content can have a huge impact on sales, too. Anything of the above can be done with any modern CMS or eCommerce platform, such as Shopify or WooCommerce.
Social Media Engagement
Social media can directly influence the development of any business, not just eCommerce. It helps you to create a community of regular clients and improve your online reputation. Quality management of your socials is a fitting answer to the question "How to increase traffic to my store?" However, the SMM strategy is designed to help you succeed in several directions. From getting traffic to increasing your sales, you have to pick what you want to achieve first. The right strategy for your business needs can help you define your goals. Then, it will be simple to achieve any desired goals for your online store quickly. At the same time getting Yelp reviews or other valuable reviews will help to achieve your goal rapidly.
There are a few possible ways to use social media for your store. They are especially useful if you're just beginning to grow your traffic. For example, we recommend integrating Facebook Messenger to certain pages of your store. For example, new clients may need consultations when shopping on your store's site. And there's no better way to provide help than by allowing them to message your store's team directly. You can also go live on Facebook and Instagram to get more direct interaction with your potential customers. This is especially useful when you are planning to present new store collections and arrivals. And of course, it is useful to rely on planned posting. It can help you prepare and sync your publications on both the website and the social network account.
Invest in Paid Advertising
There's also another way of getting more sales and traffic. We are talking about paid advertising. The term itself includes a wide range of measures. It is aimed to improve your store's metrics. This is done via displaying paid messages using various media channels. The latter may include social networks, search engines, online media platforms, and live streaming websites. However, your target audience and goals usually define what advertising channels you will use. One of the most effective and currently popular are PPC or pay-to-click advertisements. There are lots of reasons small and medium businesses use it. Here are some of them:
PPC perfectly fits into many business models;
Various advertising services providers allow you to set your campaign budget;
It is simple to target and design the ads just how you prefer.
One of the primary benefits that PPC has for eCommerce is the quick result guarantee. And the results you get are a great answer to the question "How to increase traffic to my store?" Still, there are other advantages to using this method of advertising. It doesn't take any prior experience to start building your marketing campaign with pay-per-click advertisements. However, learning more about its usage along with tracking your ads campaigns will bring great results. Lastly, this method of driving traffic can also help you build brand awareness. This is highly important when you are working on your store's image and reputation.
Conclusion: What is The Best Way to Increase Traffic to My Store?
We hope these recommendations have helped you find the right answer to the question "How to increase traffic to my store?" With these 5 techniques, you can easily increase the sales on your eCommerce site. Furthermore, these solutions will help you create a stainless reputation. Great relations with your customers will also be easy to build with these steps. We recommend using all the advantages of SEO, SMM, online marketing, and advertising. They will help you achieve more for your online store. You may be planning to promote a new product series or just advertise your store's offers. Whatever it is, with a properly planned campaign, you can achieve anything you want.
If you 'dl like to learn more about online marketing and other solutions for eCommerce, feel free to visit our blog. We publish new interesting articles regularly. Also, on our website, you'll find more impressive designs for your future online projects, regardless of the platform you're using. In case you prefer getting news from social networks, our Facebook and Instagram pages are always open for you. With Zemez, you can always stay in the know of the latest trends and innovations from the world of web technologies.