Running your own small business or store is a fairly complex process. It requires many different tools and knowledge. If you want to be successful in eCommerce, in addition to having a great idea and being dedicated to your niche, you also need a platform with which you can process transactions. We are all connected to the internet and we have access to all kinds of information and easy-to-use programs anywhere and on any device. Therefore, many POS systems are adapted for online work. And Shopify is no exception. It is Shopify POS offers a smart solution that reduces the cost of maintaining online stores.

A point of sale system, or Shopify POS, is essentially an environment where you can do most of the financial and administrative work of running your business. And today, POS systems have evolved from simple analog cash registers and invoice printers to a more sophisticated yet easy-to-use business solution. Today we will discuss this in more detail, considering the pros and cons.
Shopify POS 2023 Guide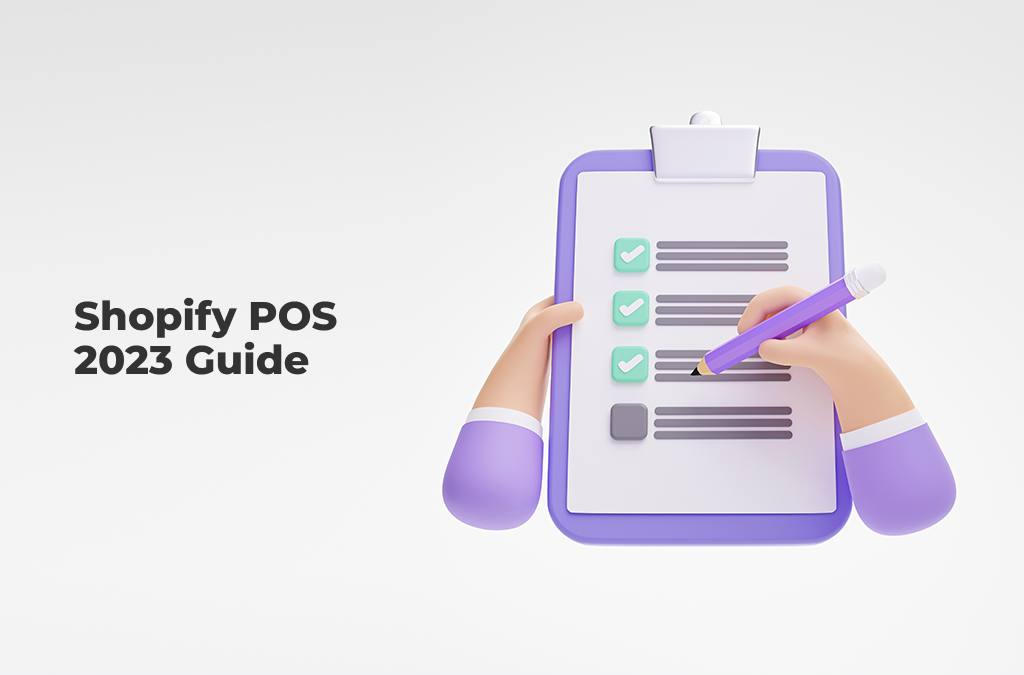 One of the disadvantages of online stores is that there are a lot of them. This greatly complicates the process of choosing an online outlet for your business. That is why we will talk about Shopify in detail- it is ideal for e-commerce. If you are not yet familiar with Shopify, this is a great opportunity to test the pre-made themes and find the one that suits you best. It is also important to constantly work on increasing the trust and loyalty of your visitors. There are many ways to achieve this and keep your store running efficiently.
Shopify is considered the best online eCommerce checkout for a reason. With this system, you have the ability to combine your sales in physical stores and online sales in one application. This is possible thanks to excellent sales kits for stores. You can also use this app with compatible card readers to make sales in your store. Shopify's big update came in 2023. You'll probably be interested to know about it.
Shopify Point of Sale Features
This system gives you the ability to:
Manage your inventory.
Reduce operating costs.
Set up an online sales process.
Manage user accounts for your clients, blogs, employees, etc. online.
Integrate your sales with a digital marketing strategy and email marketing with personalized offers for each client.
Import data from your current eCommerce system.
This cash register system also has very good online support, competitive prices, and other advantages. All this makes it the best option for online businesses and physical businesses with online features. Here you can read more about Shopify tariff plans and choose the best one for you.

How does it work?
So you think that Shopify POS will be the best solution for you? How does it work?
Everything is very simple. Shopify POS is the standard version of the solution and is included with all Shopify pricing plans. Needless to say, Shopify POS integrates into almost every aspect of your online sales and in-person sales through its platform.
Shopify POS is an app that you can download on your iOS or Android devices. This is a fantastic system that allows business owners to sell products in person from almost anywhere. Whether you're selling items at a local market or a physical store, Shopify POS is a great option.
You can use this app to create a shopping cart for each of your customers, accept payments (using a variety of methods), and create recipients, all from your smartphone or iPad. It's also possible to purchase POS hardware, such as an iPad desktop module with a cash drawer, or a Shopify POS Pro device to accept payments wherever you are. The beauty of this app is that it syncs with your online store. Thus, you can track and manage your orders and inventory across all sales channels.
Shopify POS comes in two different flavors. So you can choose what you need. If you're looking for ease of use in your POS system and don't want to pay extra for payment processing, the Shopify POS standard might be perfect for you. There are no additional costs for your Shopify package for Shopify POS as standard. The Lite version, as it is called, is included in the package. You can familiarize yourself with each in detail and choose the best option for yourself.
eCommerce Retail Solution Features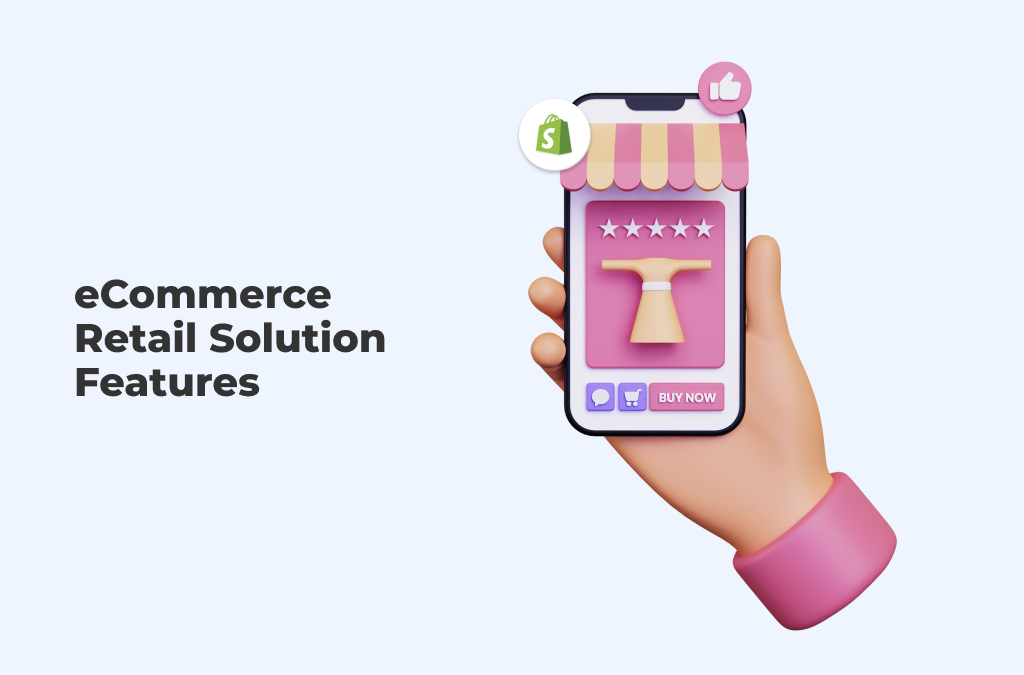 With the growth of digitalization and the massive transition to online, eCommerce has become a driver of key changes in the global economy. Access to e-commerce today is possible from any smart device: by April 2022, there were 5 billion unique Internet users in the world, which is 63% of the world's population. Accordingly, approaches to how to launch and promote new products are changing.
eCommerce retail solutions provide a platform for businesses to sell products and services online. The features of such a platform may vary based on the provider and the needs of the business. The Complete Guide to Point of Sale (POS) Functions provides you with complete instructions. You can use this for your business.
Here are some common features of eCommerce retail solutions:
Website creation: A user-friendly interface for creating and designing an online store, which can include product pages, checkout pages, and a shopping cart.
Product management: A dashboard to manage inventory, prices, product descriptions, and images.
Payment processing: Integration with payment gateways to accept various forms of payment such as credit cards, PayPal, and other digital wallets.
Order management: A system to manage orders, including processing, shipping, and tracking.
Customer management: A customer database to manage accounts, track customer behavior and preferences, and communicate with customers.
Marketing tools: Tools to help businesses attract and retain customers, such as email marketing campaigns, social media integration, and search engine optimization.
Analytics and reporting: Tools to analyze sales data, customer behavior, and marketing effectiveness.
Mobile optimization: Mobile-friendly website design and mobile app support for customers to browse and shop on their mobile devices.
Security features: Encryption, secure hosting, and other measures to protect sensitive customer data.
Integration with other tools: Integration with other business tools such as CRM software, accounting software, and shipping software.
You can improve your digital customer experience, increase your sales, and thus your bottom line. Even if you only have one store, you will not be limited to selling only in a physical location. Instead, your products will be able to attract potential buyers around the world. This allows more people to know about your brand and, in turn, gives you the opportunity to increase your income.
Also, you may not even need to maintain a physical location. When building a website with an eCommerce interface, all you really need to worry about is having enough space to store your products and then promptly ship them after a purchase is made. Customers don't have to spend time in a physical store; shopping can be done anytime, anywhere.
Pros and Cons of eCommerce Point of Sale Integration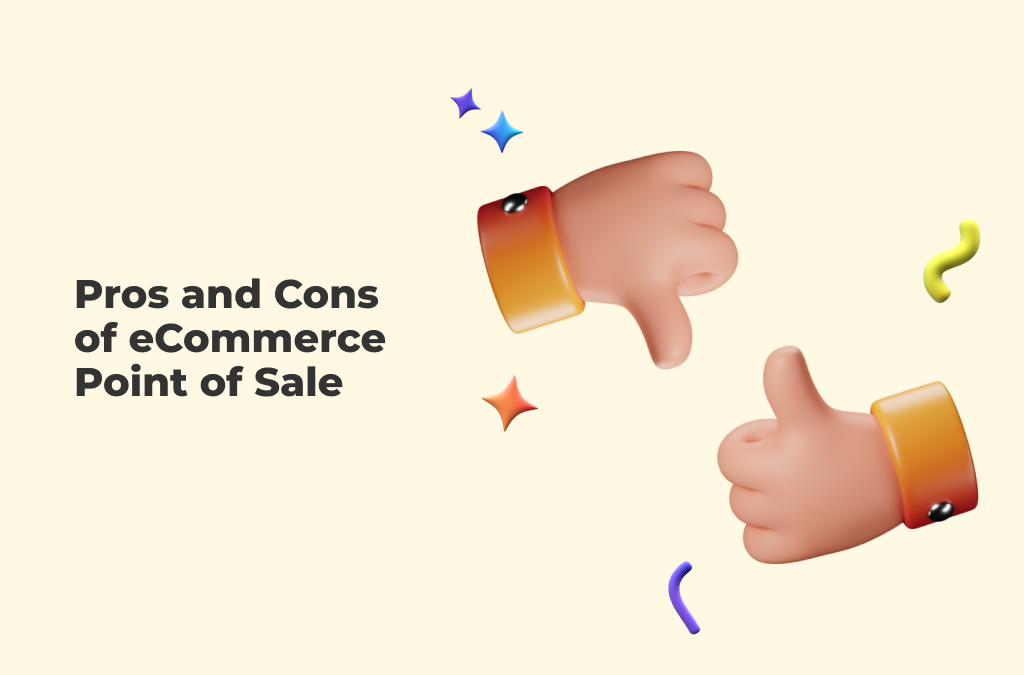 Integrating an eCommerce platform with a point of sale (POS) system can offer numerous benefits for businesses that sell products or services online and in physical locations. However, there are also some potential drawbacks to consider. Here are some pros and cons of eCommerce POS integration:
Advantages:
Streamlined inventory management. By integrating eCommerce and POS systems, businesses can manage their inventory in one place, reducing the risk of overselling, out-of-stock situations, and inaccurate inventory levels.
Consistent pricing. With a unified system, businesses can ensure that pricing is consistent across all sales channels, including online and in-store.
Customer data management. The integration of e-commerce and POS systems allows you to track customer data across all channels. You can provide a comprehensive overview of customer behavior and preferences.
Efficient order fulfillment. When orders come in both online and in-store, they can be filled from a single stock. This reduces the need for separate processes and systems.
Increased sales. Integrating eCommerce and POS systems can lead to increased sales opportunities as businesses can sell through multiple channels.
Disadvantages:
Technical complexity: Integrating two different systems can be technically challenging and require the assistance of developers or technical support.
Additional cost: Depending on the systems being integrated, there may be additional costs associated with the integration.
Training and maintenance: Employees may require training on the new system, and ongoing maintenance may be necessary to keep the integration running smoothly.
Limited flexibility: The integration may limit the ability to customize the eCommerce or POS systems as they are dependent on each other.
Security concerns: Integrating two systems can create additional security risks and require additional security measures to protect customer data.
Overall, the pros of eCommerce POS integration can outweigh the cons. This applies to businesses that sell online as well as physical stores. It's essential to consider the costs, technical complexity, and security risks associated with integration before making a decision. Do you want to know, how to Sync your Point-of-Sale with Shopify? You might find this article helpful.
How to use Shopify POS?
You can use Shopify POS for multiple cash registers at the same time. To do this, just install the application on many devices (at no additional charge). In addition, your store activity across all your devices is automatically synced to your Shopify admin.
However, if you can't boast of such gadgets, you can still handle sales without them. With Shopify POS, you can set up custom payment options like cash, debit cards, IOUs, etc.
Although, if you're using Shopify POS for Android and not iOS, you'll need to use a Swipe card reader. Whereas, with an iPad or iPhone, all you need is a Shopify POS app and Shopify.
Or you can ditch Android/Apple altogether and just buy a Shopify POS Pro device directly from Shopify that has the Shopify POS pre-programmed into the hardware!
What payment methods can customers use?
Customers can use almost any payment method if they use an iPad or iPhone. They also can simply swipe their credit cards in the US and Canada to complete a transaction.
In addition, if you are operating your business from the UK or Ireland, you can accept contactless payments and credit cards using Tap, Chip, and Swipe EMV-compatible card readers.
However, if you operate outside of these countries, you will have to pay for an external credit card terminal from a reputable payment processor.
You can also offer a split payment option for your customers (if you use an iPad or iPhone). It's pretty easy to allow customers to use multiple payment methods to pay for a single transaction.
Conclusions
When it comes to design, Shopify POS is a top-notch tool. Navigating the software is incredibly easy. You can easily understand all the functions of the application. To do this, just open it and familiarize yourself with the interface.
This makes the app a great solution for salespeople who don't have the time or experience to deal with complex systems. With just a few clicks, you can run reports, add customers, import products, and sell.
An added benefit of Shopify POS is the analytics tools. They include a dashboard to track sales, orders, and traffic patterns. You can make product reports: they will show you the most popular products. Here you can create filters for your sales by employee, location, date, customer, etc. And of course, all your reports can be exported and converted into spreadsheets.
If you find it difficult to resolve any issue, don't panic. You can always contact support. They respond quickly and usually give helpful and friendly advice.
Thus, you can easily manage your online store wherever you are.