The Best Multipurpose HTML Template for Any Modern Website
Choosing the best multipurpose HTML template is no easy task. Very often you need to search through a wide variety of templates to find what fits your website the most. However, with a multipurpose website template being popular these days, it is a lot easier to build a website that meets your goals. Such solutions are designed to serve as a great basis for almost any topic. That's why they often include additional landings or child themes. As one of the premium template providers, Zemez has several solutions of this kind.

One of such solutions is the Intense multipurpose HTML template. It combines a variety of great features and page designs to help you build a powerful and attractive website. In today's post, we will review this HTML5 solution in detail. You'll find out more about the various advantages that our solution offers. Moreover, we'll describe how this template can help you build a noticeable and well-developed website that influences your customers.
If you have missed our recent articles, feel free to read our blog posts. We regularly publish guides & tips that help our clients and website owners. Even if you do not plan to use our responsive HTML5 templates, we have a great selection of WordPress & Shopify themes for any website. Whatever your chosen platform for website development is, we can surely offer you an informative article with useful tips about it.
The Advantages of Intense HTML Website Template
Let's find out why Intense multipurpose HTML template is so popular among our clients. First and foremost, this solution offers a wide choice of well-designed page layouts that fit any modern website. Built with the latest version of Bootstrap 4, this template offers a highly reliable and fully responsive interface. A wide variety of integrated designs and elements will help you create a fully unique look for your website in no time. We have designed this template to be user-friendly even to beginners in web development. That's why Intense is also easy to use.
However, sometimes you may be looking for original features that can make your website stand out. We took this into account and added more than just the traditional features available in any modern template. Our team has also supplied Intense with new plugins, elements, and blocks with unique functionality. From new navigation elements to visually appealing & informative forms, sliders, and hover effects, our template can offer anything your website lacks to be more attractive:

user-friendly UI;
easy customization;
bright color scheme;
detailed menu and navigation;
a wide set of reusable components.
Responsive HTML Design Combined with Informative Layout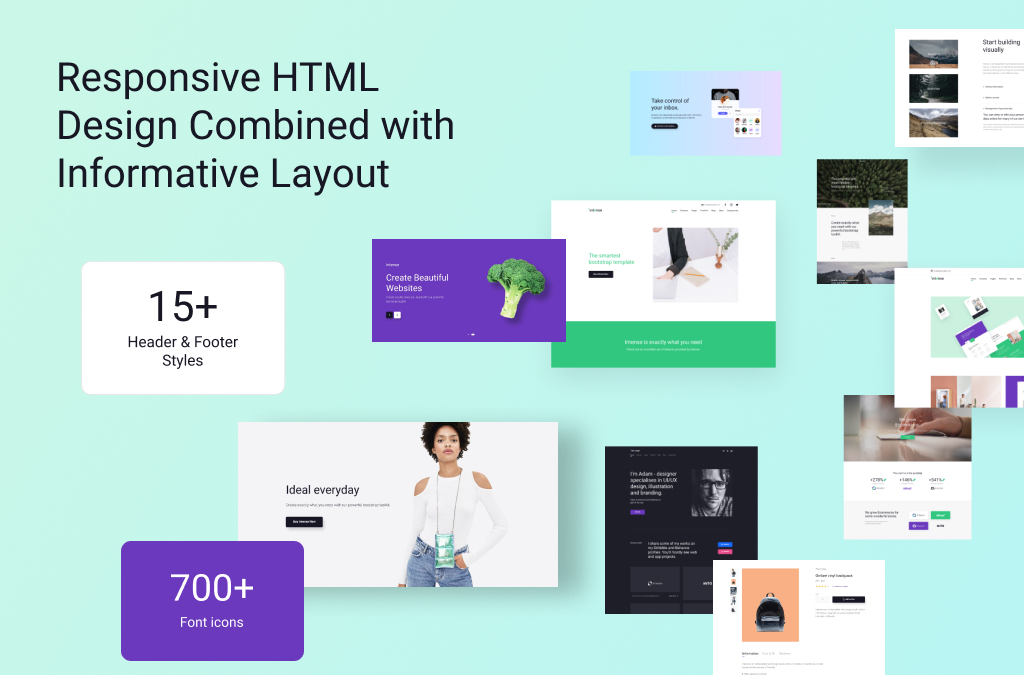 When developing the Intense best multipurpose HTML template, our web designers aimed to integrate modern & trendy layout. And if the standard design doesn't meet your needs, you can always use any of the included homepages. They can provide more uniqueness and original style to any website you are working on. Our solution will be especially fitting if you decide to build an informative multipage website with smooth animation & impressive typography.
It may be so that your goal is to create a personal website rather than a corporate one. In this case, Intense will also be of use. Whether you are planning to work on a personal online portfolio or advertise your services as a freelancer, Intense can meet your requirements. It has a wide choice of ready-made galleries and pages designed to attract more clients and visitors. Every page and section of Intense was designed to give your potential customers a clear understanding of what your website is about. Moreover, you can easily add your content to any part of the template. This will give your website a personal touch and offer your customers more information about what you do.
Impressive & Feature-Rich Multipurpose HTML Template
Aside from having an attractive & intricate design with a detailed UI, our template can offer a wide choice of other advantages. We have already mentioned some of the highly demanded features such as sliders. Still, there's a lot more Intense provides with every page and layout. For example, you can benefit from using a Parallax effect to get the attention of your potential customers. Also, with a vast selection of headers, footers, forms, and icons, you'll be able to make a compelling website. With Intense, you'll instantly attract more website visitors, especially using these features:
Sidebar & footer widgets;
Dark template skin;
Widgetized mega menu;
Over 15 different sliders;
Full calendar;
Pre-designed hover effects;
Charts & graphs etc.
Our team took every step to make Intense suitable for both beginners with no prior website building experience and professional web developers. Besides being easy to work with, our best multipurpose HTML template is supplied with detailed documentation. From installing to configuring and customization, the documentation of Intense covers every aspect of using this solution. You can also fully rely on our professional support team in case you require additional assistance.
Modern & Classic Intense Designs Suitable for Diverse Websites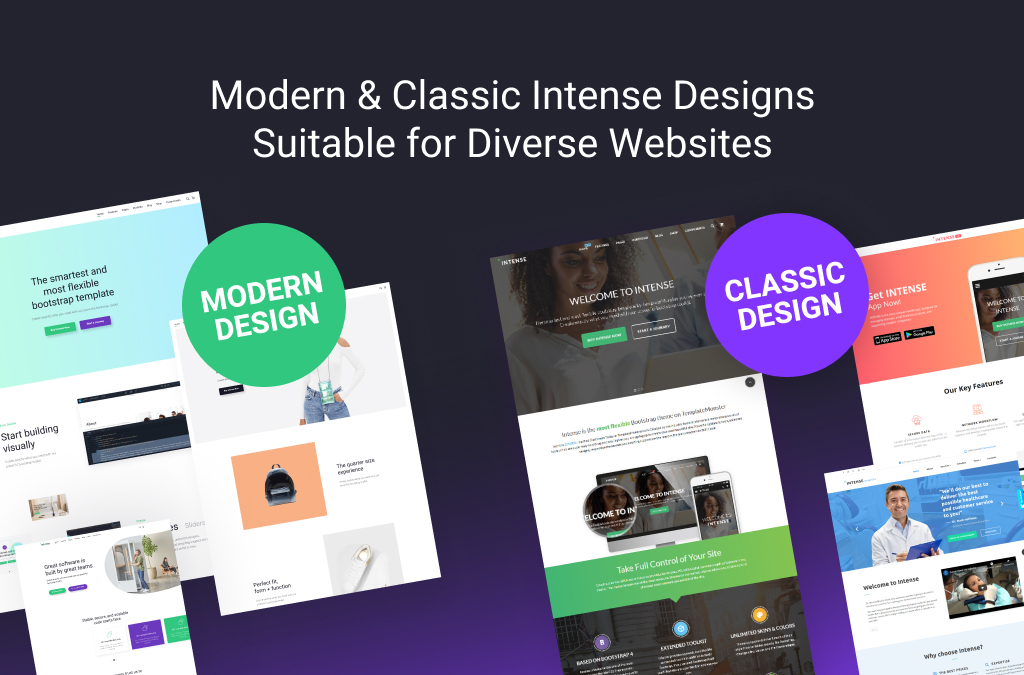 When working on a recent Intense update, our team aimed to fully upgrade it. Also, we wanted to save the best features of the original design and its functionality. That's why we combined a classic Intense design with a modern one. Our team also saved all the classic niche themes and advantages. This allowed our customers to freely choose what website they need. The time-tested classic design will fit a traditional corporate website. You will also find it more suitable if you need a website filled with content. The modern design, in its turn, is more fitting for creative websites. The resources that put an accent on the visual component will benefit from it, too.
Still, you can freely use both versions if you decide to purchase the Intense best multipurpose HTML template. Furthermore, it is possible to easily customize both template versions. This way you'll get a fully unique user experience. The modern Intense design uses the BEM methodology. It allows you to work with its components separately. Both versions of Intense are highly responsive due to the latest versions of Bootstrap 4. This framework is deeply integrated into our HTML5 solution. Its flexibility also simplifies the customization and the code editing process. This is especially important if you are planning to fully update your website.
Multipage & eCommerce-Ready HTML Website Template
At Zemez, we tried to create an all-in-one HTML5 solution when we developed Intense. This also meant creating a multipage template that would satisfy various needs of regular users. Our multipurpose HTML template contains over 100 ready-made pages and different layouts. Any page can be easily edited and customized according to your needs. Also, you can use the pre-developed page variations for Blog Portfolio, Team, and other pages included with Intense. Here are some pages of our template that will help you improve your website:
About Us;
Services;
Our Team;
FAQ (4 layouts);
Blog (20 layouts);
Gallery (9 layouts);
Shop (5 layouts) etc.
These and other pages that come with Intense were designed to help you build a content-rich & original website. A variety of abovelisted pages with diverse blocks and sections that we included can help you craft the most elaborate website. Moreover, you can easily fill it with your content. The structure of the Intense template also allows you to use the pre-designed content sections. With them, it will be easy for you to build an informative website right away.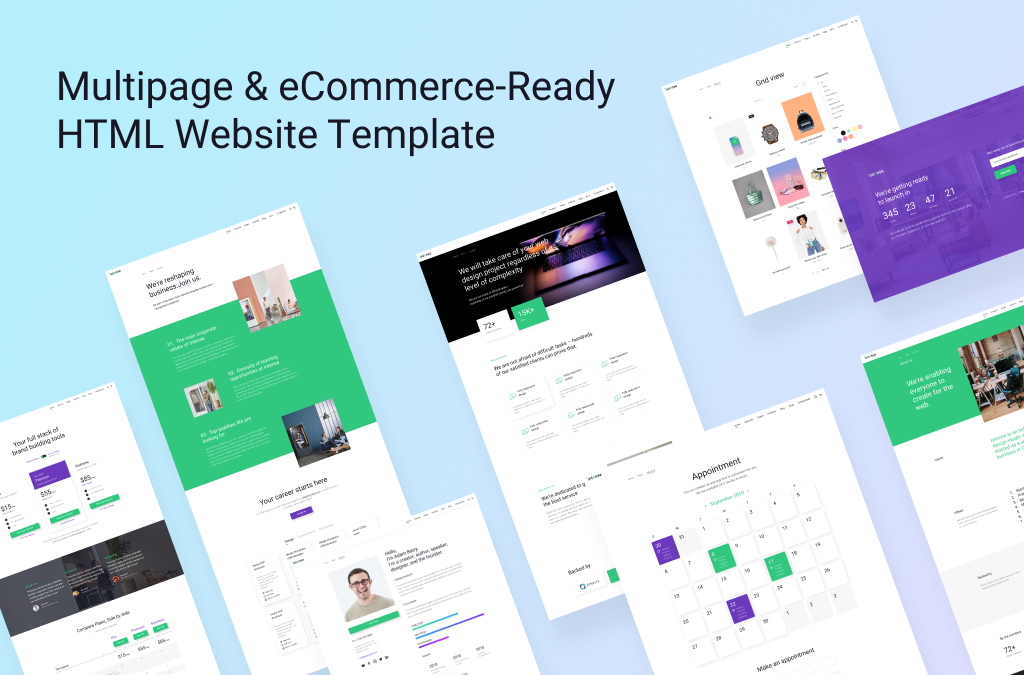 Furthermore, our best multipurpose HTML template is eCommerce-ready. As we mentioned above, this multipurpose solution has 5 different shop page layouts. Also, it comes with a cart page and 3 ready-made product pages. Such a diverse set of pages serves as a great basis for your online store. Regardless of the area that you specialize in, Intense will perfectly fit your website. It will also make your site more functional and impressive than ever before.
The Best Multipurpose HTML Template with a Choice of Child Themes & Landings
One of the most prominent advantages of our template is its child themes and landings. The best multipurpose HTML template can be easily suited to meet the needs of your website. However, we went the extra mile to make Intense suitable for lots of topics. From an HR agency to a construction company website, there are diverse child themes included with our template. The solution we provide features over 10 meticulously crafted child themes. They are also perfectly compatible with all elements & features that Intense offers. These themes include:
Security company;
Web design conference.
All the abovelisted child themes can be also purchased separately. Moreover, we have added 10 separate homepage layouts to Intense. They can also serve as separate landing pages. Ranging from a portfolio to consulting, our landing pages fit any modern website. Moreover, they provide space for all your content. All pages are well-designed and animated making it easy for your website to stand out. The pages are also easy-to-edit just like the whole template that we offer you.
Fully Customizable HTML Template with Multitopic Content
No website is fully complete without proper content. Certainly, Intense allows you to add your content. Our team has also added various types of ready-made content blocks. The included pre-designed sections will also fit diverse topics of your website. The best multipurpose HTML template that we offer contains high-quality texts, images, and videos. They are perfectly integrated throughout different template pages. You can freely use the provided content that Intense has. Moreover, it can be easily combined with your website to increase its trustworthiness.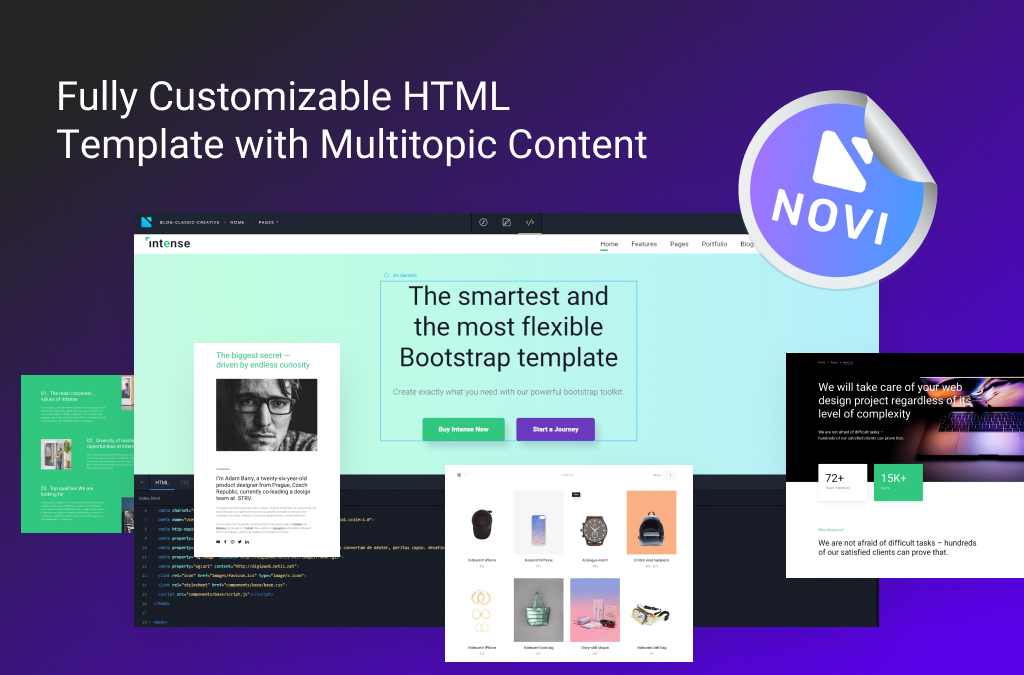 When developing Intense, we aimed to make a fully multipurpose solution for any website. That's why our developers have added an extensive UI kit to Intense. With it, your future website is fully customizable including buttons and progress bars. You can change and reorder almost everything even without vast knowledge in coding. The latest version of Novi website builder will help you create what you want. It allows you to use ready-made presets and a drag-and-drop visual editor.
Best Multipurpose HTML Template: Conclusion
We hope this review of the Intense website template's benefits and features will help you decide how our solution can be useful to your business. Even if you need just a single-page website that represents you on the web, Intense will do the job. And in case you still hesitate whether or not to choose the best multipurpose HTML template, feel free to read the reviews submitted by our customers. They will give you an unbiased view of what using Intense feels like.
Looking for more articles and updates on templates by Zemez? Don't forget to like us on Facebook and sign up for our newsletter. Our Instagram page is also a great source of news that is updated regularly by our creative team. If you have any thoughts about what we need to add in the future updates, post your suggestions in the comments. We are always happy to answer any questions you have about Intense and other templates & themes we offer.