Best Responsive HTML5 Templates for Your Website
Best responsive HTML5 templates have simplified and revolutionized the way websites are created these days. Because of an increasing number of smartphones and tablets, every website needs to be responsive or at least have a mobile version. A successful business or startup relies on its website a lot. And it's not only for promotional or marketing purposes. A mobile-friendly and professionally designed site allows reaching out to a larger number of potential customers. Also, a properly designed website influences your brand. That's why many companies invest a lot in web development.
However, it's not always possible to develop a professional website on your own. That's when HTML5 templates come in handy. Even if you are looking for something special, there's most likely a template that meets your needs. In today's post, we will talk about various HTML5 templates that can help you create an awesome website. Whether you need a creative portfolio or a website for your business, our selection of top 10 responsive website templates will be useful.
Before we dive deeper into the HTML5 templates that Zemez provides, be sure to check out our recent blog posts & WordPress themes. If you plan to build an attractive beauty salon website, the Roxxe WooCommerce theme may interest you. Also, we recommend taking a look at our tips for working with WordPress Elementor templates. They will help you get started with your WordPress website in no time.
Advantages of Responsive Website Design
To understand the advantages of responsive HTML5 templates, we need to take a look at the definition of responsive web design. It is a design and web development technique allowing your site to look appropriately on various devices. Any modern HTML website is based on responsive design. It ensures that your site will be available to a larger amount of potential customers. Moreover, this design approach has a set of other notable advantages, such as:
Easy-to-track analytics;
Increased conversion rates;
Improved search engine visibility;
Affordable site management;
Low bounce rates etc.
All these benefits and advantages form the basis of responsive HTML5 templates. These solutions include everything that a modern website requires. Furthermore, a well-developed template is easy to use. All you have to do after purchasing or downloading it is to unpack and upload it to a hosting server of your choice. Then, you get a ready-made website that you can fill with content right away.
Benefits that Our Website Templates Offer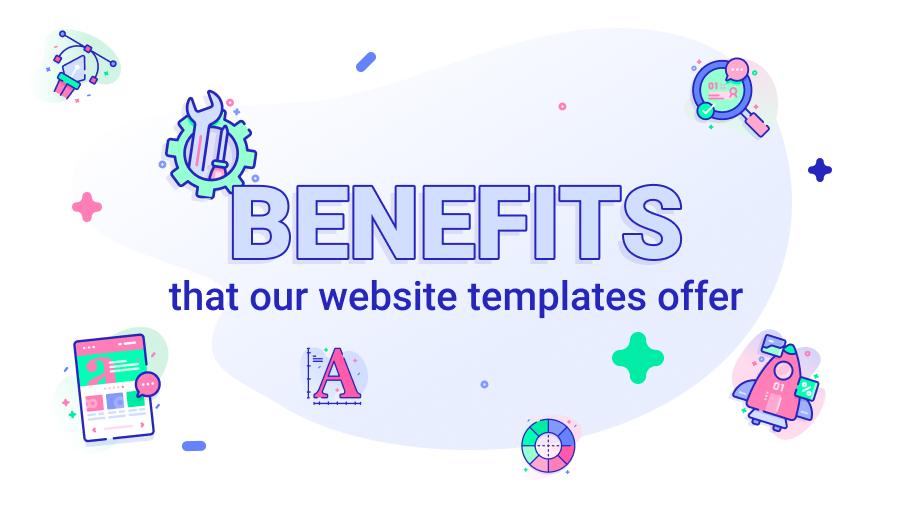 At Zemez, we aim to provide templates and website themes that have balanced price and quality. Our solutions are not only affordable but also feature-rich. Our team regularly creates new website templates that meet the current web design standards. When creating new responsive HTML5 templates, we also take into account what our customers need. From innovative web technologies to a variety of content, there are lots of options in every template we offer.
Innovative web technologies play a leading role in our template's performance. We aim to combine time-proven technologies and our team's achievements with innovative trends in web design. From Bootstrap 4 to customized widgets and UI kits, every HTML5 template we provide contains a wide range of options. Even if you are not a web developer, you can easily choose what you want in each of our templates. Other notable technologies provided with solutions by Zemez include:
Bootstrap 4 responsive & SEO-ready layout;
Parallax scrolling effect;
Impressive CSS3 transitions and animations;
Working forms and sliders, etc.
These and a wide range of other features and benefits make our templates perfect for any purpose. While most templates we develop are built to fit certain business spheres, you can adapt them to your site easily. Besides, you can use our multipurpose solutions. They have multiple page layouts and child themes. Being packed with a variety of topics, any of our responsive HTML5 templates will fit your future website.
Top 10 Responsive HTML5 Templates by Zemez
Now, let's talk about our 10 best responsive HTML5 templates. Designed by an experienced team of professionals, these solutions can easily make your website noticeable. Our top 10 templates include multipurpose templates as well as websites for mobile applications. Also, our solutions are designed to be easily editable. This means you can create any kind of website you want if you decide to use any of our solutions.
Besides being feature-rich and well-designed, our solutions are built to last. Besides a variety of visual and functional advantages, you also get a reliable starting ground for your website. From customizing pages to creating a unique UX, there's a lot you can do with our templates. This is true for both multipurpose and niche templates. Even if you're not a developer, you get a wide range of opportunities with each of our solutions. Now let's look at every template in our today's selection in detail.
1. Monstroid2 Multipurpose Website Template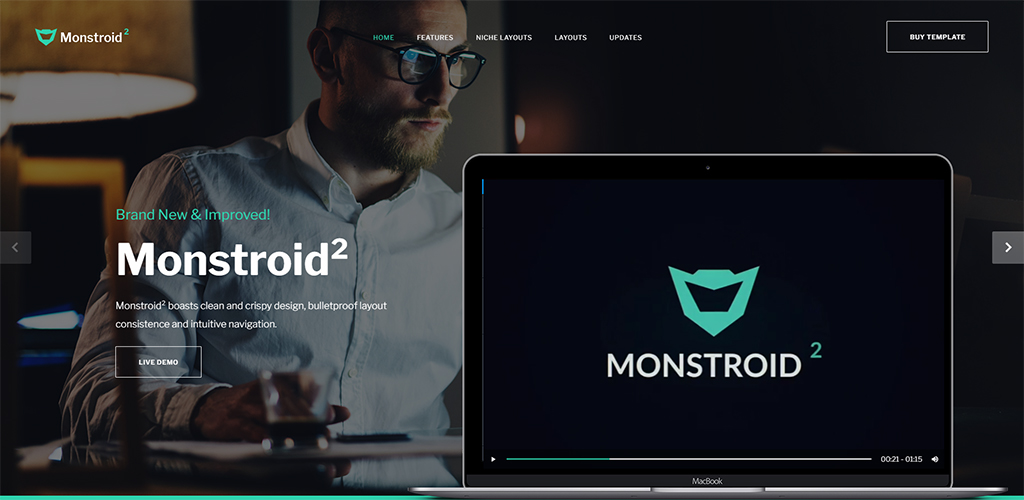 One of the most popular templates created by the Zemez team is Monstroid2. It contains a wide range of awesome features and ready-made page layouts. With over 20 pre-designed child themes, you can easily create any kind of HTML5 website. From a modern hotel to a cryptocurrency exchange, Monstroid2 offers a wide range of topics. Furthermore, every page of this template is supplied with a variety of awesome features. They include a flexible grid system, increased responsiveness, Novi page builder, diverse blog, shop, and gallery variations, etc.
2. Multipurpose Intense – #1 HTML Bootstrap Website Template
Another great solution you may consider is the Intense Bootstrap website template. It is a multipurpose solution that provides you with lots of tools and features to easily create the website of your dream. With 10 Homepage layouts and 12 child themes, there are no limits to what you can create with Intense. This HTML5 website template includes both modern and classic versions of Intense. The first one has a component-based coding approach with various features and a new design. The classic Intense gives you access to over 20 landings and child themes. It also includes various skins & page layouts. Both versions of Intense also support Novi Builder and are well-integrated with it.
3. Brave Theme – Multipurpose HTML Website Template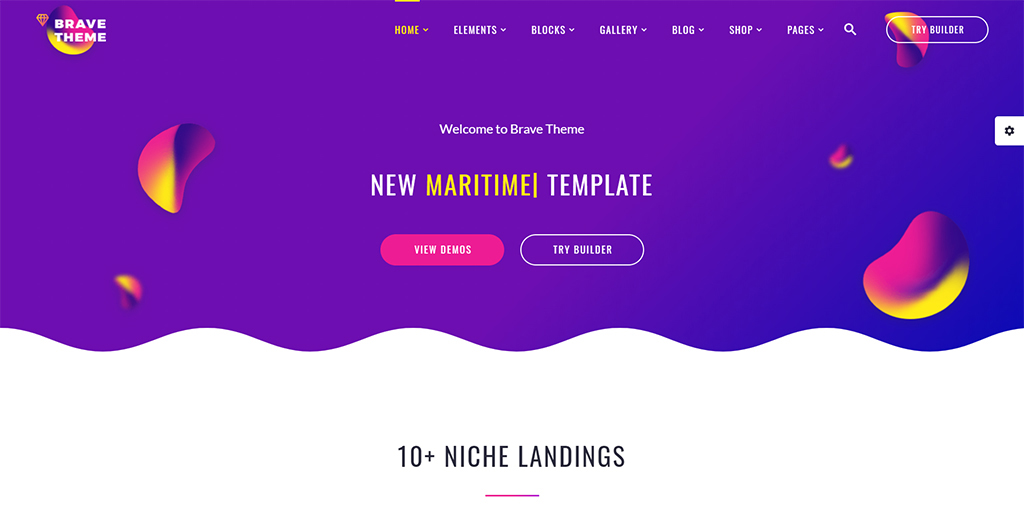 Brave HTML5 website template provides everything you need to build an attractive website. Regardless of the business area, rest assured that this solution has what you need. With over 100 pre-designed pages, there's a lot to choose from. Also, you can freely use the included elements and blocks to customize your website. The impressive effects and pre-designed landings will make it easy for you to start developing your own website. Whether you need a transportation company website or a personal portfolio, Brave has it all.
4. Starbis – Business Multipurpose Bootstrap 4 Website Template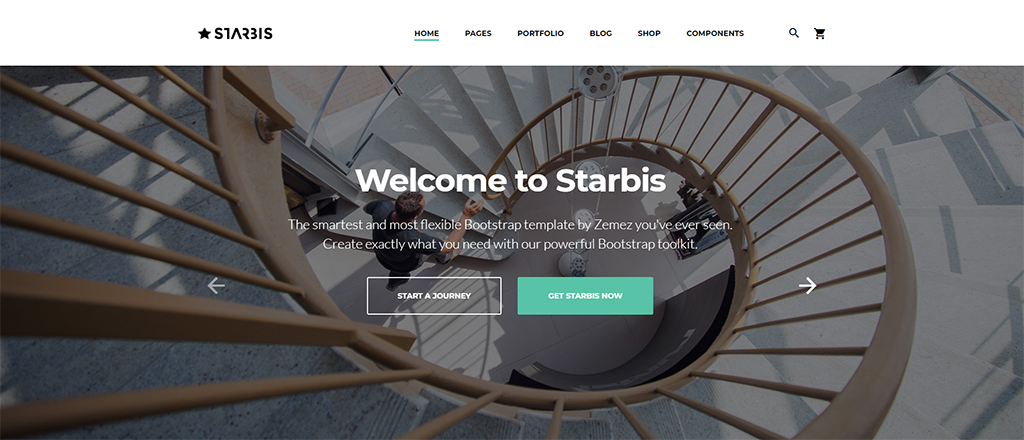 This HTML5 template is more business-oriented than any other solution we've worked on. The Starbis includes over 10 child themes and landings for various topics. From business consulting to insurance and audit, our solution is tailor-made to fit a wide range of business spheres. Furthermore, this HTML5 responsive template is also highly feature-rich. It contains a variety of CSS3 animations and effects. Besides, our template provides a wide range of page layouts. The Blog and Gallery pages are also included. Moreover, the template is provided with a set of eCommerce pages.
5. Alice – Application Multipurpose HTML5 Website Template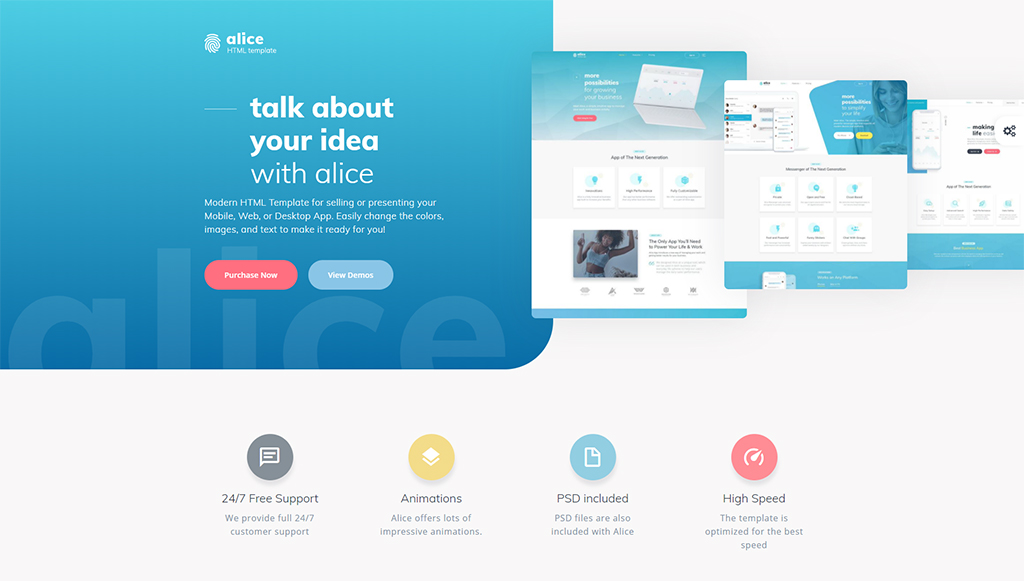 If you are looking for an easy-to-use and impressive website template for your application, Alice is just what you need. It was specifically designed to meet the requirements of modern software companies. Also, this template will allow you to advertise the features of your app effectively. it includes 4 homepage layouts for mobile app, desktop app, messenger, and web application. A wide range of pre-designed pages, forms, and elements will make your site more informative, customizable, and interactive. And perfectly integrated transitions and animations will help you attract your customers' attention.
6. DreamSoft – Software Development Company Multipage Template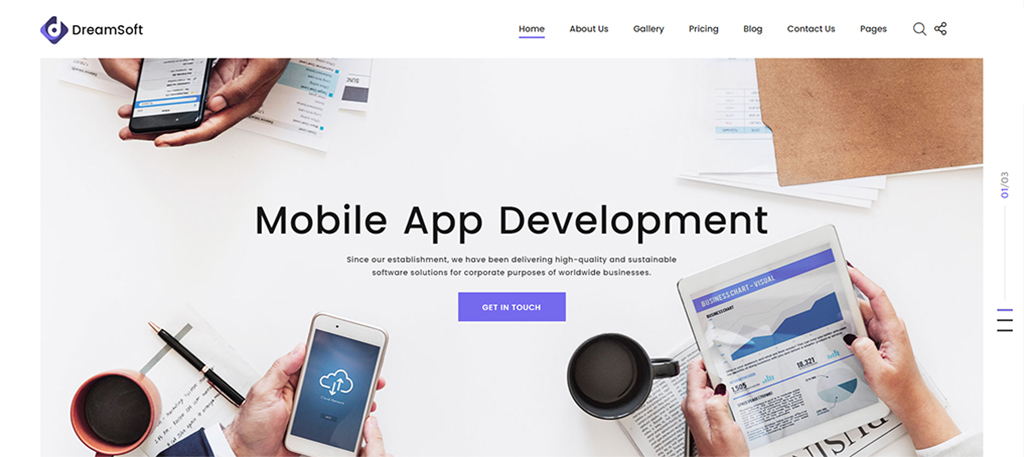 Software companies often require a special approach to website design. Such sites should not only be informative but also visually attractive. That's exactly what we tried to achieve in DreamSoft. This HTML5 website template was designed specifically for software companies. Like any HTML5 template by Zemez, it looks impressive and has various features. From various blog and gallery layouts to a wide selection of elements, it has a lot to offer. The integrated working forms, Google Maps, and Google Fonts will help you make your website more interactive and highly informative.
7. theFuture – Web Design Multipurpose HTML5 Website Template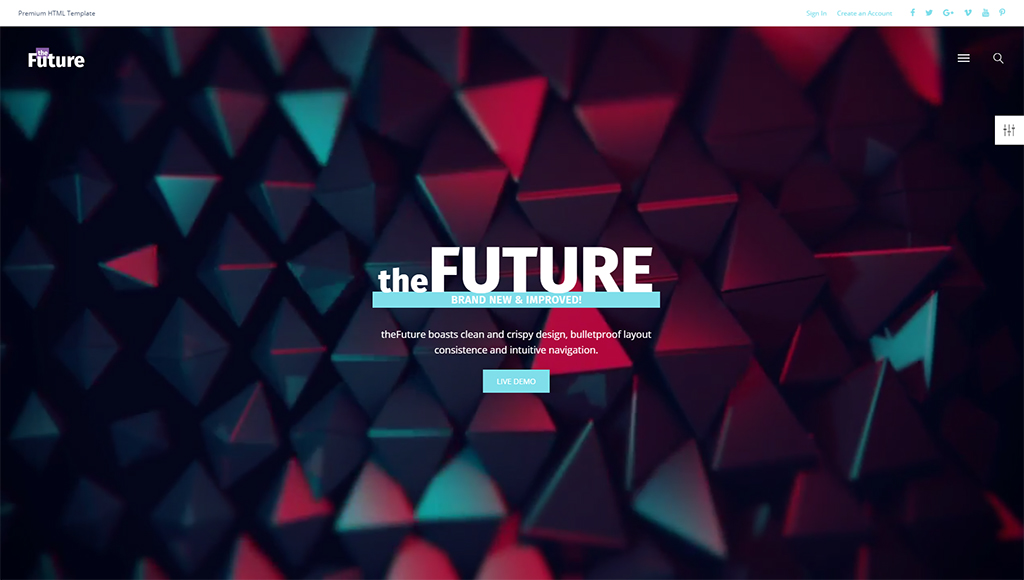 theFuture is one of our most comprehensive web design agency templates. It includes everything a modern web studio needs. From impressive design to a set of awesome features, this template offers you a lot. Our solution provides your site with over 8 meticulously crafted home pages. A variety of headers and footers will make your website more attractive and informative. Our solution also includes lots of pages to promote your web design services. You can easily showcase your recent projects & achievements. Moreover, it is simple to blog about web design news with this template.
8. TechSoft – Software Development Studio Website Template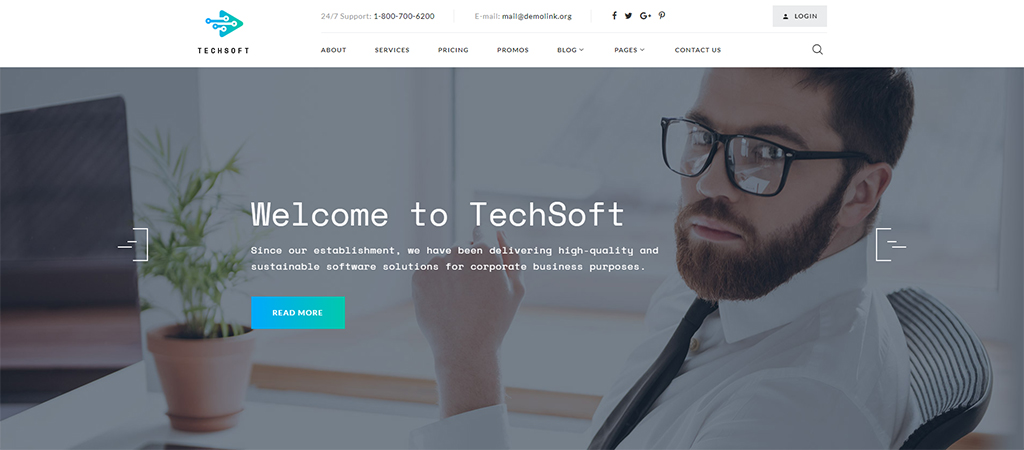 Do you need to promote a bunch of software development services? Then the TechSoft HTML5 template will be a perfect choice for your site. With a wide range of benefits it offers, this template provides a perfect starting ground for an IT website. For example, you can use the pre-designed pricing tables to effectively promote your services. It is also possible to blog about your company's updates. The template is highly customizable due to the built-in UI kit. It also includes a set of working forms for a newsletter signup and contact pages. And of course, this solution is 100% responsive as it is based on the latest version of the Bootstrap framework.
9. Modicate – Web Design Studio Website Template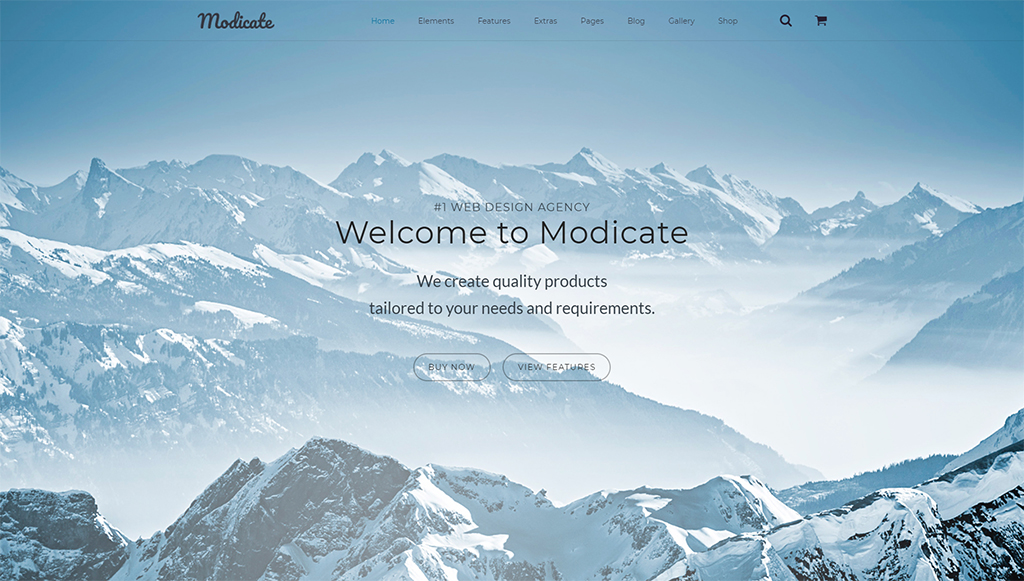 Modicate HTML5 website template was specifically designed to fit modern web design studios. This solution includes 2 homepage layouts and a variety of pre-designed pages. An extensive UI elements kit is also available. Moreover, this solution is eCommerce-ready. With Modicate, you can quickly set up a multifunctional online store. Furthermore, our template allows you to create informative blog posts. With the 4 different layouts that this template has, you can effectively show your recent projects & achievements.
10. Construction – Construction Company Responsive Multipage Website Template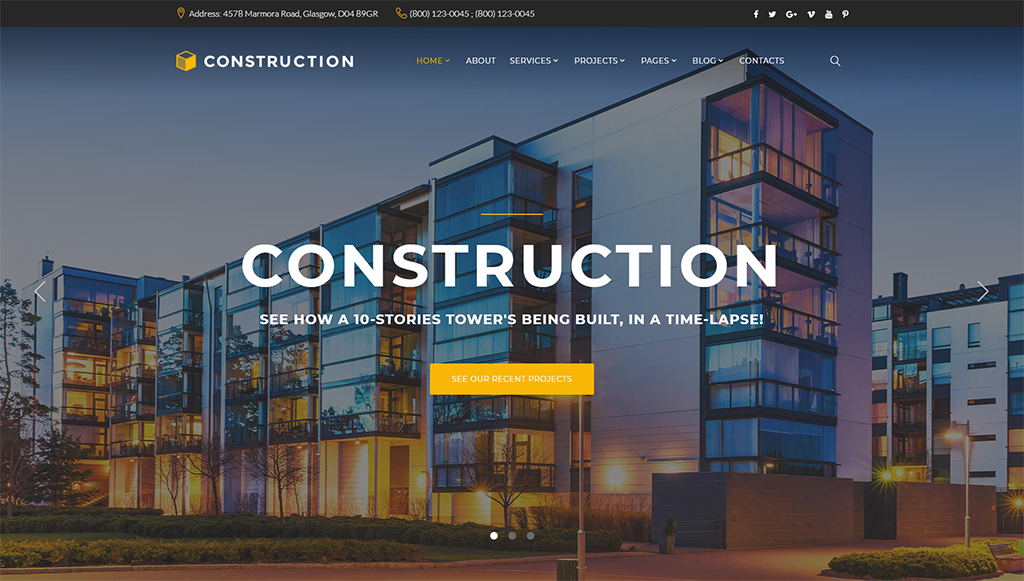 Construction companies heavily rely on the websites that allow promoting their services online effectively. Our Construction HTML5 website template was designed to help businesses in construction and architecture spheres. The template offers a wide variety of options and features. For example, you can taker advantage of sliders, forms, and a wide range of elements. Besides, this template provides a wide choice of pre-designed pages. With a stunning gallery and informative blog pages, you can quickly make your site content-rich. And the supplied headers and footers will improve the usability of your website. If you need a template to promote your services, Construction the best choice.
Best Responsive HTML5 Templates: Conclusion
We hope that this selection of responsive HTML5 templates will help you choose what you need for your future website. Whether you are planning to launch a store or a blog, we will make sure to meet your goals. You can expect the utmost level of customer service and professional support at all times from us. Whatever your level of experience is, we will help to create the site you need.
If you are looking for the latest updates from Zemez, don't forget to like us on Facebook. Also, feel free to follow us on Instagram for news from our team. We regularly post updates on our website templates and themes. If you are new to web development, we recommend reading our blog for various tips. And if you have any questions about the templates or any other solutions we provide, feel free to ask them in the comments.