The online furniture market is developing at a rapid pace. Today it is one of the most highly competitive niches. The quality creation of the furniture store website allows you to stand in line with leading business representatives. Potential customers today are looking for information online in advance. Online shopping today is becoming more convenient and comfortable for many. Creating a furniture sales site means investing in positioning your business among competitors and presenting your services to a wide audience.

Do you want to make an online store for selling furniture? Or do you just want to make a promo site to show furniture and interior details? A very important moment for customers. The site is an understandable business tool. You will be able to entrust work on the site to any employee, he can deal with the panel quickly and easily. The visual editor is very convenient for all users, and you will definitely appreciate it. You can immediately see the end result in editing mode. The simple and functional template of Timber Shopify will easily complete all your tasks, help launch the site in the shortest possible time and attract new customers to your business. Moreover, you will get an elegant SEO optimized well-structured website with a unique template. The theme features an excellent interface and creative design. All this will be a great start to your business.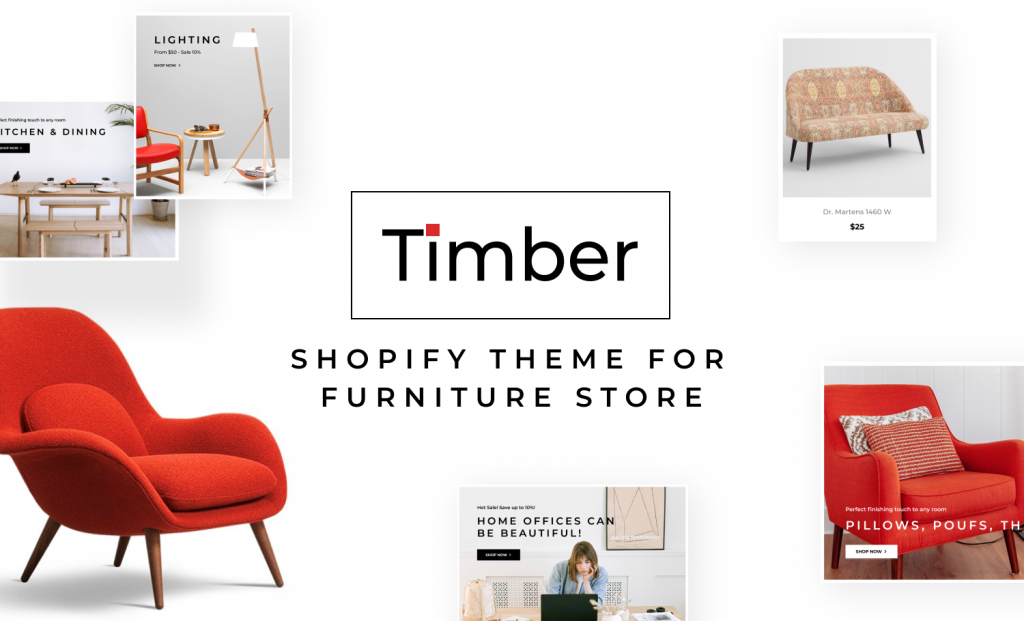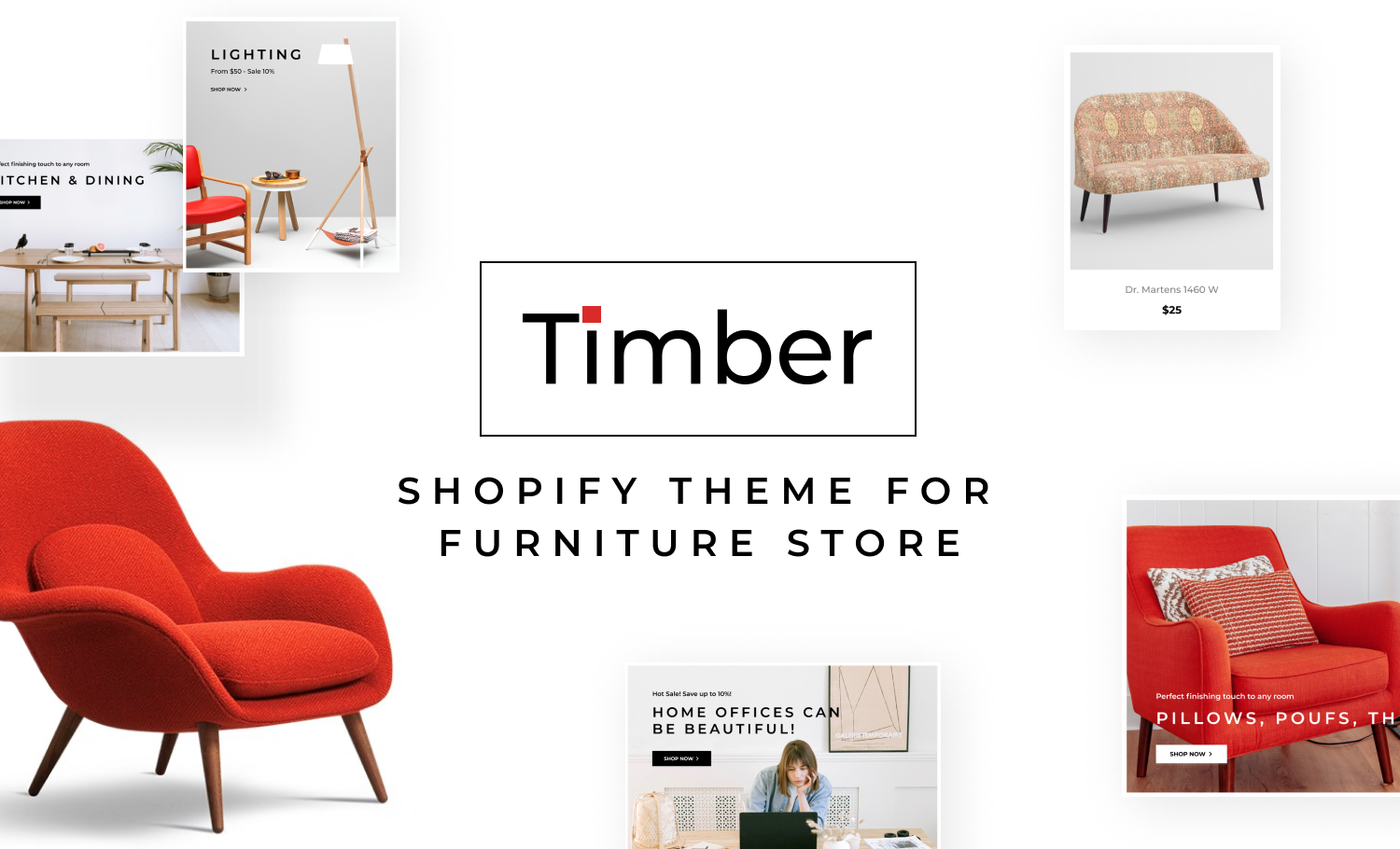 Timber Shopify Theme for Furniture Store & Home Interior
The template for the development of the furniture store should have sufficient space for overview information. There should be a clear directory. Now even furniture is readily bought via the Internet. Firstly, the Timber Shopify template has the functionality, that will open the way for you to fill the galleries, for illustrative examples. Secondly, the Timber theme will help you provide customers with a convenient shopping experience. You will see that this factor affects the number of orders very much. In Timber Shopify you will find many images. Images will help you build high-quality content and interest the client. Your project can be provided with any color character for selling furniture in different styles. Most importantly, using the Shopify template, you will be able to launch a site where each segment is thought out. This template is specially prepared for your satisfied customers.
The main task that always faces any resource is the organization of sales. For instance, the Timber Shopify theme is fully prepared to properly organize your business processes and online sales. Here you will find a complete set of finished pages where you can fully realize all the power of your store. However, the most pleasant thing is that you can definitely start your resource yourself. It can be modified, updated, and automated to fully customize sales.
Do not doubt – your project can be carried out in the best possible way. Using the Shopify theme, you will create a unique and creative resource that will become your best assistant in business development.

How to create a drop shipping store with Timber Shopify?
A quality creative site will help you stand out against the competition. This template will help achieve this in a couple of clicks. For the Timber Shopify theme there are many possibilities:
Navigation, allowing you to quickly navigate to the required section
a block for inserting an image that will serve as a recognizable logo for the organization;
block to describe company information;
section to describe company benefits;
section for informational articles of thematic orientation, which will allow visitors to get more useful information;
catalog with furniture that can be ordered (it is possible to set a short description and specify the cost for each model);
block for offering shares and special offers;
section to post feedback from users;
feedback form.
In other words, creating your site is now more easy. Use the selected template, fill the site with content and bright photos. With such simple actions, you will get a bright and unique site design that will help you to increase the flow of customers, and with them the profit generated.
In short, you no longer have to spend on expensive specialists and get an unsatisfactory result. You can quickly do everything yourself, and you will not need specialized knowledge for this. Try and make sure for yourself.
The finished site requires substantial financial and temporary infusions. Often, those who plan to do drop-shipping do not have this opportunity. This is the best solution for a startup or a small business. You invest a minimum of money and start getting a result right away.
To clarify, Shopify offers a furniture site template with which you can create a unique, bright design, insert the necessary information, and start promotion and sales.
Stylish and functional online furniture and decor store
To create a quality furniture site it is gentle to consider some important things. Firstly, you need to make a catalog with high-quality photos. Photos must be in multiple sizes and angles. For soft furniture, you need to prepare a detailed description of the upholstery and other materials used. Besides, for case furniture you will need photos of fittings, exact sizes and photos in the interior.
There must be a section on the materials from which the products are made. A detailed description is important for selling furniture from any materials. Visitors should clearly represent furniture, understand whether it will fit into their interior.
Moreover, if you have your own furniture production or own an assembly shop, tell us about it. People will know about all stages of production, about the raw materials used, and the technical base. This approach will increase consumer confidence.
We recommend providing convenient navigation for visitors to your site. Any furniture site should have a convenient catalog. That is to say, this catalog should ensure the correct separation of goods by type, manufacturers, and brand. Well-structured information will help customers quickly find and buy the desired item.
Also, you should not overload product cards with parts. Product descriptions should be simple and understandable to visitors. For instance, specify the dimensions, weight, country of origin, and price. If you want to say more about something, add a separate page and specify a link to it. Leave the opportunity to contact the manager who will provide details about the item. A functional online business that brings revenue to the owner is now available to everyone!
Increase sales with the Timber Shopify theme
All settings are easy to make with the Shopify theme – it is created precisely to facilitate your work process. Shopify will allow you to build marketing and a sales strategy. If you just start working with your store, Timber Shopify will give you new inspiration of course. Shopify will give you easy and comfortable work, because permanent technical support works for you. It will help you make all the necessary settings for your site. This makes the platform the best e-commerce solution today.
If you're a seller, you know that offering your customers multiple payment options is good. Shopify offers many available payment methods, such as credit cards (through several gateways), PayPal and even BitCoin! There are also more traditional options.
Other benefits include fast loading and high performance. You can also integrate it into your physical store and manage inventory, sales, and customer data with a single resource.
The topic provides a quick purchase, this process is as simplified as possible for your visitors. However, you can also accept payments in different currencies. This means, that the operation of your store is possible around the world, absolutely without restrictions.
Other benefits include fast loading and high performance. You can also integrate it into your physical store and manage inventory, sales, and customer data with a single resource.
By default, Shopify will email customers about an abandoned shopping cart after 2 specific time slots, but you can also configure these options. This feature is designed to monitor customers who have not completed the ordering process. With contact information provided by customers, the pending purchase process will be saved as an abandoned cash desk. Shopify will send messages to customers about the abandoned cart after 2 specific time intervals. You can configure these settings yourself.
Adaptive template – the best solution for your business
Timber Shopify Theme is the perfect choice for you. Creating an online store with Shopify will definitely help you fulfill your tasks. Any investment in your site will be exactly justified.
We recommend paying attention to the Timber Shopify theme. It will be useful for you, if you want to expand your presence on the Internet. For business owners, Shopify offers flexibility and the ability to grow your business. Shopify has everything you need – from creating a product page to shipping or downloading. In other words, with Shopify, you have every chance to increase your sales by integrating with their latest technologies.
In other words, using this theme, you can sell physical goods around the world without having them available. You do not need to have your own warehouses, carry out an inventory, and ship the goods yourself.
Your store will fully comply with your brand, because you will perform the settings yourself. And most importantly, it will have a number of important functions that will make your site more interesting and please your visitors.
In conclusion, a modern theme that easily adapts to the requirements of all modern browsers. Responsive theme design is optimized for SEO to use it, you only need to fill in the template and run. It is supposed to provide high-quality customer support, modern code and fast download. The built-in panel allows you to change the design to your taste, and it will not take much time to set up. With a quality Shopify theme on hand, you start your online store with a great design for e-commerce. All you have to do is set up a little, add branding, describe your products and start optimizing online sales.