SaaS, or software-as-a-service, is a business model where a company offers programs on a subscription basis. Most often, we are talking about a cloud solution: the company's product is located on servers, and the client gets access to it online for a monthly fee. There are a lot of SaaS-based products today. The most standard examples are a mailbox or any office application (for example, Microsoft Office 365).
SaaS provides a complete set of software that you pay to the cloud provider as you use it. You lease the use of the application to your organization and your users connect to it over the Internet, usually using a web browser. All underlying infrastructure, middleware, application software, and application data reside in the provider's data center. The Service Provider manages the hardware and software under an appropriate service agreement and ensures the availability and security of applications and data. SaaS-based products allow your organization to quickly launch an application with minimal upfront costs.
A great SaaS implementation is Shopify. Shopify offers everything you need to start an online store. It has a high popularity, so maybe you should consider using this platform too. Shopify can be one of the most considerable all-in-one eCommerce solutions out there, and in most cases, it's suitable for any kind of business.
SaaS-based products have a number of benefits for users:
Lower initial cost. The SaaS model is typically subscription-based and requires no upfront licensing fees, resulting in lower upfront costs.
Fast installation and deployment. The SaaS application is already installed and configured in the cloud. This minimizes the delays that come with the lengthy deployment of traditional software.
3. Simple updates. SaaS-based products providers handle hardware and software updates by centrally deploying updates to hosted applications and removing workload and responsibility.
Availability. All you need to access the SaaS application is a browser and an internet connection. This is usually available on a wide range of devices and from anywhere in the world, making SaaS more accessible than traditional software.
Scalability. SaaS providers typically provide multiple subscription options for users to change as needed, such as when your business grows or more users want to access the service.
Ability to test the software. Most SaaS applications allow users to first test or try out the application to see if it has commercial value.
You are interested? Let's look at Shopify as an example of how you can use this solution for your business.
Shopify – leading eCommerce Platform 2022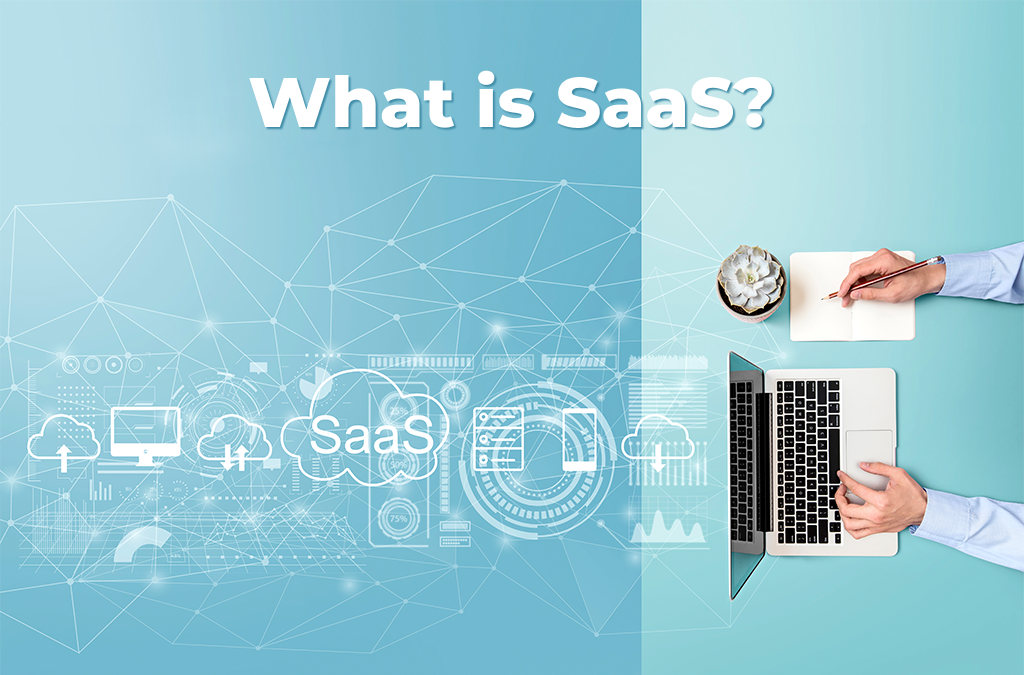 Established in 2006, Shopify is a SaaS eCommerce platform that allows you to sell products to customers anywhere in the world, giving you access to all the products you need to run an online business, such as marketing, customer acquisition, shipping, and payment tools.
The platform makes it quick and easy to open a store with tons of incredible features for you to use, including store analysis and an extensive app store. When choosing Shopify, you can choose any of the provided pricing plans.
Shopify offers hundreds of add-ons and functionalities, making just about anything possible for your online store. This means that you are not limited by the functionality of the theme you have chosen. You can endlessly expand and improve any Shopify SaaS products so that their functionality fully meets your requirements.
Ecommerce is at the heart of Shopify's core product, and as such, you only get access to the best marketing, shipping, and SEO tools you need to make your online business successful. Of course, you can use any Shopify theme for non-commercial purposes. It can be your thematic blog or the site of a charitable organization. Shopify will provide you with the best solution, no matter what your business is.
Safety and reliability is the point that has not been in doubt for a long time. Shopify offers SSL and PCI certification to encrypt all data, so you can be sure that your site and its data are safe. Also, all the data of your customers will be safe.
And, of course, what worries newcomers the most? Technical support. Yes, with Shopify you get constant professional support. You also get detailed documentation on installing and configuring any theme, so you can be sure that you can easily handle all tasks without third-party specialists.
Regardless of which platform you use, you need a strong marketing campaign to set things up for success. Getting yourself familiar with popular marketing apps would help you to get things started in the right direction.
Shopify SaaS-based products
As you can see, Shopify really provides complete solutions. You can also easily customize them for your business. These SaaS-based products are simple and effective. And most importantly, they are present in every Shopify product. Shopify offers a fully-featured eCommerce system with monthly payment plans that allows you to access a dashboard where you can enter your store details, add products, and process your orders. In addition to that, it allows you to enhance your eCommerce site by providing free themes and tools. Shopify is a good starter system for anyone thinking about starting an eCommerce business.
Online shopping is one of the most popular online activities worldwide and the industry is booming. When it comes to online shopping, you can't miss out on Shopify, which has long been synonymous with eCommerce. We suggest focusing on the most useful topics that will definitely interest you.
If you have a business that needs an amazing website, you can use one of the themes below. Surely, this list makes it easy to find the perfect design. Whether you have a large inventory, sell a single product, or are just starting out, there is something for everyone in this collection.
Many of the SaaS-based products in this collection are built to support a wide variety of stores. They are often equipped with multiple designs, unlimited color options, and various fonts. When it comes to creating a unique site, technical features are just as important as styling features.
Vendy – Multipurpose Shopify Theme for Fashion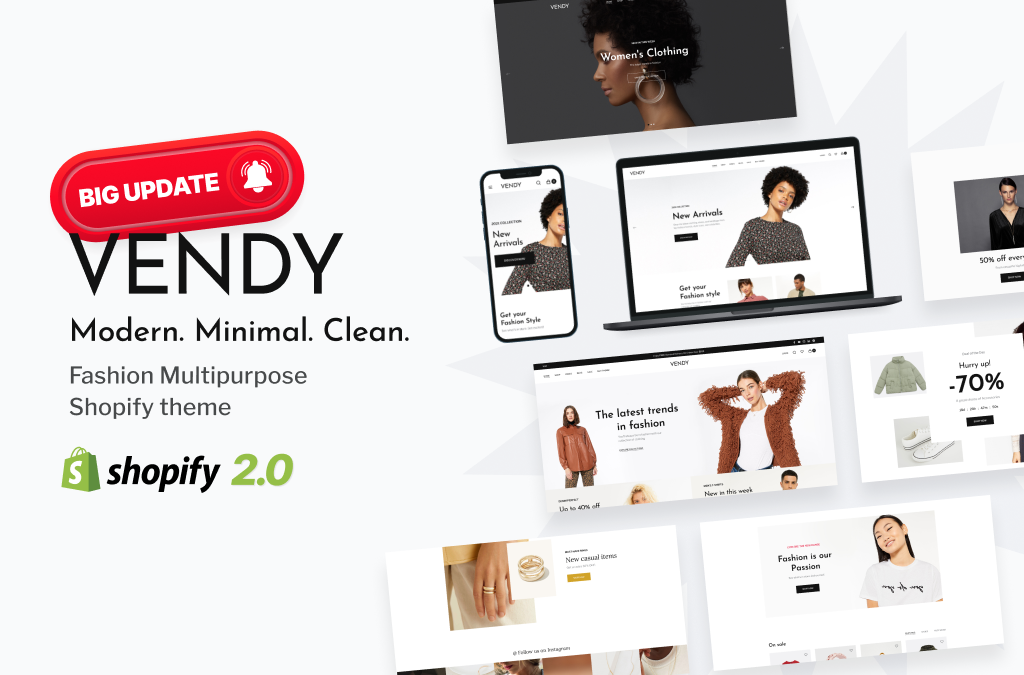 We will not prove to you once again how profitable it is now to create an online clothing and accessories store. If you've ever thought about it, just get to know Vendy's theme. The popularity of online clothing and footwear stores is constantly increasing, so why not use this to build your business? Perhaps one of the best eCommerce platforms in terms of price/quality ratio remains Shopify. The platform is completely open, and absolutely each of us can use it.
Vendy is a very modern and stylish template with an original design for creating an online fashion store. It is also suitable for selling shoes or accessories. You might even want to blog here, why not?
Vendy will be the perfect solution for your current or future store. It has all the necessary tools and modules to create a super-fast website with an amazing design. A wide variety of numerous layouts and styles allows you to create different structures and meet any specific requirements.
A multi-purpose theme allows you to create different structures for the functionality of your website. It can be a 1-click purchase or additional widgets for your fashion store. With detailed documentation and dedicated support, you can achieve much more with this product than you might expect from most other templates.
Mysterio – Multipurpose Shopify Sections Theme Store for Fashion and Beauty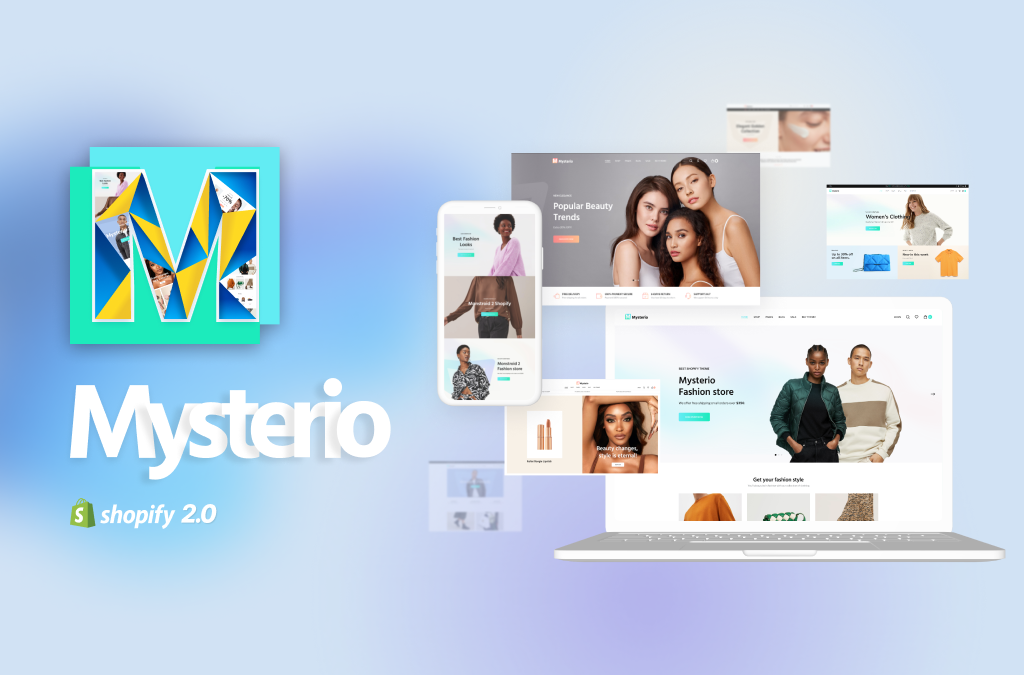 Many users have already rated this Shopify template highly. It is really reliable and efficient for running any store. This theme embodies all the current trends so that it can fully meet your requirements.
Mysterio is a fairly new template, but it has proven itself very well. It comes with a powerful search module, easy navigation, and pre-designed layouts with pre-made sections. You can rearrange and combine all pages as you wish. Mysterio will help you quickly create a website with one of the demos and then customize your content. Mysterio can also be upgraded with additional plugins. A convenient visual designer allows you to create as many design options as you want. The Shopify theme uses Bootstrap 4 and is highly optimized for speed. With the best UI & UX interface and a number of useful features, you will completely increase your store's sales.
Theme Benefits:
1. 10 homepage designs.
2. Product detail page.
3. Constructor-mosaic.
4. All eCommerce tools.
5. Compatibility with browsers and search engines.
Sirius – Handmade Minimal Shopify Theme Store for Dropshipping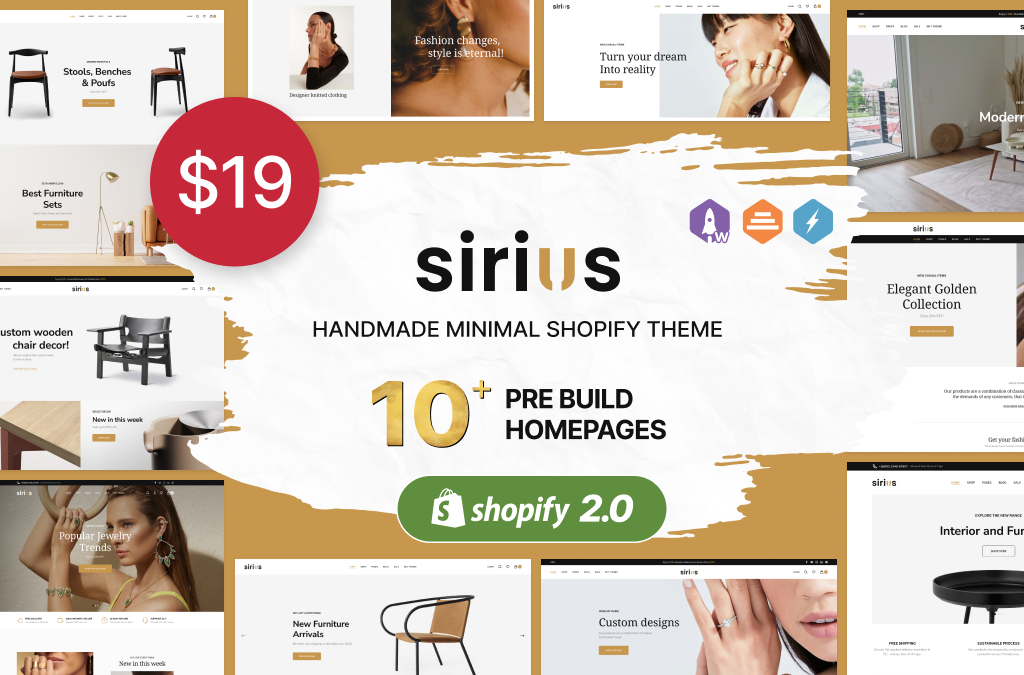 Sirius is a multi-purpose Responsive Shopify template. This is a modern and niche eCommerce template that is perfect for your business. First of all, it should be considered by those who plan to engage in dropshipping. Sirius includes 10 variants of home pages and detailed product pages. You can also create a convenient catalog and upload a selected number of products. The theme is constantly updated with additional features.
This is a super-fast theme with a one-click installation. For many aspiring entrepreneurs, Sirius is a convenient way to quickly build a professional website. This theme works well with a number of different ones. For example, here you can create various promotions and run ads. Your customers can enjoy simplified shopping, abandoned cart recovery, multiple payment options, and more.
We understand how important it is to have a good business website. That's why Sirius contains all the tools you might need. Use one of the proposed designs or create your own unique site – you can customize and swap all the elements yourself. Starting a store with Sirius will not take much time and effort.
Avanti – Shopify Tshirt Store Theme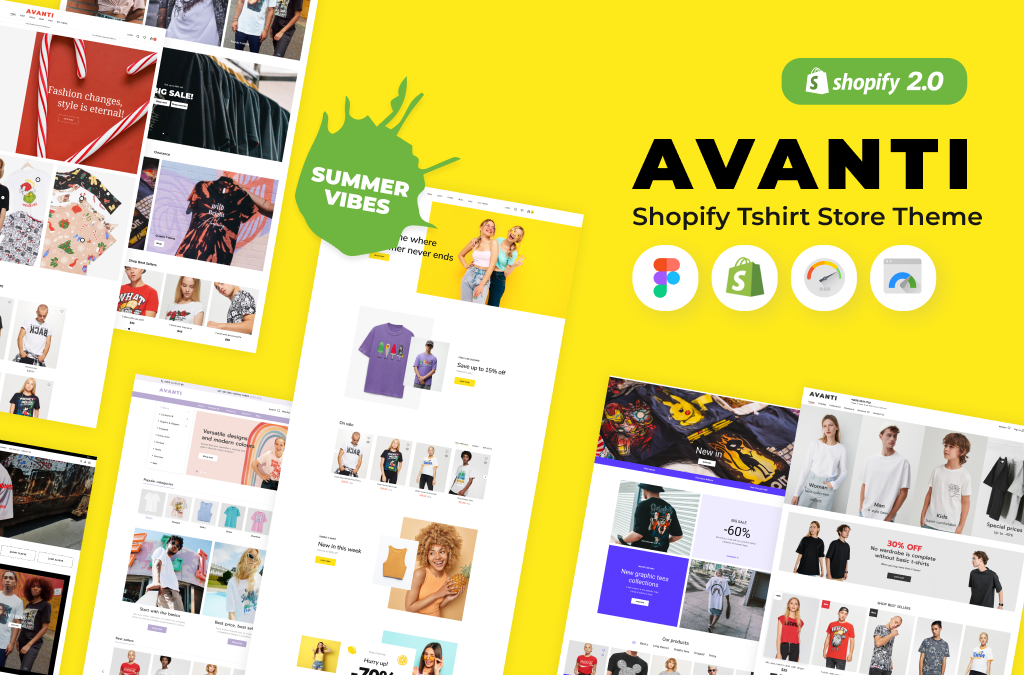 Avanti is a Shopify theme designed specifically for online shopping. A modern designer will help you create a unique store layout. Through the admin panel, you can further customize the look and feel of your site using a variety of options and settings. The theme is designed for an online t-shirt store. You can also successfully use it to sell other single products, accessories, and other goods. The theme comes with a Slider Revolution plugin that will present your products with maximum appeal. So that customers do not have to go to a separate page each time, you can set up a quick view of the product.
Indeed, Avanti's simple and functional design can be used for any purpose. This is the best choice for those who want to sell clothes, shoes, or other accessories.
A recent trend – minimalism – adds functionality to the theme. As a result, you get a balance between usability and appearance.
Avanti is a Shopify theme that both power users and hobbyists can use. If you want your store to be convenient and memorable, choose Avanti. This is the best theme you can use right now.
LuckyDogs – Pet Care Shop Shopify Theme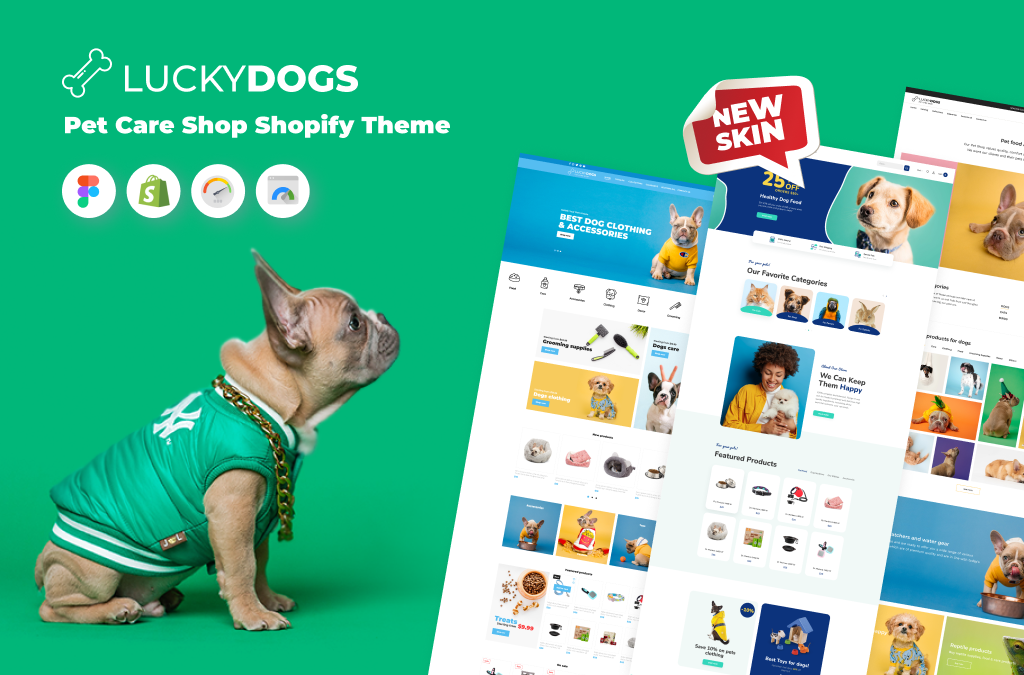 Of course, it is worth highlighting the topic of creating a pet store. Your choice today should stop at Lucky Dog. Just look at how functional it is. Perfect clean design, full flexibility, and adaptability. Sell ​​here all the goods that are necessary for pets. You can also develop a website with a blog, and social networks will help you find customers anywhere. The theme makes an unforgettable impression even on experienced users. Markedly that the design of the template leaves enough space for you to express your fantasies. Pre-designed pages, catalog, blog, contacts – what else would you like to use for your store?
Pet store website design will be useful not only for those who build an online pet store. But it will also come in handy when creating a veterinary blog, a web-based learning resource, or an online community. In any case, the site is an opportunity to express yourself to the largest possible audience. Thus, build a developing online project that can become a platform for promoting a large business.
Don't forget about your customers. For them, you can set up a clear catalog, convenient filters, and also a system for sorting goods. The set comes with six unique demo layouts. Template design uses pixel-perfect technology. Dynamic mega menu and amazing slider are supported. Lucky Dog is optimized for speed due to clean code. Your site will have very simple and easy navigation, which is definitely a big plus.
Conclusions
Pure multi-purpose saas-based products Shopify are perfect for building all kinds of eCommerce sites. All themes have multiple layouts for the homepage, headers and footers, product page options, custom pages, multiple color options, and plenty of font options.
You can change all the themes to your liking: icon, sidebar content, and customize the mega menu. There are also many other ways to customize your website with these themes that you can repurpose for multiple uses.
You don't need programming skills to create a website, so with SaaS Shopify products, you can create almost anything. You get a powerful and easy-to-use interface that allows you to update and maintain your site. Shopify also offers several subscription options so you can find the one that works best for you. Building the website of your dreams may seem like a daunting task, but hopefully, after looking at these Shopify themes, it doesn't seem so scary.
Now Shopify offers many options to solve your business problems surely. You can easily choose the most suitable among them.
Moreover, your Shopify store can be connected to platforms like Facebook and Amazon and sync your products.
And, of course, among all the applications, you can easily find those that add additional features and functionality to your store. These may include additional payment gateways and shipping options prior to integration with email marketing platforms. With so many solutions, you can quickly turn an ordinary store into a powerful eCommerce website.