Vendy Pro & EComposer is a unique collaboration that will help you to expand your Shopify eCommerce experience. Let's learn what is ECompose and how to get the partner plan.
EComposer Landing Page Builder
EComposer is an online landing page builder that enables users to create beautiful, professional, and mobile-friendly landing pages in minutes. With EComposer, users can easily drag-and-drop elements onto their page to create the perfect look and feel for their product or service. EComposer also features a library of pre-made templates and themes, so users can get their page up and running in just a few clicks. Additionally, users can customize the size and position of elements on their page, as well as adjust the font, color, and background of their page.
Essential FAQ Vendy Pro & EComposer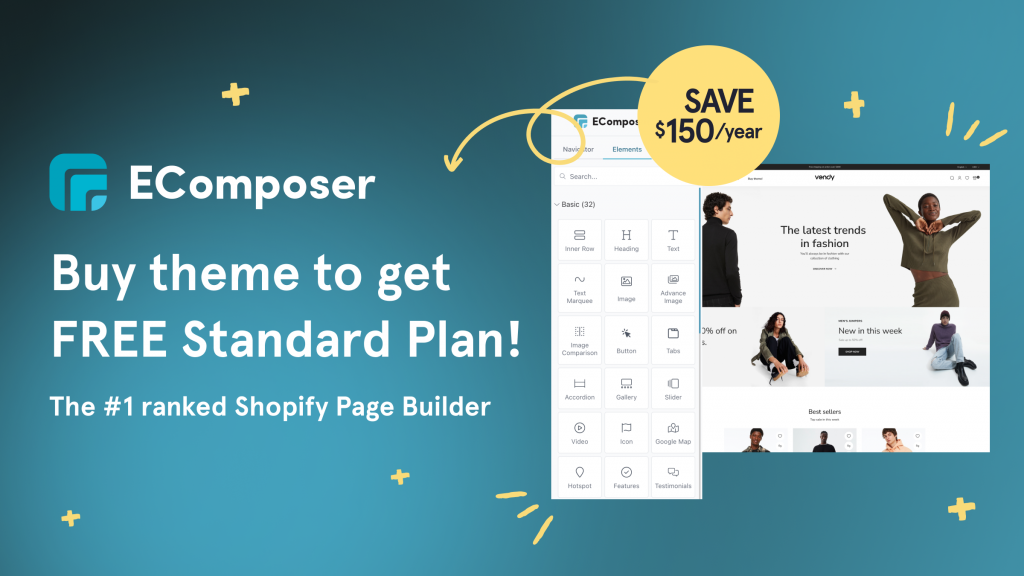 Exclusively for Vendy Pro users, you can get EComposer – Theme Partner Plan absolutely for FREE and start making unique, high-converting store pages today:
Get 6 months of 100% EComposer Standard for FREE (a $114 savings).
Easily build landing pages, sales funnels, lead pages, and other marketing campaign-specific pages on Shopify.
The Vendy Pro theme allows you to create advanced sections.
The number of pages and sections you can save is 50.
Pre-designed templates with 100+ professional designs.
EComposer Theme Partner Plan
This is an exclusive plan for users who build one of EComposer partner themes (like Vendy Pro, or Roxxe). Then you can install EComposer and enjoy 6 months free for the Standard plan (save $114).
What is the Vendy Pro theme partner plan?
To get the Standard Plan Free 6 months, simply purchase the Vendy Pro theme and install EComposer. Once you've accessed the EComposer dashboard, open the live chat to request an upgrade to the Theme Partner Plan with the message "Theme name + EComposer".
To verify your theme purchase, EComposer representatives will need the purchase code of your theme. Rest assured that your purchase code information will be kept confidential, as EComposer strictly complies with regulations on customer data safety and security.
What happens after 6 months of the free end?
After 6 months end, your plan will be auto-moved to the EComposer Free plan. In this case, you may need to unpublish some of your pages until they meet the Free plan limit.
You can also choose to upgrade to any EComposer paid plan to keep using the paid features. (Please notice that Ecomposer will never auto-charge/upgrade you unless you approve it). Feel free to read more about EComposer pricing plans here.
Vendy Pro and ECompser Summing Up
EComposer is a perfect intuitive editor that makes it easy for merchants to create any page type or section. There are a wide variety of elements, options, and templates available in the EComposer library. They ensure that even a beginner can customize pages easily. The most successful themes made by Zemez like Vendy Pro, and Roxxe are making collaboration partnerships to allow our clients to make their online businesses even more profitable.
Hopefully, this tutorial on how to get the theme partner plan using Vendy Pro Zemez theme was useful.