A header creates the first impression of your site, it is the first thing a visitor sees when visiting it, thus customizing header is of crucial importance. Let's find out how particularly you can customize it.
From this tutorial you'll learn how to work with the Header section.
A Header is a block of your website's structure, that can contain different elements, such as top panel, disclaimer text, contact information, search instrument and CTA button. This depends on a certain template design.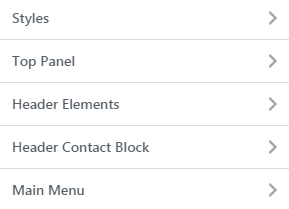 Usually, you can find it in Customizer as a block, which consists of several separate menus.