Sometimes you might need to put your contact information to some place, where it will be easily noticeable and will attract the attention of your visitors. A header can be a perfect solution of where to put your contacts.
From this tutorial you'll learn how to work with the Header Contact Block section.
Header Contact Block is a block, where you can embed the contacts, which you need to show in the header area, such as telephone number, email, and address.

Header Contact Block Settings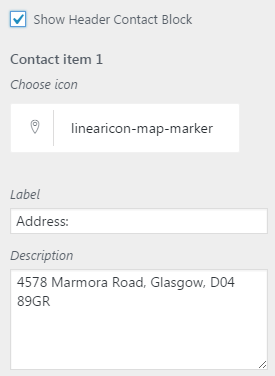 Show Header Contact Block — here you can enable displaying of a contact form in the header area.
Contact item — you can set up to 3 different contact items in the header area.
Choose icon — in this field you need to choose the icon you want to be displayed as a marker for your contact item.
Label — here you'll need to fill in the name of your contact item.
Description — enter the description in the blank field.
Managing Header Contact Block


Here is the way to add a contact to the Header Contact Block.
Choose the icon, that will be suitable for the particular kind of contact you want to show.
Add the label, that will tell what kind of contact is it: address, phone number, etc.
Add the description that will contain the address or the phone number.