What do you know about WordPress widgets? A widget itself is a part of some interface which is created to display specific information for the user. A WordPress widget has a specific meaning. It is integrated to create interaction of the sections that cannot be modified on basic pages for the user to be able to modify them in a particular way. So, regularly, you can change the content of such sections through widgets. Usually, you can access widgets via Appearance>Widgets or Appearance > Customize > Widgets tabs in website administration panel, which is called WordPress dashboard.
Let's have a look at "About Author" widget. It is used to display information about the author and consists of six options: title, select user to show, author avatar size, custom avatar image, link and link label.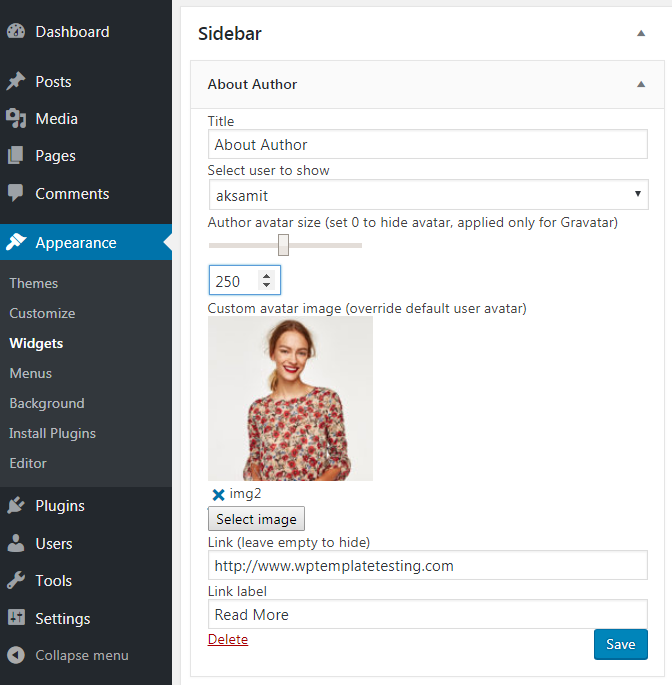 The first option shows widget's title.
Select user to show allows choosing the user who will be the author of the post.
Author avatar size is the actual dimension of the picture. If you want to display the gravatar set image size to 0. In this case, the avatar will be hidden and gravatar will appear on the website as author's picture.
Custom avatar image is the tool which is used to upload your own author's picture or custom avatar image.
Link label option gives you the possibility to insert a particular text you want to apply under the author's image, such as "Read more" button, for example. The link itself is a place where you can link text mentioned earlier in link label section to a particular URL that starts with http://www as an example.
Now, you are aware of all the features created for "About author" widget and ready to use it as an experienced person. Have a good luck!