Greetings to everyone who stays connected with us!
We are going to talk about one useful option which is available in WooCommerce themes. I bet that you wondered about how to import your product if you have created them before. There is such an effective tool which is called CSV import product file. This can be achieved via additional Product Reviews Import Export for WooCommerce    plugin.
Just log into WordPress Dashboard, click Plugins > Add new and search for Product Reviews Import Export for WooCommerce. Use Install button to integrate plugin successfully.
Once it is done, you need to open WooCommerce tab on the left of WordPress Dashboard. Here you'll see Product Im-Ex.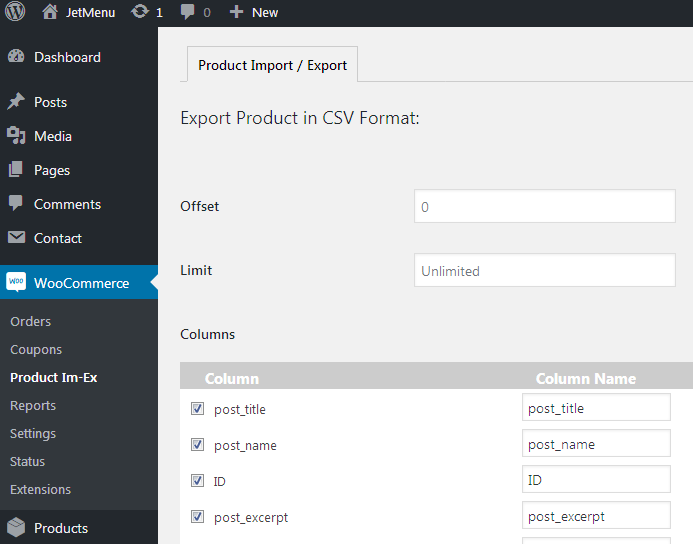 Let's find out how to use this plugin.

First, let's export WooCommerce products in CSV format. Select the database columns you want to export and check Include hidden meta data if you need it.
Then click Export Products button.  
Opening woocommerce product export .csv popup window will appear. Here select Save File and click OK button.
Now let's import .csv file. Scroll the page up and here click Import Products button. Check Merge products if exists option if you need to do so. 
You'll be redirected to the Merge Products page. Here click Browse button and select the .csv file you want to import. 
Select the preferable delimiter symbol.
Check Merge empty cells option if you want to merge the database table cells which are not filled.
You'll see Map Fields block. Here you need to select what information exactly you want to import. 
After everything is ready click Submit button. The importing process will start.
When the process is over you'll see Import Complete notice. Now you can view the imported products on your site.
Open Products tab on left in WordPress Dashboard and check the newly uploaded products. Open Media library section where you can investigate product images. CSV import file has been successfully finished. Feel free to modify products the way you need.