If you are running an e-commerce store, you will definitely need to know how to edit product tags since a product tag is a product characteristic that helps your customers to find the products in your store. They can be bag, camera, tool, etc.

  We are more than happy to present you the easy and quick way to edit product tags in your Shopify store just following our tips step by step.
 Step 1. Please, to go Products->All products section. 
 Step 2. Open the required product to edit and scroll down a bit to the section named Tags. It is better to see once than to read twice, so, please, the following screenshot is for your attention: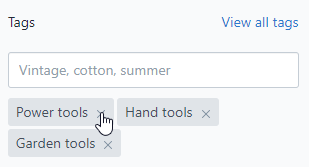 Step 3. In the 'Tag' section enter tags for your product. Use a comma to add more tags. 
Please, note, that you can easily remove the tag you prefer to get rid of. Just click on a cross icon next to the tag title.
 Step 4. Once you are done, save changes and refresh your product page.
We hope this article helped you to learn how to how to edit product tags in your Shopify store. Your attention is highly appreciated!
Stay tuned for our pieces of advice to best suit your preferences in the process of the theme customization.