Stand With Ukraine and Show Your Support
"Stand with Ukraine" is a worldwide campaign that emerged as an answer to Russia's ferocious invasion and war that was unleashed on February 24th, 2022. In a modern world, civilization unites against sudden violence and aggression. In various industries, many companies help Ukraine and provide all kinds of support. From humanitarian aid to peaceful marches and sanctions against Russia, the whole world supports Ukraine and the human rights of its citizens.
As we mentioned, such support covers numerous spheres. Web design and development is no exception. Before the war broke out, many foreign companies have invested a lot into the Ukrainian IT sector. Now they provide extensive contributions to web developers, designers, and other IT experts in Ukraine. This is also true for our company.
The team of Zemez consists of talented Ukrainian web designers, testers, and developers. Our products and solutions are created and supported by Ukrainians. That's why we couldn't stay aside when the war between Russia and Ukraine broke out. In this article, we are going to cover and explain what's happening in Ukraine right now and how our company supports clients and developers from Ukraine. We will also provide various ways of helping and supporting Ukrainians through donations and fundraising.
The global IT sphere supports Ukraine in its fight for a better future. Many companies direct their earnings to charitable organizations in Ukraine and worldwide. The website theme and web design solution providers also contribute a lot to help the Ukrainian army and citizens. For example, Crocoblock, Weblium, TemplateMonster, and MotoPress provide various ways of support for Ukrainians. Their support ranges from extensive donations to sharing the profit with charity organizations. You can also help Ukraine in many ways. But first, let's find out what exactly is going on in Ukraine.
Ukraine: What is Happening There?
For over a month, Russia has been terrorizing Ukraine and its citizens with frequent shootings and bombarding. Cities, towns, and villages throughout Ukraine have been suffering from Russian aggression. Many Ukrainians were evacuated due to the rising danger that has unexpectedly emerged. In a sudden moment, a peaceful country became a stage where different interests of Ukraine and Russia clashed. Even though the tension in the relations between these two countries has been increasing for almost two decades, no one could have predicted such a violent outcome happening in the XXIst century.
However, during these trying times, Ukrainians came together to fight back the unprecedented aggression. Other countries have also shown support in various ways to stand with Ukraine. Ukraine is well-known for its well-developed IT sector. The country has received required help from partners worldwide. This allowed some citizens to safely evacuate. Meanwhile, others remained with their families in the territories that are attacked by Russian armed forces. The situation also affected the sales of food and non-food products. The economy, in general, suffered from the worsening of relations between Russia and Ukraine. Such an outcome influenced web design and development companies located throughout the country.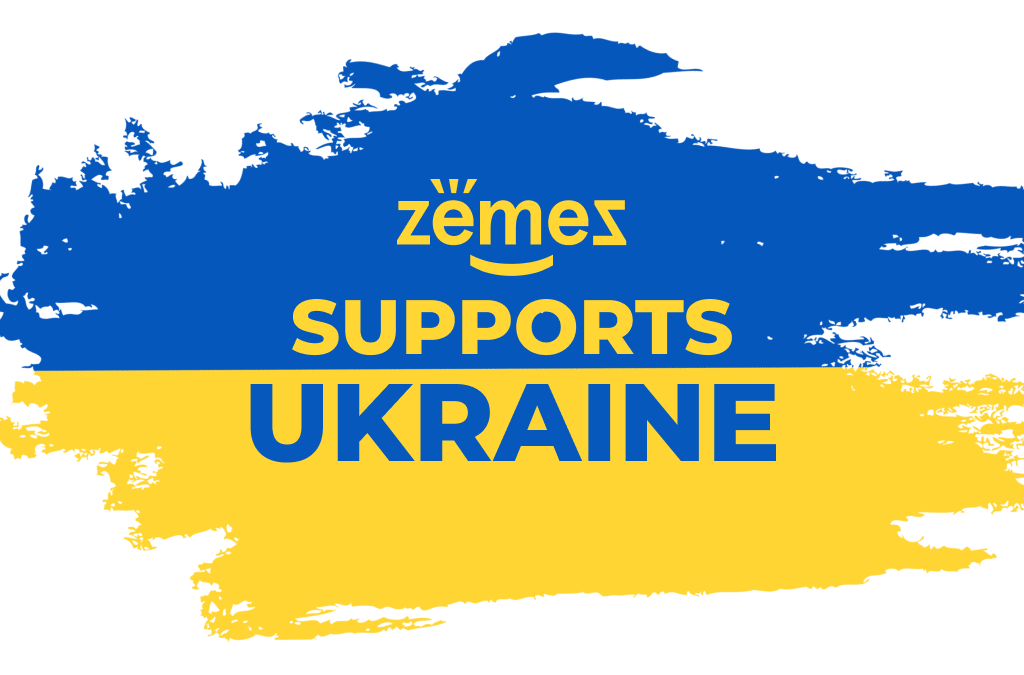 Zemez Team Stand with Ukraine
At Zemez, we wholeheartedly support Ukraine, including its designers & developers. For example, most of the income received from sales of our products goes to help the country fight Russian aggression. Alongside our company, many web design studios and website template providers have offered their help. The gathered funds are directed to the army and volunteers of Ukraine to stand against the violation of human rights and democracy. This helps not just regular Ukrainians but also the country's economy as a whole.
Ukraine has lots of talent, especially when it comes to information technology. From web development to cybersecurity and software, there are various acknowledged experts and potential geniuses. However, all of them are suffering from ongoing events. While some chose to evacuate, others stayed with their families and children in shelters. Our goal is to stand with Ukraine and provide financial and humanitarian aid. If you are our client or just want to help people in Ukraine, donating to charity organizations or purchasing our products is the best way to do so.
The Whole World Condemns Russian Invasion of Ukraine
Right from the start of the Invasion, numerous countries and governments have been condemning the Russian aggression. This led to the worsening of the Russian economy. For example, the country's currency, the ruble, has lost almost half of its value. Also, many international companies left Russia and closed their offices located in the country. Many companies and people worldwide support Ukraine in its fight against the Russian invasion. For example, some businesses that previously worked in Russia donated a part of their profits to Ukrainian charities. Such companies include:
People stand with Ukraine globally by providing shelter to evacuated Ukrainians. Donating to various charity organizations is also possible. Alongside charitable causes, many people give moral support through participating in peaceful demonstrations. This is also an important way of condemning Russian aggression. The unprecedented unity emerged as an answer to this war. Our team wholeheartedly believes that the actions of people throughout the world can positively influence the fate of many Ukrainians. For that reason, multiple organizations have joined their efforts to help the army and citizens of Ukraine.
Organizations that Provide Donations and Stand with Ukraine
Everyone can contribute to establishing a safe environment for all Ukrainians. If you want to take necessary actions towards supporting the people resisting Russian aggression, there are multiple ways to get involved. Some include financial donations, while others allow you to send food and non-food products. Many volunteers and charitable organizations will gladly accept your help and distribute it to the needy regions torn by war.
The most obvious way to stand with Ukraine is by contributing to the organizations directly connected with the country. Thus, you can avoid any intermediaries. Also, your donations will help those in need. While there are multiple companies accepting donations and sending humanitarian aid to Ukraine, we recommend using the approved and trustworthy ones. Here are the top 4 organizations offering fundraising and donations to help people in Ukraine as well as local armed forces.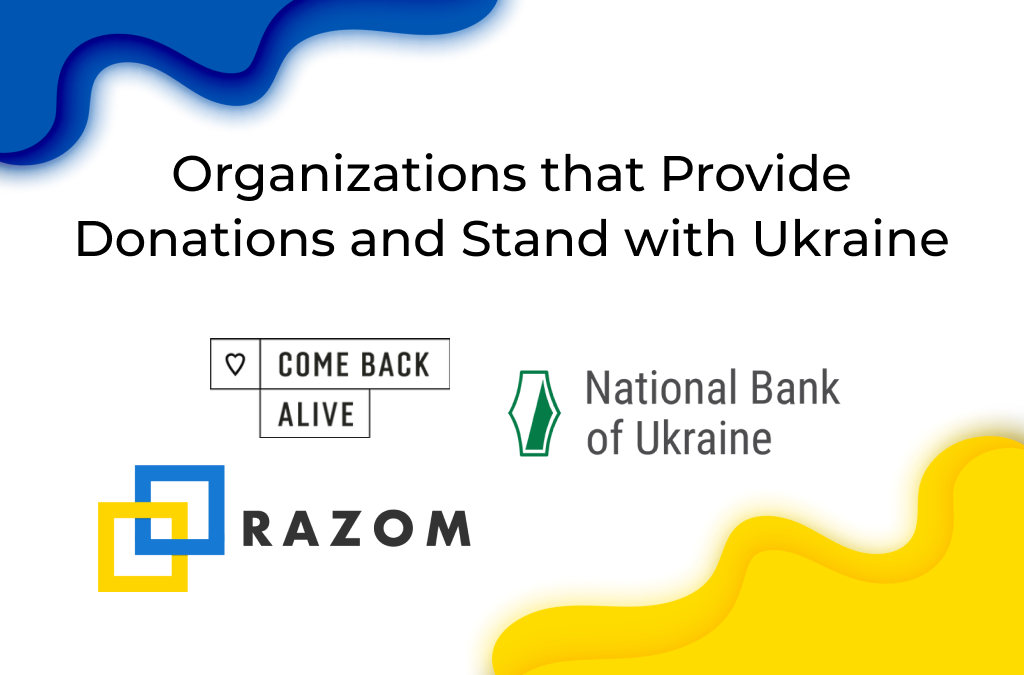 Come Back Alive
Established in 2014, Come Back Alive is one of the biggest charitable organizations. It aims to support the Armed Forces of Ukraine. Since its foundation, the volunteers have received over $20 mln of donations from countries worldwide. The organization provides open financial reporting so everyone who donates could track their contribution. Come Back Alive supports purely defense initiatives. From improving the army's technology by donating tablets to organizing training, this organization helps in a lot of ways. You can donate to their cause by visiting their website.
National Bank of Ukraine
NBU (National Bank of Ukraine) has recently opened a financial account for fundraising and humanitarian aid for Ukrainians. Regardless of your current location, you can easily donate any amount you want. This will support those affected by the ongoing war conflict. Money collected with the help of the account will be directed to the Ministry of Social Policy. Unlike other charitable accounts, the funds will be used to help Ukrainians who reside in the regions that are heavily hit by war with Russia. The help includes a variety of essential goods, for example:
Food and shelter for refugees and citizens;
Clothing, shoes, and medicine;
Financial aid for Ukrainians to meet everyday needs.
Razom
Millions of people rose to fight for a better future for Ukraine in 2014. Back then, the Razom (meaning "Together") charitable organization was founded. It provided an opportunity for all caring people worldwide to support Ukraine and its citizens. Today, such support can't be overestimated. The organization has multiple charitable projects created as a response to the needs of Ukrainians. With your support, meeting the goals of their campaigns can be easily achieved. Visit the official website of Razom to learn more about the current needs of this organization and donate.
How to Take Part and Support Ukraine
If you wish to take part in supporting Ukraine, there are multiple ways to help. First of all, you can donate to any of the abovementioned charity accounts and organizations. We also recommend spreading the word to fight the aggression of Russia and stand with Ukraine. To help support the citizens of Ukraine, some people take part in peaceful protests. However, one of the best ways is still to help ordinary people by donating:
Food;
Clean water;
Clothing & shoes;
Hygiene essentials etc.
Helping the people living in Ukraine is the best thing to do right now. Also, you can purchase products aimed at helping people whose lives are impacted by war. We recommend searching for your local companies that support the fight against the Russian invasion. Most likely, they offer products that can be bought for charitable causes. For example, some businesses are sharing parts of their income with Ukrainian Armed Forces. Donating and buying essential goods for Ukrainians is a big step towards global peace.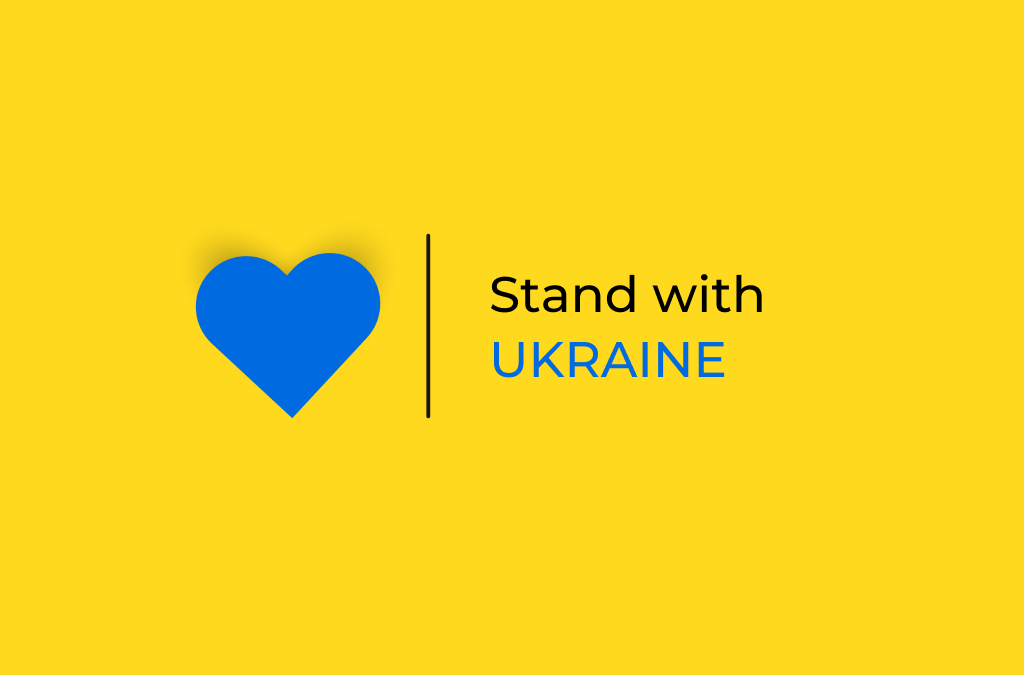 Stand With Ukraine: Conclusion
We hope this article helped you understand what's going on in Ukraine. If you are still unsure how you can help, we recommend trusting only the well-established charities. Those with years of experience in humanitarian aid can surely be trustworthy. Still, one of the best ways to stand with Ukraine is to cooperate with local charity campaigns. This will help you avoid any risks and third parties. Also, such an approach is beneficial for both you and the people in Ukraine that really need your support.
If you want to know more about our solutions and how we help Ukraine, feel free to follow us on Facebook and Instagram. There we regularly share all the news and updates from the Zemez team. Also, we invite you to visit our website. There you can buy website themes and templates to benefit the charity cause. Moreover, they will be useful for your business. With Zemez, you can not just find a way to help people. We also help to stay connected with the latest web design news.
If you are new to our blog and are interested in web technologies, we also recommend taking a look at the recent posts. Our authors regularly publish guides, tips, and reviews of solutions for WordPress, eCommerce, and more. Besides, our blog provides a list of tools for you to improve your business online. And of course, we often cover search engine optimization. In case, you have ideas about topics that should be discussed in our next articles, feel free to post them in the comments.