NFT Marketplace: A Space for Unique Art & Collections
An NFT marketplace provides space for the creation, development, and purchase of non-fungible tokens. With the increasing popularity of blockchain, anyone can take part in the NFT craze. As a new yet rapidly developing technology, these tokens have a huge potential for any business or creative sphere. While some NFTs are used as proof of unique subject ownership, others can be a way to organize our business in our digital age. The digital age is constantly changing and evolving, allowing entrepreneurs to take advantage of many opportunities. QR codes are one of the best ways for a business to solidify its digital presence. Learn more about TRUiC's QR code generator.

To unite NFT creators and customers, marketplaces were created. They allow not just efficiently sell your tokens. Also, such places can help you connect with people who are interested in your works and products.
As you may have guessed, in today's article we'll talk about NFT and related marketplaces. If you always wanted to know more about how NFT works and how it can help your business, our post provides clear and simple explanations and answers. However, we are also going to take e a look at the top 3 marketplaces for NFT that are popular nowadays. And of course, we'll explore everything necessary for building your NFT marketplace. You'll learn what it takes not just to create a unique token but also how to sell it properly.
How Non-Fungible Tokens Work
Now let's dive deeper into the essence of NFTs. Being non-fungible tokens, they allow you to obtain unique works of art, music, etc. While their sphere of application is nearly endless, these tokens are highly popular among artists and art collectors. This technology is closely connected to the blockchain as NFTs are supported by some popular cryptocurrency systems. However, unlike cryptocurrency, with NFTs, you get a unique right of ownership of a selected piece of art, music, or game item. Both buyers and artists or musicians can benefit from using NFTs and here's why.
If you are an artist you can increase the popularity of your works by selling them as NFTs on any modern marketplace. Not everyone can own the physical original of a drawing or a musical release. Having an NFT of it, on the other hand, can not just help you earn money on your art but also become more popular as an artist. For collectors, NFTs also present a great value. Because of their uniqueness, tokens can be resold once obtained if they become rare and more expensive. Moreover, it is a great way to create a unique collection that is highly valuable in this digital era.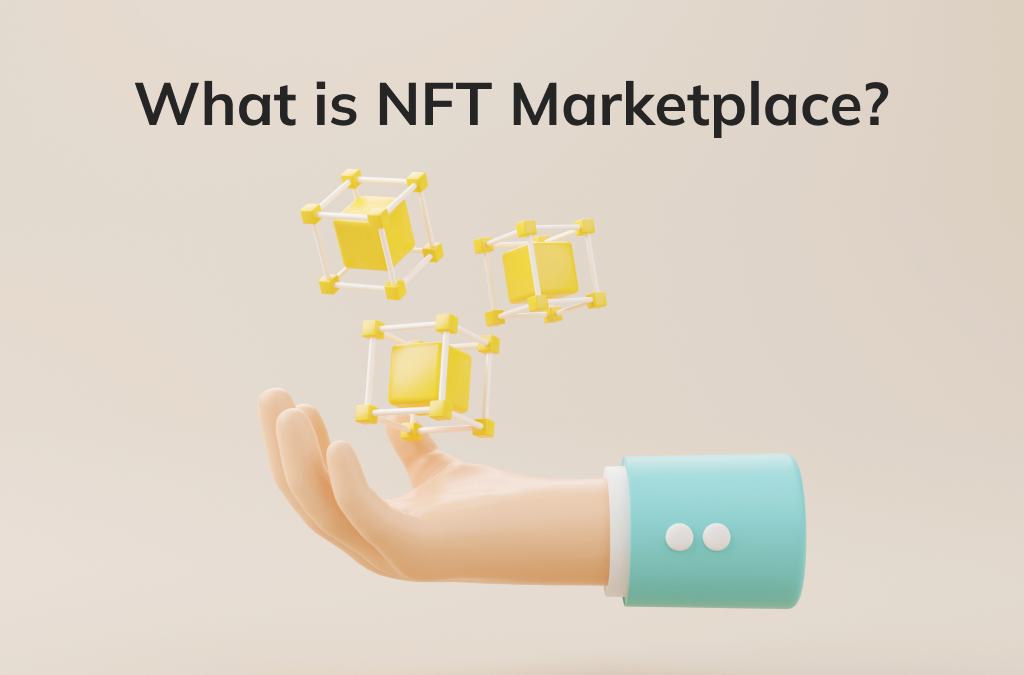 What is NFT Marketplace?
Now that we've learned about NFT and why it's so popular, let's review what role NFT marketplaces play in creating and selling tokens. Such marketplaces are platforms for creating, selling, and purchasing NFTs. Using such websites allows creators and collectors to avoid unreliable sellers. This also helps a lot in promoting art and music and gaining useful connections. However, to get started with minting or selling NFTs. There are a few requirements, you need to take care of. They all derive from the world's most popular cryptocurrency – Ethereum. Here are a few things that are required for any user of the marketplace:
Crypto wallet;
Cryptocurrency (for purchasing or creating an NFT);
User account;
Media file(s) that you want to mint.
The latter requirement is only applicable to creators of NFTs. And if you decide to create one, you'll also have to pay a gas fee. It is a charge you need to pay when minting (creating) an NFT. These fees are not fixed and can increase or decrease. It depends on the use of the blockchain. However, the average amount you'll have to pay is 0.0042 ETH per transaction. A well-designed NFT marketplace provides all the necessary tools for simple transaction management and the creation of tokens. The user-friendly design and a set of helpful features can be beneficial to both creators and buyers and NFTs.
The Best NFT Marketplaces
There is a variety of marketplaces for non-fungible tokens these days. However, like with any other website, it is dangerous to blindly trust projects and sites that you know nothing of. That's why we have prepared a selection of 3 top-rated marketplaces. With lots of offered features and advantages, each marketplace has something you may be interested in. Furthermore, using one marketplace is often a lot more complicated than the other. It is especially true if you have no prior experience with crypto and NFTs.
There are some notable differences between various marketplaces. The most obvious one is what tokens they use. From ERC-721 to FA2, you can use diverse tokens for different purposes. This often defines how an NFT marketplace operates. The wallet compatibility also plays a huge role in choosing an appropriate marketplace. Obviously, you'd want to use a platform that supports the cryptocurrency wallets of your choice. Last but not least, many NFT collectors choose marketplaces depending on the type of art. From art to music, there's not a single marketplace that offers the same advantages. Now let's look at the 3 well-established NFT marketplaces that earned their customer's trust over the years.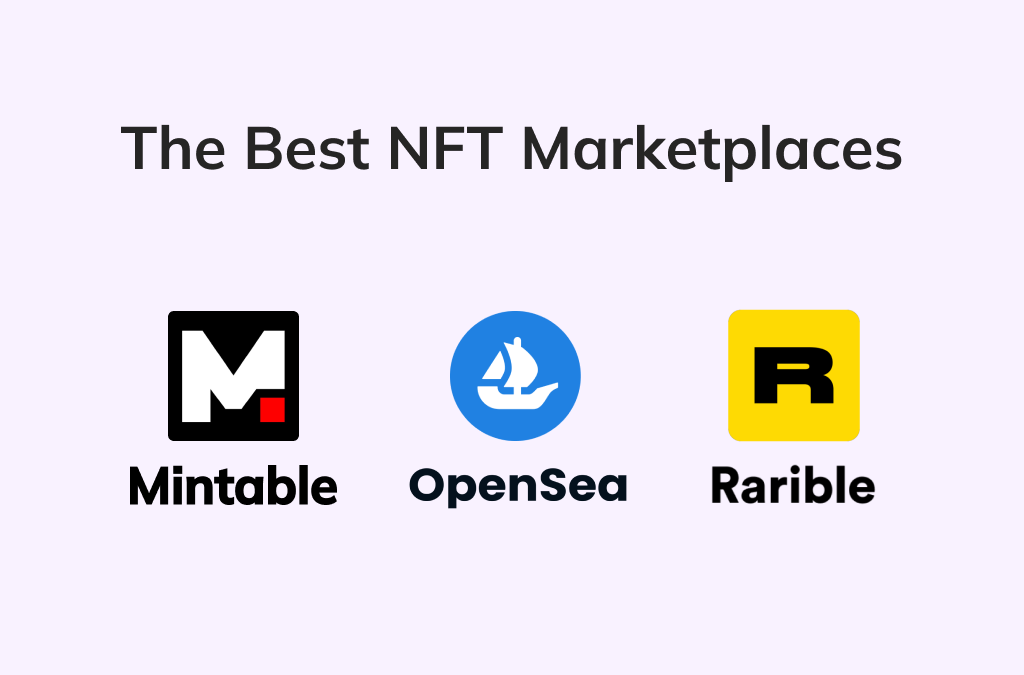 OpenSea
OpenSea is one of the largest marketplaces available now. This platform allows its users to take full advantage of your tokens. While being unique and tradable, tokens sold here use open protocols and standards (ERC-721 & ERC-1155). This NFT marketplace is one of the most popular ones especially considering its openness to both creators and collectors. Since its launch in 2017, OpenSea is at the heart of the NFT sphere. Moreover, this marketplace played a great role in the rising popularity of NFT as a whole.
Atop of all that OpenSea remains one of the most secure marketplaces for art collectors as well as creators. Still, there's more than just art when it comes to this platform's categories. Here are just some of the things you may find at OpenSea:
Moreover, there are numerous collections and items available. Some of them can only be found in this marketplace. This also makes OpenSea one of the highest-rated platforms to trade and create NFTs.
Rarible
Rarible is another well-established NFT marketplace we'd like to talk about. Like any modern platform for non-fungible tokens, it allows digital artists to promote their works effectively. This can be done by assigning crypto assets (tokens) to their works by making them unique. Also, it is a great and trustworthy place for collectors. There, they can easily build their library of original digital art using moderated categories. Built by artists for artists, Rarible is a perfect place to mint tokens, promote digital art, and sell it easily.
When visiting the marketplace for the first time, the galleries and collections on the home page will surely grab your attention. There you can find popular and trending NFTs. Moreover, Rarible has a regularly updated list of top sellers and bids. Other than that, you can explore various collections and categories. Browsing live auctions and even taking part in them is also easy. If you're new to NFT, the website also has an extensive FAQ and an active community. You can always get support via the help center or talk to community members in Discord.
Mintable
The last one in our top-3 NFT marketplace list is Mintable. It is one of the easiest ways to start with crypto and NFT. This marketplace also provides gasless minting, which is a great option for beginning digital artists. This resource also allows creating your store based on the NFTs you offer. There's a vast knowledge base available on the Mintable website. With it, it's easy to figure out how to get started with tokens. Furthermore, this platform includes the Mintable Academy. It is a collection of tutorials and articles for those who want to know how to mint, buy, and sell NFTs. This platform supports three blockchains that offer NFT functionality:
Furthermore, Mintable offers a paid Pro plan. It is a great solution if you need more than just selling NFTs. This option offers better marketing opportunities for your tokens as well as custom store designs. With 3 pricing options, Mintable allows you to choose the best for your NFT collection. Their team provides full support to all creators and users of the marketplace. It helps a lot if you don't know where to start or just need a consultation.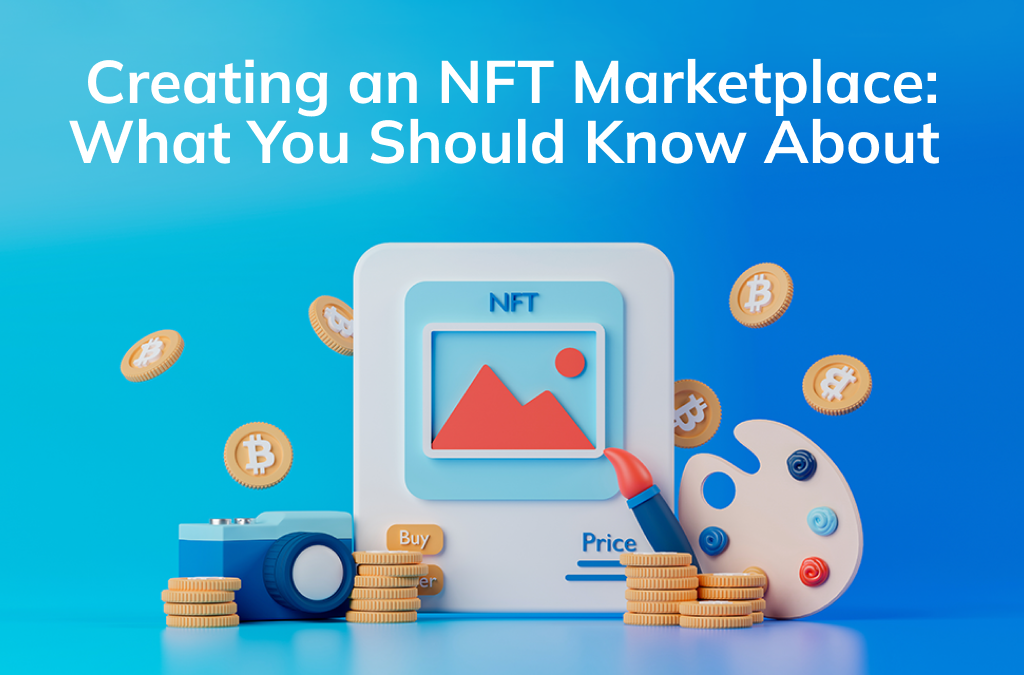 Creating an NFT Marketplace: What You Should Know About
With the increasing popularity of NFT platforms, you may be wondering how to build one. Like any online project or website, developing an NFT marketplace is done in several stages. They require preparation, research, and planning. This is necessary to get a high-quality result in the end. There are simpler ways to marketplace development like clone scripts by OpenSea. Still, developing a marketplace from scratch takes up to 7 steps. Usually, it depends on your project's complexity. These steps help you to:
Choose the right blockchain;
Research your target audience;
Design proper UI for the marketplace;
Find operational domains;
Select required tokens;
Create & develop smart contracts;
Test your marketplace and publish it online.
Obviously, the marketing and promotion of your marketplace play a great role in its development. Moreover, like any other website with eCommerce functionality, marketplaces require web technologies to function. For the front end and back end Angular, ReactJS, and NodeJS can be used. They allow you to make a customizable website for selling and creating tokens. Still, the most important part is blockchain integration. It is necessary to choose the proper blockchain before developing your marketplace. We recommend Ethereum as it is open-source and decentralized. Also, this blockchain technology is widely used by many trustworthy NFT service providers. Also, don't forget to decide which token standard to use, depending on your preferred blockchain.
NFT Marketplace Review: Conclusion
We hope this short guide to NFT marketplace trends was informative for you. Making your first steps in the world of blockchain and NFTs is simple. While working with blockchain may seem complex, creating & selling your tokens is quite simple. Moreover, as we mentioned, this technology has great potential for art collectors and artists. And if you decide to create a marketplace for NFT, you can start by building a website first. Integrating blockchain may be done later. Or you can just use a website template to simplify the process.
If you are interested in the solutions our team offers, we invite you to our website. With new and regularly updated templates, Zemez always has something just for you. Also, you can always visit our socials to get more web design news. Don't forget to follow and like our Instagram and Facebook pages. We also have a YouTube channel with detailed tutorials and reviews on our products. With Zemez, you can always stay connected with the latest in web development and information technologies.
To find out more tips and recommendations from our authors, don't forget to visit our blog. No matter if you are making your first steps in the world of web technology or not, our regular posts and guides can definitely help you. Even seasoned experts in web development and design can find something interesting to read in our blog. From WordPress theme reviews to eCommerce tips, our authors can help you stay informed with the latest updates. Moreover, you can always share your thoughts about interesting topics in the comments.