Interactive and Clean HTML5 Template for Your Coffee Shop
Using an interactive and clean HTML5 template can easily help you create a trustworthy website. For example, it can help in establishing your brand. Regardless of your business sphere, using a properly designed website will help you make a statement online. However, a website should also reflect your company's mission and goals. Because many entrepreneurs want to incorporate their vision into a well-designed site, they often hire a professional web development team. Still, this approach is quite expensive and not always affordable for the majority of businesses. This is especially true if we talk about such family businesses as coffee shops.

As you may have guessed, in today's article, we'll explore the ways to create an impressive website for your coffee shop. Moreover, we'll review one of our team's best HTML5 solutions for this business – the Beans Coffee Shop Website Template. Keep reading to find out more about this template's multiple features and design advantages. And if you want to know more about other templates and themes for various platforms, feel free to browse our blog. We highly recommend taking a look at our free WordPress themes as well as the SMS marketing guide for Shopify written by our experts.
Creating a Properly Designed Coffee Shop Website
Coffee shops like any modern business require proper online promotion. And that's why their owners pay a lot of attention to developing websites that are attractive and informative. Moreover, such websites should convey the message of your brand. That's why creating a high-quality website design matters. Moreover, you can choose a website template that fits your company the best way. It can be used as a basis for building a unique online presence for your coffee shop. That's why we recommend choosing an interactive and clean HTML5 template over developing a site from scratch. Even without any coding knowledge and experience, you are guaranteed to get the desired result.
When choosing a design for your coffee shop website, modern web development trends are also considered. For example, a responsive design will help you attract more clients to your website. Besides, with the support of various modern features, it's easy to make your site more comfortable for your potential customers. A coffee shop website must also include all the necessary information about various coffee drinks and brands your establishment provides. This implies having a well-crafted homepage that provides what your potential customer is looking for.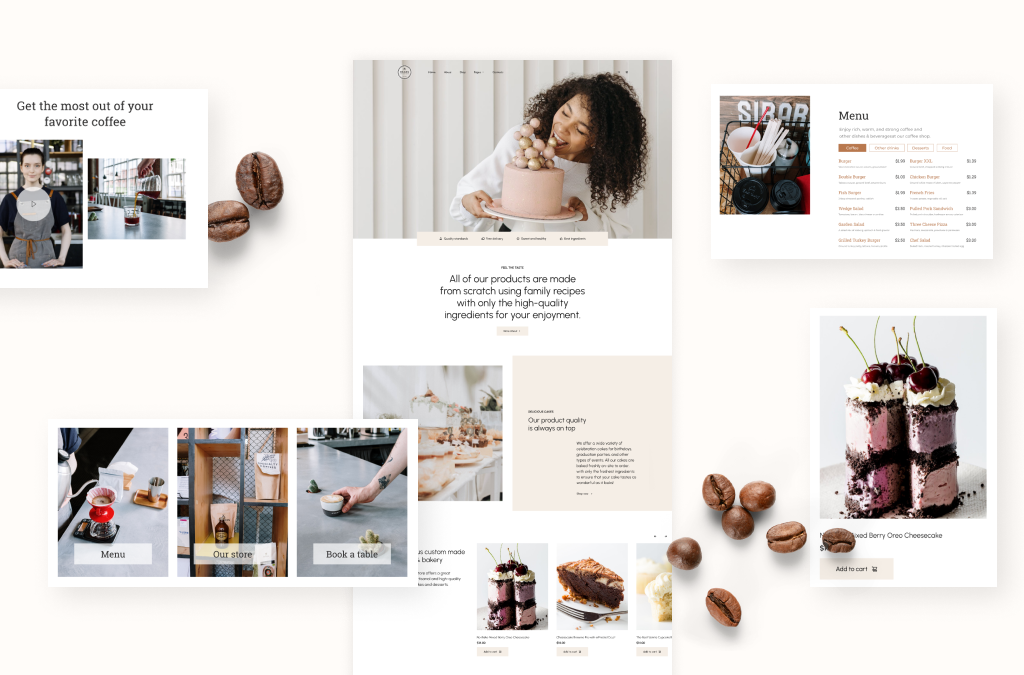 Notable Advantages of Beans Interactive and Clean HTML5 Template
The Beans coffee shop website template provides everything you may expect from a modern website. Aside from being developed by industry professionals, this solution delivers a wide range of advantages. For example, it offers lots of pre-designed page layouts. This allows you to select the best look for your site. The Beans interactive and clean HTML5 template also guarantees the best experience for your site visitors. With vast & detailed customization, you can create a stunning and easy-to-use website that represents your coffee shop the best possible way. Here are some of the advantages our template provides:

40+ pre-designed pages;
Multiple headers & footers;
W3C valid code;
SEO-friendly & responsive layouts;
SCSS & Pug source files;
Optimized performance;
Cross-browser support etc.
When developing this HTML5 solution, we made it suitable for a modern coffee shop. We took every step to make the Beans template fitting to various topics. For example, it's a great choice for coffee production companies and cake shops, too. Besides, with a proper customization approach, you can make this template meet your business goals, too. And if you are a professional web developer, using this solution to create an awesome and feature-rich website for your client will be quite easy. We highly recommend using all of the available benefits that our template provides. Let's talk about them in detail.
What Design Benefits Our HTML5 Template for Coffee Shops Offers
Design is one of the most important things to any website owner. If you own a coffee shop, taking care of your website's look is vital to your business success. That's why we have designed various layouts for this template. Our team also took care of providing all the necessary information that your clients need. From the menu to services and blog posts, there's enough space for any content you can think of. Even if you want to create an online store and sell roasted coffee, we have prepared all pages, features, and components. With Beans coffee shop website template, you don't have to think of anything but your business.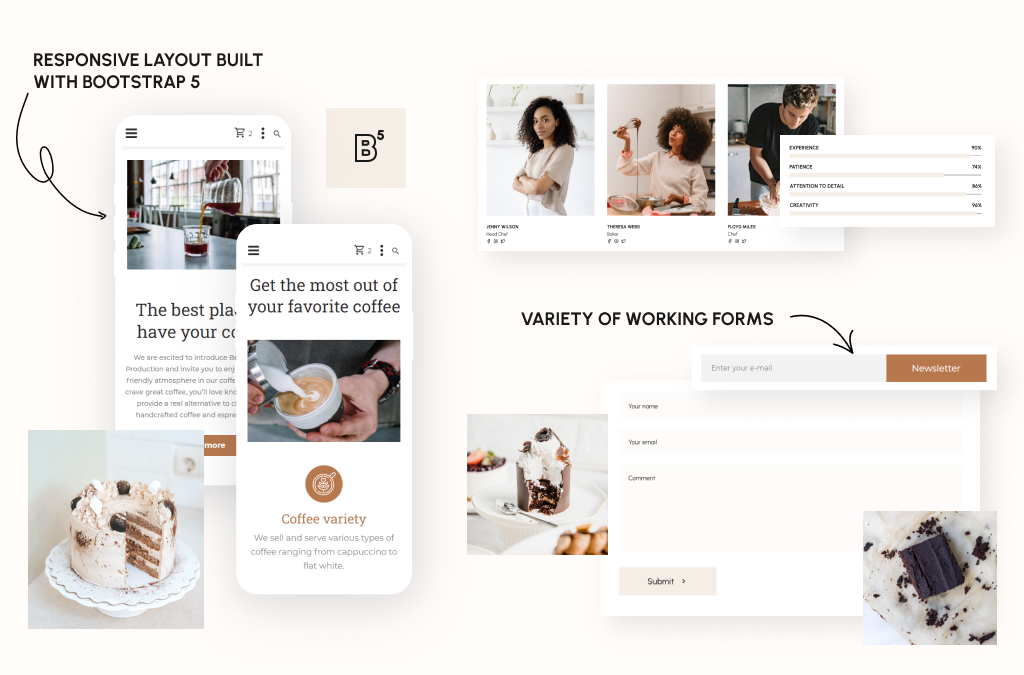 As we mentioned above, responsiveness plays an important role in any modern website. To make this interactive and clean HTML5 template more reliable and flexible, it was built using the Bootstrap 5 framework. It is a set of tools to help you easily manage content thanks to the flexible grid. You'll also be able to work with code efficiently. Moreover, this framework is mobile-friendly. This means any website built with Bootstrap will work perfectly on any modern device, from PCs to smartphones and tablets. Besides, using this tool allows you to customize your website. It is possible due to every template element being Bootstrap-compatible and easy to use.
A Variety of Features for Your Coffee Shop Website
The template we offer includes not just awesome design. It provides a wide set of integrated features and functional advantages. For example, it comes with a wide variety of sliders and working forms. Both of these components can be used to add a lot to your website. Sliders, for example, can provide necessary information about your coffee shop. They are also good for posting reviews and testimonials. When combined with a well-designed header, sliders can create a proper first impression. It will have a greater impact on your website visitors.
By using forms, you can improve interaction with your clients. These components allow you to make an attractive contact page or newsletter section. They can also be used for modal windows and on-site surveys. However, there are other notable advantages included with this interactive and clean HTML5 template. Some of them allow you to establish a memorable portfolio. It can include photos of featured coffee drinks. The pre-designed carousels can be easily combined with a drink menu or pricing sections. These and other features can be used for:
Providing timely information to your clients;
Showcasing your featured drinks;
Posting regular updates;
Staying in touch with your visitors;
Providing topical reviews and testimonials etc.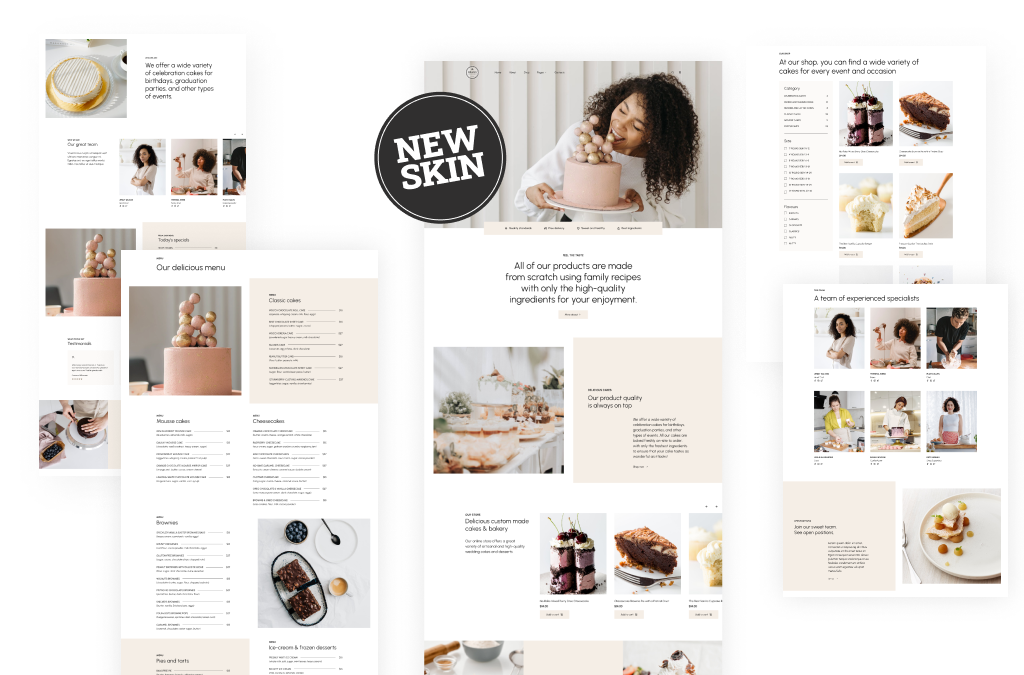 Recent Updates: What's New
Even with all the benefits our templates have, our team regularly works on improving them. The Beans template is no exception. One of the recent updates includes new skins for this HTML solution. Besides, it has various bug fixes and new features. We've also added new topics to make this interactive and clean HTML5 template suitable for a variety of websites. For example, the recent update introduces a new template skin. It will perfectly fit cake shops and bakeries. Feel free to check out the updated demo to find out more about the recent additions.
When it comes to integrating new advantages, we take a responsible approach to this task. Moreover, we introduce new & excellent features regularly. This also includes our recent and upcoming updates of the Beans coffee shop website template. Our team has added new components that every website owner would expect to see on a professionally designed website. Besides, we are working on new home pages with diverse topics. Thus, using our HTML5 template will add a lot even to a well-established website. You can expect new benefits as well as more improvements for this and other templates by Zemez soon.
Pre-Designed HTML5 Pages Included with the Beans Template
Looking for more content-related advantages? Our coffee shop website template has a lot to offer. For example, you can not just promote your services and coffee drinks. Our template includes over 40 pre-developed HTML5 pages. They meet various needs of coffee shop websites. Some of these pages include different layouts for the gallery, blog, and shop pages. Moreover, the provided pages allow you to tell the story of your business in detail. You can describe your team's industry experience as well as post FAQ and career opportunities.
With this template being eCommerce-ready, creating a powerful online coffee store is quite simple. The professionally designed layouts include catalog, shopping cart, and checkout pages. They include all necessary sections for a modern online store. From sidebars to galleries, the Beans template has lots of included sections. They are designed to help you craft a coffee shop store that creates a pleasant user experience. Also, each page can be easily customized according to your tastes. We recommend using the UI elements pack that comes with this interactive and clean HTML5 template. It is compatible with every template page and has been thoroughly tested. The pack of UI elements includes:
Buttons;
Tabs;
Accordions;
Tables;
Progress bars;
Forms etc.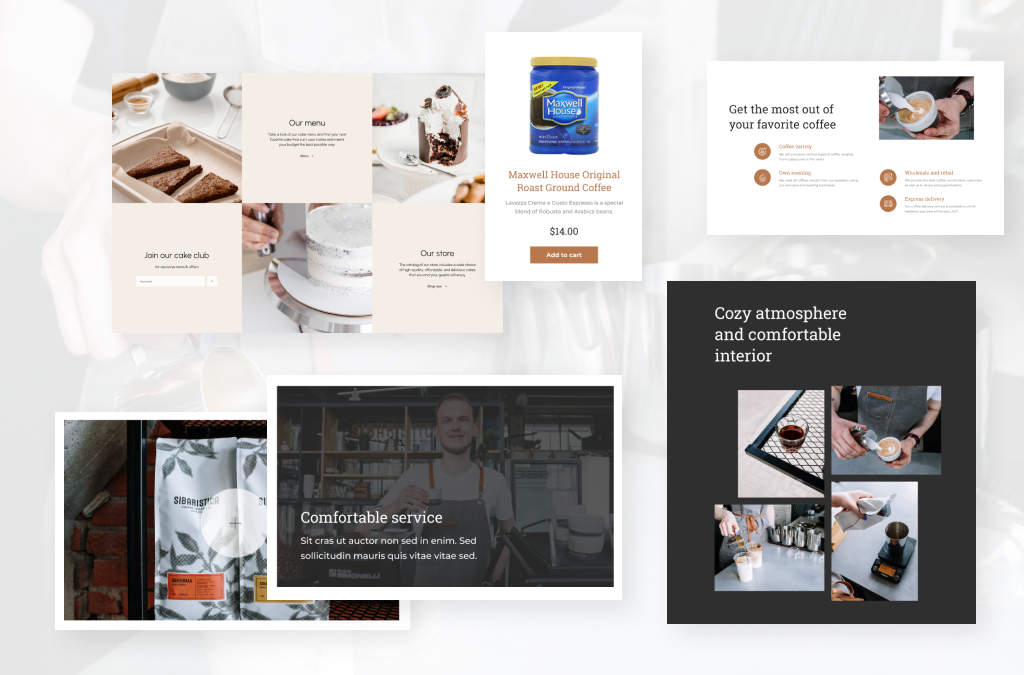 How Our HTML5 Template Can Help You Promote Your Coffee Shop
All the abovementioned advantages make the Beans interactive and clean HTML5 template a truly multipurpose solution. It can be highly beneficial even for a business with a well-established website. But how exactly can this HTML5 solution promote your coffee shop online? Regardless of what you are trying to achieve with this template, we recommend checking out its live demo first. There you can assess its value to your website. For example, you can use the provided layouts to organize the content you have. This will help you sort it more effectively.
Our HTML5 template can be a great start for coffee shops and cake shops of any size. Whether your goal is to promote your products or attract new customers & partners, using a template like Beans will prove to be advantageous, especially in a long run. In case you don't intend to use the whole variety of features and customization options, you can freely choose what you prefer to add to your website. This will allow you to transform your coffee shop's online presence in no time.
Interactive and Clean HTML5 Template Review: Conclusion
We hope that our review of the Beans coffee shop website template helped you to find out more about this high-quality HTML5 solution. Regardless of a site that you're building for your coffee shop, with Beans, you'll get it professionally designed. Whether you still hesitate how this template can help you, we invite you to take a detailed look at it. With this solution, establishing a competitive coffee shop website is easier than ever before. Most importantly, it has everything a modern business needs. It will help you promote your coffee shop successfully.
At Zemez, we always listen to our customers. If you want to share an idea regarding this interactive and clean HTML5 template, reach out to us via comments. You can also contact us directly. We invite you to take a look at the recent Beans template reviews. They were submitted by our clients. Don't forget to follow us on Facebook and Instagram for more news and updates. We regularly post news & provide special offers. And if you have any additional questions about any of our solutions for HTML, WordPress, or any other platform, you can also contact our team. We will be happy to help you build a stunning & responsive site at any time.