Online business is the best way to stay with earnings in any situation. Whether it's a crisis, an epidemic of an evil virus, or even war, online business will always save businessmen! Moreover, an online business is not only about selling goods. In addition to this, you can have an online business to provide various services. Every day more and more types of services are moving to online platforms. And most importantly, even banks and various financial service providers are developing online. Just imagine how convenient it will be for your customers to be able to solve financial issues without leaving home! And all of this is possible thanks to a feature-rich website. We are pleased to present you with a multifunctional WordPress 6.0 theme for small businesses- Cash Grant.

In this article, you'll be the first to learn about a new, business theme for serious financial businesses and small business. You'll see that Cash Grant is the best solution for your online business.
Cash Grant- Unique Theme for Small Business from Zemez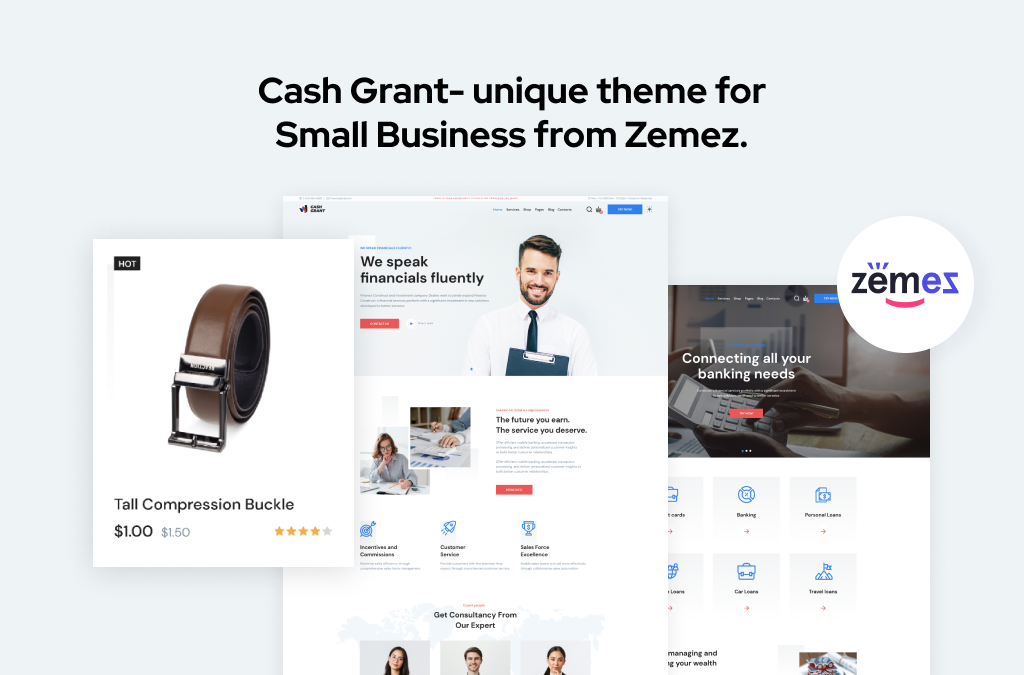 Cash Grant WordPress theme for small business is a unique creation of professional developers and creative designers of the Ukrainian team Zemez. There are more than 100 multifunctional Shopify and WordPress themes in our team's arsenal. Moreover, all the themes from Zemez team are popular because they are equipped with the best functional advantages. So, Cash Grant will not be an exception!
This theme is modern, adaptive, and feature-rich. Cash Grant is equipped with the best functional features. Moreover, it is based on the best page builder-Elementor. This theme for small business is designed for :
providing payday loan services for small business ;
financial advisor for business and personal loans;
internet banking for financial payment services, and more.
What can interest your customers? The design, of course! It is the design of Cash Grant WordPress6.0 theme that is the highlight. Sophisticated, but at the same time, the simple design will perfectly highlight and complement your serious business.

Next, I suggest you learn the details of this theme. And also to understand in detail the features that Cash Grant WordPress theme for small business is equipped with.
Advantages of Cash Grant WordPress 6.0 Theme for Small Business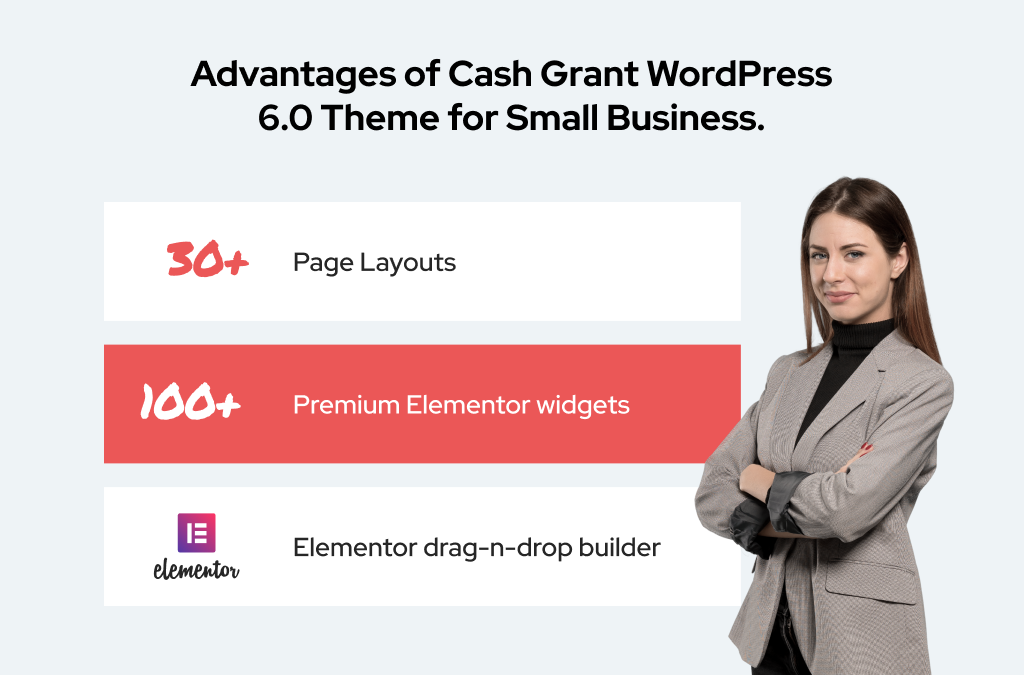 WordPress 6.0 theme for small business- Cash Grant is equipped with a lot of high-tech functional advantages. And the features make this theme perfect!
But, don't rush to think that Cash Grant theme is difficult to set up. It's quite the opposite!
Many people think that creating a good website is not possible. But with this topic, we will dispel all your doubts.
Firstly, the main advantage of this theme is its versatility and ease of customization. The functional advantages that this theme is equipped with will help you easily create the best website for financial services or any other small business. All this is thanks to the intuitive visual builder – Elementor.
Secondly, Cash Grant theme for small business is based on a brand new version of the popular CMS. Namely WordPress 6.0, which has many positive advantages.
Thirdly, the unique design, the variety of ready-made pages, and additional features – will be your best helpers. All functional features are simple. Moreover, all important moments of your website you can control from start to finish.
In addition, adaptability is a very important aspect of a successful website. The experienced professionals of our team have taken care of that. With Cash Grant WordPress 6.0 theme your website for financial transactions and small business will display well on all devices.
Each component, function, and principle of this theme has been tested by experts. The Cash Grant theme for small business was created considering all modern trends and rules. Therefore it is one of the best developments of Zemez team!
Incredible Functionality of WordPress 6.0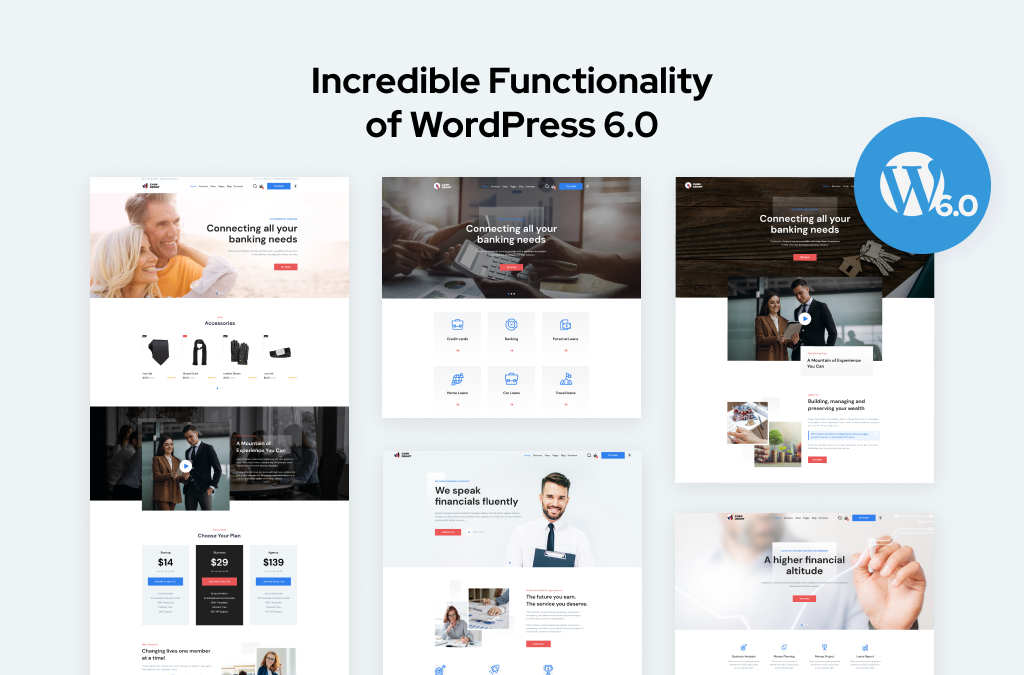 To make sure you understand all the nuances of Cash Grant -WordPress 6.0 theme for small business, let's understand its best components. As I already pointed out, one of the main features of this theme is the new version of the best CMS- WordPress 6.0.
WordPress 6.0 Release-this is a major update of the world's №1 CMS. This update has many useful and interesting features. For example:
new design editing features;
improved list view options for the block editor;
expansion of the list of new blocks;
a new way to select text in the Gutenberg block editor;
the ability to switch styles globally;
several new template options are available;
increased loading speed and much more.
Moreover, the new version of WordPress6.0 presents many other updated benefits. In addition, with these changes, the best CMS is accessible and understandable to users with different levels of programming skills. After all, all these updates contribute to making the process of creating a website easy, fast, and understandable.
More Features with Elementor
You've probably heard something about Elementor by now. But let me tell you some interesting information about the best page editor. After all, our Cash Grant -WordPress 6.0 theme for small business is based on this particular plugin.
Elementor is a versatile builder that has many useful features in its arsenal. How is it good? For example:
Ready-made blocks. Elementor has over 200 ready-made blocks for pricing tables, reviews, team meeting layouts, portfolios, and more. You can edit and manage these blocks by yourself.
Widget transfer. Thanks to Elementor in Cash Grant -WordPress 6.0 theme you can move an unlimited number of widgets to any page.
Editor with drag-and-drop functionality. After working with the Cash Grant template and adding all the necessary content blocks and widgets, you can click on any element on the page and make local changes to it using the editor. And many more amazing features.
Moreover, it's worth specifying that you can handle the creation of a professional website for a small business on your own. Even if you don't have special technical knowledge for coding yourself. After all, Elementor simplifies the site design process and makes it as intuitive as possible.
Unique Design and Special Pages are Ready to Surprise Your Customers!
The essential features of Cash Grant -WordPress 6.0 theme for small business include a unique design. Stylish, but austere design, perfect for creating a site of financial services. Minimalistic design, made in light colors will be a feature of your website.
Also, the success of any business website is influenced by the design. In other words, the presence of functional diversity. The specialists of the Zemez team have also considered this point! That's why WordPress 6.0 theme for small business- Cash Grant has a large number of ready-made pages. For example:
"Нome page" creates a first impression of the website. It also tells customers exactly what your company does. Or directs potential customers to the right product sections.
"Services" Has many sections to help your customers quickly find the product or service they're looking for.
"Pages" section will be useful for quickly finding the information sections you need.
"Blog". You will be able to share useful and interesting information with your customers. With Cash Grant -WordPress 6.0 theme you can provide unique information about finance.
"Contacts". Be always in touch with your customers! Here you can post up-to-date information on how you can be contacted.
Best of all, the design and functionality of the WordPress Cash Grant theme are versatile. So you can easily adapt it to any small business niche. Not just for the financial industry.
WordPress 6.0 Theme for Small Business- Cash Grant: Conclusion
A ready-made template is a big advantage. First, it saves time—secondly, a great result. And a ready-made template at a bargain price, it's just a treasure trove for businessmen. Such a treasure is Cash Grant -WordPress 6.0 theme for small business. After all, this theme is equipped with the best technologies and has the latest updates. And also has all the ways to make your website popular and profitable!
Besides this, all these points you will be able to configure without anyone's help. Even if you are not an expert in creating a website. In addition, if you have any problems or questions, you can contact the support service. Experienced professionals will always help you. Be sure, that Cash Grant- is the best solution for your small business!