An online store is the best way to sell various goods and make good money. There are many trading platforms on which business people set up online stores. Moreover, social networks, for the last few years, have been on the list of the best eCommerce platforms. This is especially true of the very popular social network Instagram. Many business people have already convinced that Instagram as a marketing tool is the best solution for online business. The features of the marketing strategy contribute to this. And in this regard, the professionals of the Zemez team present to your attention the opening of 2022. Brand new and unique Shopify theme for Instagram- Delori.

Delori-is truly the best solution! With this theme, you will make an incredible breakthrough in the online business. After all, it is equipped with the best features, the latest functions, and the original design. Thanks to this highly functional set you will be able to create a website on your own even without certain programming knowledge.
Don't miss the opportunity to learn a lot of interesting information about this innovative Delori Shopify theme for Instagram. After all, this is your chance to grow your online business and take it to the next level!
Why Delori is a New Level in eCommerce Business?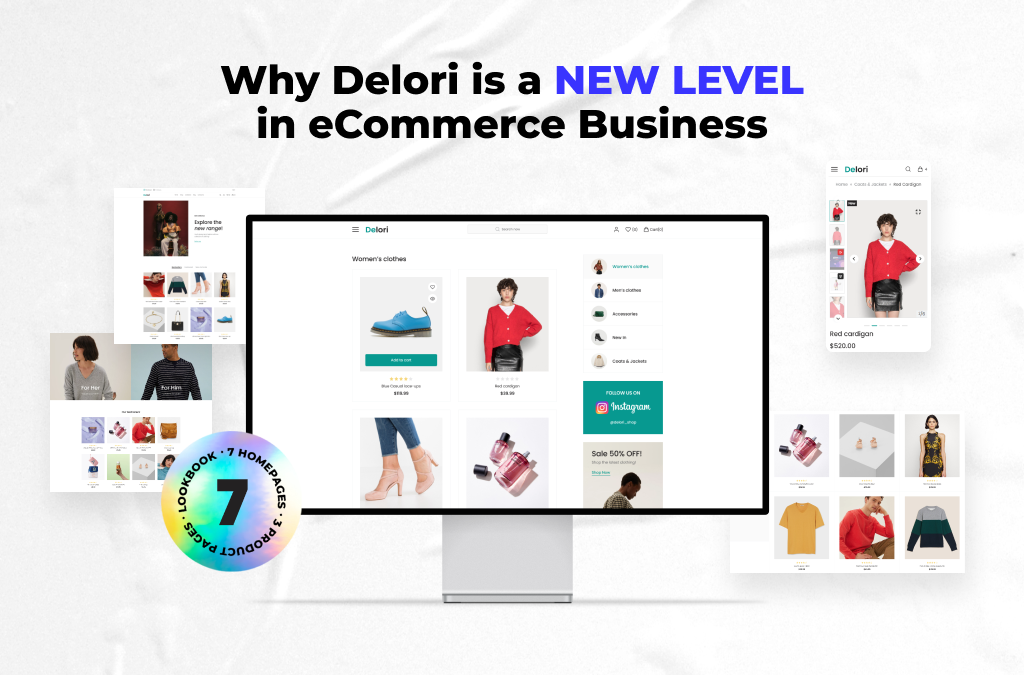 Delori Shopify theme for Instagram is a brand new development of professional coders and creative designers of the Ukrainian team Zemez. This template is a universal theme, which will help you to bring your business to a new, high level. Because Delori has:
many high-tech functional advantages;
7 various ready-made Home pages and multiple sub-pages;
stylish and creative design;
SEO-optimized structure;
characterized by incredible loading speed and excellent performance;
based on Shopify2.0 and much more.
In addition to the above advantages, this theme has the main priority among its competitors. And that is that Delori has official Shopify apps integration!

I would especially like to draw your attention to a new and unique Shopify app called Growave. It's a powerful set of tools in one app. What's more, Growave is the all-in-one marketing platform with which you can empower your online shop with:
product reviews;
wishlists;
loyalty programs;
referrals;
social login;
user-generated content.
I can assure you that Growave and other integrated Shopify apps with which the Delori theme is equipped will help make your online shop better than the competition!
It is because of the excellent features that this Shopify theme for Instagram will attract the attention of potential customers. Moreover, the functional benefits will encourage your customers to stay for a long time on the online store website. And also make a lot of purchases.
Next, you will learn in more detail about this unique theme's incredible functionality.
Create Online Store with Shopify Theme for Instagram
This Delori Shopify theme for Instagram will take your store from a regular Instagram page to a successful and profitable business. And a lot of unique functional features will help you in this. Some of them I've already mentioned above. But to make sure that this theme is the best, I suggest you dive headfirst into the structure of the Delori theme.
Firstly, the specified theme is fully compatible with the new version of Shopify 2.0. What are the advantages? The best and varied! It simplifies the creation of new applications for the website creator. Moreover, online store owners get even more functionality. These features will help create a unique website that visually looks perfect. With Shopify 2.0 the template is 100% flexible.
Secondly, the Delori Shopify theme for Instagram has a wide variety of ready-made pages for your online store. These include:
7+ homepages;
3 product pages;
3 product hover variants;
multiple fashion themes.
With the pre-made pages presented, you can create an impressive website. Moreover, thanks to the huge selection of different page layouts, you always have a choice! You can make all the adjustments yourself, creating an online store according to your preferences.
Next, it's important to know that Delori has many functional features. Being fully compatible with the latest Shopify 2.0 update, this theme provides:
​​Shopify visual builder;
modern Shopify 2.0 features;
full support of Shopify apps;
cross-functionality;
SEO-ready layout;
easy demo import and configuration;
responsive & mobile-friendly design and that's not all!
Be sure, that the above benefits will help you create the best online store!
Impressive Features of Shopify theme for Instagram
What do you think is the main thing in a professional Shopify theme?
Of course, it's the design and its customization features! The design of the premium Delori Shopify theme for Instagram is the highlight.
Creative designers and developers have allowed you to create your website design. This is possible thanks to a large number of different ready-made pages. Moreover, when creating the perfect website, you will be able to set several layouts at the same time and change them if necessary. In addition, this theme is flexible. Therefore, you can change the order of pages and blocks, customize the color scheme yourself, add many different elements, and so on. All this is possible with the help of indispensable functions, for example:
Mega Menu is a super functional menu with multiple site navigation and elements. This feature provides a fantastic way for visitors to directly access product details directly from the menu.
Give your customers the opportunity to create a list of desired items and make their purchases organized and convenient. In the wishlist module, your potential customers can add the desired items to a different shopping cart.
A useful "Search" function will help customers quickly find what they are interested in. Convenient search will reduce the time of purchase for most business customers.
Uncommon Shopify Visual Builder—one of the best theme features from Shopify. This feature will definitely attract customers' attention due to the visual decoration of the website.
Contact Form is the best way to always be in touch with your customers. This feature promotes a trusting relationship with the customer.
And this is a small part of all the impressive functional advantages.
Ultimate Solution for Shopify theme for Instagram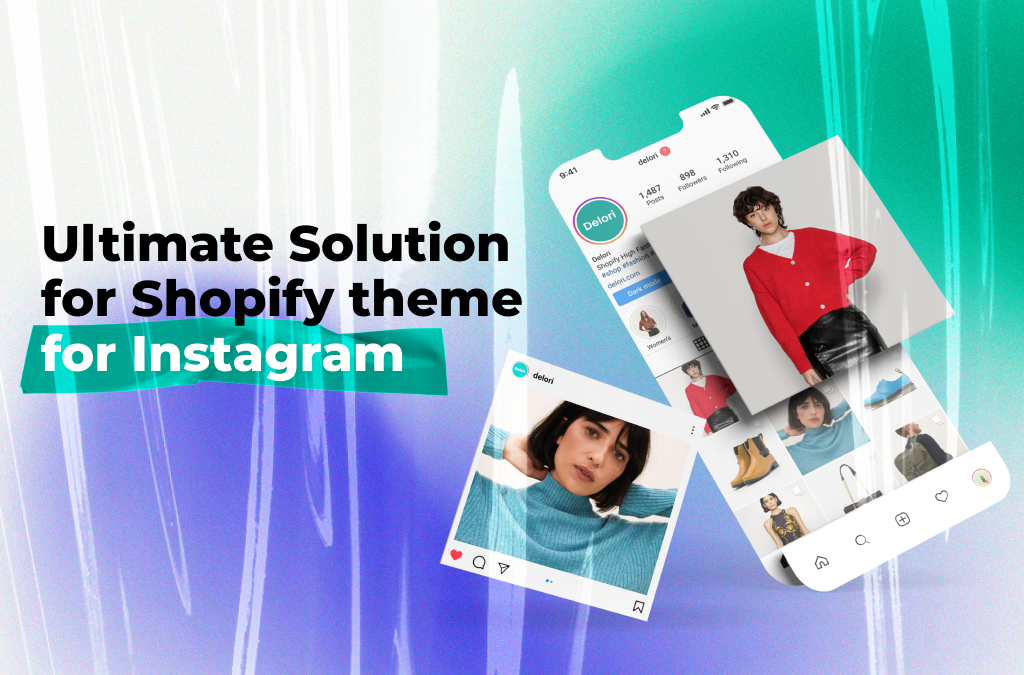 To make you finally convinced that the Shopify theme for Instagram Delori is the best solution for your online business, I will tell you about the incredible features. I'm sure you'll enjoy it as much as anyone who has used these features!
Introducing unique and creative features:
Mosaic Block Constructor– is a particular block constructor. In other words, with this feature, you can place, arrange, and customize different blocks on your page as a mosaic in one line. Moreover, you can do all this in a few minutes, without much effort.
Lookbook page – this creative feature will increase customer interest, draw attention to the most important products and highlight the uniqueness of your goods in an original way.
Dynamic Filtering System– a very useful function that allows customers to search for products by several criteria at once. The criteria they are interested in can be set independently thanks to the dynamic filtering system.
Advanced Media on Product Page– add any type of media including images, YouTube and Vimeo videos, or 3D models.
Compare Product will allow customers to compare products directly on the website page.
Each of these features has incredible benefits. What's more, they will create a unique website that will interest many potential customers. And it means it will increase your income level. And beyond that, it will take your business to the next level!
Delori Revolutionary Instagram Ready Theme: Conclusion
I hope that this review of the breakthrough Shopify theme for Instagram Delori will help you make sure you should try this theme out. After all, the experienced experts of the Zemez team have created a premium solution to satisfy our clients with different levels of programming knowledge.
Even if you have no experience in programming, this theme is also suitable for you! After all, our Zemez team has made sure that you can easily create a website and expand your Instagram business on your own. After all, this theme has the best features that you just need to apply to your site. As well as make a few simple changes and get to work. Moreover, if you still have questions, you can feel free to contact our support team. They will give you professional advice and help you solve the problem!
A stylish color scheme, creative product placement, and unusual functional advantages – are the best way to emphasize the individuality of your online store. Moreover, be sure, thanks to Delori Shopify theme for Instagram, your online store will be the best among the competitors!