Everyone is talking about the selling design of the site, a convenient catalog, and a simple order form. Many tools today are created in order to facilitate the work with the site, its content, and updating. It is believed that creating a selling site is enough to provide your business with constant sales. Is it so? Not really. Experienced entrepreneurs will tell you that just launching a website is not enough. Any tools that you want to use on the site will only work if potential buyers come to the site. And this is a separate topic for the work of absolutely all entrepreneurs. What are the best ways to drive traffic to your store? Is it worth it to use contextual advertising right away? Is it possible to promote the site only for key queries? Let's figure out how to increase traffic to the site and sell more products.

Most sellers are used to thinking only about paid advertising as the best ways to drive traffic to your store. Google Shopping and Google Ads have already become the usual must-have tools for driving traffic to an online store. But do not bet only on these channels. Other equally effective tools attract buyers to the site for a reasonable price.
Agree, any online store needs constant sales to exist, which means high attendance. The higher the traffic, the higher the likelihood that visitors will make purchases on the site. Sales success depends on how well selected traffic sources are. Traffic can be received in different ways and simultaneously successfully combine other options. To do this, it is worth studying which traffic sources for an online store are best used and what are the features of each of them. Consider the most popular and effective.
What is Site Traffic?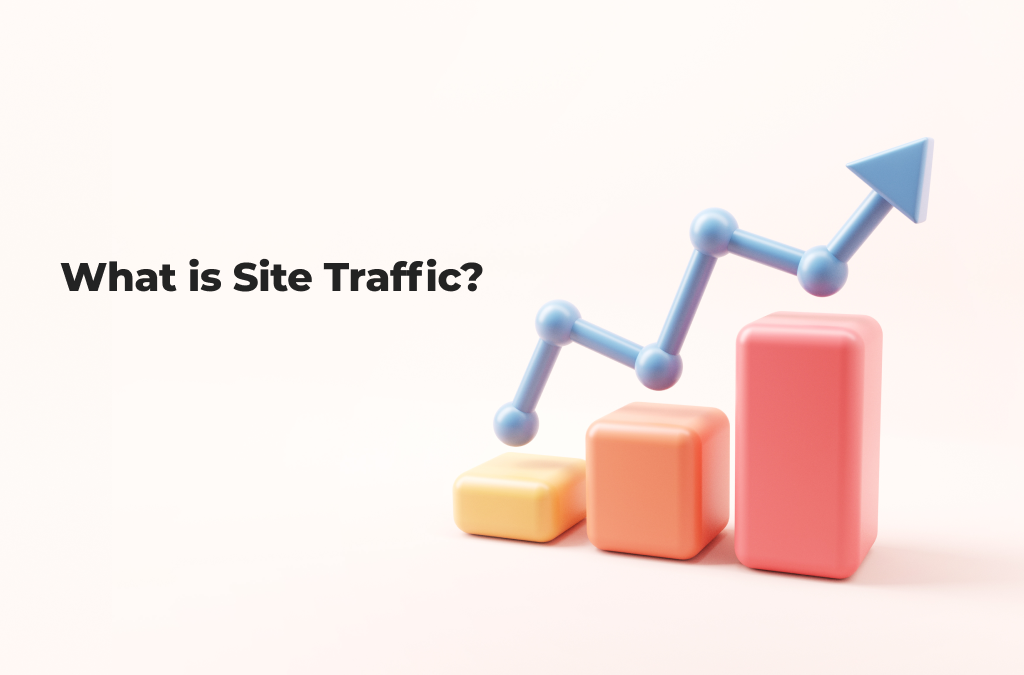 Website traffic is the total number of users who went to a web resource for a certain period: day, week, month, year, etc. In fact, it is traffic that serves as the main indicator of the site's popularity, sales volumes directly depend on it. If we are talking about targeted traffic, of course.
Website traffic can be of various types:
Referral – this is traffic in which users recognize and go to your site by clicking on the link of this site left by you, your friends, acquaintances, or any other person on any other site.
Social – this is traffic in which the user finds and learns about your site using a link left on a social network: Facebook, Instagram, and others.
Search or organic – the most effective type of traffic. It is with the help of it that the number of users visiting your site mainly increases. These are the users who came to your site from search engines. Those. these visitors asked a search query and, among other options provided by the search engine, chose your link.
Direct – the easiest traffic. In this case, the user already knows the address of the site and goes to it independently, directly. For example, using a link on your business card or company letterhead.
Promotional or purchased – the type of traffic in which you buy advertising from another site or from the same search engines. Typically, payment for such traffic is made either for each click (transition to your site via an advertising link or banner), or for the number of impressions of your link or banner on an advertising site.
How to Work With Traffic?
You can convert traffic into buyers. This is the easiest way to explain why you need to drive traffic to your web resource. The more the target audience visits the site and interacts with the content, the higher the sales. Your brand awareness and its status in the eyes of potential customers are growing.

If you choose and correctly use the best ways to drive traffic to your store, you can get an active flow of interested customers even with a limited budget for promotion.
If you want the traffic on your site to be constantly high, it is enough to follow some rules and work on your site. It is not difficult at all, and at the same time can show excellent results.
All sites are created for different purposes: some sell something, others inform, and others earn on advertising. And all this is possible only under one condition – if the sites are regularly visited by real people.
It is clear that it is extremely difficult to achieve high traffic, especially for a young, newly created site. According to statistics, there are already more than a billion resources on the Internet, and half a million more are being created every day. The competition is growing every second, so if you do not start working on increasing site traffic right now and strengthening your position in the niche, others will quickly take your place.
Before you create traffic, you need to understand how users now get to the site and behave there. To do this, you need to install and configure an analytics system for e-commerce. Only by understanding the behavior of users on the site, you can build a promotion strategy and select efficient traffic channels.
Free Ways to Increase Website Traffic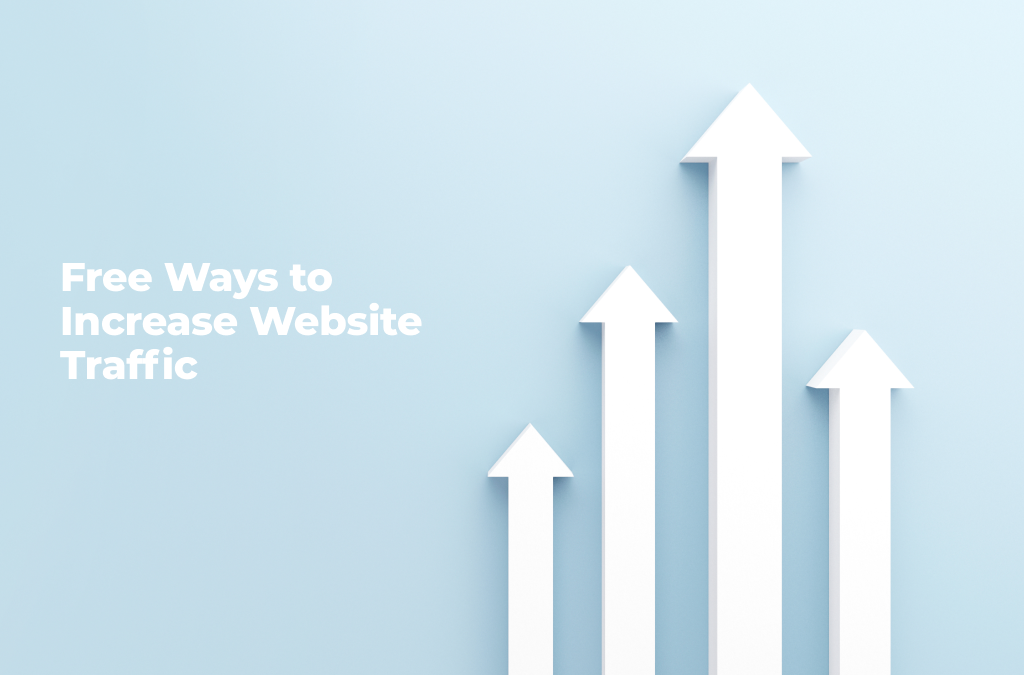 Even in 2022, you can still get free traffic, only for this, you will have to work hard. Of course, a few years ago it was much easier to set up free traffic. Today, you should not expect instant results and a large influx of visitors. Working on free or organic traffic is, first of all, work for the future. Although there are exceptions here too.
SEO – writing articles for key queries
SEO promotion and content marketing are not the fastest, but most effective and very profitable ways to increase traffic in the long run. Website optimization and publication of SEO-optimized texts (at the same time useful and interesting to the reader) allow you to reach the top of search results for key queries and firmly gain a foothold in the first positions, displacing competitors.
This method seems obvious, but so many beginners make the same mistake: they write articles for which there is no real demand. How do you know if there is a demand? Use statistics services and see what search engine users are looking for.
SEO promotion and content marketing in conjunction give excellent results:
1. Help your brand to be visible, and increase its recognition among the target and near-target audience.
2. They increase traffic, and not only "here and now", but also in the long term.
3. Increase the base of contacts and subscribers, which are easier to turn into customers.
4. They increase the loyalty of the audience, as they help solve the problems of the target audience and answer the questions that are relevant to it.
The only significant drawback of these methods of attracting traffic is that you will not see the effect immediately. Sometimes you need to engage in optimization and promotion for several months to get the first significant volume of traffic. Therefore, we recommend combining it with contextual, targeted advertising, advertising with bloggers, etc. We will return to the options a little later.
How can you apply this method to ready-made templates? Almost all popular Shopify or WordPress themes contain a ready-made section – Blog. It is here that you can publish articles, post your news, and inform visitors about what may be important to them. Use your blog as a great opportunity to get organic traffic to your site.
Ratings, reviews, and accelerators are another good way to drive traffic to your site
Many popular thematic sites often publish various tops and ratings: "The best restaurants in your city", "TOP 5 inexpensive home comfort products", and the like. Find sites that suit your topic and discuss with the editors the possibility of including your company in the list. If goods, services, and services are suitable, you can even count on free publication. For a mention on large and well-known sites, you often have to pay. But tops and ratings remain relevant much longer than regular articles. Therefore, they work for the future.
Review sites are also good platforms for promotion, building links, attracting traffic, and creating a positive brand image. Someone buys reviews to give the appearance of popularity. But we do not recommend doing so. Reviewers actively fight against fake publications. Better encourage customers to leave reviews by offering them discounts, bonuses, etc. in return.
And one more, not the most obvious source of traffic is business accelerators. These are social institutions to support start-ups. If you have a really interesting project, accelerators will take up its promotion and popularization. But they are not taken for all startups, so we do not recommend betting only on them.
Free website traffic from social media
Social media promotion is one of the best ways to drive traffic to your store. The main thing is to choose sites where your target audience is the most. Here are just a few of the options for driving traffic:
creation of a public and official page of the company with links to the site;
launching a channel on YouTube;
blogging that will link to your main resource.
In addition, you can use guest posting – publications in thematic publics and blogs. If you agree on mutual PR, this method of attracting traffic will also be free.
Pay the same attention to the content – photos or videos that you post on social networks. They should reflect the ideas of your business, demonstrate the product and its advantages, and form the loyalty of visitors. The better the photo, the more attention they will attract. The same goes for video. Ideally, if you entrust the creation of photo and video content to professionals.
PR publications in the media and external blogging
With media editors, you can negotiate the publication directly or interact through special services. Popular blogging platforms detail the rules for guest posting. Many of them even pay good money for quality content, you can kill two birds with one stone. But be prepared for the fact that your material can be repeatedly wrapped for editing or even rejected without a clear explanation of the reasons. This usually happens if the content is of low quality, non-unique, and does not match the theme of the site. It may not be the most popular way, and it may not be the best ways to drive traffic to your store. But you should definitely keep it in mind if you want to work with all the tools.
Email campaigns to drive traffic
Compared to many other tools, email marketing is by far the most convenient and best ways to drive traffic to your store. However, in some cases, it is one of the best options. We can name four main groups that email marketing is ideal for:
1. Bloggers and influencers. The newsletter allows you to notify readers about the release of new publications, collect collections of popular or recent articles, as well as collaborate with brands and interact with the audience.
2. Online stores and marketplaces. Through the mailing list, you can notify users about new arrivals, and discounts on selected products or categories, as well as remind you of incomplete orders and abandoned carts.
3. B2B companies. Email remains one of the main channels of communication between business representatives. This is a kind of good manners rules.
4. Sites-services. Representatives of the service sector and information business can stimulate the interest of the target audience, and notify them about special offers, new products, and promotions.
In general, email marketing is a fairly effective and versatile tool. The main thing is to use it wisely, but not be limited only to it.
Paid Methods to Drive Traffic to the Site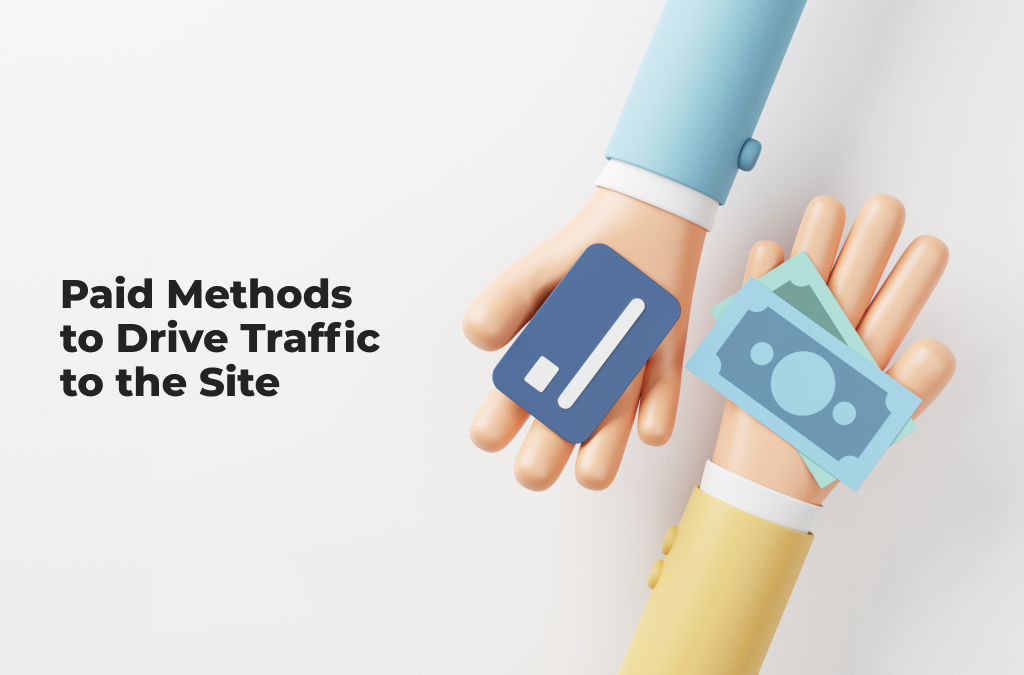 Free methods of attracting traffic can be effective, but usually, they are quite slow and give a small increase. If you are aiming for quick results, you should pay attention to paid methods.
Contextual advertising
Contextual advertising in Google Ads is a convenient tool with which you can quickly increase traffic to the site. Users will see your advertisements in search results, as well as on partner sites and mobile applications. PPC advertising has several important advantages:
quick effect – you start getting traffic almost immediately after the launch of an advertising campaign;
transparent pricing — payment is made for impressions, clicks, and targeted actions;
convenient remarketing and retargeting tools – to return to the audience that previously visited your site.
The main disadvantage of contextual advertising is that it stops attracting targeted traffic to the site as soon as you stop paying for the campaign.
Targeted advertising on social networks and Google
Another effective way to attract traffic is targeted advertising. The principle of payment is similar to contextual advertising – for clicks, impressions, or targeted actions. The main difference is that you can place advertising materials directly on social networks:
Facebook;
Instagram;
YouTube;
TikTok and so on.
One of the main advantages of targeted advertising is the flexible settings of the target audience that will see the ads. You can specify gender, age, interests, geolocation, marital status, and more. A properly configured target can give an effect much better than contextual advertising. Moreover, the budget for promotion will be lower.
There are several types of targeted advertising. You can combine them, and add or exclude them to better reach your target audience. Of course, as for contextual advertising, its display stops as soon as you stop paying for the advertising campaign.
Advertising with bloggers and influencers
Collaborating with influencers is another one of the best ways to drive traffic to your store. You can find bloggers with a suitable target audience on your own or use special platforms. They will simplify the search and communication process, but you will have to pay a commission. The advantages of this method:
fast traffic attraction;
opportunity to work on barter;
a large selection of available advertising formats.
However, advertising with popular influencers can be very expensive – over $1,000 for a typical Instagram post. If you choose the wrong blogger or use the wrong format, the money will be wasted. Nobody will give you any special guarantees.
In Conclusion: What Else Will Help to Attract Traffic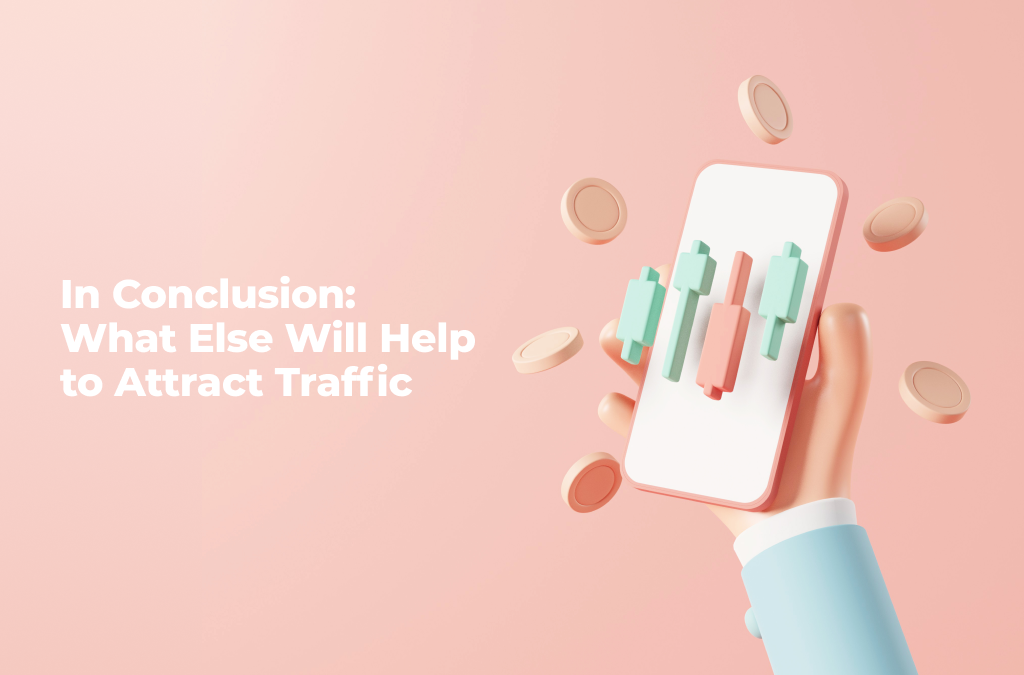 Let's look at a few more effective methods of attracting traffic, which we did not mention above or said only in passing:
Website optimization for mobile devices. Already today, mobile phones and tablets account for 52% of all traffic. And this number will only grow in the future. If you want to increase the flow of the target audience to the site, be sure to work on the mobile version. A huge advantage of Shopify templates is that they are already adapted to any device. You do not need to perform additional settings or redesign your site.
Implementation of the affiliate program. Offer partners or direct buyers the opportunity to bring you new customers and get rewarded for this. This will be an improved version of word of mouth.
Internal linking. Links within a website are just as important as external links. Try to link to all the content you post.
Use a CDN to speed up your site. A content delivery network (CDN) allows you to significantly speed up page loading. Remember that slow loading is one of the most common reasons for the increase in the number of bounces.
Join LinkedIn. This is a very popular social network for skilled professionals and workers, where you can post information about your company and services, leave links to the site, talk about offers, etc. A good free source of traffic.
These are the best ways to drive traffic to your store that you can use. The main rules are: do not use only one option and do not limit yourself to free or paid methods of attracting traffic. Combine them, test different approaches, and look for the best scenarios for your site. You can also completely entrust this work to specialists and save yourself the hassle!