Have you ever wondered how to market your real estate business online? how to promote your real estate business online? An agency providing real estate services can be promoted through social networks, Google maps, and a corporate website. Of course, each of these methods has its own characteristics. We'll cover all of them, but we'll focus on building a website and the best themes for real estate.
In fact, the emergence of a real estate business in the online space opens up new opportunities for the owner to manage relationships with the target audience: tenants, owners, or property buyers. Therefore, some entrepreneurs see the development of their business through Facebook or Instagram and invest in promoting a business account. Others believe that only a corporate real estate website can fully provide information about the agency, provide full-cycle services, build an image, open up new market niches, and perform other tasks. This division is due to the fact that potential customers come both on the recommendations of friends and acquaintances from online communities, and from search engines. Thus, the question arises: which promotion method to choose? Stop at a business page on social media or create a website for a real estate agency.
Social networks
First, this way does not require the investment of a large number of financial resources to create a business account. Promotion of the page is carried out by well-organized targeting advertising. It is essential to publish new information regularly, otherwise, subscribers simply will not be able to see your profile. Therefore, it is worth taking the time to create relevant material and communicate with customers. Another option is to hire a person who will be in charge of growing the business through social networks.
Additionally, the nuance of this method is that you will not have ownership of the created page. So, if this is the only way to advance, you are at significant risk. The owner of the social network can at any time tighten the rules for business accounts or close the community. Your real estate agency will lose customers until you choose a new way to present your business online. Are you interested in social commerce trends? You can read more about it here.
Promotion through Google account
Another way is to get a card from Google My Business. Thus, you will be taken to the Google online directory and search engine users will find out about you. Here you can place the agency name, short description, photo, list of services, office location, and contact list. The card is a business card site of a real estate agency on a free basis, but only for the Google audience. But it is a convenient tool for promoting a local business that targets online customers within a certain territory. You need to constantly work with the My Business service so that the agency card goes to the top. However, it will not appear in the traditional search, as it is not a full-fledged site. Therefore, the service serves as an additional channel for attracting the target audience and redirecting it to the official resource.
Thus, social networks and the Google service can be used as additional advertising tools. On their own, they will not become a full-fledged source of traffic for your business. Of course, these sources are best connected to the best themes for real estate through links and used as additional ways to contact the target audience.
What does having a website mean for a real estate agency? Main advantages of best themes for real estate
Of course, a corporate website will bring a number of advantages to its owner. The most significant advantages for the real estate business will be:
Increased coverage of the target audience. The site is available to users of the entire virtual space, and not to a narrow circle of subscribers, as in social networks.
No restrictions on the size of the transaction. A corporate online platform is suitable for selling products or services of various price categories.
Brand building. The reputation of the agency among the target audience depends on how well the site is developed.
Providing comprehensive data about the institution's service. You have enough space to fully describe each agency service. In this way, you earn the favor of users who want to get detailed information about real estate.
Unique design and functionality. Social networks and portals are templates, unlike the site. With the help of design and an exceptional set of options, you can stand out in your niche.
Maintaining trust relationships. Place reviews, comments on cases, and photos of real estate on the site. So you increase the chances of turning a potential client into a real one.
Saving the effect of the promotion. The steps are taken to increase the position of the site, increase traffic and conversions, and give a long-term result.
A complete attendance analysis. Google Analytics provides information about the actions of site visitors. Based on the received reports, you can develop a promotion strategy, and development policy and predict the results.
Full ownership of the site. Ownership allows you to use the Internet site in accordance with your desires, goals, and objectives.
Great news: here you will find the most popular best themes for real estate with which you can definitely create the website of your dreams.
Estancy – Real Estate HTML5 Template, Property Portal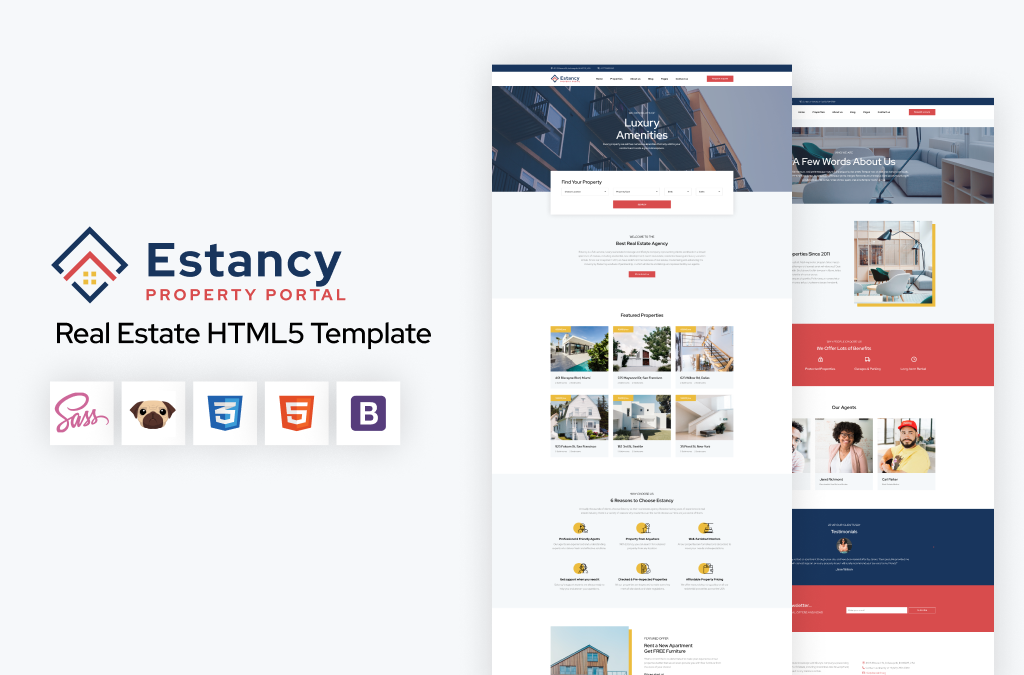 This multi-purpose theme comes with pre-made pages. This theme is suitable for real estate, architecture, and construction themes. You can change any of these ready-made pages, and fill them with your content and photos using the real-time constructor. With this constructor, you do not need to change the code or write a new one. It provides all the blocks and modules necessary for your site that you can use at your discretion.
You can install Estancy with one click. The theme will install all included plugins and free photos. The template quickly adapts to different user screens. What is very important for real estate websites, the theme is ready for translation into foreign languages.
Additionally, thanks to a powerful constructor, any page of the site is assembled as a puzzle. By identifying the main information blocks of the page, you will effortlessly create unique pages in real time. Built-in tools allow you to create convenient and understandable navigation for your customers on the site. This functionality differs from the standard menu creation options. You can insert into the menu not only sections and categories but also any links, pictures, and even videos. The design and choice of color palette for menu buttons are unlimited.
Restancy – Real Estate and Rental WordPress Theme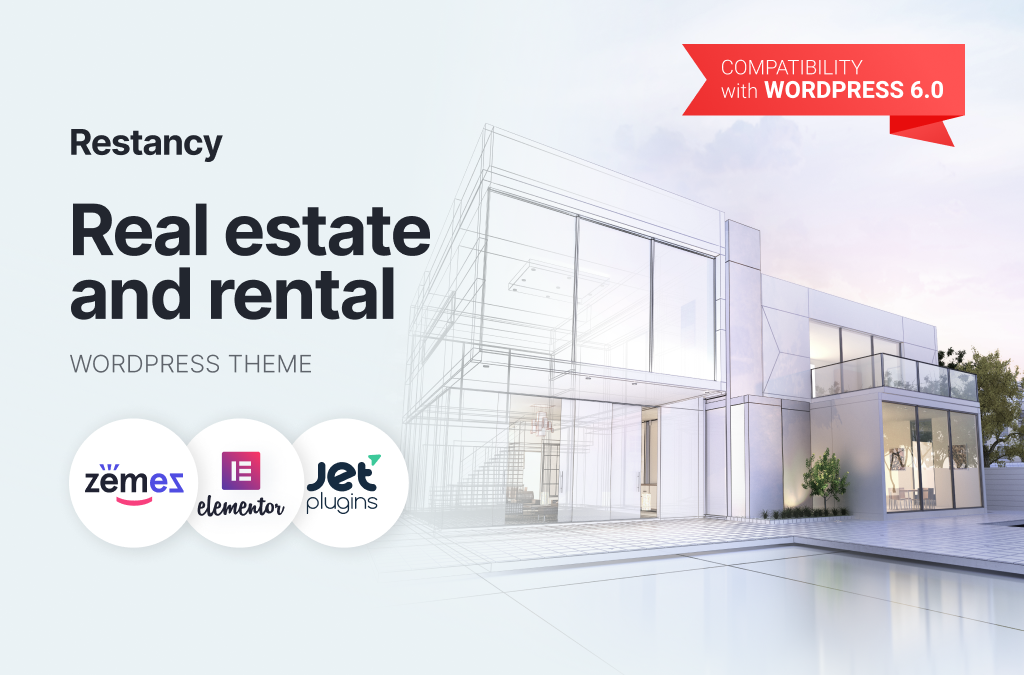 Also, one of the most popular multi-purpose WordPress themes is Restancy. The theme comes with pre-made pages. Everything you need at once, for almost any site, such as real estate, business, construction, and so on.
The template offers sections such as "Home", "About Us", "Pages" and a number of options for displaying the necessary information about your business. In addition, the contact page provides effective communication with your visitors. . The theme includes google fonts, google maps, and social settings to give your customers everything they need to communicate.
Key features
Compatible with all browsers and search engines
Integration with social networks
Multiple color schemes
Advanced graphics
Adaptability
In addition to the freedom of choice when using this theme, you also get incredible versatility. This means that you can combine the functionality of a corporate website, blog, online store, and forum in one site. Therefore, in principle, we can say that Restancy is a universal solution for your business.
Rentoor – Shopify for Real Estate Agents Theme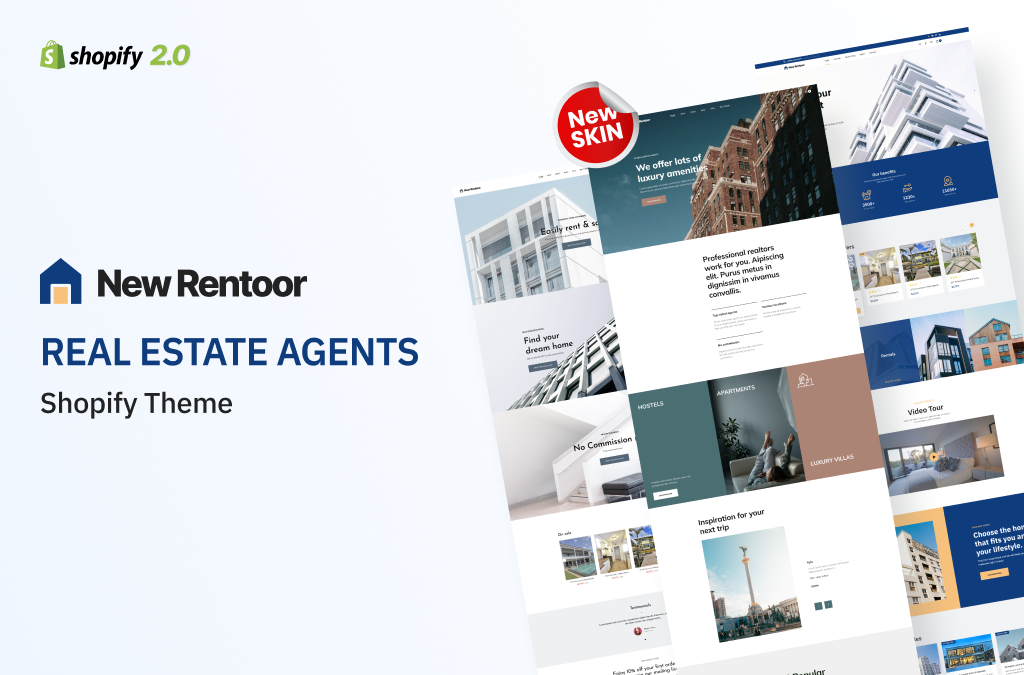 In fact, Rentoor is a ready-made theme from Shopify that combines all the advantages of this platform. In fact, the theme is easy to work with and can be installed and configured in a few clicks.
Template functionality:
Bootstrap
Adaptive design
Retina support
Drop-down menu
Advanced theme settings
HTML 5
Control Panel
Google maps
Dropshipping
Truly, this is a ready-made adaptive and one of the best themes for real estate, a website with a creative design. You will definitely appreciate its capabilities if you want to quickly launch your online resource. The theme comes with a wide range of tools to choose from. You can customize the site according to your needs, while it will meet all the modern requirements of search engines.
Another point to note is that Rentoor is a posted solution. This means that all of your functionality comes to you from the Shopify servers. You don't have to worry about installing software or buying a web host. Everything you need to build your store comes to you with a ready-made theme. Shopify is a SaaS tool, which means you don't have a copy of the software, but you can pay a monthly fee to access it.
Homeswort – Luxury Real Estate WordPress Elementor Theme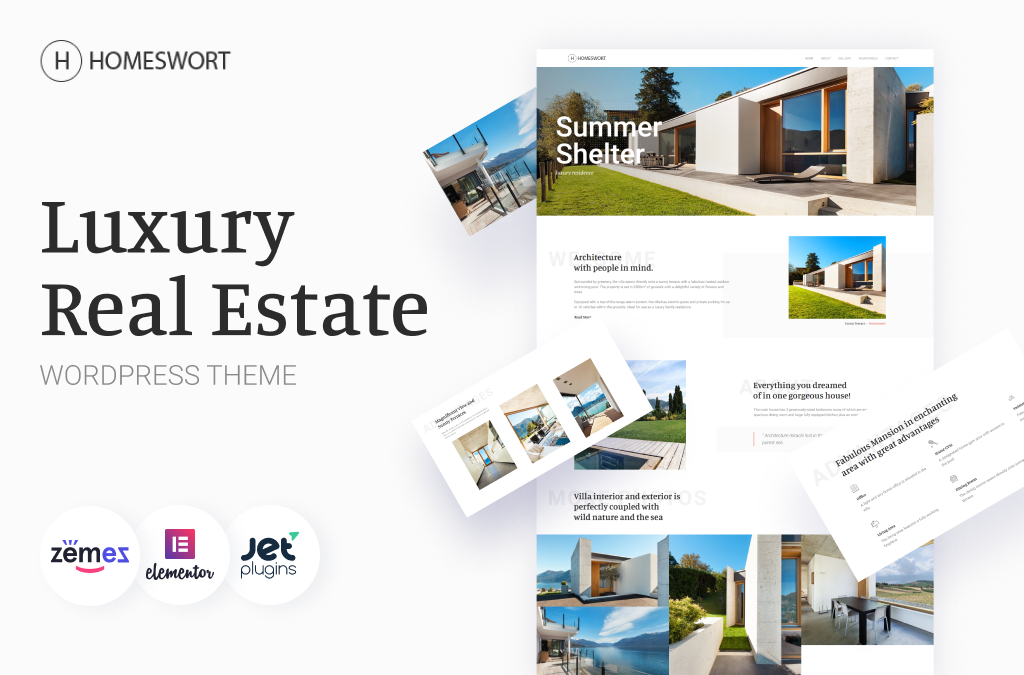 A quality template based on Elementor WordPress Builder suitable for real estate companies, as well as for any business related to real estate. Are you sure that a good search is the main thing for visitors to a real estate website? Here the advanced search is organized at the highest level. Customers, guided by hints in the search form, will be able to quickly filter and select the necessary options.
A real-time editor is included in the theme to customize basic settings. And for creating pages and posts, a convenient visual editor is offered. For this editor, ready-made modules and layouts are included in the theme, you just need to drag them to the right place and fill them with content. You can edit and change the theme to your liking. The template can include the ability to pay online and book with confirmation of these transactions to the customer's e-mail. In the admin panel of the site, you will have access to all the dates of booking, payment, and other details of the order.
Of course, customer testimonials are also included in this template – they tell the story of your business better than any advertisement. Thus, you can constantly expand the functionality of the Homeswort with additional plugins, translate it into any language and use any currency.
Legacy – Estate and Mortgage WordPress Theme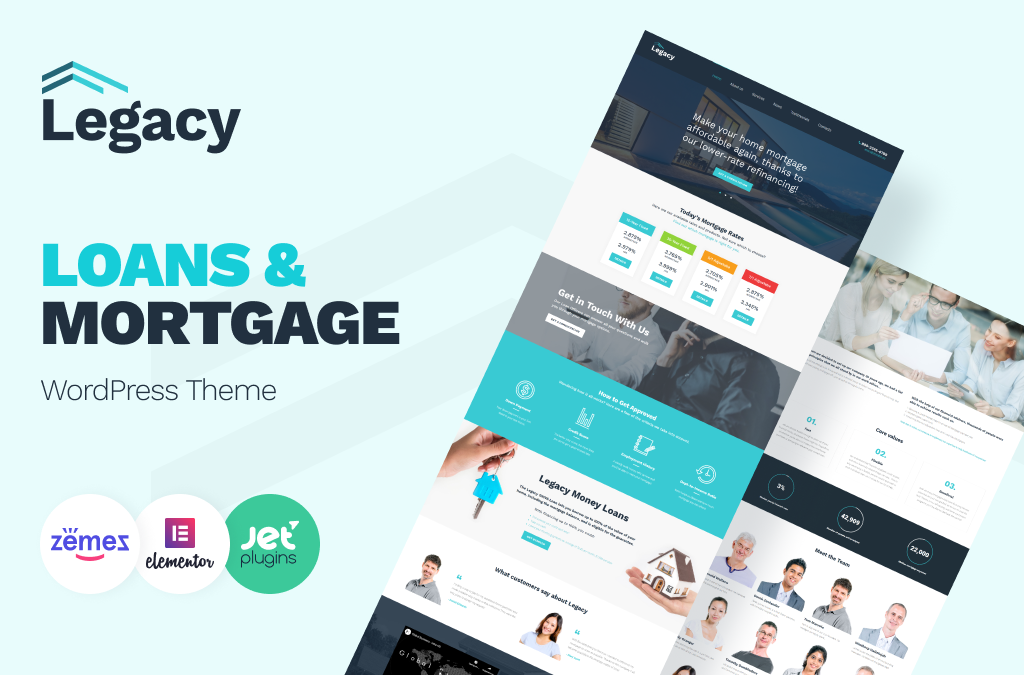 In fact, Legacy displays property listings beautifully, which users of the site will appreciate. The SEO-optimized feature ensures that the site will rank higher in search engines. This is another great opportunity to create a beautiful and user-friendly website with good conversion. It is a lightweight theme with a clean and minimalistic design and ready-made demos. So you can import the demo and start building your real estate website right away.
In fact, it's hard to find a better option than Legacy if you want to promote your business. This theme comes with all the tools for website promotion and online sales. Advanced color and layout options ensure that the website fits perfectly with the brand you need.
Built-in call-to-action, testimonials, and service buttons in the best themes for real estate will make a positive impression on visitors. In addition, the theme is optimized for SEO and speed. Most importantly, this theme is designed to make your real estate business stand out from the crowd. And you can achieve this without any special coding knowledge. Legacy offers several customization options such as a custom menu, theme options, and other useful options. So, if you are looking for creative, powerful yet easy-to-use real estate themes, then you can end your search right here.
Conclusions
In the end, real estate is a business that constantly retains its relevance. It is always bought, sold, rented, and changed. Therefore, real estate sites are firmly afloat. If you have such a business, we recommend that you take care of the modern best themes for real estate. They will be understandable and pleasant to your potential and regular customers. It is always more convenient to choose according to the recommendations, so this article will be especially relevant for you.
All the themes presented here have a modern style. Designed with the latest trends in design and SEO in mind, they can be quickly installed, and configured, and your site up and running today.
Thanks to a modern website, you can demonstrate each property in the most advantageous position. Our constant recommendation is to use the blog and fill it with useful, interesting information. So, this will allow you to drive even more organic traffic to your website.
A modern agency cannot do without a website. To save time and money, use the ready-made themes, that we suggested above. This is the easiest way to advertise your company online. Place detailed information about the company, add a photo, describe services and create a price list.
Also, be sure to use an auxiliary resource – groups in social networks. This is a great channel for communicating with customers. Create interesting content and discussions: reviews about the work of the company, frequently asked questions, etc. Conduct small surveys to get feedback. Here you can also order paid advertising for your community. This way more users will see you.
Finally, be active! The more channels you use, the better the result will be. The main thing is to evaluate which tools work and which do not. This will prevent you from wasting money.