Customizer. Social Links Section
In the modern society it is impossible to stay away from implementing social links. They show your visitors immediately that you're reliable, and they can reach you not only by using your website's contact form but also through Facebook, Instagram, Twitter, etc.
From this tutorial you'll learn how to work with Social Links section.
The Social links are the links to your account in different social networks, such as Facebook, Twitter, Youtube, Pinterest, etc. In this particular Customizer tab you can set, where they will be on your website.
Social Links Settings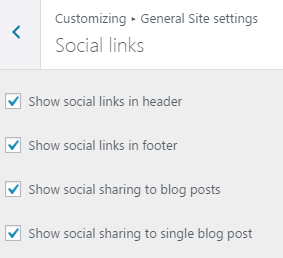 Show social links in header — an option enables social links panel at the top of your website.
Footer — an option enables social links panel at the bottom of your website.
Blog posts — an option enables social links in blog posts.
Single blog post — an option attaches social links to every blog post when you view it.

This is the sample of social links in the header.