Creating breadcrumbs is an easy way to help your visitors see the structure of their path from the main page to the one they are viewing. The element is widely used to make navigation through the multiple website's pages more clear.
From this tutorial you'll learn how to work with Breadcrumbs section.
The Breadcrumbs are the elements, that provide smooth navigation along your website's pages for the visitors, in the form of active links leading to the pages. The Breadcrumbs form the path to the page a visitor is currently reading.

Adding Breadcrumbs
Let's create breadcrumbs for your website's pages and customize them.
First, go to Administration panel, find

Appearance

tab, which includes

Customize

sub menu. Enter it.
Proceed to

General Settings

tab and click on

Breadcrumbs

menu.
Breadcrumbs Settings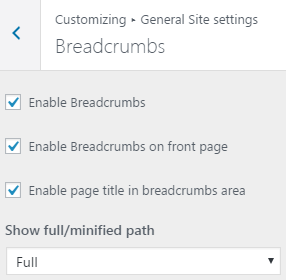 Here you'll see Breadcrumbs settings, that are available for customization.
Enable breadcrumbs — switch on this option to make breadcrumbs to appear on your website.
Breadcrumbs on front page — turn on an option if you want breadcrumbs visible not only on regular website's pages but also on your website's main page.
Page title in breadcrumbs area — this option shows the title of the current page in the panel at the top of a page, where the breadcrumbs usually are. Disable it if you don't need a page title.
Show full/minified path – here you can choose, whether you want to show a full breadcrumbs path leading from home page to the current page, or only a short (minified) path, showing only the current page and the home page.
When you've finished customizing Breadcrumbs, click on Save & Publish button. The Breadcrumbs will appear at your website.